FG Rejigs Aviation Agencies for Efficiency
By Modupe Gbadeyanka
The federal government has reorganised some agencies under the Ministry of Aviation, with new directorates created for efficiency and the approval of President Muhammadu Buhari obtained for the changes.
A statement from the ministry said the Public Affairs and Consumer Protection, Corporate Services and Aviation Security Directorates had been created to adequately address complaints from stakeholders.
Also, the Aviation Security Directorate was created in the Nigerian Civil Aviation Authority (NCAA) to regulate the activities of AVSEC personnel, especially with their recent arms-bearing status, while the Corporate Services Directorates was saddled with the responsibility of overseeing the Procurement and Planning, Research and Departments.
The disclosure noted that Mr Buhari had approved the appointment of Mr Kabir Yusuf Mohammed as the new Managing Director/Chief Executive Officer of the Federal Airports Authority of Nigeria (FAAN).
Until his appointment, Mr Mohammed was the Regional General Manager, Central Region Airports, FAAN and Chairman of the Aviation Roadmap Implementation Committee.
Similarly, Mr Tayib Odunowo has been appointed the substantive Managing Director of the Nigerian Airspace Management Agency (NAMA). He will take over from Mr Matthew Lawrence Pwajok, who reverts to his substantive position as Director of Operations of the agency.
The Directors-General of the Nigerian Safety Investigation Bureau (NSIB), Mr Akin Olateru, the Nigerian Meteorological Agency (NiMet), Prof Mansur Matazu and Nigerian Civil Aviation Authority (NCAA), Captain Musa Nuhu are to run the remaining course of their tenures in line with the Acts setting up their respective Agencies, while the Rector of the Nigerian College of Aviation Technology Zaria, Captain Alkali Modibo has been granted a one-year extension, also in line with the Act setting up the College.
In order to reposition the Agencies to perform their statutory duties, the Minister of Aviation, Mr Hadi Sirika, has also approved the appointment of some new Directors.
The appointments are:
FAAN:
Managing Director – Mr Kabir Yusuf Mohammed –
Human Resources and Admin. – Shehu D. Mohammed
Commercial and Business Management – Olumuyiwa Femi-Pearse
Corporate Services – Barr. Azubuike Okorie
General Manager (Statistics) – Kingsley Uchechukwu Okunji
General Manager (Special Duties) – Jemilu Abdulrahman
NCAA:
Director General/CEO – Capt Musa S. Nuhu
Director, Airworthiness Standards – Engr Gbolahan Abatan
Director, Aerodrome and Airspace Standards – Engr. Godwin Balang
Director, Operations – Capt. Ibrahim Danbazau
Director, Air Transport Regulations – Mr Olaniyi Saraku
Director, Public Affairs and Consumer Protection – Capt. Chris Najomo
Director, Aviation Security – Air Cdr Hambali Tukur
Director, Corporate Services – R. M. Daku (Mrs)
Company Secretary/Legal Adviser – Mrs Mary Tufano
General Manager (Audit) – Mrs Dawa Gyaks
General Manager (Accounts) – Mr Aminu Tasi'u
NSIB
Director General/CEO – Engr Akin Olateru
Director, Finance and Accounts – Mr Ori Bassey
Director, Public Affairs and Consumer Protection – Dr James A. Odaudu
Director, Corporate Services – Oliobi Godfrey Ikemefuna
Transport Investigation – Capt Tosin Odulaja
Company Secretary/Legal Adviser – Barr. Illitrus Ahmadu
NIMET:
Director General/CEO – Prof Mansur Bako Matazu
Human Resources and Admin. – Saleh Tukur Yusuf
Director , Weather Forecasting Services – Daniel Okafor Chibueze
Public Affairs and Consumer Protection – Ahmed A. Sanusi
Director, Research and Training, Prof Effiong Essien Oku
NAMA:
Director General/CEO – Engr A. Tayib Odunowo
Director, Operations – Matthew Lawrence Pwajok
Director, Public Affairs and Consumer Protection – Khalid Emele
Corporate Services – Mr Uchendu Chibuzo Oji
General Manager, Public Affairs – Amaka Udeh Walker (Mrs)
FG Sacks FAAN MD Rabiu Yadudu, As Kabir Mohammed Takes Over
By Modupe Gbadeyanka
The Managing Director of the Federal Airport Authority of Nigeria (FAAN), Mr Rabiu Yadudu, has been sacked by the federal government.
He has been replaced with Mr Kabir Mohammed, who is expected to resume office in the coming days, according to reports.
It was gathered that Mr Yadudu was asked to leave office last Friday alongside five other directors of FAAN. The reason for their removal could not be immediately confirmed by Business Post.
The sacked FAAN chief was appointed in 2019 by President Muhammadu Buhari.
The new chief executive of the agency was, before his latest appointment, the Regional General Manager for North Central and Airport Manager of the Nnamdi Azikiwe International Airport in Abuja.
He was appointed as the Chairman of the Aviation Roadmap Implementation Committee in January 2022 by the Minister of Aviation, Mr Hadi Sirika.
NIMASA Seeks Collaboration in Tourism, Maritime for Development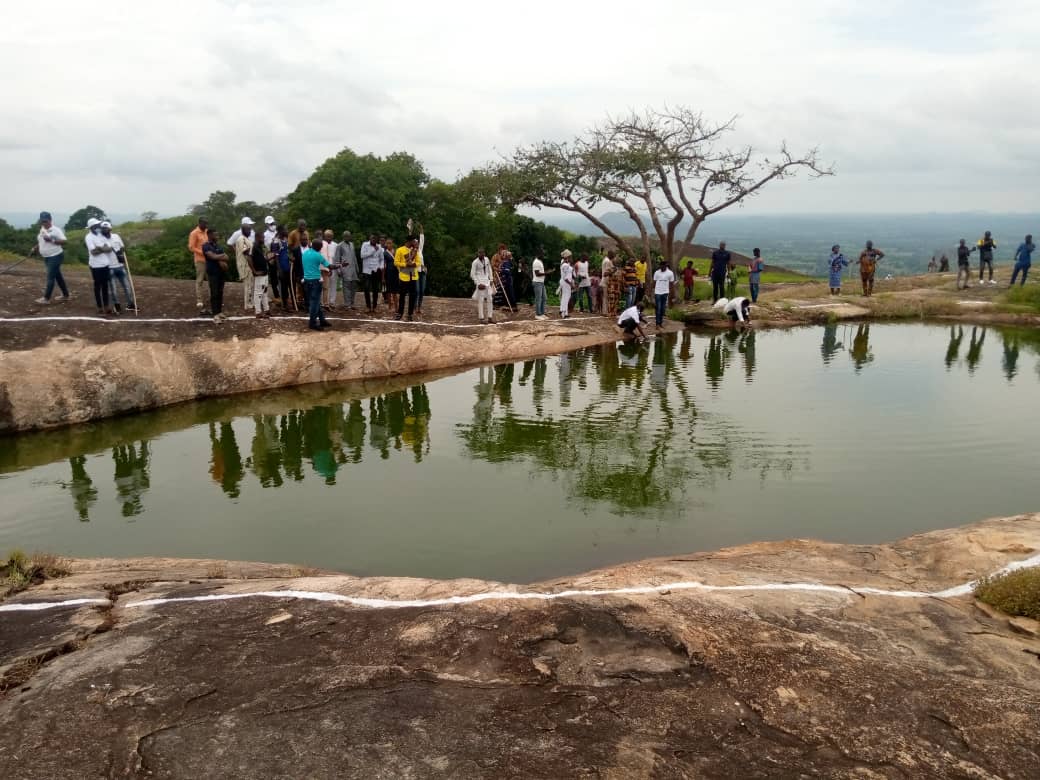 By Adedapo Adesanya
The Director General of the Nigerian Maritime Administration and Safety Agency (NIMASA), Mr Bashir Jamoh, has called for collaboration between the tourism and maritime sectors in Nigeria, seeing it as a pathway to boost economic development.
Mr Jamoh stated this at the 6th National Tourism Transportation Summit and Expo organised by the Institute for Tourism Professionals of Nigeria, ITPN, in collaboration with the Ministries of Transportation, Aviation, Information and Culture at the International Conference Centre, Abuja.
He noted that with the enormous resources inherent in the maritime sector, the tourism industry would be a low-hanging fruit for Nigeria's economic development agenda.
Speaking on the topic, Tourism and the Development of Nigeria's Blue Economy, Mr Jamoh observed that investment must not necessarily involve huge materials and human capital.
He noted that, like other economic sectors, small and medium-scale business was also possible to generate the number of jobs and other economic benefits associated with the tourism sector.
"I must acknowledge here that tourism is one sector that Nigeria is doing very well. But unfortunately, the marine tourism component is one area where we are currently lagging behind when compared to other economies of the world.
"I am fascinated and must commend the organisers of this event because a well-managed tourism sector can support conservation while contributing to sustainable development and providing income opportunities and a higher quality of life," he noted.
Speaking further, Mr Jamoh said the relationship between the maritime and tourism sectors depended heavily on improving safety and security.
He stressed that there was a need for stakeholders to support all engagements and policies statement of government on the preservation of Nigeria's biodiversity, maritime ecosystem and other endowments, which are valuable assets for marine tourism development.
He also noted that the benefits from tourism would only be achieved with security guarantees, suggesting that this could be achieved by closing gaps and linking associated cities through building of infrastructure, while the bodies of water between them are used for tourist attractions.
"Research shows that the Oceans economy is worth about $20 trillion. These include the fishing, pharmaceutical and renewable energy industries. Therefore, we have to develop, preserve and protect our maritime endowments and link these industries appropriately to achieve the desired goal.
"As an agency of government, NIMASA will always play that complementary role of supporting economic growth and development.
"We have invested a lot in the acquisition and deployment of maritime security assets, so I urge stakeholders in the maritime sector to take advantage of what we have done and invest in relevant marine tourism areas because our waters are now safe," Mr Jamoh said.
He called for proactive measures, stressing that pollution of marine and freshwater resources, Soil and land resources, desertification and salinification due to excessive water use, overuse of fertilizers, erosion, air pollution, loss of cultural resources, and social disruption could be a result of marine tourism development.
Airlines, Passengers Count Losses as Workers Shut Down Aviation Sector
By Adedapo Adesanya
Passengers, airlines, and the government are counting their losses as flights have been affected in the country as employees from seven trade unions are demanding better working conditions.
They have blocked access to the country's largest airports in Lagos and Abuja, on the first day of the strike on Monday, with local and international air passengers stranded.
Their action has been projected to cost heavily on the aviation sector as the country grapples with rising costs and fuel shortages.
Speaking on Channels TV on Tuesday, the General Secretary of one of the unions, the National Union of Air Transport Employees (NUATE), Mr Ocheme Aba, said the strike continued after the meeting of Sunday was deadlocked.
He said this is so "because nobody could give a guarantee of when the Conditions of Service for the agencies will be released. So, we were also unable to give any assurances of not going on strike."
"However, we understand that the Salaries and Wages Commission has also convened another meeting with the agencies today. We are not invited to the meeting so we don't know what discussions are ongoing and how that will pan out or is relevant to the situation at hand.
"Secondly, with regards to aviation being an essential service provider, this is a fallacy; it's not correct at all.
"The International Labour Organisation, through its official instrument of action, has already defined what essential service is and has also clearly defined that aviation is not an essential services provider except the services provided through air control," he added.
The NUATE secretary said an essential service provider is one through which its withdrawal can affect the lives of groups of people.
He said, "Aviation does not provide such service except through air traffic control," he explained.
"For example, if an air traffic controller says an airplane should not land, you might be putting to risk the people who are in the aircraft. But when you say aircraft should not take off, you are not putting anybody's life at risk, and the services that airlines provide are not different from the services that Ekenedilichukwu or any transport company provides," he added.
Mr Aba also said the National Industrial Court has ruled that aviation and airlines do not render essential services.
"Nigerian doctors have been constantly going on strike without any talk about essential services. So, this talk about essential services is neither here nor there," the union executive insisted.
The new Act of the Federal Airports Authority of Nigeria (FAAN) states that industrial actions are illegal as aviation is classified as an essential service.
Latest News on Business Post