New High-Speed Trains to Boost Lagos Urban Transportation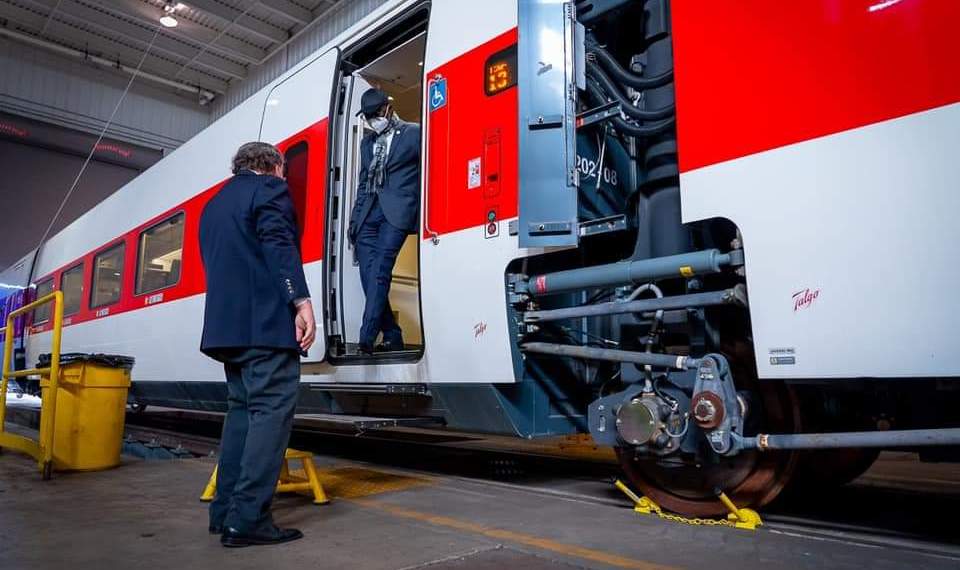 By Adedapo Adesanya
The Lagos State government has said the two newly acquired high-speed trains for its Red Line rail project will improve the state's goal of achieving urban transportation as it will improve traffic management and transportation.
This was as Governor Babajide Sanwo-Olu completed the acquisition deal of the two sets of 10 cars Talgo 330 kilometre per hour trains on Tuesday at an event held inside the Milwaukee facilities of Spanish train manufacturer, Talgo Incorporated, in the United States.
Mr Gboyega Akosile, who is the Chief Press Secretary to Governor Babajide Sanwo-Olu, in a disclosure revealed that the trains will be heading to Lagos for the Red Line – a 37km track rail project which will have 11 stations and will be the first operational metro system in West Africa when completed.
"A train is not something you can just go on the shelf and pick up," the Governor was quoted as saying at the event.
"We are very lucky to get brand new trains. We have seen our beautiful white and red trains. Coincidentally, the rail line is called Red Line and you can see they have given us the colour. We are just going to brand it and put up our seal there.
"We hope that this (purchase of the trains) will be the beginning of a mutually beneficial business relationship. Providing a source of livelihood for our citizens is all about providing jobs for our people and that is what we are doing. It is about ensuring that we can build our economy; people can move from one location to another, and businesses can grow.
"Part of what we have done in the last two and half years is to have what we call Integrated Urban Mass transportation system, where we will be using road infrastructure, waterway infrastructure, and rail infrastructure so that we can move over 20 million Lagosians within and around the city," he added.
Governor Sanwo-Olu gave an assurance that the first phase of the Red Line would begin by the last quarter of 2022 or the first quarter of 2023, with a capacity of 500,000 passengers daily.
10 Ways to Make Sure Your Holiday Rental Stands Out
Anyone who owns a holiday home or flat would love to have it fully booked all through the year. With travelling abroad still seen as risky, many Nigerians will be holidaying locally during the coming holidays instead of going overseas. How do you make your vacation rental stand out so that people notice it when they're booking online? And once they've stayed there, they'll love it so much they'll definitely recommend it to others?
Ideally, you'll want your holiday rental to grab attention but also look like a welcoming space where people can relax and enjoy being together. You want every aspect of their stay there to ooze memories and good times.
First impressions count
The front of your holiday house is the first thing guests will see when they arrive, so it's integral to making a great impression. A pretty welcome sign, the name of your holiday home or painting the front door a cheerful colour will all give an instant holiday vibe. Planting flowers, or having them in pots, at the front door will also create a welcoming feel.
A warm welcome
Have a welcome pack with a small selection of treats and visitor information waiting for guests upon their arrival. They'll love it, and will remember it in their recommendations of your property to others. Fresh bread and milk in the fridge for the first night's stay will be so appreciated, as will little touches like dog snacks for pet-friendly homes and mini-toiletries in the bathroom.
Create a guide with expert tips on your area – great coffee spots, bakeries and delis, must-try restaurants and wine bars, shopping hotspots and touristy must-sees. A handy list of close by supermarkets, doctors and pharmacies will be convenient, too. Try an online design programme like Canva to put your guide together and make it look professional.
Nobody wants ordinary
When you're decorating a space for holiday guests, it's tempting to tone it down so that the décor will appeal to all, but remember that people want wow. Guests want a space that feels like a home from home, but they're also paying for an experience. Colour, beautiful art, a stand-out furniture piece, deep-pile rugs in the bedroom or a luxe addition like a log fireplace or a jacuzzi will be memorable (and romantic!). If your home is surrounded by beautiful scenery, invest in floor-length glass windows or doors for views that will really sell your holiday home. Never fall into the trap of choosing cheap décor items, or worse still, decorating a space with the things you don't want at home. Old, cheap and boring are to be avoided at all costs. When people walk into your holiday rental they want to find the equivalent, or better, than what they have at home.
What guests want
Evaluate every part of your holiday space and think about what you can do to make your guests' experience memorable. The living room must have a cosy place where they can relax and read a book or watch a movie and, if possible, a smart TV. In the kitchen, make sure there's everything that guests need to be able to self-cater easily. If you can, add in luxe touches such as an espresso machine or a smoothie maker. It's things like this people will tell their friends about.
Superior service
Holidaymakers want to relax and spend their time making fun memories, so make sure they get the time to do that at your rental by providing a cleaning service. Ad hoc bookings may mean you don't need a regular service, so opt for one like SweepSouth, a handy on-demand home service that allows you to book reliable, trustworthy cleaners when you need them. Gardeners to spruce up your outside area and even handymen to fix niggles can be booked on their Connect app, too.
Create a photo-worthy backdrop
People love taking photos of themselves in a beautiful holiday setting and sharing them with those back home. Create an appealing photo-worthy scene in one of the main living spaces. It can be a stylish area with smart wallpaper and an ornamental mirror, a serene space in the garden or a quirky corner at the entrance featuring something that resonates with the location you're in, like a local artwork or an attractive grouping of photos of local landmarks.
A bedroom sanctuary
Spending time and effort on making your master bedroom into a tranquil sanctuary is well worth it. You want a guest to feel pampered the moment they walk in and see plush pillows and plump quilts on a big, comfy bed that promises a fantastic night's sleep. Buy the best mattress you can afford, and provide soft-to-the-touch quality linen and bedding. Make this haven of relaxation that much more luxurious with air-conditioning, block-out curtains or blinds, soft rugs and laundry hampers. Think about your guests' expectations and exceed them.
Light it right
Done right, lighting can add so much to the feel of a room. Fabulous lamps or wall sconces in the bedroom, charming pendants in the kitchen and a large standing lamp in the sitting room will add real presence.
Outdoor delight
If you have an outdoor space, make it an oasis for guests to spend time in. Even small areas can be made delightful with the addition of water features, hammocks, daybeds and canopies. If you can care for it, plant a vegetable or herb patch that guests can help themselves to.
Photo Perfect
Lastly, get great photos of your rental. When people scroll through listings on holiday accommodation sites, think about what your photos will look like and whether they'll catch the eye of a holidaymaker, resulting in more bookings. It's worth getting a professional in to take the shots when you first list.
The above pointers may require some spending, but they're all features you can highlight when advertising your rental and are therefore worthwhile investments.
NCAA Suspends Operating Licence of Azman Air
By Modupe Gbadeyanka
The operating licence of Azman Air has been suspended by the Nigerian Civil Aviation Authority (NCAA).
As a result of this development, all flights operated by the airline operator have been cancelled.
It was learned that the NCAA, the regulatory agency for the aviation industry in the country, grounded the airline on Thursday over its failure to renew its Air Operator Certificate (AOC).
Azman Air and other operators in the industry, have been finding it difficult to operate optimally as a result of high operating costs caused by the scarcity of foreign exchange (forex), the rising price of aviation fuel and others.
According to reports, before the suspension of the licence of Azman Air, a department of the NCAA, the Directorate of Air Transport Regulation (DATR), wrote a reminder letter to the management of the firm and issued a 30-day ultimatum to comply with the industry standards.
However, when the team did not receive favourable answers, the NCAA went ahead to suspend the licence of the company in order to safeguard the safety of air passengers.
It was gathered that the AOC of Azman had expired in the first quarter of 2022.
Russia Opposes Tit-for-Tat Visa Requirements to Save Tourism Industry
By Kestér Kenn Klomegâh
The 7th Eastern Economic Forum held in Vladivostok, among others, seeks to address obstacles affecting the tourism industry.
Within the context of building internal tourism infrastructure, extra-budgetary investment is necessary for its prompt realization. The federal government and the Far East regional authority have also focused on this development programme these past years.
In general, unprecedented funding has been allocated to speed up the creation of tourism infrastructure. The government has provided the necessary conditions for the synergy of resources so that internal and foreign tourists can travel around at affordable prices and vacation in modern resorts and entertainment destinations.
But efforts have hit a number of setbacks, many political developments are sharply influencing aspects of the industry. Russia's inbound and outbound tourism virtually collapsed, first due to the two-year COVID-19 lockdown and now largely due to the Ukraine crisis that has brought to the business landscape hefty sanctions. The aviation industry is still struggling to float and maintain normal standard operations.
At the Eastern Economic Forum, the session entitled Travelling to the East: Opportunities for Investors and Tourists panellists distinctively noted negative external factors the tourism industry and argued for measures for its recovery.
Russian Federal Agency for Tourism (Rostourism) head, Zarina Doguzova, is advocating a review of policies negatively impacting the industry.
She considers Foreign Affairs Ministry's consular services crippling the development of the tourism industry and that Russia is longer friendly due to its tit-for-tat responses to external countries.
Doguzova explained in an interview with Rossiya-24 (VGTRK) on the sidelines of the forum that the necessary measures to sustain tourism including the launch of an electronic visa program for citizens of 52 countries, including those Russia has designated as "unfriendly" ones in the near future.
Russia earlier planned to launch e-visas for citizens of 52 countries, including European nations, she said. Certainly, there is the need to do some information work and launch an ad campaign. Many fear visiting us for various obvious reasons as a direct result of consistent confrontations and geopolitical changes.
"Foreign tourists help make dozens of billions of dollars around the world. These are big revenues which would stimulate the development of infrastructure and help create new jobs. It's strategically important to communicate our position to the world, so that tourists, citizens of countries whose governments are taking unfriendly steps toward our country, would have a chance to see Russia," Doguzova said.
Earlier during a meeting of the Russian State Council praesidium dealing with the development of tourism on September 6, Doguzova asked President Vladimir Putin to revisit the plans to launch e-visas for citizens of 52 countries, without following the reciprocity principle, which Russia usually sticks to as concerns visas.
Putin suggested elaborating on this proposal "without clinging to reciprocity." while addressing the forum session, Putin said Russia would not respond symmetrically to the European Union's decision to suspend the Visa Facilitation Agreement with Russia.
He expressed the desire to develop the idea of expanding the practice of visa-free travel for citizens of specific countries, including those visiting Russia on organized group tours and further proposed developing bilateral cooperation on establishing a visa-free travel framework with foreign countries.
"I would suggest talking not about certain [nations with whom visa-free travel could be established]. Nothing should be imposed on anyone. One should just talk about cooperation on a bilateral track. As regards establishing visa-free travel on a bilateral basis in order to facilitate mutual visits, advice is needed from the Foreign Ministry," he said.
"In principle, I wouldn't be holding on to reciprocity in this case. I know a general principle that the Foreign Ministry has, which is the reciprocity principle. When it comes to serving our interests, all these principles should be used, where this is beneficial. If something creates obstacles for us, what are such principles for? One could be more flexible," Putin said.
Russians have restricted their foreign travel due to the current global changes especially the confrontation between the United States, Europe and Russia. According to the European Council decision published in the EU Official Journal, the European Union members suspended the visa facilitation agreement between the European Union and Russia.
"The application of the Agreement between the European Community and the Russian Federation on the facilitation of the issuance of visas to the citizens of the European Union and the Russian Federation ('the Agreement') is suspended in whole as regards citizens of the Russian Federation, as from 12 September 2022," the statement says on its website. It is assumed that the cost of visas and the terms of their registration will increase significantly, and the issuance of visas for tourist purposes will be the last priority of consulates.
Poland and Baltic states (Estonia, Latvia and Lithuania) have coordinated restrictions for Russians. In their statement, Poland and the Baltic states expressed concern "about the substantial and growing influx of Russian citizens to the European Union and the Schengen area through our borders. We believe that this is becoming a serious threat to public security and to the overall shared Schengen area," according to the European Commission.
Latest News on Business Post