Coca-Cola Acquires Costa Days After Nestle-Starbucks Deal
By Modupe Gbadeyanka
Some days ago, Nestle announced the completion of its deal with Starbucks to reach out to a wide range of coffee lovers across the globe.
At the weekend, Coca-Cola announced reaching a definitive agreement to acquire Costa Limited, which was founded in London in 1971 and has grown to become a major coffee brand across the world.
The acquisition of Costa from parent company Whitbread PLC is valued at $5.1 billion and will give Coca-Cola a strong coffee platform across parts of Europe, Asia Pacific, the Middle East and Africa, with the opportunity for additional expansion. Costa operations include a leading brand, nearly 4,000 retail outlets with highly trained baristas, a coffee vending operation, for-home coffee formats and Costa's state-of-the-art roastery.
For Coca-Cola, the expected acquisition adds a scalable coffee platform with critical know-how and expertise in a fast-growing, on-trend category. Costa ranks as the leading coffee company in the United Kingdom and has a growing footprint in China, among other markets. Costa has a solid presence with Costa Express, which offers barista-quality coffee in a variety of on-the-go locations, including gas stations, movie theatres and travel hubs.
Costa, in various formats, has the potential for further expansion with customers across the Coca-Cola system.
The acquisition will expand the existing Coca-Cola coffee lineup by adding another leading brand and platform. The portfolio already includes the market-leading Georgia brand in Japan, plus coffee products in many other countries.
Costa also provides Coca-Cola with strong expertise across the coffee supply chain, including sourcing, vending and distribution. This will be a complement to existing capabilities within the Coca-Cola system.
"Costa gives Coca-Cola new capabilities and expertise in coffee, and our system can create opportunities to grow the Costa brand worldwide," said Coca-Cola President and CEO James Quincey. "Hot beverages is one of the few segments of the total beverage landscape where Coca-Cola does not have a global brand. Costa gives us access to this market with a strong coffee platform."
Coffee is a significant and growing segment of the global beverage business. Worldwide, coffee remains a largely fragmented market, and no single company operates across all formats on a global basis.
"The Costa team and I are extremely excited to be joining The Coca-Cola Company," said Costa Managing Director Dominic Paul. "Costa is a fantastic business with committed and passionate associates, a great track record and enormous global potential. Being part of the Coca-Cola system will enable us to grow the business farther and faster. I would like to say a huge thank you to our customers and to everyone in the Costa team who have helped us build the business to this position, and I look forward to the next exciting chapter in Costa's vision of Inspiring the World to Love Great Coffee."
Business Post gathered that upon the closing, Coca-Cola will acquire all issued and outstanding shares of Costa Limited, a wholly owned subsidiary of Whitbread. This subsidiary contains all of the existing operating businesses of Costa.
Whitbread will be seeking shareholder approval for the transaction, which is expected to take place by mid-October. The deal is subject to customary closing conditions, including antitrust approvals in the European Union and China. It is expected to close in the first half of 2019.
Coca-Cola expects the transaction to be slightly accretive in the first full year, not taking into account any impact from purchase accounting. For the fiscal year 2018 (ending March 1, 2018), Costa generated revenue and EBITDA of £1.3 billion and £238 million GBP, respectively. This equates to roughly $1.7 billion in revenue and $312 million in EBITDA.
Because Coca-Cola expects the transaction to close in the first half of 2019, there is no change to 2018 guidance. The company's long-term targets also remain unchanged.
EU, IFC Launch €25m Fund to Rebuild Ukraine
By Adedapo Adesanya
A new agreement between the International Finance Corporation (IFC) and Ukraine's Energy Efficiency Fund will channel up to €25 million in EU funds to help homeowners' associations restore war-damaged residential buildings, the organisations announced on Monday.
The effort will support Ukrainian families amid the ongoing war and boost the resilience of Ukraine's residential sector. Since February 24, the conflict in Ukraine has substantially damaged or destroyed the homes of 2.4 million Ukrainians, according to the Ministry for Communities and Territories Development of Ukraine.
The Kyiv School of Economics estimates that the total number of the affected housing stock in Ukraine is up to 136,000 buildings or 40 per cent of the total number of residential buildings, including almost 16,000 multi-apartment buildings. As it stands, there is not enough public and private financing to rebuild the sector.
IFC will support the Energy Efficiency Fund's Restoration Program by channelling the EU grants to homeowners' associations across Ukraine, covering the costs of restoring multifamily buildings that did not suffer structural damage.
The programme will cover the replacement of windows, doors, roofs, and walls, among other elements, and IFC will also help the Fund with a pipeline of reconstruction projects as well as support beneficiaries with the application process.
A €5 million pilot phase is being rolled out in Kyiv, Zhytomyr, Sumy, and Chernihiv, larger cities in northern and central Ukraine that have come under increased attacks over the last two months.
Speaking on this, Mr Yehor Farenyuk, director of the state-owned Energy Efficiency Fund, said, "This programme launched by the Energy Efficiency Fund provides vital support to homeowners' associations to help them restore buildings damaged by Russia's military aggression.
"This is substantial support for many war-affected Ukrainians since the program will cover 100 per cent of the cost of all construction materials and work. We are very grateful to our partners — the EU and IFC — for their engagement and support, and we hope to continue our fruitful cooperation in this area.
"Rebuilding efforts in war-torn Ukraine cannot and should not be stalled," said Ms Rana Karadsheh, IFC's Regional Director for Europe. "We are grateful to the EU for their ongoing assistance, enabling us to provide vital support to Ukraine during these challenging times. We are committed to supporting Ukrainians and their efforts to restore residential and other economic sectors devastated by the war.
"The EU stands with Ukraine as it fights off Russia's aggression and supports its people. We are happy to join forces with our trusted partners Ukraine's Energy Efficiency Fund and IFC to help rebuild Ukrainian's homes that were destroyed by Russia," said Ms Katarína Mathernová, Deputy Director General of the Directorate General for Neighbourhood & Enlargement Negotiations and Head of the Support Group for Ukraine at the European Commission."
Since October 2019, the original Ukraine Energy Efficiency Fund Program, led by IFC in partnership with the EU, has channelled grants worth nearly €15 million into energy-efficient renovations of 229 residential buildings in Ukraine, of which 109 are fully completed, with the remaining 120 projects continuing to implement the energy efficiency modernizations amid the war.
As part of IFC's broader response to the war in Ukraine, in October, IFC launched another €25 million EU-supported programme to help municipalities to renovate municipally owned buildings to host internally displaced people.
The Role of African Export-Import Bank in AU Agenda 2063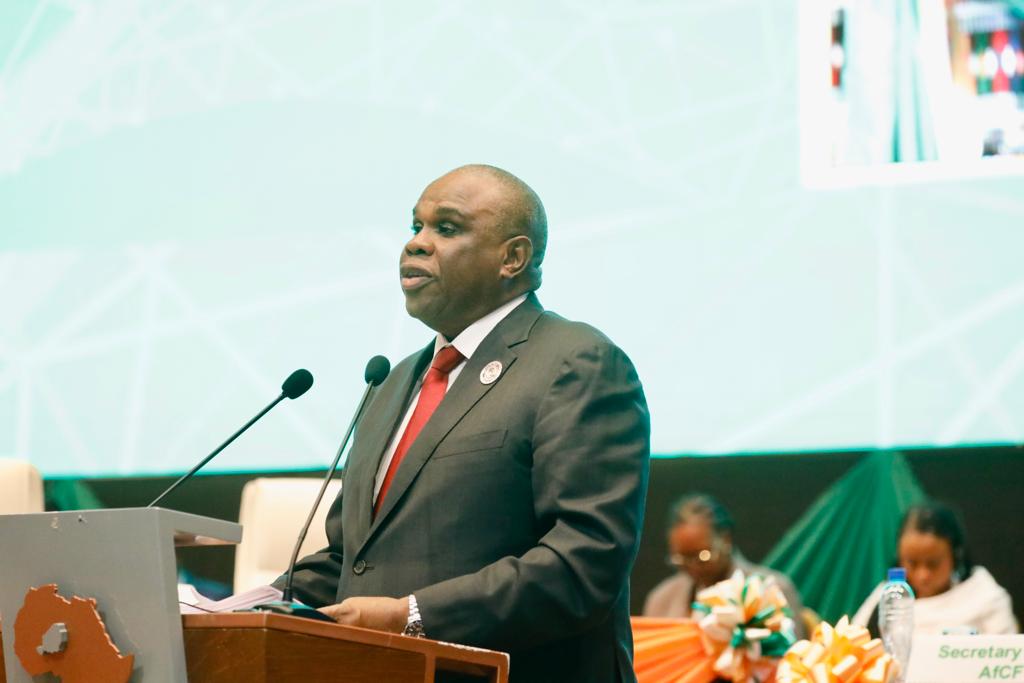 By Kestér Kenn Klomegâh
At the 12th Extraordinary Summit on Industrialization and Economic Diversification and the Extraordinary Session held in Niamey in late November, the African Export-Import Bank offered an instrumental report about the pace of economic diversification and industrialization across Africa. It was one among several review reports dealing with the present and the future of Africa.
In the first place, the African bank offers strong financial support, engages in external fundraising campaigns and collaborates with the African Union and the AU members. Beyond that, the bank gives advisory services relating to the development of various economic sectors, all these in attempts to improve the conditions, as espoused in the shared "Agenda 2063: the Africa We Want" in Africa.
With several initiatives and programmes, Afreximbank has pursued, with courage and determination, using the necessary high-level platforms within Africa and outside Africa to drum home the necessary funds for development. What is required here for African leaders to exhibit good governance, design and implement the best policies and speak with one voice to realize the set AU Agenda 2063.
While the bank has done a lot during the past few years, not many African leaders have achieved what was expected. That Afreximbank intervened strongly during the COVID-19 pandemic, disbursing over $8 billion to central and commercial banks to avert looming trade debt payment defaults and support the procurement of test kits, PPEs and other COVID-19 containment materials.
The Afreximbank supported the first ever pooled procurement by African Union members in an emergency when it provided a $2 billion financing towards the procurement of 220 million doses of Johnson and Johnson vaccines.
And as the Russia-Ukraine crisis rages on, the bank has also stepped up and already disbursed over $5 billion towards the procurement of food, fertilizer and grains. Beyond that, the bank is closely working with UNECA, the AU and the AfCFTA Secretariat to create a pooled procurement platform called the Africa Trade Exchange (ATEX), which is helping African countries to procure grains, edible oils and fertilizers at a much-reduced cost.
It continues to support the implementation of the African Continental Free Trade Agreement (AfCFTA). During the five years to 2021, Afreximbank disbursed over $20 billion in support of intra-African trade and investments and plans to double this to 40 billion US dollars during the five years of 2022 to 2026.
Afreximbank is helping African economies to manage the exodus of international banks by financing African-owned financial institutions to acquire those banks, helping to build a strong interconnected African financial system. It is re-creating banking systems so that they can serve Africa better. It has also onboarded about 500 of the continent's 600 regulated commercial banks into Afreximbank Trade Finance Facility (AFTRAF) and provided them with Trade Credit Confirmation lines.
The goal is to grant an aggregate of $8 billion in Trade Confirmation lines to these African banks and ensure that every country on our Continent has at least one bank that has a dedicated credit line to support intra-African trade. Afreximbank sits today at the centre of the most extensive messaging network, with connections to almost 500 banks. It has built a web that will form the architecture for an integrated African banking network.
These mentioned above are the bank's efforts to support Africa's economic development prospects defined by the extent of control the continent wields over its financial system, that it is access to and control of capital that defines the future of the continent.
As partners, Afreximbank, the African Union Commission and the AfCFTA Secretariat have launched the commercial operations of the Pan-African Payment and Settlement System (PAPSS). It has now become possible to conduct intra-African trade payments in African national currencies. The bank is proud to be backing settlements under this system with a facility, thanks to the leadership of the African Union and the Commission for their strong support towards this transformative initiative.
Afreximbank is working with the AfCFTA Secretariat and Council of Ministers for Trade to establish the AfCFTA Adjustment Fund. The Fund is expected to help countries to adjust in an orderly manner to AfCFTA tariff removals and prepare them to participate in the new trading regime. The Bank was earlier this year appointed the Fund Manager of the $10 billion Fund, which it is supporting with a $1 billion facility and a $10 million grant directed at the Base (Compensation) Fund.
With industrialization, the bank is working with various African governments to develop and expand Industrial Parks (IPs) and Special Economic Zones (SEZs) to deal with infrastructural constraints to industrialization. These parks are ongoing across ten African countries, including two parks in Malawi and one in Cote d'Ivoire under development. It has also commenced discussions for the creation of industrial parks in DRC, Zambia, Rwanda, Kenya and Botswana.
In the first-ever Africa-Caribbean Summit in 2021, Afreximbank has taken steps to accelerate the integration of the two regions. In early September, the first-ever Africa-Caribbean Trade and Investment Forum which attracted over 1,000 participants from Africa and the Caribbean.
Since then, about 9 of 14 CARICOM countries have signed a Partnership Agreement, a treaty instrument akin to the Afreximbank Establishment Agreement, thereby opening up the region for bank interventions. This partnership creates an opportunity for Afreximbank to facilitate and promote trade and investment flows between the two regions and attract African investments into the Caribbean and Caribbean investments into Africa.
In that regard, it has conducted successful trade and investment missions to the Caribbean with African corporates and banks to explore opportunities in that market. Plans are advanced towards opening an Afreximbank office in the Caribbean so that it can support Africa-Caribbean trade and investments better.
With the mandate to forge greater partnerships, Afreximbank is seriously working jointly to push ahead with the pan-African trade and industrialization agenda. These dynamic collective efforts are directed towards the realization of the shared developmental goals with Agenda 2063. Afreximbank remains alive to that responsibility with African Union.
Rosatom Plans Small Nuclear Power Plants For Africa
By Kestér Kenn Klomegâh 
At least 600 million people in Africa without access to electricity and inadequate funding for power generation, Russia's Rosatom state nuclear energy corporation now proposes to provide, over the next several years, mini nuclear plants for generating reliable and affordable power in a number of African countries.
According to the latest information obtained at the Atomexpo-2022, Rosatom is discussing, as part of the energy mix, the use of small nuclear power plants (SNPP) and floating nuclear plants for African countries. The African Energy Chamber reports say Africa expects to achieve universal access to affordable electricity by 2030. Many countries are finding ways to expand access to electricity.
President of Rusatom Overseas (part of Rosatom state corporation) Yevgeny Pakermanov said at the Atomexpo-2022 forum that his company is holding a series of dialogues with African colleagues. "We continue to work with Rwanda, Nigeria and other countries of the region. A floating NPP may be very promising in this region, and we are also discussing the use of floating nuclear heat and power plants for the African region," he said.
According to figures provided by the International Atomic Energy Agency (IAEA), there are around 50 projects and concepts for small nuclear power plants, or small modular reactors (SMRs), as the IAEA defines them, throughout the world. The majority of them are at various stages of development.
Leaders of African governments are keenly interested in adopting nuclear energy to end chronic power deficit, but some may be forced either to keep on postponing or completely abandon the project primarily due to lack of finance or credit guarantees.
Usually, Russia does not grant concessionary loans and has not publicly allocated a budget for Africa. But in this exceptional case, Russia and Egypt signed an agreement, and the total cost of construction is fixed at $30 billion. Russia provides Egypt with a loan of $25 billion, which will cover 85% of the work. The Egyptian side will cover the remaining expenses by attracting private investors. Under the agreement, Egypt is to start payments on the loan, which was provided at 3% per annum, in October 2029.
Foreign Minister Sergey Lavrov has reiterated that Rosatom is considering a number of projects that are of interest to Africans, for instance, the creation of a nuclear research and technology centre in Zambia. Nigeria has a similar project. There are good prospects for cooperation with Ghana, Tanzania and Ethiopia.
Foreign and local Russian media reported that Russia wanted to turn nuclear energy into a major export industry. It has signed several agreements with as many as 14 African countries with no nuclear tradition, including Rwanda and Zambia, and is set to build a large nuclear plant in Egypt.
Nuclear is too high an economic risk for countries that cannot afford to make big mistakes. However, they must be guided by Chernobyl disaster in Ukraine and Fukushima in Japan; millions of people are still suffering from radiation and radiation-related diseases today.
Currently, many African countries are facing an energy crisis for both domestic and industrial use. Energy poverty affects millions of their citizens. Over 600 million in Sub-Saharan Africa, out of more than one billion people, still do not have electricity. The industrial sector needs power for its operations and production for the newly established single continental market.
The international forum Atomexpo-2022, held November 21-22, is one of the most important events in the global nuclear sector. Leading experts and specialists from over 50 countries participated in the forum under the theme Nuclear Spring: Creating a Sustainable Future.
Latest News on Business Post