SADC Leadership Changes: The Challenges and Future Perspectives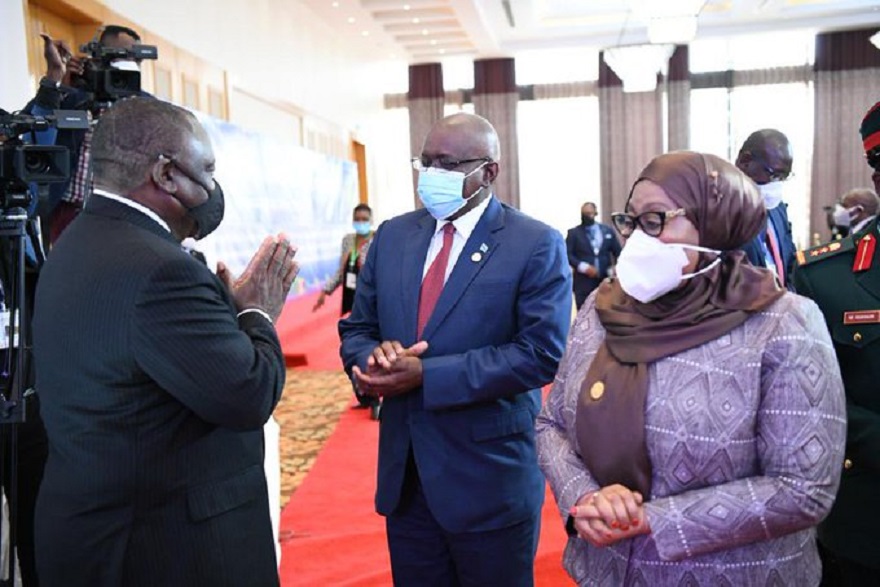 By Kester Kenn Klomegah
The Southern African Development Community (SADC) held the 41st Ordinary Summit of Heads of State and Government in Lilongwe, Malawi from 17 to 18 August 2021 with a limited number of participants. The modest symbolism associated with the gathering was to observe strictly the COVID-19 protocols.
The summit held under the theme Bolstering Productive Capacities in the Face of COVID-19 Pandemic for Inclusive, Sustainable, Economic and Industrial Transformation was preceded by a Council of Ministers meeting held in a hybrid format whereby a limited number of delegates attended physically, while others participated through virtual platforms.
The chosen theme seeks to review the past and explore further effective ways to accelerate the implementation of the SADC Regional Indicative Strategic Development Plan (RISDP) 2020-2030, in particular, the Industrialization and Market Integration pillar.
During the summit, Dr Lazarus McCarthy Chakwera, President of Malawi took over the chairpersonship of SADC from Filipe Jacinto Nyusi, President of Mozambique who assumed the topmost position of SADC on 17 August 2020 during the 40th SADC Summit.
Dr Chakwera, the new Chairman of SADC and the President of the hosting country, in his speech underscored a number of significant points.
He reassured the group to pursue two key documents for the region: the SADC Regional Indicative Strategic Development Plan (RISDP) 2020-2030 and the SADC Vision 2050, as well as the establishment of SADC Humanitarian and Emergency Operations Centre (SHOC).
As the incoming leader, he indicated to work on the inequalities and disparities in accessing COVID-19 vaccines that are seriously hindering efforts to save the lives of millions within the SADC and the task must be tackled head on.
The inequalities and disparities in the distribution and production of COVID-19 vaccines are symptomatic of an old geopolitical framework that is no longer working, no longer sustainable, and no longer acceptable. African countries are full members of the global community.
The time has come to work on the African Free Trade Area (AfCFTA), and to seek economic sustainability, especially at a regional level like SADC. It is necessary to utilize the productive capacities and turn the economies into engines for sustainable growth. It is necessary to revitalize the agricultural sector, enhancing value addition, facilitating
trade, and simplifying rules of origin. The African Continental Free Trade Area has availed SADC the opportunity to become the breadbasket and export basket of Africa.
"But we must seize the moment. We must fully implement the SADC Industrialization Strategy and Road-map, SADC Regional Agriculture Policy and SADC Regional Infrastructure Development Master Plan, among others," he stressed in his speech.
In line with the new SADC theme, the Government of Malawi is currently implementing the Malawi 2063, a vision focused on three drivers towards middle-income status for the economy: Agricultural Productivity and Commercialization, Industrialization, and Urbanization.
In this regard, one of Malawi's flagship projects is the Shire Valley Transformation Programme (SVTP) for the period 2018 to 2031 valued at $563 million. Its aim is to increase agricultural productivity and commercialization for targeted households in the Shire Valley and to improve the sustainable management and utilization of natural resources.
The true potential of this project lies in the opportunities for private sector participation from member states, for value addition chains towards industrialization. Such initiatives also benefit greatly from the Annual SADC Industrialization Week, which facilitates business linkages and promotes trade opportunities between member states.
"These are the tools for regional integration I promise to push for during my tenure as chair because the time has come to turn our talk on regional integration into our walk. That is why Malawi will ensure that the 5th SADC Industrialization Week is held here
sometime this coming November to make this year's theme a reality," Dr McCarthy Chakwera said, taking over the mantle of leadership of SADC.
Filipe Jacinto Nyusi, President of Mozambique, in handing over speech highlighted the following points: revitalizing trade across borders, enhancing industrial production within southern borders, and accelerating recovery of key sectors such as tourism.
The revival of the economies depends on the collective ability and step up the efforts toward economic stability, overcoming serious challenges together to eradicate poverty, food insecurity, and infrastructural underdevelopment, and build our region back better.
"We must therefore tackle the roadblocks standing in the way of our quest to reach this goal. One critical roadblock we must confront is the toxic nationalism that is causing some nations in the world to hoard millions of vaccine doses and deny other nations access to the same. Similarly, we must confront the toxic nationalism that is causing some regions in the world to deny other regions like SADC the rights to produce vaccines for their own populations," he said.
According to him, "the key pillars of regional integration must be pursued and the goal of regional integration must be attained. We all agree that if we truly want inclusive and sustainable economic transformation across SADC, then regional integration is non-negotiable. We must enhance cross-border trade and investment in our region through the existing SADC mechanisms and where need be, introduce new ones."
President Filipe Nyusi added: "We must fully embrace industrialization as the most effective means of achieving the main goals of SADC namely: increased economic productivity; stronger regional integration; and reduced poverty for people living in the region. We must facilitate the free movement of our peoples in a manner commensurate with our shared conviction that we are truly a community of shared values and shared interests."
Among other key highlights at the gathering, the Executive Secretary of SADC, Dr Stergomena Lawrence Tax, bade farewell to the SADC Heads of State and Government after serving for 8 years and on other hand, welcomed a new SADC Executive Secretary. Coincidentally, Lawrence Tax was sworn in as the SADC Executive Secretary at the 33rd SADC Summit, which Malawi last hosted in Lilongwe in August 2013.
In this position, her key responsibilities have been engaging all the members as an economic bloc, overseeing, and implementing various programmes and projects in the Southern African region.
In her farewell speech, she highlighted the achievements of SADC over the years, in terms of peace and security, consolidation of democracy, macro-economic convergence, industrialization, intra-trade, regional connectivity, access to energy, financial integration and inclusion, and mobile penetration.
The region remains stable and peaceful, notwithstanding, isolated challenges. This is attributed to solid systems and measures in places, such as our regional early warning, preventive and mediation mechanisms, which facilitate timely detection and redress of threats and challenges, and effective deployments of the organization's electoral observation missions.
The tail-end of my term of office encountered challenges associated with the COVID-19 pandemic, which remains a major concern and a challenge globally, and in almost all SADC member states. That, however, SADC has exhibited determination, solidarity and has undertaken several coordinated regional responses and put in place various harmonized measures to fight the pandemic and mitigate its socio-economic impacts.
Whereas the region has progressed in terms of its objectives, it is yet to achieve its ultimate goal of ensuring economic well-being, improvement of standards of living and quality of life for the people of Southern Africa.
As a national of the United Republic of Tanzania, Lawrence Tax also expressed her gratitude to the Government of the United Republic of Tanzania for the trust, and for nominating her for this position in 2013. She particularly expressed satisfaction with the progress made in empowering women, both economically, and in leadership positions in the region, and called for sustained and accelerated progress in women empowerment, and there are still grounds to be covered.
Notwithstanding some differences in political culture, national policies and approaches towards development issues, the history, shared principles and values, and common agenda has always enabled the region to find common grounds. In general, SADC had come a long way since the days of the liberation struggles, and the Region owed its cooperation, unity and development to the founders of this great organization whose sacrifices have enabled the level of transformation and successes it is enjoying today.
The summit featured the following meetings and events: SADC Public Lecture under the theme: Promoting Digitalization for Revival of SADC Industrialization Agenda in the COVID era; Meeting of Standing Committee of Senior Officials and Finance Committee Meetings; Meeting of SADC Council of Ministers and SADC Organ Troika Summit.
The summit took stock of progress made in promoting and deepening Regional Integration in line with SADC's aspirations as espoused in the RISDP 2020-2030 and Vision 2050, which envisage a peaceful, inclusive, competitive, middle- to high-income industrialized Region where all citizens enjoy sustainable economic well-being, justice, and freedom.
Moussa Faki Mahamat, Chairperson of the African Union Commission; Dr Vera Songwe, Executive Secretary of the United Nations Economic Commission for Africa; Dr Akinwumi Adesina, President of the African Development Bank; Heads of Regional and International Organization; and Head of Mission and Members of Diplomatic Corp were present at the summit in Malawi.
SADC in Brief
SADC is an organization of 16 Member States established in 1980 as the Southern African Development Coordinating Conference (SADCC) and later in August 1992 transformed into the Southern African Development Community (SADC).
The mission of SADC is to promote sustainable and equitable economic growth and socio-economic development through efficient, productive systems, deeper cooperation and integration, good governance and durable peace and security; so that the region emerges as a competitive and effective player in international relations and the world economy. Member States are Angola, Botswana, Comoros, Democratic Republic of Congo, Eswatini, Lesotho, Madagascar, Malawi, Mauritius, Mozambique, Namibia, Seychelles, South Africa, United Republic of Tanzania, Zambia and Zimbabwe.
DR Congo Raises Stake in Shelter Afrique 2.46%
By Aduragbemi Omiyale
The government of the Democratic Republic of Congo (DRC) has increased its shareholding in Shelter Afrique to 2.46 per cent, up from 1.68 per cent held previously.
This followed the payment of $1.7 million capital arrears in the pan-African housing development financier on December 22, 2021, to add to the initial $2.5 million.
DR Congo has now joined Tanzania, Morocco, Mali, Lesotho, Namibia, Togo and Zimbabwe as Shelter Afrique Class A shareholders who have fully paid their capital obligations.
"We are grateful to the government of the Democratic Republic of Congo as this is a show of strong belief in the role and mandates of Shelter Afrique in the provision of affordable housing in Africa, and particularly the DRC.
"We are particularly appreciative of the roles played by the Minister for Urban Planning and Housing, Mr Pius Mukala and the Minister for Finance, Mr Nicolas Kazadi, for making the disbursements," the Group Managing Director and Chief Executive Officer of Shelter Afrique, Mr Andrew Chimphondah said.
"We wish to show our gratitude to the eight shareholders who have fully paid their capital subscriptions and to those who continue to increase their stakes in the company – it is a huge vote of confidence in our board approved strategy which is being implemented successfully by the management," Mr Chimphondah added.
In the recent past, DRC has enhanced its engagement with Shelter Afrique. Consequently, the company has ramped up its activities in the country by actively pursuing large-scale, low-cost housing projects in DRC through public-private partnerships and equity investments.
Recently, Shelter Afrique approved a line of credit worth $11.4 million to a financial institution to finance 285 mortgages in the country.
Shelter Afrique is also keen on supporting urban regeneration projects in Lubumbashi and Goma, which is expected to develop 500 housing units – the company has set aside $20 million, pending board approval.
"Additionally, under our social housing plans, we are currently reviewing a housing project in Goma that seeks to develop 1000 housing units for families displaced by the eruption of Mount Nyiragongo and Kanyaja, which occurred in May and June 2021. When approved, we will invest $1 million in equity for a period of 7 years," he further stated.
Other projects so far financed by Shelter Afrique in the DRC include Devimco's 7-floor office building for rental purposes, La Tradition, Le Concorde, L'Ambassadeur; Azda; and a 10-storey building in Kinshasa developed by ELOLO SPRL.
St. Petersburg to Hosts Second African Leaders Summit
By Kester Kenn Klomegah
With high optimism and a desire to strengthen its geopolitical influence, Russian authorities are gearing up to hold the second African leaders summit in St. Petersburg scheduled for early November 2022.
The gathering, as expected, will focus on enhancing further constructive cooperation and advancing integration processes within the framework of the African Union and a number of sub-regional structures.
In their first joint declaration, emerging from the Russia-Africa summit at the initiative of African participants a new dialogue mechanism—the Russia-Africa Partnership Forum—was created.
The declaration stipulated that all top-level meetings take place within its framework once every three years, alternately in Russia and in an African state. It says further that the foreign ministers of Russia and three African countries—the current, future and previous chairpersons of the African Union—will meet for annual consultations.
Understandably, St. Petersburg, the preferred venue, was chosen primarily due to the continuous political instability in Addis Ababa, Ethiopia. Initially, Moscow bagged hopes on using the Chinese financed and newly constructed African Union headquarters which has modern facilities for large-scale international conferences and the city itself easily accessible with effectively built first-class Ethiopian Airlines network to and from many African countries. An additional advantage is that African government representatives and heads of many international organizations work in this city.
South Africa and Egypt, as possible alternatives, were thoroughly discussed as South Africa and Russia are members of BRICS, and Egypt has excellent post-Soviet relations. Reminding that the first summit held in Sochi was co-chaired by President Vladimir Putin and Egyptian President Abdel Fattah el-Sisi, who also rotationally during that year headed the African Union.
The large-scale Russia-Africa summit, held in Sochi in October 2019 and described as the first of its kind in the history of Moscow's relations with Africa, attracted more than 40 African presidents, as well as the heads of major regional associations and organizations.
According to official documents, there were a total of 569 working meetings that resulted in 92 agreements and contracts, and memoranda of understanding signed as part of the summit.
The first summit opened a new page in the history of Russia's relations with African countries. Sochi witnessed a historic final communiqué and impressive pledges and promises were made in various speeches and discussions.
Last November, a group of 25 leading experts headed by Sergei A. Karaganov, the Honorary Chairman of the Presidium of the Council on Foreign and Defence Policy, released a report that vividly highlighted some spectacular pitfalls and shortcomings in Russia's approach towards Africa.
It pointed to Russia's consistent failure in honouring its several agreements and pledges over the years. It decried the increased number of bilateral and high-level meetings that yield little or bring to the fore no definitive results. In addition, insufficient and disorganized Russian African lobbying combined with a lack of "information hygiene" at all levels of public speaking, says the policy report.
Writing early January on the policy outlook and forecast for 2022, Andrey Kortunov, Director General of the Russian International Affairs Council (RIAC), acknowledged the absolute necessity for consolidating Russia's positions in Africa.
"A second Russia-Africa summit is planned for the fall of 2022. Its first edition, held in Sochi in October 2019, raised many hopes for the prospects of an expanded Russian presence in Africa. Obviously, the COVID-19 pandemic has made some adjustments to these plans, preventing the parties from reaching the expected levels of trade and investment.
"Nevertheless, Africa still retains a considerable interest in interaction with Russia, which could act as an important balancer of the prevailing influence of the West and China in the countries of the continent," he opined.
Kortunov suggested, therefore, that 2022 could become a "Year of Africa" for Moscow, a year of converting common political agreements into new practical projects in energy, transport, urban infrastructure, communications, education, public health, and regional security.
Some policy experts expect high symbolism at the 2022 Russia-Africa summit. For example, Andrey Maslov, Head of the Centre for African Studies at Moscow's Higher School of Economics, said that preparations for the second summit would shape the Russia-African agenda; visits would become more frequent and Africa would receive greater coverage in Russian media.
Instead of measuring the success of the summit by how many African leaders attended, as happened in 2019, the parties will finally give greater attention to the substance of the agenda, which is already under development. Russia should try to increase its presence in Africa while avoiding direct confrontation with other non-regional and foreign players, he underlined.
According to him, the volume of Russian-African trade increased, for the first time since 2018, diversifying both geographically and in the range of goods traded. Shipments of railway equipment, fertilizers, pipes, high-tech equipment and aluminium are growing and work continues on institutionalizing the interaction between Russia and the African Union.
"A number of conflicts are also causing alarm, primarily those in Ethiopia, Libya, Guinea, Sudan and especially the Republic of Mali where France and the EU are withdrawing their troops. In 2022, Russia will try in various ways to play a stabilizing role for Africa and assist in confronting the main challenges it faces – epidemics, the spread of extremism and conflicts, and hunger," Maslov told The Moscow Times.
A dialogue would begin on Africa formulating its own climate agenda, he said and added: "Africa is beginning to understand that it does not need a European-style green agenda and will demand compensation from the main polluting countries for the damage the climatic changes have caused to the ecosystems of African countries. Russia is likely to support these demands."
In an emailed interview, Steven Gruzd, Head of the African Governance and Diplomacy Programme at the South African Institute of International Affairs (SAIIA), said Russia needs to upgrade or scale up its collaborative engagement with Africa. It has to consider seriously launching more public outreach programmes, especially working with civil society to change public perceptions and the private sector to strengthen its partnership with Africa. In order to achieve this, it has to surmount the challenges, take up the courage and work consistently with both private and public sectors and with an effective Action Plan.
He told IDN: "I would largely agree that there is a divide between what has been pledged and promised at high-level meetings and summits, compared to what has actually materialized on the ground. There is more talk than action, and in most cases, down the years intentions and ideas have been presented as initiatives already in progress. It will be interesting to see what has been concretely achieved in reports at the forthcoming second Russia-Africa summit scheduled for late 2022."
Despite the challenges, Moscow plans to boost Russia's presence in Africa noted Gruzd who also heads the Russia-Africa Research Programme initiated last year at SAIIA, South Africa's premier research institute on international issues. It is an independent, non-government think tank, with a long and proud history of providing thought leadership in Africa.
Without doubts, Russia and African leaders will draw a comprehensive working map based on the discussions in St. Petersburg. The summit achievements will help to consolidate the aspirations of the African continent and African nations as fully as possible, and chart ways for materializing common priorities of Russia and the African countries within the framework of the African Union's Agenda 2063 and the 2030 Agenda for Sustainable Development.
Kenya Records $55.1bn Mobile Money Transactions in 11 Months
By Adedapo Adesanya
Kenya has continued to maintain its position as Africa's most remarkable mobile money market as the use of the service hit a historic high in 2021 after users transacted 6.24 trillion shillings (equivalent to $55.1 billion) on phones between January and November in 2021.
This indicated a 20 per cent increase from the previous year, surpassing the $45.9 billion transacted in the entire 2020, the Central Bank of Kenya (CBK) said in a new data released on Monday.
The surge in transactions came despite the government removing COVID-19 subsidies at the start of 2021.
The Kenyan government at the onset of the pandemic in the nation in March 2020 made all mobile money transactions worth $8.83 and below free as well as bank and mobile transactions.
This boosted usage and saw eight million subscribers join the service as cashless transactions increased, according to the CBK.
Upon removal of the subsidies, usage of the service was expected to decline or slow down but the opposite has happened, according to the East African country's top lender.
It was observed that the highest ever mobile money transaction in a month was recorded in November at $5.5 billion as the number of agents hit a high of 299,053 and subscriptions at 67 million, said the CBK.
Kenya is regarded as the frontier of mobile money, starting the service as early as 2007 and this has transformed the everyday lives of most Kenyans, disrupting the traditional banking system and capturing the previously unbanked market and driving financial exclusion.
With ease brought about by the service, it allows for deposits and withdrawals of cash, bank account transfers, the payment of bills from electricity to school fees, loan and savings transactions, and the receipt of salaries.
A large proportion of the population is employed in cities, sending money home to families in rural areas. As a result, mobile money agents in cities mostly receive deposits of cash, whilst agents in rural areas mostly pay out withdrawals.
The reliability of the system rests heavily on active liquidity management; rural agents have an efficient system of replenishing their cash resources once these have been swapped out for mobile money via customer withdrawals.
Latest News on Business Post