The Role of African Export-Import Bank in AU Agenda 2063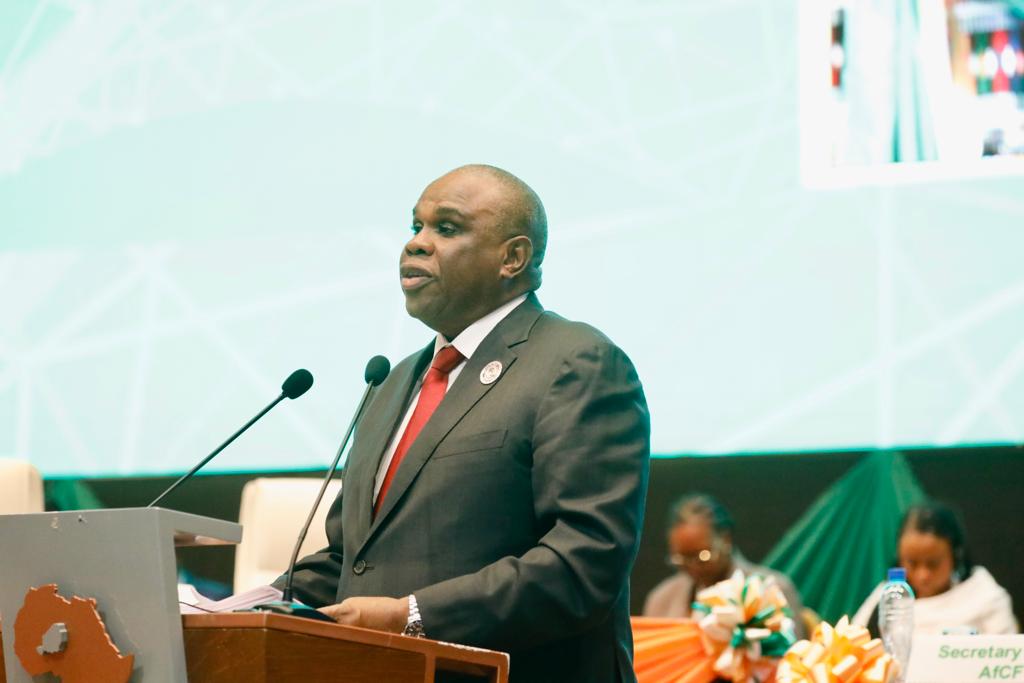 By Kestér Kenn Klomegâh
At the 12th Extraordinary Summit on Industrialization and Economic Diversification and the Extraordinary Session held in Niamey in late November, the African Export-Import Bank offered an instrumental report about the pace of economic diversification and industrialization across Africa. It was one among several review reports dealing with the present and the future of Africa.
In the first place, the African bank offers strong financial support, engages in external fundraising campaigns and collaborates with the African Union and the AU members. Beyond that, the bank gives advisory services relating to the development of various economic sectors, all these in attempts to improve the conditions, as espoused in the shared "Agenda 2063: the Africa We Want" in Africa.
With several initiatives and programmes, Afreximbank has pursued, with courage and determination, using the necessary high-level platforms within Africa and outside Africa to drum home the necessary funds for development. What is required here for African leaders to exhibit good governance, design and implement the best policies and speak with one voice to realize the set AU Agenda 2063.
While the bank has done a lot during the past few years, not many African leaders have achieved what was expected. That Afreximbank intervened strongly during the COVID-19 pandemic, disbursing over $8 billion to central and commercial banks to avert looming trade debt payment defaults and support the procurement of test kits, PPEs and other COVID-19 containment materials.
The Afreximbank supported the first ever pooled procurement by African Union members in an emergency when it provided a $2 billion financing towards the procurement of 220 million doses of Johnson and Johnson vaccines.
And as the Russia-Ukraine crisis rages on, the bank has also stepped up and already disbursed over $5 billion towards the procurement of food, fertilizer and grains. Beyond that, the bank is closely working with UNECA, the AU and the AfCFTA Secretariat to create a pooled procurement platform called the Africa Trade Exchange (ATEX), which is helping African countries to procure grains, edible oils and fertilizers at a much-reduced cost.
It continues to support the implementation of the African Continental Free Trade Agreement (AfCFTA). During the five years to 2021, Afreximbank disbursed over $20 billion in support of intra-African trade and investments and plans to double this to 40 billion US dollars during the five years of 2022 to 2026.
Afreximbank is helping African economies to manage the exodus of international banks by financing African-owned financial institutions to acquire those banks, helping to build a strong interconnected African financial system. It is re-creating banking systems so that they can serve Africa better. It has also onboarded about 500 of the continent's 600 regulated commercial banks into Afreximbank Trade Finance Facility (AFTRAF) and provided them with Trade Credit Confirmation lines.
The goal is to grant an aggregate of $8 billion in Trade Confirmation lines to these African banks and ensure that every country on our Continent has at least one bank that has a dedicated credit line to support intra-African trade. Afreximbank sits today at the centre of the most extensive messaging network, with connections to almost 500 banks. It has built a web that will form the architecture for an integrated African banking network.
These mentioned above are the bank's efforts to support Africa's economic development prospects defined by the extent of control the continent wields over its financial system, that it is access to and control of capital that defines the future of the continent.
As partners, Afreximbank, the African Union Commission and the AfCFTA Secretariat have launched the commercial operations of the Pan-African Payment and Settlement System (PAPSS). It has now become possible to conduct intra-African trade payments in African national currencies. The bank is proud to be backing settlements under this system with a facility, thanks to the leadership of the African Union and the Commission for their strong support towards this transformative initiative.
Afreximbank is working with the AfCFTA Secretariat and Council of Ministers for Trade to establish the AfCFTA Adjustment Fund. The Fund is expected to help countries to adjust in an orderly manner to AfCFTA tariff removals and prepare them to participate in the new trading regime. The Bank was earlier this year appointed the Fund Manager of the $10 billion Fund, which it is supporting with a $1 billion facility and a $10 million grant directed at the Base (Compensation) Fund.
With industrialization, the bank is working with various African governments to develop and expand Industrial Parks (IPs) and Special Economic Zones (SEZs) to deal with infrastructural constraints to industrialization. These parks are ongoing across ten African countries, including two parks in Malawi and one in Cote d'Ivoire under development. It has also commenced discussions for the creation of industrial parks in DRC, Zambia, Rwanda, Kenya and Botswana.
In the first-ever Africa-Caribbean Summit in 2021, Afreximbank has taken steps to accelerate the integration of the two regions. In early September, the first-ever Africa-Caribbean Trade and Investment Forum which attracted over 1,000 participants from Africa and the Caribbean.
Since then, about 9 of 14 CARICOM countries have signed a Partnership Agreement, a treaty instrument akin to the Afreximbank Establishment Agreement, thereby opening up the region for bank interventions. This partnership creates an opportunity for Afreximbank to facilitate and promote trade and investment flows between the two regions and attract African investments into the Caribbean and Caribbean investments into Africa.
In that regard, it has conducted successful trade and investment missions to the Caribbean with African corporates and banks to explore opportunities in that market. Plans are advanced towards opening an Afreximbank office in the Caribbean so that it can support Africa-Caribbean trade and investments better.
With the mandate to forge greater partnerships, Afreximbank is seriously working jointly to push ahead with the pan-African trade and industrialization agenda. These dynamic collective efforts are directed towards the realization of the shared developmental goals with Agenda 2063. Afreximbank remains alive to that responsibility with African Union.
Russia's Military Diplomacy in Africa: High Risk, Low Reward and Limited Impact
By Kestér Kenn Klomegâh
The South African Institute of International Affairs, a Johannesburg-based foreign policy think tank, has released a special report on Russia-Africa relations. According to the report, Russia has signed military-technical agreements with over 20 African countries and has secured lucrative mining and nuclear energy contracts on the continent.
Russia views Africa as an increasingly important vector of its post-Western foreign policy. Its support for authoritarian regimes in Africa is readily noticeable, and its soft power has drastically eroded. As suspicions arise that Russia's growing assertiveness in Africa is a driver of instability, its approach to governance encourages pernicious practices, such as kleptocracy and autocracy in Africa.
Over the years, Russia has fallen short of delivering its pledges and promises, with various bilateral agreements undelivered. Heading into the July 2023 Russia-Africa Summit in St Petersburg (unless the proposed date and venue change, again), Russia looks more like a 'virtual great power' than a genuine challenger to European, American, and Chinese influence.
What is particularly interesting relates to the well-researched report by Ovigwe Eguegu, a Nigerian policy analyst at Development Reimagined, a consultancy headquartered in Beijing, China. His report was based on more than 80 media publications dealing with Russia's military-technical cooperation in Africa. His research focused on the Republic of Mali and the Central African Republic as case studies.
The report, entitled Russia's Private Military Diplomacy in Africa: High Risk, Low Reward, Limited Impact,  argues that a quest for global power status drives Russia's renewed interest in Africa. Few expect Russia's security engagement to bring peace and development to countries with which it has security partnerships.
While Moscow's opportunistic use of private military diplomacy has allowed it to gain a strategic foothold in partner countries successfully, the lack of transparency in interactions, the limited scope of impact, and the high financial and diplomatic costs expose the limitations of the partnership in addressing the peace and development challenges of African host countries, the report says.
Much of the existing literature on Russia's foreign policy stresses that Moscow's desire to regain great power has been pursued largely by exploiting opportunities in weak and fragile African states.
Ovigwe Eguegu's report focuses on the use of private military companies to carry out 'military diplomacy' in African states, and the main research questions were: What impact is Russia's private military diplomacy in Africa having on host countries' peace and development? And: Why has Russia chosen military diplomacy as the preferred means to gain a foothold on the continent?
He interrogates whether fragile African states advance their security, diplomatic, and economic interests through a relationship with Russia. Overcoming the multidimensional problems facing Libya, Sudan, Somali, Mali, and Central African Republic will require comprehensive peace and development strategies that include conflict resolution and peacebuilding, state-building, security sector reform, and profound political reforms to improve governance and the rule of law – not to mention sound economic planning critical for attracting the foreign direct investment needed to spur economic growth.
In the report, Eguegu further looked at the geopolitical dynamics of Russia's new interest in Africa. He asserted that during the Cold War, the interests of the Soviet Union and many African states aligned along pragmatic and ideological lines. After independence, many African countries resumed agitation against colonialism, racism, and capitalism throughout the 1970s and 1980s. The clash between communism and capitalism provided ample opportunity for the Soviets to provide support to African countries both in ideological solidarity and as practical opposition to Western European and US influence in Africa.
Since the Soviet collapse in 1991, Russia has rekindled relationships with African countries for myriad reasons – but these can largely be attributed to pragmatism rather than ideology. More specifically, Russia's interactions with African states have been multi-dimensional ranging from economic and political to security-oriented.
He offered the example of Moscow's relationships with Eritrea and Sudan, which ultimately gave Russia some influence and leeway in the critical Red Sea region and countered the influence of the US and China. But the main feature of Russia's policy is mostly 'elite-based' and tends to lend support to illegitimate or unpopular leaders.
The report also highlighted the myriad socioeconomic and political challenges plaguing a number of African countries. Despite these developments, some have struggled to maintain socioeconomic and political stability. The spread of insecurity has now become more complex across the Sahel region. The crisis is multidimensional, involving political, socioeconomic, regional and climatic dimensions. Good governance challenges play their own role. Moreover, weak political and judicial institutions have contributed to deep-seated corruption.
Conflict resolution has to be tied to the comprehensive improvement of political governance, economic development, and social questions. Some fragile and conflict-ridden African countries are keen on economic diversification and broader economic development. However, progress is limited by inadequate access to finance and the delicate security situation.
According to the International Monetary Fund, these fragile states must diversify their economies and establish connections between the various economic regions and sectors. Poverty caused by years of lacklustre economic performance is one of the root causes of insecurity. As such, economic development and growth would form a key part of the solution to regional security problems.
Analysts, however, suggest that Russia utilizes mercenaries and technical cooperation mechanisms to gain and secure access to politically aligned actors and, by extension, economic benefits like natural resources and trade deals.
Arguably, adherence to a primarily military approach to insecurity challenges is inadequate and not the correct path for attaining peace and development. Furthermore, fragmented, untransparent and unharmonized peace processes will impede considerably sustainable solutions to the existing conflicts in Africa.
Worse is that Russia's strengths expressed through military partnerships fall short of what is needed to address the complexities and scale of the problems facing those African countries. Moscow certainly has not shown enough commitment to comprehensive peacebuilding programs, security sector reforms, state-building, and improvement to governance and the rule of law.
Surely, African countries have to begin to re-evaluate their relationship with Russia. African leaders should not expect anything tangible from meetings, conferences and summits. Since the first Russia-Africa summit held in 2019, very little has been achieved. Nevertheless, not everything is perfect. There is some high optimism that efforts might gain ground. The comprehensive summit declaration, at least, offers a clear strategic roadmap for building relations.
At this point, it is even more improbable that Moscow would commit financial resources to invest in economic sectors, given the stringent sanctions imposed following Putin's invasion of Ukraine. The impact of sanctions and the toll of the war on the Russian economy is likely to see Moscow redirect its practical attention towards ensuring stability within its borders and periphery.
Notwithstanding its aim of working in this emerging new multipolar world with Africa, Russia's influence is still comparatively marginal, and its policy tools are extremely limited relative to other international actors, including China and Western countries such as France, European Union members, and the United States. This article was also published at Geopolitical Monitor.com
Lukashenko Hands Over Agricultural Equipment to Zimbabwe
By Kestér Kenn Klomegâh
On January 30, Belarusian President, Alexander Lukashenko, paid a working visit to hand over in a special ceremony Belarusian agricultural vehicles, tractors and equipment to President Emmerson Mnangagwa in Harare, Zimbabwe.
"First of all, I want to thank the Americans and the entire Western world for having imposed sanctions against us. Otherwise, American and German tractors would have come instead of Belarusian ones to this huge field," Lukashenko said.
The Belarusian leader noted that in Zimbabwe, there are the friends of Belarus, with whom Minsk is building cooperation for the sake of achieving the common good.
After years of negotiations, Zimbabwe finally received its $58 million farm mechanization facility from Belarus, while another deal worth $100 million was signed, according to reports from Zimbabwe's presidency in Harare.
Zimbabwe and Belarus agreed on assembling 3000 tractors. They also agreed to supply Zimbabwe with different kinds of machinery and equipment made in Belarus for the agriculture and timber industry. Both have further agreed to establish a mechanization programme for the farming and timber industries.
It provides for over 800 units of equipment to be delivered in two batches. These include, among others, 60 self-propelled grain harvesters, 210 precision seed drills, 474 tractors of different power capacities, fifth wheel trucks with semi-trailers for transportation of heavy equipment and four dump trucks.
The agreement makes provision for other equipment such as six semi-trailers with hydraulic manipulators for transportation of construction machinery, 10 drop-side trucks, firefighting equipment critical in forest business, cities and other communities and emergency rescue operations. The agricultural equipment also includes 30 motorcycles and a complete set of spare parts for every type of machinery and equipment delivered.
Zimbabwe has been looking for foreign partners from other countries to transfer technology and industrialize its ailing economy. The report said that the government had launched a similar facility from a US company, John Deere, estimated at $50 million, intended to boost agricultural production. Negotiations are also underway with Chinese manufacturers to set up bus assembling plants locally after the government recently procured buses from the Asian country.
Zimbabwe and Belarus officials noted that the unique relationship would help in technical skills transfer and transform the agricultural sector in Zimbabwe.
"The implementation of the project involves an approach that includes not only full responsibility regarding warranty and service support, provision of spare parts, training of local specialists, but also providing advanced technologies, comprehensive decisions and solutions in agriculture for every agricultural period from cultivation, seeding, irrigation, planting to crop harvesting," according to the report from Zimbabwe's Ministry of Agriculture.
In addition to the statement, the Belarus cooperation deal and the commissioned John Deere project for the supply of agriculture mechanization equipment were a culmination of the re-engagement policy of President Emmerson Mnangagwa.
The principle for re-engagement and engagement is open to all countries worldwide. Zimbabwe is ready to cooperate in business with external countries and for the benefit of the people. President Mnangagwa has reiterated that Zimbabwe is open for business.
Mnangagwa's working visits to Minsk have helped to break barriers that have impeded progress in its economic diplomacy and to seek increased business cooperation with Belarus, an ex-Soviet republic and a member of the Eurasian Economic Union. The Eurasian Economic Union members are Armenia, Belarus, Kazakhstan and Russia.
Zimbabwe is a landlocked country in southern Africa. Mineral exports, gold, agriculture, and tourism are the main foreign currency earners of this country. The mining sector remains very lucrative. Its commercial farming sector is traditionally another source of exports and foreign exchange. In the southern African region, it is the biggest trading partner of South Africa. Zimbabwe is one of the members of the Southern African Development Community (SADC).
Interest in Netflix Stocks Jumps 131% After Oscar Nominations
By Aduragbemi Omiyale
Interest in Netflix stocks went up by 131 per cent, with signing-up to the streaming platform increasing by 166 per cent after sweeping 15 nominations across numerous categories at the Academy Awards nomination announcement.
On January 24, 2023, Oscar nominations were released, and an analysis of Google search data by AskGamblers showed that Netflix sign-up exploded over to double the average search volume in one day, an unprecedented increase in movie fans looking to stream some of the most popular titles.
Netflix's most nominated film is All Quiet on the Western Front, a German film set during World War I. The film was nominated nine times in categories such as Best Picture and Best Cinematography. Other feature-length titles from Netflix, such as Blonde, Guillermo Del Toro's Pinocchio and The Sea Beast, also gained nominations, as well as two documentary short films.
"The Academy Awards are the pinnacle of the awards season, with many filmmakers and studios hoping for recognition from the Academy in this latest nomination announcement.
"With 15 nominations given to films produced by Netflix, it will be interesting to see if these searches translate into sign-ups to the platform and if Netflix will receive even more new customers if they win big during the ceremony in March," a spokesperson for AskGamblers commented on the findings.
Latest News on Business Post