Worry as Libyan Oil Production Hits 1.215mbpd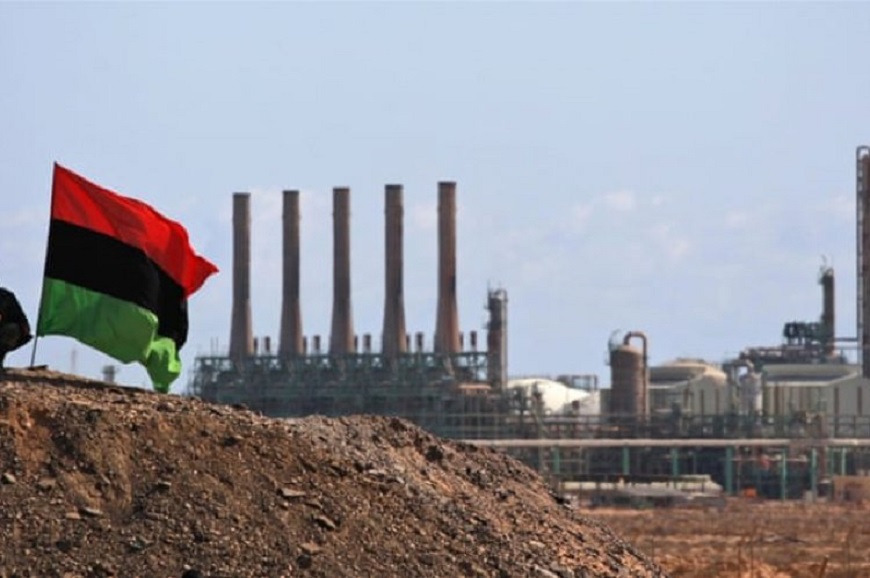 By Adedapo Adesanya
Libyan oil production has now reached 1.215 million barrels per day, signalling more worries for the international oil market with more supply expected amid weakening demand.
The North African country's state oil company, National Oil Corporation (NOC), said last week that production had reached 1.04 million barrels per day.
Business Post had reported that Libya's oil output has been rising steadily since the gradual lifting of an eight-month blockade by eastern forces in September.
It was reported on October 26 that NOC ended force majeure on the last facilities closed by the blockade and recently, the chairman of the oil corporation, Mr Mustafa Sanalla, said output could reach 1.3 million barrels per day within a month.
It could be a challenge for Libya to produce significantly more than 1.3 million barrels per day because repeated shutdowns since a civil war erupted in 2011 and limited investment in infrastructure has curtailed its production capacity.
Prior to 2011, Libya was producing about 1.6 million barrels per day but had slumped to just 100,000 bpd in early September.
The speedy recovery in production has surprised analysts and it presents a challenge to the Organization of the Petroleum Exporting Countries (OPEC) and allies, a group know as OPEC+.
They are due to hold a ministerial committee meeting on November 17 which could recommend changes to production quotas when all the ministers meet on November 30 and December 1.
At the moment, OPEC+ is due to reduce existing cuts of 7.7 million barrels per day by about 2 million barrels per day in January.
But the group is considering extending the current cuts by three or six months, or even deepening them.
The rise in Libyan output and the prospect of weaker demand during ongoing lockdowns to stem record increases in COVID-19 cases are forcing the group to reconsider its policy.
Under the terms of the deal between OPEC and non-cartel producers, principally Russia agreed in April, the so-called OPEC+ group pledged to cut output by 9.7 million barrels per day from May 1 until the end of June.
The cuts were then to be gradually eased from July to 7.7 million barrels per day through to December and then 5.8 million barrels per day from January.
Alongside the International Energy Agency (IEA), OPEC expects global demand for crude oil to decline by 9.8 million barrels per day in 2020, compared with its previous forecast for a drop of 9.5 million barrels per day.
For 2021, OPEC expected a rebound of 6.2 mbpd but this represented a cut of 300,000 bpd on its previous estimate, leaving global demand at 96.3 million barrels per day.
The IEA expected full-year 2020 global oil demand to come in at 91.3 million barrels per day down by 8.8 million barrels per day compared with the drop of 8.4 million barrels per day given in last month's regular report.
New US Travel Rules Excludes Foreigners Vaccinated with Russia's Sputnik V
By Kester Kenn Klomegah
Local and foreign media have stepped up reports about rising COVID-19 infections in Russia. While the reports indicated high deaths in the country, the other highlighted new trends that are noticeably appearing there.
Interestingly, directors at the Russian tourism and travel agencies say that many Russians are lining up for vaccine tourism in Serbia, Bulgaria and Germany and a few other foreign countries.
These Russians aim at getting foreign vaccines including Pfizer, Moderna and Johnson & Johnson and AstraZeneca.
Here are a few facts about Russian vaccines.
Russia's Sputnik V was the first officially registered coronavirus vaccine on August 11, 2020. Russia is using four vaccines for mass vaccination for COVID-19. These are Sputnik V and Sputnik Light developed by the Russian Health Ministry's Gamaleya Center.
EpiVacCorona developed by the Vector Center of the Federal Service for Surveillance on Consumer Rights Protection and Human Wellbeing (Rospotrebnadzor), and CoviVac developed by the Chumakov Institute of the Russian Academy of Sciences.
Clinical trials of the EpiVacCorona vaccine on teens aged from 15 to 17 might begin in the near future.
China has a 1.3 billion population and has given the two billionth vaccine by the end of August, the United States has 380 million and has vaccinated 60% of its population. In Europe, the vaccination rate is high at an appreciable level.
Overall, Russia with an estimated 146 million people has Europe's highest death toll from the pandemic, nearly 210,000 people as of September 30, according to various authentic sources including the National Coronavirus Task Force.
More than 42 million Russians have received both components of a coronavirus vaccine, according to Russian Deputy Prime Minister Tatyana Golikova.
"The number of citizens who have received the first component of a vaccine has topped 44 million, and more than 37 million people have completed a full vaccination course," Golikova said.
She gave an assurance back in July that once the population have been immunized with at least the first component of a two-shot vaccine, herd immunity to COVID-19, or at least an 80% vaccination rate, should be reached by November 1.
Even though Russia boasted of creating the world's first coronavirus vaccines, vaccination is very low. Critics have principally blamed a botched vaccine rollout and mixed messages the authorities have been sending about the outbreak.
In addition, coronavirus antibody tests are popular in Russia and some observers suggest this contributes to the low vaccination numbers.
Western health experts say the antibody tests are unreliable either for diagnosing COVID-19 or assessing immunity to it. The antibodies that these tests look for can only serve as evidence of a past infection. Scientists say it's still unclear what level of antibodies indicates that a person has protection from the virus and for how long.
Russia has registered Sputnik V in more than 150 foreign countries. The World Health Organization is yet to register this vaccine. For its registration, it must necessarily pass through approved procedures, so far Russia has ignored them, according to reports.
There have also been several debates after the World Health Organization paused its review process of the Sputnik V vaccine over concerns about its manufacturing process, and few other technical reasons. While some talked about politicizing the vaccine registration, others have faced facts of observing recognized international rules for certifying medical products as such vaccines.
During the first week of October, Russian Health Minister Mikhail Murashko has reiterated or repeated assertively that a certain package of documents was needed to continue the process for the approval of the Russian coronavirus vaccine Sputnik V by the World Health Organization. The final approval is expected towards the end of 2021.
Still, one of the problems with registration is unfair competition in the global market. For instance, Russian Minister of Industry and Trade Denis Manturov said in an interview with the Rossiya-24 television channel on October 5: "I think it is an element of competition. Until Pfizer covers a certain part of the market, it is pure economics."
On the other side, Pyotr Ilyichev, Director for International Organization at the Russian Foreign Affairs Ministry, told Interfax News Agency, for instance, that World Health Organization has been playing politics around Russian vaccine especially when it is needed in most parts of the world.
"The world is facing an acute shortage of vaccines for the novel coronavirus infection. In certain regions, for instance in African countries, less than 2% of the population has been vaccinated. The Russian vaccine is in demand, and the UN stands ready to buy it," he told Interfax.
"However, certification in the WHO is a complex, multi-step process, which was developed in the past in line with Western countries' standards. It requires time and serious efforts from our producers. We hope that this process will be successfully finalized in the near future," Ilyichev said.
Chairman of the State Duma's Foreign Affairs Committee Leonid Slutsky has described as discriminatory a decision reported by foreign media that the United States, under its new consular rules, would deny entry for foreigners immunized with the Russian COVID-19 vaccine Sputnik V.
"Thus, the U.S. will blatantly embark on a path of 'vaccine discrimination.' There are absolutely no grounds for such decisions. The efficacy and safety of the Sputnik V vaccine have been confirmed not only by specialists but also by its use in practice," Slutsky said on Telegram.
He cited an article in The Washington Post saying that from November the United States may begin denying entry to foreigners vaccinated with Sputnik V.
It means that if such additional border measures are adopted, foreigners seeking entry to the United States will have to be immunized with vaccines approved for use either by American authorities or the World Health Organization.
According to an article published in The Washington Post, for the first time since the pandemic began, the United States intends to loosen entry restrictions for foreigners vaccinated against COVID-19.
The new rules, which enter into force in November, will not apply to Russians vaccinated with Sputnik V and citizens of other countries using this Russian vaccine.
Under the new rules, foreigners will enter the United States only if they are immunized with vaccines approved for use by the United States Food and Drug Administration or the World Health Organization. Russia's Sputnik V is yet to be approved by the World Health Organization and is not recognized by the United States.
Airtel Money, Flutterwave to Explore East African Markets
By Adedapo Adesanya
Airtel Money has announced a partnership with an African payments company, Flutterwave, to expand the former's services to East African markets.
Through the partnership, businesses integrating Flutterwave in Uganda, Tanzania, Zambia, Malawi, Kenya and Rwanda will be able to receive payments from Airtel Money customers and make bulk payments into Airtel Money wallets, thanks to Airtel Money's proprietary fintech platforms.
The new services will go live subject to regulatory approvals in the respective countries and reach Airtel Money's 19.2 million customers in East Africa.
This is coming after a month after the fintech company announced a mobile money partnership with MTN Group to integrate Flutterwave in Cameroon, Côte d'Ivoire, Rwanda, Uganda and Zambia to receive payments via MTN Mobile Money (MoMo).
According to the company in a statement, the partnership will positively increase mobile money usage and penetration in Africa and improve local economies and livelihoods, as well as create opportunities for individuals and businesses across the continent.
Speaking on the development, Airtel Mobile Commerce BV CEO, Mr Vimal Kumar Ambat commented: "Airtel Money is committed to bridging the digital divide and enhancing financial and digital inclusion for millions of businesses across sub-Saharan Africa. Our partnership with Flutterwave will help to empower even more customers through simple and accessible payments services, using the latest technologies, that support business innovation and boost local economies."
On his part, Flutterwave founder and CEO, Mr Olugbenga Agboola, stated that, "Our business goal is to continue to support African businesses digitise their payments methods and introduce them to a world of opportunities that come with digitisation.
"We are excited to have partnered with Airtel Money to further advance local businesses payment methods which will allow them to increasingly provide more services to their customers, grow their customer base and revenue."
The development of Mobile Money in Africa has been nothing but remarkable and commendable with approximately 144 mobile money providers operating in Africa, with M-Pesa having over 50 million users and MTN MoMo having over 48.9 million users.
Furthermore, the International Monetary Fund (IMF) estimates show that Africa has more digital financial services users than any other region in the world, accounting for nearly half of the 700 million individual users globally.
COVID-19 has also triggered a widespread shift in the adoption of mobile money services, with the GSMA reporting a 12.7 per cent increase in the number of registered global mobile money accounts in 2020.
As the trend continues its upward spike, this partnership further responds to the growing dominance of cashless societies across the sub-Saharan region and the need to penetrate digital innovation deeper into communities across Africa.
Libya Finally Kicks Off Construction of Oil Refinery Project
By Sodeinde Temidayo David
Libya, one of Africa top crude oil exporters, has announced the commencement of the construction of a refinery in the south zone of the country.
This was revealed after a cabinet meeting in the country where it was revealed that the refinery project was originally planned in 1980.
The refinery is aimed to produce cooking gas and also produce 8,000 cylinders per day, jet fuel and other products, including 1.4 million litres of petrol per day and 1.1 million litres of diesel in a day.
Libyan Prime Minister, Mr Abdelhamid Dbeibah, announcing in the ceremony at the country's capital, Tripoli, noted that the project is in association with the country's oil company, National Oil Corp (NOC).
He further disclosed the importance of the project to the country's growth, adding that the financial coverage was ready, with specifications and technical designs also ready with Libya's state oil company.
According to the Chairman of NOC, Mr Mustafa Sanalla, the project will cost between $500 million and $600 million and become operational within three years, with an expected annual income of $75 million.
The refinery will be built near Al-Charara, a major oil field in the Oubari region of Libya, which produces an average of 300,000 barrels of oil a day.
First announced in the early 1980s, the project for a refinery in southern Libya had been put on hold for years before being revived in 2017.
Libya, which has the most abundant oil reserves in Africa, has been trying to emerge from a decade of chaos since the fall of Muammar Gaddafi's government in 2011.
Libya was gripped by violence and political turmoil in the aftermath of the NATO-backed uprising against Kadhafi.
In recent years, the country has been split between two rival administrations backed by foreign powers and myriad militias but the recent ceasefire has helped return some level of peace to the country which has allowed its export crude.
Latest News on Business Post