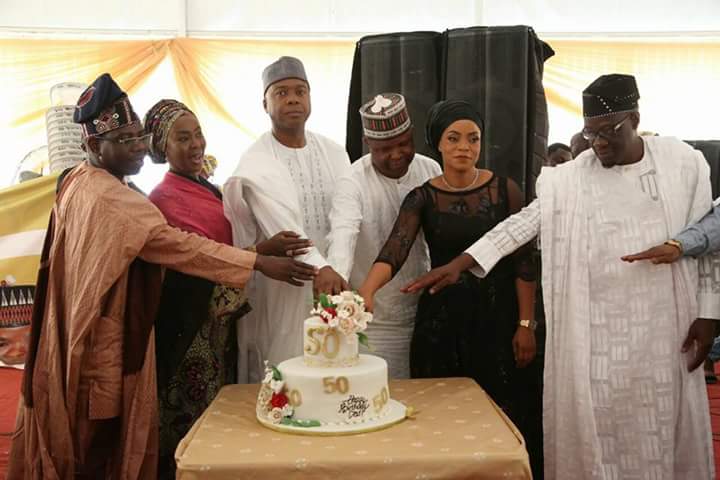 By Modupe Gbadeyanka
The Senator representing Kwara South Senatorial District at the National Assembly, Mr Rafiu Adebayo Ibrahim, has launched a foundation aimed at giving empowerment to youth and women in the state.
Speaking at the unveiling of the Rafiu Ibrahim Bilal (RIB) Foundation in Offa, Kwara State on Sunday, the lawmaker emphasised that the foundation will focus on educational support and entrepreneurship education; empowerment of indigent youth and women; and enterprise development services.
At the occasion also to mark his 50th birthday, the Senator noted that he was inspired to start the foundation after reflecting on his "humble beginning."
Describing himself as "fortunate", the amiable and easy-going Senator revealed that though "growing up was difficult" for him, he, however, "remained focused and determined to achieve greatness."
The respected and big-hearted lawmaker also stressed that his decision to start a foundation did not just happen, pointing out that he has "been doing [it] for many years", but only felt like taking it to "another dimension."
"RIB FOUNDATION is targeted at giving back to my community either while in office or out of office. We are also in partnership with the recently launched Saraki Employment and Empowerment Centre for Skill-acquisition, Training Empowerment Programme (SEEC-STEP) of our leader, distinguished Senate President, Dr Abubakar Bukola Saraki, to provide jobs for 40,000 Kwarans.
"In my own capacity, Kwara South-STEP, as part of our programme under RIB FOUNDATION, targets 8,000 Kwara Southerners in four years to reduce poverty and unemployment in line with the current economic reality in the country now.
"This and many other programmes under RIB FOUNDATION and our regular empowerment, bursary, scholarship awards, business financial supports, health bills, provision of school fees and books for our students etc are what I pray to continue to do for the rest of my life. I pray this should not be the end of it, Amin," he said at the occasion also witnessed by the Senate President and other political bigwigs in the state.
Senator Ibrahim showered praises on the Saraki political dynasty, praying for God's increased protection and divine guidance on Dr Bukola Saraki.
Recalling his foray into politics, the lawmaker narrated that it started in in 2009, when late Olusola Saraki (Senate President's father) "endorsed me for the Kwara State House of Assembly to represent Oke-Ogun Constituency.
"That day, Baba Saraki told all the stakeholders from Oyun LGA that I was one of the most trustworthy persons he had met in his life time.
"I was moved to tears and vowed never to disappoint my destiny which had brought me this unimaginable favour from such a man of unquantifiable and unequalled greatness.
"Behold, with his endorsement, I was elected a Member of Kwara State House of Assembly for Oke-Ogun Constituency of Oyun Local Government Area in a re-run election in 2009 after the demise of Raufu Lambe. (RIP)
"As destiny would have it, my election in to the state Assembly was just a precursor that shot me into the National politics. In 2011, I was elected into the National Assembly, as a Federal Honourable of the House of Representatives to represent Ifelodun/Offa/Oyun Federal Constituency.
"Four years later, despite the hullabaloo in the polity of our country, our Leader, Dr Abubakar Bukola Saraki gave me the nod to consider the seat for the Kwara South Senatorial District."