ETAP Raises $1.5m to Expand Africa's Car Insurance Services
By Adedapo Adesanya
ETAP, an insurtech startup that makes it easy to buy and claim insurance, says it has secured $1.5 million in pre-seed funding to drive the adoption of car insurance across Africa.
The pre-seed funding round was led by Mobility 54 (the Venture Capital arm of Toyota Tsusho and CFAO Group), with participation from Tangerine Insurance, Graph Ventures (invested in Clubhouse), Newmont, and other angel investors.
According to its Chief Executive Officer, Mr Ibraheem Babalola, the new funding will support the roll-out of ETAP's game-changing app which allows drivers to buy insurance in 90 seconds, complete claims in three minutes or less and get rewarded for good driving and avoiding accidents.
Mr Babalola said that working with a wide range of automotive value chain players, ETAP would also explore other opportunities to deliver much-needed car insurance services to owners in other countries across the continent.
"In spite of the longstanding regulation, making car insurance compulsory, more than 100,000 car accidents were reported between January 2019 and December 2021, only one in five cars in Nigeria are currently insured.
"The complexities of buying and claiming insurance has led to widespread apathy for traditional insurance companies and products, with many car owners opting to go without insurance.
"With ETAP, the entire process of buying and claiming insurance happens exclusively on a smartphone, enabling a seamless and enjoyable insurance experience for users," he said.
He said that ETAP uses machine learning to build intelligent risk profiles that determine appropriate premiums for each driver, allowing them to achieve lower premiums by driving safely.
"Using advanced telematics, the experience is gamified to improve driving behaviour and drivers can earn safe driving points that can be exchanged for shopping vouchers for the most in-demand retail outlets, fuel, cinema and concert tickets among others," he said.
Mr Babalola said that drivers would have flexible coverage options, including daily, weekly, monthly, quarterly and annual plans depending on their needs.
"In the unfortunate event of an accident, they simply need to take a picture of the affected part of the car via the app and the artificial intelligence processes they claim based on previously uploaded images," he said.
Mr Babalola said that the app came with geolocation tags, timestamps and other features to prevent fraudulent claims, as well as crash notification, emergency support and more.
"Since we launched in November 2021, ETAP has insured more than 130,000 individual trips and over 500,000 kilometres in car journeys, which represents more than eight times the total distance of paved roads in Nigeria.
"Just like any other digital service, we believe Nigerians should be able to buy and claim car insurance without having to 'call a guy'.
"We also believe that rewarding good drivers can be a catalyst for better driving and making our roads safer.
"This is why we have created Africa's most powerful car insurance app and we are excited to have raised these funds to bring more users on board," Babalola said.
He said that many times, the process of buying and claiming insurance in Africa is so out of touch with the everyday reality of most people.
Mr Babalola said that ETAP would change the game and make the process just as enjoyable as any other experience that consumers access on the mobile phone.
On the part of the lead funder, Project Manager at Mobility 54, Mr Yumi Takagi, said, "ETAP is addressing many challenges that impact the automotive experience in Africa and we are excited to support and work with them to bring their innovation to more drivers across the continent."
Mr Takagi said that he believed ETAP would engage with this important role and revolutionise the automotive insurance industry with its powerful technology.
Delivery Bikes Not Affected by Lagos Okada Ban—Police Chief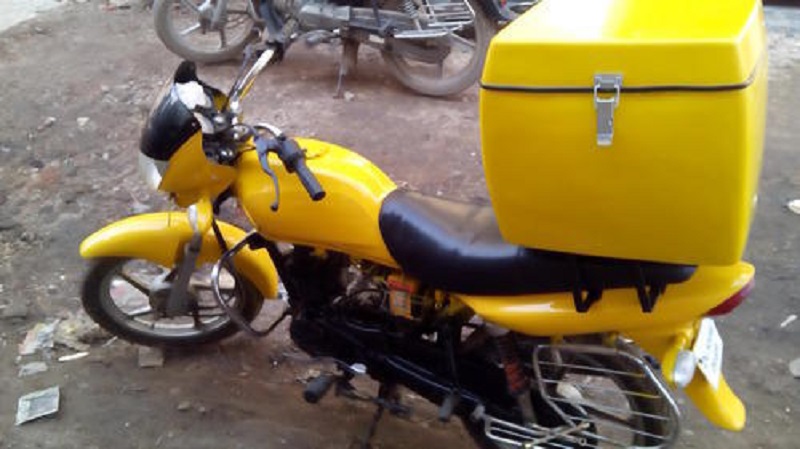 By Adedapo Adesanya
The Commissioner of Police for Lagos Command of the Nigeria Police Force, Mr Abiodun Alabi, has clarified that delivery bikes will not be affected by the latest ban on commercial motorcycles commonly called okada.
The Governor of Lagos, Mr Babajide Sanwo-Olu on Wednesday announced a fresh ban on activities of okada riders in six local government areas of the state.
Speaking to Channels Television on Sunrise Daily on Thursday, Mr Alabi said, "It does not affect couriers, but the couriers will not carry passengers,
"We will have to make sure they are couriers and not pretending to be one.
"Then the other officers who are okada owners must be uniformed personnel who are going to their various places of work.
"Those who own power-bikes are not affected, because it's not meant for commercial purpose."
The police chief said, unlike the previous times, the new policy will be thoroughly enforced, alleging that most okada riders are criminals and must be taken off the road.
However, he acknowledged that banning okadas may have its side effects.
"We know that banning the okada riders can actually increase the crime rate. And we are not unmindful of that and we are already putting in place a lot of strategies to contend with it," he said.
"We know that it will send a lot of them to unemployment. We are aware of that and are preparing for it," he added.
The latest ban on okada operators in the affected councils followed the February 2020 restriction placed on the activities of the commercial motorcycles.
The Governor, who spoke at a meeting with the Commissioner of Police, Area Commanders and Divisional Police Officers (DPOs) at the State House in Alausa, said the directive affected all highways across six Local Government Areas (LGAs) and nine Local Council Development Areas (LCDAs) of the state.
According to Mr Sanwo-Olu, the new directive will take effect from June 1, 2022, directing security operatives to enforce the proscription order across the listed councils.
He said, "The total ban order extends to all LCDAs under the listed councils," which are Eti-Osa, Ikeja, Surulere, Lagos Island, Lagos Mainland, and Apapa.
Again, Governor Sanwo-Olu Bans Okada in Lekki, Ikeja, Others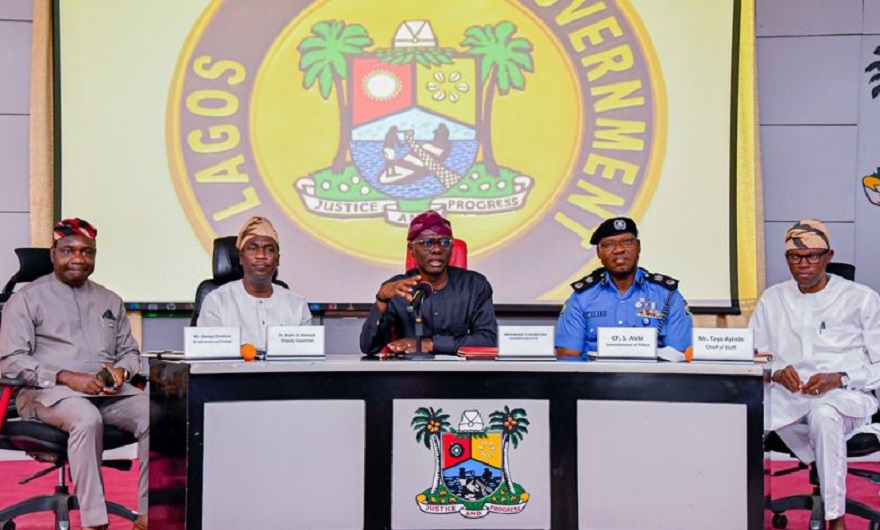 By Aduragbemi Omiyale
The Governor of Lagos State, Mr Babajide Sanwo-Olu, has announced a total ban on operations of commercial motorcycles, popularly known as Okada, in Lekki and other places.
At a meeting on Wednesday, he said the directive will become effective from June 1, 2022, and affects six Local Government Areas (LGAs) and nine Local Council Development Areas (LCDAs) of the state.
According to him, okada riders will not be allowed to ply highways in these areas, which include Eti-Osa, Ikeja, Surulere, Lagos Island, Lagos Mainland, and Apapa.
The action of the governor followed the growing menace and nuisance constituted by commercial motorcycles in the state, including the lynching of a Sound Engineer, Mr David Imoh, in the Lekki area of the state last week.
This is not the first time Mr Sanwo-Olu is restricting operations of commercial motorcycles as in February 2020, he banned Okada operations in the state.
At the meeting with the Commissioner of Police, Area Commanders and Divisional Police Officers (DPOs) at the State House in Alausa today, the Governor said the state government would not condone any security formation that relaxes the new ban in its jurisdiction.
"After critical review of our restriction on Okada activities in the first six Local Government Areas where we restricted them on February 1, 2020, we have seen that the menace has not abated. We are now directing a total ban on Okada activities across the highways and bridges within these six Local Governments and their Local Council Development Areas, effective from June 1, 2022.
"This is a phased ban we are embarking on this period, and we expect that within the short while when this ban will be enforced, Okada riders in other places where their activities are yet to be banned can find something else to do. We have given the notice now and we expect all commercial motorcycles plying the routes in the listed councils and areas to vacate the highways before enforcement begins. The enforcement will be total," he said.
Mr Sanwo-Olu advised residents patronising Okada riders on highways to embrace the alternative transport schemes already provided by the government to plan their journey.
He said the government had provided last mile buses, medium-capacity and high-capacity buses in the affected areas for the convenience of commuters.
The Governor insisted that Okada riding on the highways remained unsafe and would no longer be tolerated, noting that the state government had been ramping up construction work on its two rail line projects to further increase the choices of commuting for residents.
"We have provided last-mile buses in the affected areas; they are working and effective. We also have medium-capacity buses and high-capacity buses working in these areas. Before the end of the year, we are also bringing the rail along these corridors with their terminals. We have provided jetties as well to provide alternatives.
"We will not sit back and watch criminally-minded people use that mode of transportation (motorcycles) to perpetrate crimes and criminality in Lagos.
"Lives are being lost on a daily basis, preventable accidents are happening every day and the riders are not respecting any of our traffic laws. The situation has led to a complete breakdown of law and order. This ban has come to stay and we will not tolerate any weakness in enforcement," he said.
The Commissioner of Police, Mr Abiodun Alabi, directed his men to ensure complete enforcement of the Governor's order in the listed councils and areas.
Lagos to Prosecute Truck Driver, One Other Over Attack on VIS Officials
By Modupe Gbadeyanka
A truck driver and one other suspect would be prosecuted by the Lagos State government for allegedly attacking operatives of the Vehicle Inspection Service (VIS).
The VIS officials were reportedly beaten by a mob on Tuesday, May 10, 2022, along Airport Road in Oshodi, resulting in two of the operatives receiving treatment at the hospital.
According to a statement signed by the Commissioner for Transportation, Mr Frederic Oladeinde, the government officials were attempting to apprehend the truck driver for allegedly violating the traffic law of the state when the mob descended on them, using various weapons to attack them.
Mr Oladeinde, who frowned at the development, promised that the Lagos State government will take decisive action against the perpetrators of the act.
He said the truck driver and one of the attackers have been apprehended and would be prosecuted to the full extent of the law, stressing that others who are still at large will soon be brought to book.
Mr Oladeinde decried the frequent attacks on the enforcement teams of the state government by citizens, warning that those caught in the act will continue to face the full wrath of the Law.
Also speaking on the incident, the Director, Lagos State Vehicle Inspection Service, Mr Akin-George Fashola, urged members of the public to always channel their grievances against government officials to the appropriate authorities for necessary action instead of taking laws into their hands through unwarranted attacks.
"As we say in the transport sector, safety implementation without enforcement is mere entertainment. The role of the VIS is to ensure sanity on our roads for the safety of lives and property and if in the cause of this onerous assignment, you feel hard done by our officials, the last thing you want to do is to resort to self-help which is against the law. Endeavour to channel your grievances through the appropriate channel," Mr Fashola advised.
Latest News on Business Post