Ford China Gets New Chairman/CEO
By Dipo Olowookere
A new Chairman and CEO of Ford China has been announced by Ford Motor Company and he is Mr Jason Luo.
Mr Luo will lead all of the company's operations in Greater China including its import business, Lincoln, its passenger car joint venture Changan Ford, commercial vehicle investment in Jiangling Motors Corporation, and our operations in Taiwan.
Mr Luo, 51, joins Ford from Key Safety Systems, the fastest growing company in the automotive safety market, where he was global president and CEO for the past 10 years.
While at Key Safety Systems, he led the business transformation and global expansion of the company and achieved significant revenue growth in China.
Mr Luo will be based in Shanghai, reporting to Peter Fleet, Ford group vice president and president, Ford Asia Pacific.
"Jason's leadership and track record of business growth and transformation in China make him the ideal person to lead Ford in the world's largest vehicle market," said Peter Fleet, Ford group vice president and president, Ford Asia Pacific. "He will help us raise our vision in China as we become more nimble and operationally fit, expand vehicle electrification and begin to localize Lincoln vehicle assembly."
Also announced is the Vice President, Powertrain Engineering, Mr David Filipe, who succeeds Bob Fascetti, elected to retire on October 1, 2017.
Mr Fascetti served nearly 30 years in Powertrain and Product Development improving Ford fuel economy and performance of Ford vehicles around the globe.
Mr David Filipe, 50, is a 25-year Ford veteran who will be responsible for all powertrain engineering around the world. He will report to Hau Thai-Tang, executive vice president, Product Development and Purchasing.
Joining Ford in 1992, Mr Filipe has held various positions within Product Development and several global leadership roles.
Most recently, he served as the vehicle line director, North America trucks, large SUVs and commercial vehicles, which included responsibility for overseeing the development and launch of the 2017 Super Duty pickup truck, the 2018 Ford F-150, and the all-new 2018 Expedition.
"Dave's broad experience in product around the world makes him an ideal successor to Bob Fascetti, who has made significant contributions to Ford, including leading the development of the entire Ford EcoBoost lineup," said Hau Thai-Tang, executive vice president, Product Development and Purchasing. "We are grateful for his nearly 30 years of service and wish him well in the future."
Both appointments are effective September 1.
Airtel Supports Police for Safety of Lagos Road Users
By Modupe Gbadeyanka
As part of its commitment to support the activities of the police in ensuring the coordination and safety of Lagos road users, Airtel Nigeria has donated some traffic booths.
According to the Commissioner of Police for the Lagos Police Command, Mr Abiodun Alabi, the booths will be placed in strategic locations across the state to serve as an inspiration to other organisations to support the police in the discharging of their duties.
At a brief ceremony to hand over the items at the Lagos State Police headquarters, Ikeja, on Thursday, January 19, 2023, Mr Alabi thanked the telecommunications service provider for the gesture, recounting previous support over the years.
Some of which included the donation of phones to all police commissions in Lagos, donation of patrol vehicles, renovation of Zone 2 Command, renovation of Lekki Phase 1 Police post and the provision of CCTV cameras, etc.
"On behalf of the Inspector General of Police, Mr Alkali Baba Usman, and the Lagos State Police Command, I would like to thank Airtel for their support to the Nigeria Police over the years and for this particular donation of traffic booths for our traffic officers through its corporate social responsibility.
"Not everyone or every organisation appreciates what the police does for society; therefore, we are pleased to see that Airtel recognizes and supports our effort to carry out our duties optimally," he said.
Also speaking, the Director of Corporate Communications at Airtel Nigeria, Mr Femi Adeniran, said, "Over the years, Airtel Nigeria has worked closely with the Lagos Police Command, and we have collaborated on several initiatives with a positive impact towards making Lagos a safer and more secured State to live in and do business.
"We are firm in our resolve to drive the vision of Airtel Africa towards sustainability consistently, and we consistently work to demonstrate this in our deeds through our CSR interventions.
"We are always glad to support the police force in the great work they do daily because we understand that once there is security, people can live and make ends meet without fear, and that is the only way we can say that we have a good society."
Traffic Gridlock: Lagos Directs Petrol Stations to Close by 4pm
By Modupe Gbadeyanka
Petrol stations located along the major roads in Lagos will now operate from 9 am to 4 pm daily, the Lagos State government has directed.
A statement signed by the Commissioner for Transportation, Mr Frederic Oladeinde, explained that the move was to curtail the traffic gridlock witnessed around such fuelling stations in the metropolis.
The incessant scarcity of premium motor spirit (PMS), otherwise known as petrol, in the city and other parts of Nigeria has caused vehicles to queue for the product, causing a clog in vehicular movement.
Most of the queues are seen around petrol stations belonging to major oil marketers because of their pump price. At the moment, most of them sell at the official price of N169 per litre, while other fuelling stations sell between N240 per litre and N260 per litre.
The quest to buy cheaper fuel has forced most motorists to queue for many hours at stations selling the official pump price.
To address traffic caused by the queues and ensure the free flow of vehicular movement in the metropolis, the state government has moved to "regulate the activities of major and independent petroleum marketers operating along major roads and traffic-prone areas within the state," according to the statement.
Mr Oladeinde said the state government was not happy with the "indiscriminate activities of motorists queuing to buy petroleum products and often impeding the free flow of traffic on some roads."
He said the government has now decided to ensure that, "petroleum marketers whose filling stations are situated on major highways and areas susceptible to traffic will henceforth be allowed to operate only between the hours of 9 am to 4 pm daily, pending when the fuel shortage crisis subsides."
The Commissioner added that the Lagos State Traffic Management Authority (LASTMA), Vehicle Inspection Service (VIS), Transport Operations Compliance Unit (TOCU) and other law enforcement agencies have been charged to ensure a seamless flow of traffic across the State.
Mr Oladeinde urged "all major and independent petroleum marketers operating across the state to comply with the directive to avoid sanctions."
Lagos Orders Evacuation of Trucks Ahead of Buhari's Visit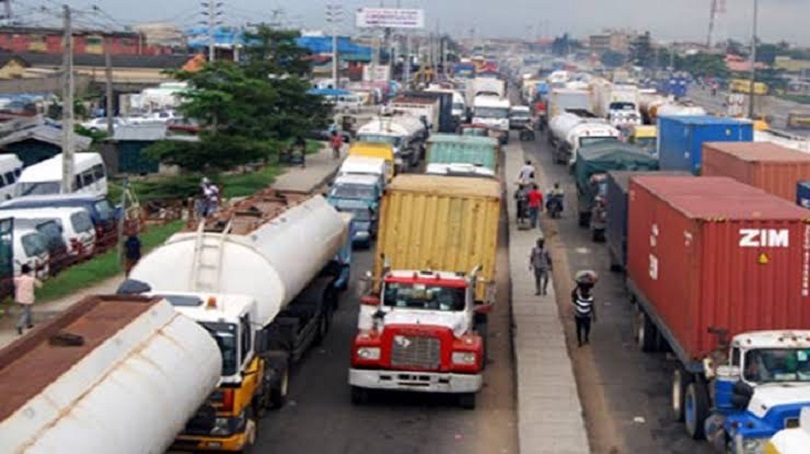 By Adedapo Adesanya
With President Muhammadu Buhari's visit to Lagos in sight, the Lagos State Government has warned all truckers' unions to remove their trucks and vehicles that are parked along the Blue Rail line corridor route.
The President is expected on a four-working day trip to commission some projects in the commercial city, including the Blue Rail Line and Lekki Deep Seaport.
In a statement by the Association of Maritime Truck Owners (AMATO), it warned its members to adhere to the directive of the government on the evacuation of trucks so as not to have them impounded.
The statement signed by AMATO's National President, Mr Remi Ogungbemi, said that there was a need to do the needful so it would make it easy for the President to have smooth commissioning, hence the roads must be vacated for ease of vehicular movement within and around the state.
"The Lagos State Government through the Ministry of Transportation hereby directs the removal of all trucks that are parked on Blue Rail Line Corridor from Iganmu down to Okokomaiko or have their trucks impounded by the State Government due to the planned Four (4) days working visit to Lagos State by President Muhammadu Buhari for smooth commissioning of the Lagos Blue Rail Line project.
"Blue Line Rail would be running on electric tracks with Electric Motor Vehicle (EMV); hence, human activities, including parking of trucks around the Blue Rail line corridor, is a threat to life and general safety. Hence, the need to keep off the Blue Rail Corridor.
"That parking of trucks along the Blue Rail Corridor is a threat to the security of the rail infrastructure.
"To this end, all truckers are hereby enjoined to remove their trucks from the Blue Rail Line Corridor from Iganmu to Okokomaiko to prevent their trucks from being towed, as to be forewarned is to be forearmed," the statement read.
Latest News on Business Post