Lagos Begins Rehabilitation of Ojota/Ikorodu Interchange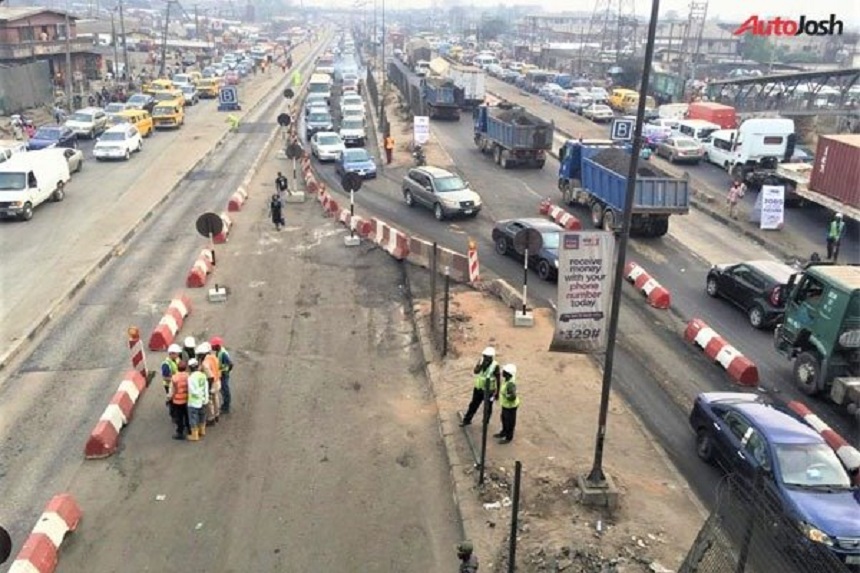 By Modupe Gbadeyanka
The next phase of the Ojota axis of Lagos-Ikorodu Road will commence from 6am on Saturday, August 29, to Friday, September 25, 2020, the Lagos State government has announced.
In view of this and to allow the contractor handling the project work without hindrances, the state government has a traffic diversion for the next four weeks.
A statement issued by the Commissioner for Transportation, Mr Frederic Oladeinde, disclosed that the ramp descending outbound Oworonshoki Expressway to outbound Ikorodu and sections of the service lane in front of LAMATA office will be closed to traffic during the rehabilitation works to allow for smooth repairs of the failed sections of the service lane inwards Ojota and Maryland.
"Motorists from Oworonshoki descending the ramp on the interchange to Ojota and Maryland will be diverted to use the U-turn at 7-up to connect the ramp beside Olusosun dumpsite to link Ikorodu Road, while motorists coming from Mile 12 and Ketu on Ikorodu Road intending to ascend the ramp to Oworonshoki are advised to use Ikosi Road to link Lagos Ibadan Expressway via CMD Road and make a U-turn at the Lagos Emergency Hospital inward Oworonshoki," the Commissioner said.
"Alternatively, motorists can also use the ramp after Ketu bus stop, beside LAMATA bus yard to link Lagos/Ibadan Expressway and make a U-turn at 7-up enroute Oworonshoki or stay on the main carriageway on Ikorodu Road, after Ketu bus stop, to link a temporary ramp after the Ojota Interchange which will lead them to Oworonshoki through the service lane.
"Motorists inbound LAMATA yard from Oworonshoki should use Ikosi Road to connect Ikorodu Road and stay on the main carriageway to connect the temporary lane that links the service lane immediately after the Ojota Interchange to join the LAMATA gate beside Gani Fawehinmi Park, Ojota," he added.
He noted that LASTMA and other traffic management agencies will be available to direct traffic for free vehicular movement throughout the period, emphasising that the impediments by Ikosi Road have been removed to allow free flow of traffic inbound and outbound Ikorodu road during the period.
Soliciting for the cooperation and understanding of all road users during the period, the Lagos State government appealed to residents of the state, especially motorists plying the axis to support the project, stressing that the roadworks are aimed at finding a lasting solution to the ever-busy Ikorodu Road to achieve efficient traffic management and transportation policy of the state government.
Investors Put Additional €600m into Bolt to Boost Services
By Ashemiriogwa Emmanuel
Bolt, a mobility company, has received an additional €600 million from global investors in a funding round to boost the expansion of its existing mobility and grocery delivery services.
The ride-hailing platform was able to raise fresh funds from existing investors, including Sequoia Capital, G Squared, D1 Capital and Naya, along with Tekne and Ghisallo as new backers.
The investment, which has increased the company's valuation to over €4 billion, will accelerate the creation of effective solutions, features and products on the Estonian mobility first-ever super-app.
Speaking on the development, the Chief Executive Officer (CEO) of Bolt, Mr Markus Villig, remarked that the company, which took seven years to execute, will continue to create innovative alternatives for on-demand transportation.
"Bolt's mission is to make urban travel affordable and sustainable. We are building a future where people are not forced to buy cars that cause traffic and pollution but use on-demand transport when they actually need it.
"After seven years of relentless execution, Bolt's mobility and delivery products offer a better alternative to almost every use case a car serves. I'm thrilled to bring these products to millions of customers around Europe and Africa, taking the emphasis off cars and giving cities back to the people," Bolt CEO said.
Adding his input, Mr Andrew Reed, a partner at Sequoia Capital, applauded Bolt's effort in redefining modern transportation as he expressed optimism in partnering with the company.
According to him, "Bolt is redefining urban transportation in much of the world. Markus is a driven founder who has built an operationally excellent business spanning Europe and Africa and a mission-driven culture that forms the foundation of an enduring company. Bolt helps customers, cities, and the environment. We're delighted to partner with them."
On his part, the Country Manager of Bolt Nigeria, Mr Femi Akin-Laguda, said that the investment will better help Bolt to come up with possible solutions to satisfy their customers across 25 cities in Nigeria.
In his words, "Bolt will continue building solutions that alleviate everyday mobility challenges with our safe and affordable services while we also remain committed to providing market-leading earnings for our drivers.
"With this investment, we will keep introducing effective solutions, features, and products that are important to all our customers while having a positive socio-economic impact on the economy."
Eazychange Emerges Winner of Pegasus Fintech Challenge
By Ashemiriogwa Emmanuel
A micropayment solution for transportation, Eazychange, has emerged as the winner of the first edition of the Pegasus Fintech Challenge organized by SOFRI, a digital banking subsidiary of the Dunn Loren Merrifield (DLM) capital group.
The fintech pitch event, which was held on Wednesday at the DLM Capital Group headquarters in Ikoyi, Lagos, had 35 submissions where the top 5 finalists were selected.
The outcome of the pitch event was evaluated by series of pitch presentations given by the finalist to a panel of judges.
The panel of judges consisted of the group CEO of DLM Capital Group, Mr Sonnie Ayere; the Managing Director of Links Microfinance Bank, Mr Funsho Idowu; the CEO of Cowrywise, Mr Razaq Ahmed; the Chief Operating Officer of TeamApt, Mr Tobi Amira; the Team Lead Design and Innovation Lab at Africa Fintech Foundry (AFF), Omolola Tunde-Alade; as well as the CEO of Interswitch Group, Mr Mitchell Elegbe, who was represented by the Senior M&A Executive, Mr Victor Sada.
Among the top 5 finalists, Friendsvow emerged as the third runner-up, EsusuAfrica as second runner-up, OgaPOS as the first runner-up, while Easychange grabbed the gold medal of the challenge.
While speaking on the outcome of the pitch challenge, the COO of TeamApt, Mr Tobi Amira, said the program was primarily organised to enhance innovation and creativity in the area of Nigerian fintech. He encouraged the winners to properly utilize their cash prize as funding for their lucrative ideas.
According to him "It was a delight to sit as a member of the judging panel for the 2021 Pegasus Fintech Challenge. The program aligns with our objective as an organization to encourage innovation and creativity in the Nigerian fintech landscape.
"It was particularly exciting to see and listen to young Nigerian founders who have come together to build solutions aimed at improving the lives of individuals and businesses in Nigeria for the better.
"I must also commend the organisers of this pitch for making an effort to promote and encourage innovation through funding and support. It's our hope that the winners would put the funds to good use and bring all their fantastic ideas to reality."
Easychange is a fintech startup with a focus on creating easy cash payments for transportation in Nigeria, helping passengers who want to pay for transport fares to avoid balance/change issues with cash payments and enabling reliable and seamless payments.
Bolt Helps Drivers with New Cash Out Service
By Sodeinde Temidayo David
The ride-hailing platform, Bolt, has created a cash withdrawal service for drivers to provide early access to cash out earned on the platform from cashless payment methods and other earnings. Drivers can now take away the cash they earn whenever they need to.
Although there are limitations as the cash out service is available to drivers once a day with a transaction fee of N15 to the bank.
The feature is also active for existing drivers who have been on the platform for up to two weeks and have completed at least 25 trips without any irregularities.
In a statement, Bolt said this new initiative is mainly to improve the general experience for every driver in addition to the lower fees and commissions of 15 per cent it charges its drivers. This has also made it possible for riders to enjoy cheaper fares on the platform.
Speaking on the introduction of the new service, Bolt Country Manager in Nigeria, Mr Femi Akin-Laguda, thanked the drivers for being part of the company's growth.
"Drivers are core to our business and we must continue to retain the trust and loyalty we have earned over the years by fulfilling our promise to keep improving the overall experience for every driver," he said.
"The early cash out option improves liquidity for our drivers' by ensuring that they have easier and faster access to their earnings; this will include fares for trips paid with cashless options like cards, driver bonuses and payments for passenger discounts.
"Our aim is to ensure that our drivers have flexibility in how they access their earnings while passengers will be more confident to request rides with any payment method they wish," Mr Akin-Laguda added, assuring that Bolt will remain affordable and reliable.
The system makes payments directly to drivers' bank accounts, while requests during business hours will be processed in less than an hour, with requests outside these hours on business days processed on the same day.
Furthermore, early cash out requests made on weekends and holidays will be processed on the following business day.
Bolt has continued to set the pace with driver experience initiatives in the ride-hailing sector.
Recently, the platform launched a vehicle financing scheme that enables drivers to be their own boss by owning a car with low equity repayment.
With over 10,000 drivers on its platform, Bolt provides a safe, reliable, and affordable service for passengers across more than 25 cities in Nigeria and is a smart way to move around in cities.
Latest News on Business Post