COVID-19: Standard Chartered Provides $25m for Young People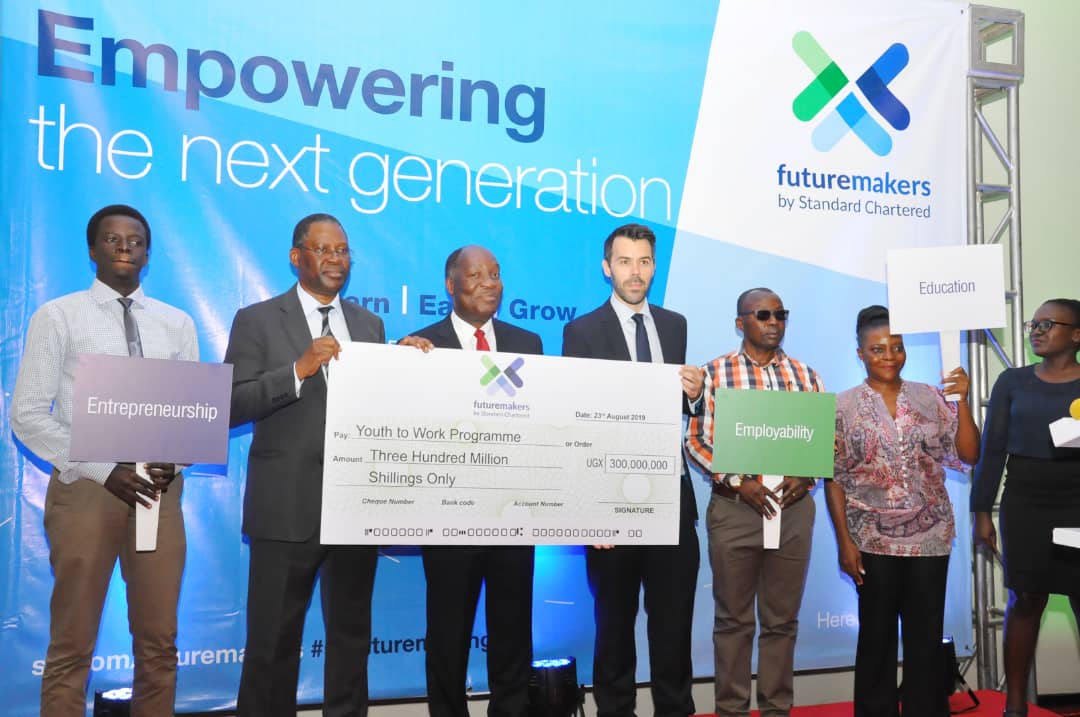 By Modupe Gbadeyanka
In April 2020, Standard Chartered, a leading international banking group, came up with a $50 million COVID- 19 Global Charitable Fund.
The fund, divided in two phases, was created to help recovery from the COVID-19 pandemic in the communities and markets in which it operates.
In phase one, the firm provided $25 million emergency relief for communities and so far, it has donated $21.9 million to 128 NGOs, charities and other partners across 52 markets in Nepal, India, the United Kingdom and the United States.
It was gathered that partner organisations were selected based on their understanding of local needs and their ability to provide rapid support to individuals and communities.
Donations have been used to support frontline healthcare workers with personal protective equipment (PPE) and other support services; fund medical equipment and testing; support social services for vulnerable groups, such as food provision, housing assistance, visits and advice; enable health and hygiene communication, and help young people to continue their education.
Under the second phase of the scheme, the Standard Chartered hopes to use the other $25 million for economic recovery to support education, employability and entrepreneurship projects for young people through Futuremakers by Standard Chartered, its global initiative to tackle inequality.
This increases the total commitment to young people through Futuremakers from $50 million to $75 million between 2019 and 2023.
Given the need to deliver rapid support, the organisation said new funding for COVID-19 recovery projects should start in August 2020 with a target to commit all funds by the end of 2021.
Projects will specifically respond to COVID-19 challenges and will protect learning opportunities for young people by supporting access to education, protect livelihoods by training young people to regain employment and support micro and small businesses to begin operating again.
Commenting, the Group Head of Corporate Affairs, Brand & Marketing, Tracey McDermott, said: "I am proud of how we have worked with our NGO partners to provide rapid relief to some of the most vulnerable in the communities in which we operate.
"Now, as we focus on supporting economic recovery, we aim to help young people rebuild their lives and livelihoods.
"Through Futuremakers, our priority is to get young people back into education and training or employment and to support micro entrepreneurs to get their businesses back up and running as soon as possible."
SEC DG Pushes for Sustainability, Safety, Soundness of Banking Sector
By Modupe Gbadeyanka
The need to ensure the sustainability, safety and soundness of the banking and finance industry has been emphasised by the Director-General of the Securities and Exchange Commission (SEC), Mr Lamido Yuguda.
To achieve this, the capital market expert has advised senior bankers in the nation's banking sector to mentor the younger generation.
According to him, their commitment to mentoring the younger generation would go a long way in actualising the objectives of the Chartered Institute of Bankers of Nigeria (CIBN)'s mentoring scheme.
Mr Yuguda, who was a guest at the CIBN mentoring scheme tagged Mentoring: Unlocking Career Potentials and Possibilities in Lagos over the weekend, noted that, "Let me use this opportunity to encourage senior bankers to collaborate with CIBN in actualising the objectives of the mentoring scheme. Your commitment to mentoring the younger generation will go a long way in ensuring the sustainability safety and soundness of the banking industry.
"To the young bankers, I enjoin you to make the best use of this rare opportunity! I am confident that with the cooperation of all stakeholders, the CIBN mentoring scheme will be a point of reference for others," he further said.
The SEC boss stated that to be a successful professional, one must be ambitious, willing to go the extra mile, try to be a value enhancer and must be outstanding.
He said that such a person must be teachable and willing to learn from other persons who are deemed successful in the same career path.
According to him, it is critical for young bankers to be mentored by seasoned senior colleagues as they progress in their careers because the banking profession is predicated on trust and professionalism.
Mr Yuguda said these values could be taught but are actually reinforced when demonstrated by senior bankers and emulated by their younger colleagues.
"Due to the peculiarities of the banking industry, it is easy for young bankers to get distracted with the prestige and sometimes material benefits that come with the profession.
"However, mentorship relationships help to keep such young professionals grounded and focused on building character, advancing their knowledge, growing their professional network and cultivating the right values.
"This is important because what makes success sustainable for a professional is a combination of skill, experience and the right values," the SEC director-general said.
Earlier, the CIBN President, Mr Bayo Olugbemi, said that the institute had identified mentoring as a potent tool for bridging the gap between learning and doing.
"Esteemed audience, the changing times requires that we do things differently; the changing times require that we do things differently.
"At the CIBN, we believe so much that to maintain safety, soundness and stability of the banking industry, the human capital has a pivotal role to play in this wise.
"We have identified mentoring as a potent tool for bridging the gap between learning and doing.
"In order to uphold ethics and professionalism which is the hallmark of our banking industry and our great institute, accomplished and experienced bankers need to mentor the young and upcoming ones in order to sustain the ideals of our industry," he said.