Ecobank Opens Digital Experience Centre at Admiralty Way Branch
By Modupe Gbadeyanka
A state-of-the-art branch and digital experience centre strategically located at the heart of the highbrow Admiralty Way in the Lekki area of Lagos has been launched by Ecobank Nigeria.
The facility is part of the lender's digital transformation drive to provide seamless world-class banking services to its customers.
According to the Managing Director/Regional Executive of Ecobank Nigeria, Mr Patrick Akinwuntan, the new branch will in addition to providing regular banking services, cater for high-end customers through its dedicated Premier Lounge, as well as reach out to the youthful public within and around the Admiralty Way Lekki corridor through the Digital Experience Centre.
"For us as a bank, this new branch is part of our transformation efforts to satisfy our customers. The branch comes with a full complement of banking services; 24/7 Digital Experience Centre and Dedicated Premier Lounge.
"It promises to offer customers the latest in banking technology. I assure our customers that Ecobank is well-positioned to meet and surpass their expectations through its seamless and world-class digital products and services, as we have put in place initiatives that enable us to serve the customer better, ensuring their satisfaction at every interaction with us," he said.
Ecobank Nigeria is a full-service bank providing wholesale, retail, investment and transaction banking services and products to governments, financial institutions, multinationals, international organizations, medium, small and micro businesses and individuals.
It is a major player in the distribution of financial services in Nigeria, leveraging digital platforms including Ecobank Mobile App and USSD *326#, Ecobank Online, Ecobank OmniPlus, Ecobank Omnilite, EcobankPay, Ecobank RapidTransfer, ATMs, POSs and an extensive distribution network of over 250 branches and about 30,000 agency banking locations.
Ecobank Nigeria is a subsidiary of the Ecobank Group, the leading pan-African banking group with operations in 33 African countries and an international presence in four locations (London, Paris, Beijing and Dubai).
Keystone Bank Introduces Incubator Scheme for Startups
By Modupe Gbadeyanka
A specialised incubator scheme with offerings to address the needs of startup businesses has been introduced by Keystone Bank Limited, a fast-growing financial services provider.
The initiative tagged The Keystone Startup Advantage Programme (KSA Programme), will provide the necessary support for Micro, Small and Medium Enterprises (MSMEs) and startups in Nigeria.
This is in line with the vision of President Muhammadu Buhari for the growth of the SMEs sector and aligns with the United Nations Envision #2030 Sustainable Development Goal (UN SDG) 8 – to promote sustained, inclusive and sustainable economic growth, full and productive employment, and decent work for all.
"Recent reports reveal an increasing attraction of foreign Venture Capital investment into the African startup ecosystem, with Nigeria boasting of the largest number of startups in Africa.
"In 2019, Africa's venture capital investments rose to an all-time high. According to Partech, 234 African tech companies raised $2.02 billion in 250 equity rounds. This indicated a 74% increase from 2018's figure of $1.16 billion raised by 146 startups in 164 rounds.
"2021 witnessed increased venture capital funding in African startups between $2.25 billion and $2.8 billion. As of August 2021, a national newspaper published a report that Nigerian startups raised $276.5m within seven months," a statement issued on Monday by the bank stated.
"There is a growing interest from several foreign investors who are keen on investing in Nigeria's digital economy given the nation's ranking as one of the leading startup ecosystems in Africa.
"These recent trends have led to the passing of Nigeria's Startup Bill (NSB), set to leverage ICT platforms to create jobs while ensuring that the diversification of the economy creates more support to other emerging sectors," the financial institution added.
In his comments, the Divisional Head, Retail, SME & Value Chain Division, Keystone Bank, Mr Anayo Nwosu, said capacity building remains key for the growth and development of SMEs, adding that SMEs in every part of the world are the livewire of the economy.
"Like in every economy of the world, SMEs are the lifelines. They contribute significantly to the economy's GDP, creation of jobs and wealth, economic prosperity, and of course, all these details to economic growth and development," he explained.
"There are so many challenges associated with birthing a business in the country but by plugging into the ideas and experiences shared by experts in the industry at this training and also the grants, the sky is their starting point.
"Through the programme, it is our vision as a bank to impact 100 startups annually and up to 1,000 startups in the next five to ten years," he said further.
Mr Nwosu further disclosed that the KSA programme, a three to four-month Investor Readiness scheme, will adopt a blended approach, as it will offer a hybrid option with virtual and physical sessions.
He also added that three successful SMEs/startups from the programme will win a N3 million grant each to support their business operations.
"The modules will be both tutor-led, and self-study modules within a friendly e-learning platform. It will be an intensive programme designed to have groups as well as one-on-one mentoring and coaching sessions during the period.
"The programme will serve as a platform to connect innovative SMEs and tech startups with potential investors.
"Startups will also be able to get the knowledge and skills needed to fast track their business to the next growth phase.
"The programme will be premiered on January 24 and 25, 2022, with an Open Day webinar tagged Building Sustainable Startups. Applications will open on January 31 for interested and eligible tech startups & SMEs with innovative ideas, solutions and business methods to submit entries.
"All the information needed to learn more about the programme, its opening webinar and how to apply are available on the bank's website," he concluded.
Keystone Bank is a technology and service-driven commercial bank offering convenient and reliable solutions to its customers.
First Bank Reaffirms Support for Business Owners in 2022
By Adedapo Adesanya
First Bank has reiterated its commitment to supporting the growth of businesses in Nigeria as a stepping stone to invigorate the country's economy and development.
This promise was made by the Chief Executive Officer, First Bank, Mr Adesola Adeduntan at the Nigerian Economic Outlook 2022 webinar organised by the tier-1 lender on Thursday in Lagos.
During his opening remark at the virtual event, he said, "As a bank, we have a legacy of supporting business owners as they are also the engine for economic growth and development in Nigeria and across Sub-Sahara Africa."
"In line with our renewed vision to be Africa's bank of the first choice, First Bank will take the lead in driving the development of the different sectors and industries within the economies where we operate to support overall economic growth and sustainability.
"As a bank that is woven into the fabric of society, this webinar is further reinforcing our support and collaboration with stakeholders as we demonstrate our commitment and willingness to be the partner of the first choice to our customers," he said further.
He said the webinar was one of such avenues to provide the opportunity to assess the performance of the Nigerian economy across key indices in 2021 and benefit from expert opinions on the expectations and forecast for 2022.
Mr Adeduntan said it would also provide excellent insights on the key factors that would shape both the global and local economic landscape in 2022.
He noted that in 2021, global outputs rebounded and recovery was strong following improved vaccination efforts, as well as support from the monetary and fiscal authorities.
According to him, the fourth wave of COVID-19 omicron variant created some level of caution, impacting the activities of the fourth quarter of 2021 and leading to the push for booster jabs and reinstatement of COVID protocols.
He, however, noted that specific key lessons can be gleaned from the economic and related activities that the business environment witnessed in 2021.
The banker noted that these lessons and other expected occurrences in 2022 were vital ingredients to the planning processes of the bank's esteemed customers and stakeholders.
CBN Promises Adoption of PAPSS by Nigerian Banks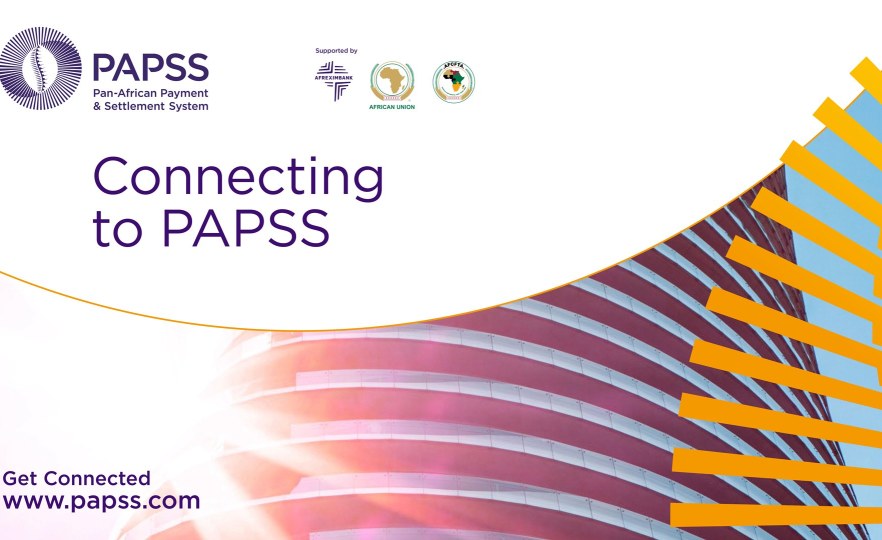 By Aduragbemi Omiyale
The Central Bank of Nigeria (CBN) has assured other African countries that it would drive the adoption and implementation of the continent's new payment system, the Pan-African Payment and Settlement System (PAPSS).
Governor of the CBN, Mr Godwin Emefiele, made this promise on Thursday at the launch of PAPSS, a platform designed to ease cross-border transactions and reduce third currencies for intra-African trade.
Before now, trades in Africa, especially cross-border transactions, required the use of third currencies like the United States Dollars, the British Pound Sterling, Euro and the Chinese Yuan.
With the implementation of the African Continental Free Trade Area (AfCFTA) last year, the need for a payment system to simplify cross-border transactions became necessary and the Africa Export-Import Bank (Afreximbank), in collaboration with the African Union (AU) and AfCFTA came up with PAPSS.
While speaking at the launch in Accra, Mr Emefiele said Nigeria is excited by the opportunities in the adoption of PAPSS, noting that this was why the country became actively involved in the programme.
The banker said the "CBN will ensure the financial institutions under its jurisdiction accept PAPSS and recommend it to businesses across Nigeria."
He stated that, "Prior to the launch of PAPSS, settlements for intra Africa trade required a third currency and a non-African correspondent bank. This resulted in an estimated loss of close to $5 billion annually and undermined trade in Africa countries.
"The launch of PAPPS gives the fresh opportunity and aspiration for the African continent. It will simplify cross-border transactions, reduce third currencies for intra-African transactions and remove the need for correspondent Banks and ultimately amplify intra trade significantly," he said.
"As a percentage of total trade, intra-African trade is expected to increase to 35 per cent from 15 per cent in five years with infrastructure provided by PAPSS as payments and settlements are resolved
 "With the growing pace of digitisation in financial services, which has been accelerated from the onset of the COVID-19 pandemic, PAPPS can serve as a viable platform for supporting e-commerce in Africa," he added.
Latest News on Business Post