FBN Holdings Plc: Lacklustre Performance Across Income Lines
By Cordros Research
First Bank of Nigeria Holdings Plc (''FBNH'') released unaudited Q2-17 results few days ago, wherein gross earnings grew marginally by 4.63% (down 8.01% y/y and 66 bps below our estimate), while PBT and PAT contracted 22.50% q/q (-35.09% y/y) and 18.64% q/q (-13.15% y/y), respectively.
The contraction in earnings broadly reflects poor performance across key line items; interest income grew slightly by 3.62% (57 bps below our estimate), while NIR declined 55 bps (-68.16% y/y) to miss our estimate by 7.99%.
On the other hand, the impressive growth in net insurance premium (+126.56% q/q and 95.00% y/y) is worthy of note, albeit inconsequential to offset the sanguine performance of the major income line items.
NIR contracted marginally q/q, as significant declines in dividend income (-78.43% q/q and -56.22% y/y), net gains on foreign exchange income (-22.35%q/q and 95.75% y/y) – reflecting the limited leg-room for FX related gains in Q1 due to the relative stability of the NGN – and a net loss on investment securities offsets the slight improvement in net fee income (+1.96% and -0.84% y/y) and the surge in net gains on financial instruments (+149.21% q/q and -953.21% y/y) – due to impressive gains on derivative instruments.
The marginal growth in funding income reflects the decline in yields on the bank's portfolio of investment securities (-6.50% q/q), despite 11.08% growth in loans and advances to customers. In the same vein, interest expense rose 1.90% q/q (+46.26% y/y), attributable to the 14.26% growth in interbank placements, which was muted by the bank's improved deposit mix – with CASA share of deposits representing c.56% of total deposit.
Overall for H1-17, gross earnings rose 7.73% y/y (34 bps below our estimate), buoyed by impressive growth in interest income (+37.34% y/y) – translating to annualized asset yield expansion of 241 bps y/y to 12.11% – and net insurance premium (+56.91% y/y), offsetting the decline in NIR (-50.47% y/y and 3.07% q/q).
Interest expense (+58.27% y/y) rose significantly, largely due to the surge in borrowing expenses by 49.26% (total borrowings rose 14.83% y/y and 21.16% compared to FY-16 due to the N60.56 billion facility secured from AFDB in January 2017), translating to a 54 bps y/y expansion in annualized cost of funds to 2.94%. However, the impressive asset yield more than offsets the funding costs, resulting in 163bps NIM expansion to 8.83% (annualized).
Over H1-17, the asset quality deterioration rhetoric persisted. Despite 80 bps contraction in NPL to 22%, cost of risk remains elevated, rising 170 bps to 8.20% (annualized). Though provisioning declined 10.74 y/y, reflecting the 9.02% reduction in specific impairment, it rose 16.54% over Q2-17 due to the 17.57% q/q increase in specific impairment. However, noteworthy is the 75.89% y/y growth in net recoveries from loans previously written off, which we believe reflects the gradual improvements in the general commerce and manufacturing sectors from increased FX liquidity.
FBNH reported CAR of 17.8% for the bank in FY-16 and 18.1% for Q1-17, relative to both periods CAR contracted to 17.6% in H1-17, though still largely above the required regulatory minimum of 16% for systemically important banks, the 50 bps contraction over Q2 leaves a lot to question.
Overall, operating income declined 2.58% y/y in H1 (-18.15% y/y and +5.26% q/q in Q2-17) 60 bps below our estimate. Gross opex rose 11.76% y/y (+9.38% y/y and 14.15% q/q in Q2-17) 2.88% above our estimate, following hikes in operating expenses (+22.98% y/y), insurance claims (+32.68%), and depreciation expenses (+6.15% y/y), while personnel expenses (-1.79% y/y) contracted marginally.
Consequently, cost to income ratio and annualized operational leverage of 54.37% (47.39% in H-16) and 4.8x (4.5x in H1-16) beat our 52.53% and 4.6x estimates, respectively.
Overall, PBT and PAT declined y/y by 22.36% and 17.76% y/y, respectively.
Parsing through the balance sheet, FBNH's loan book declined 3.75% y/y (+7.95% from FY-16 level), while the holding of investment securities increased 28.32% y/y (+11.79% from FY-16 level), not surprising, given the attractive yields on fixed income securities. On the other hand, deposits rose marginally by 2.06 y/y and 1.26% over FY-16 – largely driven by the 3.88% y/y growth in CASA deposits.
For the rest of 2017, we expect interest expense will remain elevated, as liquidity pressure (liquidity ratio was down to 50.4% in H1-2017, from 55.9% and 52.7% in H1-16 and FY-16, respectively) persists, and with the US Feds rate hike impact on the LIBOR further compounding the already stretched LCY interest rate.
Although we expect the re-pricing of assets, higher yields on investment securities, and FX interest income to support NIM, risk asset creation will remain subdued as the bank takes strategic steps to clean its loan portfolio.
On impairment charges, the bank's restructuring of some FCY obligations reflected in the contraction in NPL during the period, we expect this to contract further as the bulk of the upstream oil and gas reclassification reflects in the balance sheet, resulting in lower provisioning by FY-17 in line with our previous forecast.
Based on our last TP of N5.37, implying 10.09% downside from last week's close price of N5.97, we have a SELL recommendation on the stock. Our estimates are under review.
Polaris Bank in Safe Hands, No Need to Panic—Management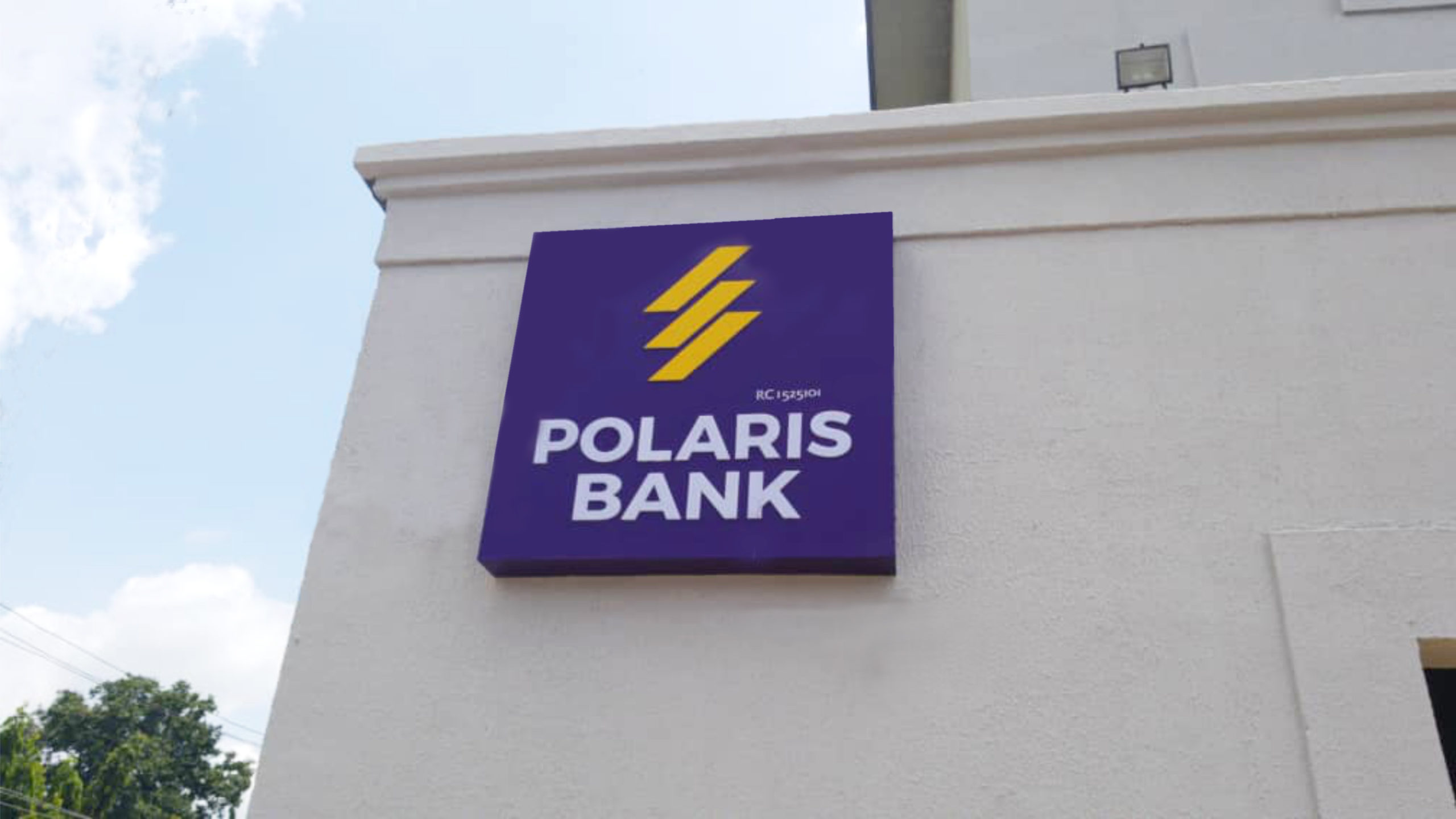 By Aduragbemi Omiyale
The management of Polaris Bank Limited has urged its customers and members of the public not to panic over reports that the financial institution has been sold to a new investor, Mr Auwal Gombe, in the sum of N40 billion.
It was recently reported that efforts are being made to hand over the lender to the businessman, who is said to be an ally of former military president, Mr Ibrahim Babangida, after the Central Bank of Nigeria (CBN) nationalised the defunct Skye Bank Plc into Polaris Bank in 2018.
In a statement issued on Friday in Lagos, the bank described the report of the purported sale as not only "speculative" but done to deliberately "create panic" among its customers and the banking community.
The company said the CBN established it and injected funds for its operations, it has bounced back to profitability, with a solid balance sheet, saying there is no cause for alarm as the bank was in safe hands.
"Stakeholders may recall the regulatory intervention in the erstwhile Skye Bank by the CBN and the subsequent injection of capital via the Asset Management Corporation of Nigeria (AMCON) through a bridge bank process, which birthed Polaris Bank in 2018.
"The bank has since stabilised its operations following the intervention; improving its balance sheet, customer base and profitability," a part of the notice today said.
Continuing, Polaris Bank noted that, "Whilst the intention has always been to return the bank to private ownership, such a sale would occur following regulatory approvals with formal notification to all relevant stakeholders," expressing its commitment to "ensuring timely communication to the public in such an event."
 "The board and management hereby reassure its customers, staff and the general public that Polaris Bank remains a stable, strong and credible financial institution, positioned to deliver sustainable value to all its stakeholders," the statement concluded.
Wema Bank Refutes Dud Cheque, Forgery Allegations
By Aduragbemi Omiyale
The management of Wema Bank Plc has rubbished an allegation that it issued a dud cheque in connection with a garnishee proceeding for the payment of a judgement debt on behalf of the Bayelsa State Government.
A legal practitioner, Mr George Haliday, had accused the financial institution of issuing dud cheques but in a statement issued on Wednesday, the lender explained that the cheques have only not been cleared for payment because of the subsisting appeal at the Court of Appeal sitting in Abuja on the garnishee proceeding which has now been decided in its favour.
According to the statement, the lawyer only ran to the Magistrate Court in Abuja to lodge a complaint about the issuance of dud cheques after he lost his case at the appellate court.
"It is very worthy of note that the judgement debt against Bayelsa State Government, which Barrister George Haliday attempted to enforce by a garnishee proceeding, thereby leading to the issuance of the cheques in question had been settled by Bayelsa State Government via a Terms of Settlement between Barrister George Haliday and the Bayelsa State Government at the Supreme Court," a part of the statement.
Recently, there were reports that the Managing Director/CEO of Wema Bank, Mr Ademola Adebise, was issued an arrest warrant, but the bank dismissed this, saying its leader was not given a fair hearing in the matter.
"Wema Bank wishes to state that the warrant for the arrest of Mr Ademola Adebise is in violation of his fundamental rights to fair hearing as he was never personally served with any process to appear before the magistrate court nor was he represented in court.
"We are a law-abiding corporate citizen; if there was any court summons properly served on the Managing Director for his appearance in court, he would have done so without fail.
"But in this case, there was no such service extended to him or any court processes personally served on him to appear in court until a warrant of arrest was issued in absentia. We view the arrest warrant as being an infringement on his fundamental rights," the statement said.
Concluding, the lender emphatically refuted and dismissed "in their entirety, the allegations of dud cheque and forgery levelled against our bank and the Managing Director. We also dismiss the inappropriate issuance of a bench warrant on our Managing Director.
"We are already engaging in legitimate actions to seek redress and bring all the perpetrators of these unprofessional conducts and heinous criminal acts against our Managing Director and the bank to book."
Advans Nigeria Becomes Most Innovative Microfinance Bank
By Aduragbemi Omiyale
More big feathers have been added to the colourful cap of Advans La Fayette Microfinance Bank, cementing its leadership position in the small lending business in Nigeria.
Recently, in recognition of its customer-centric credentials and innovation in product development, service delivery and brand management, the financial institution was named the Best Microfinance Bank in Nigeria at the Financial Derivatives Awards 2022.
Also, the company emerged as the Most Innovative Microfinance Bank in Nigeria in the Global Brands Magazine and World Economic Magazine Awards 2022.
The Managing Director/CEO of Advans La Fayette Microfinance Bank, Mr Gaetan Debuchy, while reacting to the accolades bestowed on the firm, dedicated the awards to the working management and staff of the bank, promising that the bank would continue to break boundaries.
"We are excited to win these awards. It further validates our innovative approach to providing customer-centric, affordable and transparent financial services," Mr Debuchy said.
Also, the Head of Marketing and Communication at Advans La Fayette Microfinance Bank, Mr Kayode Abraham, stated that, "Over the years, we have centred our business on customer needs and feedback, which has helped us develop financial solutions from scratch to completion. We are pleased to be recognised as the most innovative and best microfinance bank in Nigeria."
Earlier in the year, Advans Nigeria upgraded its mobile banking app 'Adspire' to include users' ability to request bank statements and control their daily transaction limit. Through the app, clients can receive notifications and share by referring their friends and loved ones.
The bank recently introduced a micro-health insurance product and an education loan to facilitate financial inclusion.
The health insurance product was designed to ensure existing and prospective clients have access to high-quality and affordable health care services, while the education loan was designed to provide working and investment capital for school owners and to assist parents in paying their children's school fees with ease.
Latest News on Business Post