Fidelity Bank Engages Investors, Exporters in Ondo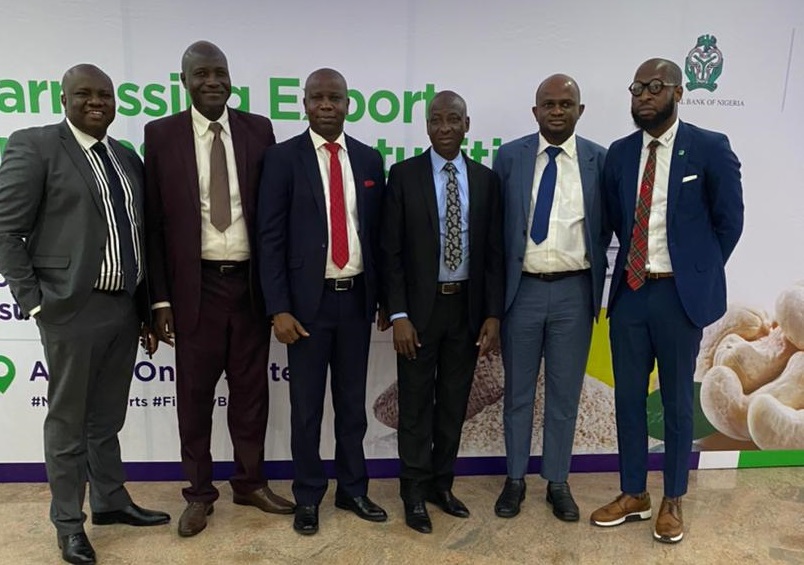 By Aduragbemi Omiyale
Some stakeholders and customers of Fidelity Bank Plc in the export business in Ondo State have been sensitised on the emerging opportunities in non-oil exports.
This is in support of the new policy of the Central Bank of Nigeria (CBN) aimed to ensure that earn about $200 billion in foreign exchange (FX) repatriation from non-oil exports over the next five years.
The CBN RT200 FX Policy was introduced on February 10, 2022, by the apex bank as part of measures to reduce the increasing demand for foreign currency by importers.
At the workshop for exporters and investors held in Akure, Ondo State, the Head of Export and Agric Businesses at Fidelity Bank, Mr Isaiah Ndukwe, said the bank was well-positioned to advance the CBN policy thrust to reduce the country's dependence on oil revenue.
He stated that the bank was committed to growing the export business across key sectors of the economy by providing support to exporters, stressing that the new policy will not only reshape exporters' mindsets but will also infuse value addition on their commodities, allowing them to earn more forex.
Commending Fidelity Bank on the sensitisation series, an attendee at the event and cocoa farmer, Mr Babatunde Fatimiro said, "In Ondo State today, cocoa has a dedicated agency; this is unprecedented in Nigeria.
"If you consider the potentials and inclusive advantage as well as economic impact of cocoa production to the Nigerian economy, I have no doubt that cocoa will one day overtake crude oil in terms of economic importance in Nigeria.
"It is initiatives like this workshop hosted by Fidelity Bank that would help us actualize this quickly and I encourage them not to rest on their oars as they drive to help diversify the economy."
It would be recalled that Fidelity Bank hosted the first edition of the workshop in Kano State on February 21, 2022, to sensitise entrepreneurs in the region on the implementation and opportunities in the CBN RT200 FX Policy.
The Ondo version was tagged Harnessing Export Business Opportunities, CBN RT200 FX Policy: Policy Sensitisation, Emerging Sector Issues & Implications to Business and had in attendance representatives from key stakeholders in the Nigerian financial services and export industries, including the Nigerian Export and Import Bank (NEXIM), the Cocoa Exporters Association of Nigeria, the Nigerian Export Promotion Council (NEPC) amongst others.
MTN Assures Nigerians Affordable Financial Services as MoMo PSB Begins Operations
By Adedapo Adesanya
MTN Nigerian Communications Plc has announced that its fintech subsidiary, MoMo PSB Limited, has formally commenced commercial operations in the country.
In a notice on Thursday at the Nigerian Exchange, MTN said the development followed a successful pilot initiated on May 16, 2022, in commemoration of the launch of its GSM operations on May 16, 2001, and listing by introduction on the Nigerian Exchange Limited on May 16, 2019.
"Indeed, this is a key milestone in delivering the company's Ambition 2025 strategic priorities," the notice said.
The company said with an expansive agent network of over 166,000 active agents and digitized partnership infrastructure, MoMo PSB "is poised to enable millions of unbanked and under-banked Nigerians to access a wide range of financial service products.
"MoMo PSB will continue to scale its agent network in order to reach Nigerians across the country and remove friction from everyday payment by digitizing cash payment.
"By dialling *671# on any network, customers can open a MoMo wallet, send money to any phone number in the country and pay their bills.
"In addition, MoMo wallets in the future will enable Nigerians in the Diaspora to send money to any phone number in the country, an important feature given Nigeria's ranking as the destination for the highest remittance inflow in Sub-Saharan Africa."
The CEO of MTN Nigeria, Mr Karl Toriola, appreciated the support and guidance of the Central Bank of Nigeria (CBN) through the process and noted that this will help the country's financial inclusion.
"This is an important milestone for MTN Nigeria in our mission to support the government's drive towards financial inclusion in Nigeria. Not just for those in urban centres and markets, but also people in the rural and remote areas of the country who remain excluded from the financial system," he stated.
On his part, MoMo PSB CEO, Mr Usoro Usoro said: "Providing easy to use, accessible and affordable financial services to all Nigerians is essential to executing the CBN's financial inclusion strategy and digital inclusion agenda of the Minister of communications and Digital Economy.
"We look forward to playing our part and are excited about the opportunities to partner with relevant institutions across various sectors to co-create and expand access nationwide."
This is coming on the same day that MTN's rival, Airtel announced its subsidiary, SmartCash Payment Service Bank Limited (SmartCash PSB), has commenced operations in Nigeria.
Airtel Commences SmartCash Payment Operations in Nigeria
By Adedapo Adesanya
Airtel Africa has announced that its subsidiary, SmartCash Payment Service Bank Limited (SmartCash PSB), has commenced operations in Nigeria.
Services will initially be available at selected retail touchpoints, and operations will be expanded gradually across the country over the next few months.
Speaking on the development, Mr Segun Ogunsanya, Airtel Africa chief executive officer, said, "I am very excited to announce our commencement of operations for financial services in Nigeria through SmartCash PSB. This is the beginning of our journey to revolutionise the financial services landscape in the country.
"To help further digitise the economy, and most importantly to help bank the unbanked by reaching the millions of Nigerians who do not currently have access to financial services by delivering current and savings accounts, payment and remittance services, debit and prepayment cards and more sophisticated services."
This is coming less than one month after the Central Bank of Nigeria (CBN) granted the company the license to operate mobile money services in the country.
The licence will enable the telco to expand its digital financial products and reach the millions of Nigerians that do not currently have access to traditional financial services.
It will also be able to augment plans by the Nigerian Government, the CBN, and traditional financial institutions to further deepen financial inclusion in the country for the benefit of all citizens and the Nigerian economy.
Airtel Africa is a leading provider of telecommunications and mobile money services with a presence in 14 countries across Africa.
Advans La Fayette Microfinance Bank Introduces Education Loans
By Modupe Gbadeyanka
A leading microfinance bank supporting small businesses, Advans La Fayette Microfinance Bank Limited, has introduced education loans aimed to provide funding support to school owners and parents.
A statement from the small lending institution said the education loan products created for its customers are the Advans School Boost, Advans Eduloan and Advans Kiddies.
It was explained that the Advans School Boost is a product designed to provide working and investment capital for school owners, Advans Eduloan is to assist parents to pay their children's school fees with ease, while the Advans Kiddies is high-yield savings account to help parents save towards the future of their children while still earning interest.
According to the Marketing and Communication Manager of Advans La Fayette MFB, Mr Kayode Abraham, "The process of accessing the education loans is neither rigorous nor daunting."
"Simply visit our website: www.advansnigeria.com to complete the application form and receive the funds immediately, if eligible," he advised.
The Project Manager of Advans La Fayette MFB, Ms Fanny Belhomme, stated that, "Advans School Boost allows school owners to access loans up to N75 million to cover school expenses. The loan has a very competitive interest rate, a flexible repayment plan and no hidden costs.
"Parents can access up to N500,000 with the Advans Eduloan, to pay their children's school fees. The loan is easy to access, with a low-interest rate and flexible repayment plans," she added.
The Managing Director of the lender, Mr Gaëtan Debuchy, while speaking at the unveiling of the products at the Shoregate Hotels, Ikeja, Lagos, disclosed that the firm came up with the loan packages because "we recognised that lack of finance is one of the biggest banes of education."
"Emboldened by the fact that investment in quality education yields the best dividend, we created these products to offer solutions to the challenge. As a leading microfinance bank, we are focused on providing premium financial services to our customers," he added.
Advans Nigeria is a member of Advans Group; a leading international microfinance group currently serving over 1.1 million clients in 10 countries including Cambodia, Cameroon, Ghana, Democratic Republic of Congo, Cote d'Ivoire, Pakistan, Nigeria, Tunisia and Myanmar.
For more than 15 years, the bank has offered a complete range of financial services that has helped build over 4 million small businesses.
Latest News on Business Post