Q3'21: Ecobank Impresses Shareholders With Triple-Digit Growth in PAT
By Dipo Olowookere
Ecobank Transnational Incorporated (ETI) has impressed shareholders and the investing community with its financial performance in the first nine months of 2021.
The results of the company submitted to the Nigerian Exchange (NGX) Limited a few days ago showed a triple-digit growth in the profit before tax as well as the post-tax profit.
In the period under review, the pre-tax profit jumped to N143.7 billion from N34.5 billion, indicating an increase of 316 per cent, while the post-tax profit jumped 916 per cent to N104.5 billion from N10.3 billion.
It was observed that the significant increase in profits despite the macro-economic strains was buoyed by growth in gross earnings, net investment income, other operating income and decline in operating expenses.
According to the Group CEO of Ecobank, Mr Ade Adeyemi, the company was able to achieve this feat due to the careful implementation of the strategies put in place by the management team.
"These results also demonstrate the hard work invested in driving efficiency in all our businesses in line with our deliberate focus on driving down our cost-to-serve, sustain improvement in the quality of our credit portfolio, and strengthen liquidity and capital buffers," he stated.
A look at the top-line of the financial results of the firm showed that in the period under review, the gross earnings grew by 12 per cent to N686.8 billion from N614.5 billion reported in 2020.
Also, net investment income rose by 523 per cent to N5.6 billion from a loss of N1.3 billion in 2020, while other operating income closed at N11.6 billion, higher than N3.3 billion reported in 2020.
The group's total assets went up by 5 per cent to N10.9 trillion as at September 30, 2021, from N10.4 trillion in the full-year ended December 31, 2020.
"We reported strong results, reflecting the continued diligence of Ecobankers in putting our customers first and ensuring that we meet their respective needs.
"For the nine months period up to September 2021, we earned $352 million in pre-tax profit, a 41 per cent increase compared to the prior year and revenues of $1.3 billion, a 4 per cent growth. Hence return on tangible equity increased to 17.9 per cent, and we grew the per-share value of our shareholders' equity by 11 per cent to 5.52 US dollar cents," Mr Adeyemi further said.
The banker further stated that "our cost-to-income ratio has been declining consistently quarter on quarter, currently 58.3 per cent.
"In addition, the stock of non-performing loans as a percentage of loans outstanding is now at 6.9 per cent compared to 9.9 per cent a year ago.
"We have boosted the firm's liquidity profile, thanks to growing customer deposits fuelled by an acceleration in digital channel adoption, partnerships with fintechs, telcos, and businesses in the payments ecosystem."
"Finally, we continue to invest in new digital and mobile capabilities to enhance customer experience, alongside the investments we are making in our people, processes, and controls, to ensure the continued resilience of our business and service delivery to our clients. I am deeply grateful to all our customers and the Ecobank team for the remarkable job," Mr Ayeyemi added.
In Terms of Profitability, 2022 Will be a Big Year for Access Bank—Wigwe
By Dipo Olowookere
The chief executive of Access Bank Plc, Mr Herbert Wigwe, has expressed optimism that the year 2022 will be big for the financial institution in terms of profitability.
He gave this assurance when he appeared a few weeks ago on CNN's First Move with Julia Chatterley, where he spoke on the company's aggressive expansion strategy.
"I think we're on track. I think in terms of profitability, our different franchises are doing exceedingly well and I think 2022 perhaps is actually going to be a big, big year for the institution," he said of the lenders' outlook for this year.
Mr Wigwe stated that the acquisition of several banks across Africa, especially in the southern part, did not just happen as it was deliberately planned for years.
"It's something that we've been planning as part of our corporate strategic planning 2017, and the whole idea has been to support our correspondent banking business, to support our payments business and to basically ensure that there is greater trade within the continent.
"So, for us, what are we doing? We're basically making sure that we have a strong presence in all the major trade centres in the continent," he said.
The respected banker further said the plan is to ensure Access Bank becomes the first bank to do business with on the continent, which will, in turn, boost the "profitability [of] our different franchises."
When asked how the bank intends to succeed in the highly-competitive South African market, Mr Wigwe said Access Bank has all that it takes to become very successful in the space, noting that its success in the United Kingdom is there for all to see.
"We're basically going to ensure that it (Access Bank) becomes a hub for the continent as far as correspondent banking services are concerned.
"We will help support corporate; their interest in niches in that market that are yet to be served. Without revealing so much more of the strategy, there are interesting markets that have not been served that will basically cater for," he assured.
"But apart from that, you need to see also the context of a large layer in the continent and partly serve our operators in different parts of the continent and putting that whole network together is extremely, extremely important," he added in the interview.
Fidelity Bank Holds Second Draw of GAIM 5 Promo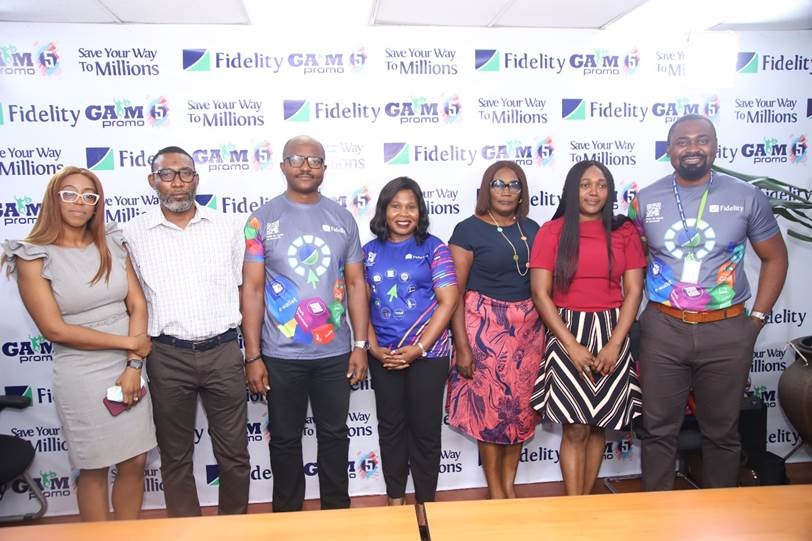 By Modupe Gbadeyanka
The second draw of the Fidelity Bank Get Alert in Millions Season 5 promo (GAIM 5) has produced a new set of millionaires.
The new millionaires at the recently-held draw in Victoria Island, Lagos were Ajoma Rachel, Stanley Sunday, Musbahu Kabiru, Usman Abdulkadir, John Uchechukwu, Oluwatayo Oladipupo, Esther Eloho, Sophia Sefera, Amarachi Sarah Anyacho, and Obi Chinelo.
According to the Executive Director in charge of Lagos and Southwest Directorate of Fidelity Bank, Dr Ken Okpara, the lender is "always looking for opportunities to help our customers grow" as a bank that places customers at the centre of everything.
"Two months ago, we kicked off the GAIM 5 promo to reward our customers and demonstrate our commitment to improving their lives and wellbeing.
"Today, we are excited at how happy we have made some of our most loyal customers. We remain committed to providing rewarding experiences and best-in-class services for our clients," Dr Okpara added.
Also speaking at the event, the Divisional Head, Product Development, Osita Ede stated that, "We have earmarked the sum of N125 million for total cash rewards this season which we would be giving out in weekly, monthly and grand draws till the campaign ends in July 2022.
"We encourage our customers to save up to increase their chance of winning and those yet to open an account to do so today. At the end of the campaign season, we want to celebrate customers who make savings second nature."
It was gathered that the second draw of GAIM 5 promo was witnessed by representatives of regulatory organisations like Ms Oyinkan Kusamotu, Senior Legal Officer, Lagos State Lotteries & Gaming Authority; Mr Tanko Mohammed, Head, Monitoring & Enforcement, Lagos State Lotteries and Gaming Authority; Mrs Susie Onwuka, Head, Lagos Office, Federal Competition & Consumer Protection Commission (FCCPC) and Ms Chioma Amanoh, Lagos Office, National Lottery Regulatory Commission (NLRC).
Since the commencement of the fifth season of the promo in November 2021, the bank has enriched over 460 customers with various cash prizes.
Fidelity Bank is a full-fledged commercial bank operating in Nigeria, with about 6 million customers who are serviced across its 250 business offices and digital banking channels. The bank is known for exceptional customer service and digital innovation.
CBN Gives DPO Group Payment Services Licence
By Adedapo Adesanya
The Central Bank of Nigeria (CBN) has granted a license to One Payment Limited, a subsidiary of the leading Pan-African digital payments group, DPO Group, to provide certain types of payments services to businesses across Nigeria.
This payment services licence enables the DPO Group to operate as an independent payment solutions services company in Nigeria as it does across over 20 other countries in Africa.
DPO offers merchant aggregation services to over 60,000 active merchants, including e-commerce companies, airlines and travel agents through its robust and reliable network which allows merchants to accept payments in the currency of their choice.
Working across local and international channels, DPO also offers strong protection against fraud and helps merchants manage refunds, chargebacks and more.
The company will be banking on e-commerce which has seen significant growth in Nigeria in recent years, due to high levels of internet penetration combined with being one of the largest digital economies on the continent.
Digital payments make up the large majority of payment volumes in the country, and volumes are expected to reach 7.7 billion by 2025, representing a growth of 45 per cent from 2019.
Speaking on this, Mr Eran Feinstein, CEO of DPO Group, stated that, "Nigeria represents a key market for any business with a digital focus, as one of the most innovative African countries when it comes to fintech and e-commerce.
"This new licence is an exciting development which will allow us to offer an even smoother payment process for Nigerian businesses looking to grow and reach more customers through secure digital payments."
DPO's country manager in Nigeria, Mrs Chidinma Aroyewun said, "This licence provides an exciting opportunity for us at DPO. It allows us to work with tens of thousands of Nigerian businesses and help them achieve their growth goals through secure payment technology."
DPO Group was acquired by Network International in 2021 in a landmark deal for the African payments space. It continues to operate under the same brand in existing territories and will be launching a new comprehensive payment solution, DPO Pay for businesses across Africa and other territories.
Latest News on Business Post