Union Bank, Mama Moni Launch Training Scheme for Low-Income Women
By Modupe Gbadeyanka
As part of its commitment to boost women empowerment, talent development, and financial inclusion, Union Bank recently partnered with MamaMoni Empowerment Foundation to set up an Innovation Hub for low-income women and girls from urban slum communities. The hub, which is located in Amuwo-Odofin area of Lagos State, was formally opened on May 21, 2019.
The vocational training program has been established to enable the girls and women to build sustainable means of living.
It is anticipated that each year, over 400 underprivileged beneficiaries will receive training in vocational skills such as hairdressing, make up, fashion designing, mobile farming and furniture making. Other courses to be offered at the hub include financial literacy, coding and personal branding.
Speaking at the launch of the innovation centre, Ogochukwu Ekezie-Ekaidem, Head of Corporate Communications and Marketing at Union Bank, applauded the efforts of the MamaMoni team in improving the outcomes of women in underserved communities through micro loans and empowerment schemes.
"Union Bank is proud to have been a principal partner of the MamaMoni Foundation over the years. We identified this initiative as one that will help amplify our efforts to support women and drive financial inclusion. It is our hope that this innovation centre will go a long way in improving the lives of women from low-income communities and their families as they strive for a better future," she said.
In 2016, Nkem Okocha, founder of the MamaMoni Foundation emerged a winner in the LEAP Africa Social Innovators Programme (SIP) sponsored by Union Bank, receiving a grant of N1 million to expand the MamaMoni operations. Since then, the Foundation has impacted over 6,000 women by providing them with micro loans and basic vocational and financial literacy skills.
Union Bank is committed to enabling the success of the average Nigerian and continues to champion the cause for the women empowerment.
Earlier this year, the Bank launched its women's proposition, tagged αlpher, a platform to empower women across all segments of the Nigerian society through capacity building opportunities, networking platforms, scholarships and tailored financial services.
CBN's Digital Currency Will Deepen Financial Inclusion—FDC
By Adedapo Adesanya
Financial Derivatives Company (FDC) Limited has lauded the proposed plan by the Central Bank of Nigeria (CBN) to introduce a digital currency, saying it will deepen financial inclusion in the country.
In a new report, FDC explained that most central banks had indicated keen interests in developing their digital currencies in response to the threats and limitations of cryptocurrency, including poor regulation, price volatility and facilitating illicit financial transactions.
The report said, "Nigeria is set to follow the global trend as it plans to launch its digital currency by year-end. Unlike crypto, digital currencies are regulated by central banks, thus giving them some level of control over the financial system.
"On a positive note, virtual currencies would facilitate smooth financial transactions and eliminate bottlenecks associated with the use of cash (mutilated notes, forgery, cash handling charges, shortages). It will also deepen financial inclusion and increase the velocity of circulation."
The analysis highlighted the rising concerns of distrust in the government and its policies, cybersecurity and inadequate digital infrastructure.
"All these could limit the launch and widespread use of the digital currency in the country," it said.
According to the report, the drop in inflation rate in May for the second straight month contradicts market reality following the report by the National Bureau of Statistics (NBS) which disclosed that the country's inflation rate fell to 17.93 per cent in May from 18.12 per cent in April.
FDC said contrary to analyst expectations, the decline in consumer price inflation seemed to be more of a trend than a blip.
It said the headline inflation fell again in May primarily due to a fall in the food sub-index to 22.28 per cent from 22.72 per cent in April.
This is coming as the CBN last year issued a circular asking commercial banks and other financial institutions to close accounts transacting in, or operating on, cryptocurrency exchanges.
All deals involving cryptocurrency are now prohibited with severe regulatory sanctions awaiting erring outfits.
The apex bank also asked commercial banks to identify persons and or entities transacting in or operating cryptocurrency exchanges within their systems and ensure that such accounts are closed immediately.
But since the apex bank announced its intention to introduce a digital currency for the country, it has been applauded.
Apart from the FDC, other analysts have submitted that the proposed CBN's digital currency would benefit the nation, especially as the digital asset is becoming widely accepted across the globe.
CIBN to Revamp Banking Practice in Nigeria With A-TEAM Initiative
By Aduragbemi Omiyale
A strategic initiative aimed to revamp banking practice in Nigeria has been introduced by the Chartered Institute of Bankers of Nigeria (CIBN).
The new plan with the acronym A-TEAM means Accelerated Development; Technology and Digital Enhancement; Engagement for Growth; Accountability and Transparent Leadership and Membership Drive for Value.
As part of efforts for its successful implementation, the CIBN is seeking collaborations with financial institutions in the country.
Recently, the President/Chairman of Council, CIBN, Mr Bayo Olugbemi, visited Ecobank Nigeria and he said the A-TEAM initiative will benefit stakeholders in the banking sector.
He applauded Ecobank's consistent support for the institute over the years to ensure the realisation of its mandate of determining the standards of knowledge and skills development for those seeking to become members of the banking profession.
"We applaud Ecobank Academy as the first corporate member to become a member of the Global Business School Network and for the consistent support for the realisation of the institute's mandate of determining the standards of knowledge and skills to be attained by persons seeking to become members of the banking profession.
"We, therefore, seek Ecobank's collaboration and enlistment in our Endowment/Prize Awards in any subject of interest; support towards the renovation of Abuja Bankers' House; support for the establishment of banking museum by donating artefacts and other relevant materials; and to participate actively in training programmes of the institute," Mr Olugbemi said.
Further, he congratulated Ecobank Nigeria and the Ecobank Group on winning several International awards, which includes the Best Retail Bank in Nigeria by Asian Banker; Africa's Best Bank for Corporate Responsibility by Euromoney (Ecobank Group); African Bank of the Year (African Banker); Innovation in Financial Services Award from African Banker (Ecobank Group); EMEA Finance African Banking Awards 2020.
Responding, the Managing Director of Ecobank Nigeria, Mr Patrick Akinwuntan, pledged more support and collaboration with the institute, restating that Ecobank will continue to contribute to the efforts of the organisation to become top class and remain relevant globally.
"For us at Ecobank, we are extremely proud CIBNs efforts at ensuring public discourse on the future of the Nigeria economy and the banking and finance industry.
"This is not in isolation of the ethics, professionalism, accountability, transparency, good corporate governance without losing focus of harnessing the opportunities technology has provided in the new world order. Be assured of our maximum support and collaboration at all times," he said.
Mr Akinwuntan also identified with the efforts of the institute to raise the bar of competency and capacity building in the industry, stressing that with sound professional conduct, every banker will be held in high esteem.
He said Ecobank was working assiduously to ensure a majority of its staff become members of the institute, adding that the bank will also provide more mentees and mentors in its mentorship programme.
"We have a medium to long term programme to ensure all Ecobank Nigeria staff become chartered members of the institute.
"At Ecobank, we take human capacity development very seriously. Some of our staff that wrote the last examinations are now chartered members of the Institute.
"We will also ensure bulk subscription of our staff. We will be nominating 30 mentors and 100 mentees to participate in the second mentorship programme," he assured.
VBank Brightens Spirits at Lagos NYSC Orientation Camp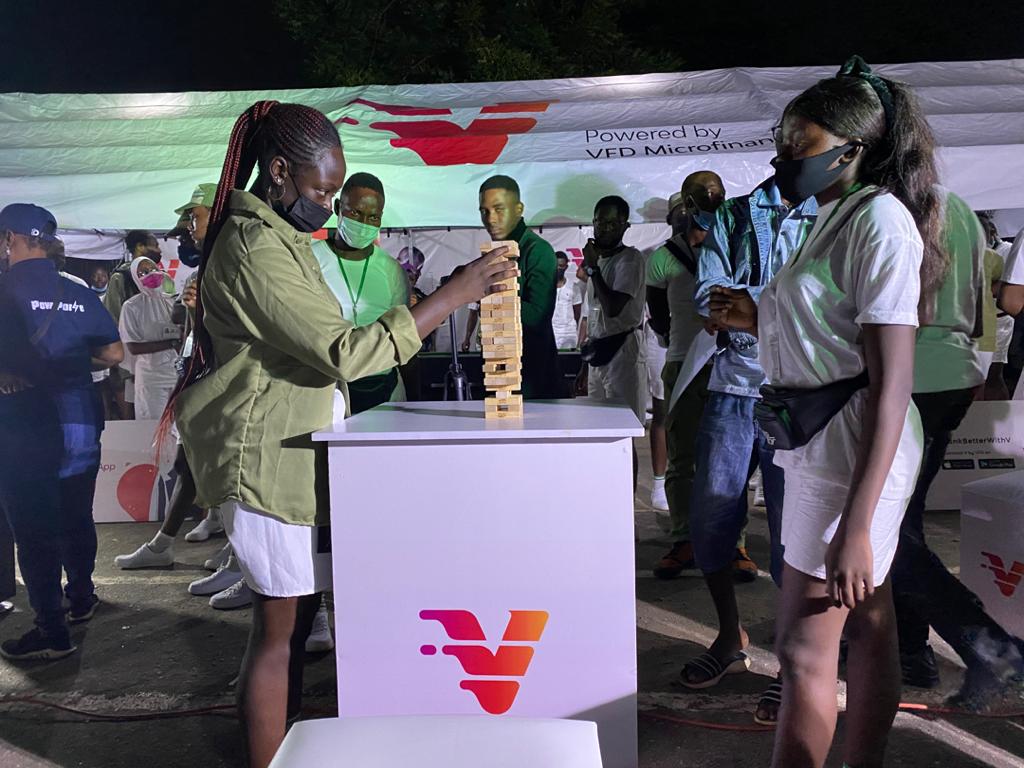 By Modupe Gbadeyanka
The National Youth Service Corps (NYSC) orientation camp in Lagos was recently brightened by VFD Microfinance Bank, owners of the 2020 banking app of the year, VBank.
The financial institution, for 10 days, entertained corps members and officials alike at their Games Veelage, an arcade set up with interesting games including snooker, Jenga, fuss ball, chess, scrabble, snakes & ladders and video games.
At the climax last Sunday, 15 NYSC members won N150,000 in cash prizes, while others received loads of consolation gifts.
Dayo Osborne, Gbenga Benedict, Olamide Ojedele, and Joseph Eweje were some of the winners of the N20,000 cash prize category and were rewarded instantly via transfer from the digital banking app, VBank.
While onboarding the graduates on the banking platform, the brand created an avenue for the Batch A Stream 2A corps members to relax after their usual daily camp routine.
The bank had equally sponsored the inter-platoon games night which took place days before, gifting participants cash transfers using the app's Proximity Payment feature.
According to Ebere Ahaotu, Product Manager, VBank, "It is our little way of encouraging young people to keep hope alive.
"Camp life can be hectic and VBank is all about ease and convenience so why not brighten up their camp experience, introduce them to a better way to bank and assist them with some funds to transport them to their places of primary assignment. It's about paying it forward."
The corps members have since been posted to different places of assignment within the state while another stream gets ready for camp in July.
Latest News on Business Post