VBank Brightens Spirits at Lagos NYSC Orientation Camp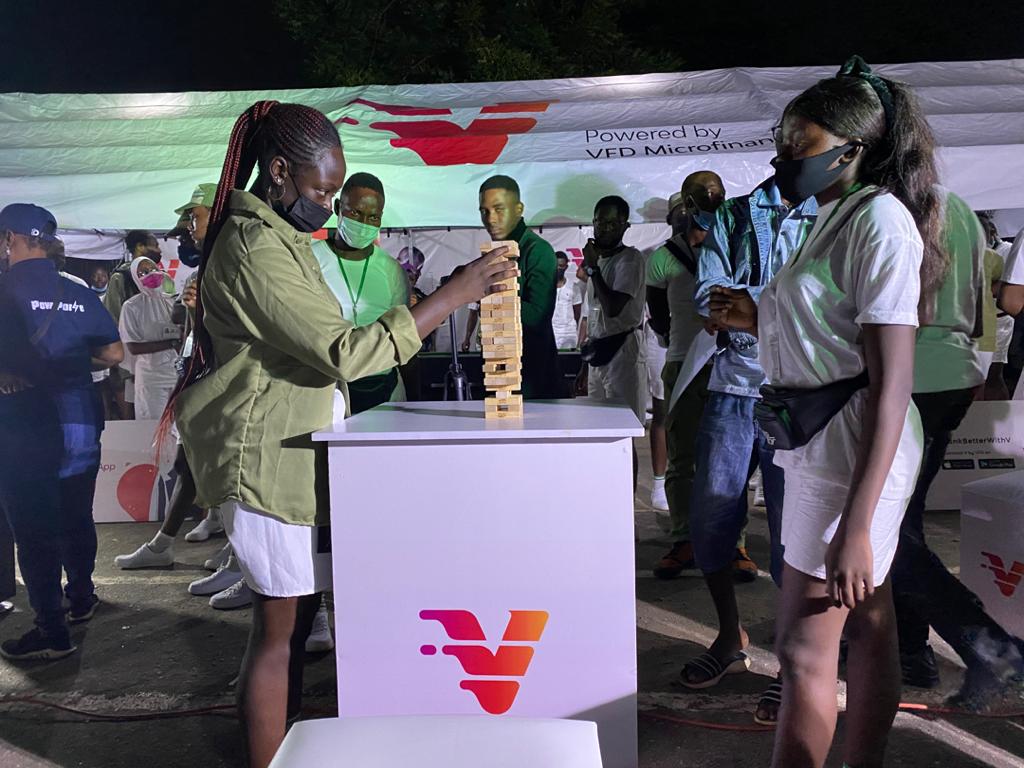 By Modupe Gbadeyanka
The National Youth Service Corps (NYSC) orientation camp in Lagos was recently brightened by VFD Microfinance Bank, owners of the 2020 banking app of the year, VBank.
The financial institution, for 10 days, entertained corps members and officials alike at their Games Veelage, an arcade set up with interesting games including snooker, Jenga, fuss ball, chess, scrabble, snakes & ladders and video games.
At the climax last Sunday, 15 NYSC members won N150,000 in cash prizes, while others received loads of consolation gifts.
Dayo Osborne, Gbenga Benedict, Olamide Ojedele, and Joseph Eweje were some of the winners of the N20,000 cash prize category and were rewarded instantly via transfer from the digital banking app, VBank.
While onboarding the graduates on the banking platform, the brand created an avenue for the Batch A Stream 2A corps members to relax after their usual daily camp routine.
The bank had equally sponsored the inter-platoon games night which took place days before, gifting participants cash transfers using the app's Proximity Payment feature.
According to Ebere Ahaotu, Product Manager, VBank, "It is our little way of encouraging young people to keep hope alive.
"Camp life can be hectic and VBank is all about ease and convenience so why not brighten up their camp experience, introduce them to a better way to bank and assist them with some funds to transport them to their places of primary assignment. It's about paying it forward."
The corps members have since been posted to different places of assignment within the state while another stream gets ready for camp in July.
FSDH Merchant Bank Sells N23.6bn Commercial Paper
By Dipo Olowookere
Commercial paper worth N23.6 billion is to be raised by FSDH Merchant Bank Limited for its short-term working capital requirements and other general corporate purposes.
The note is being floated by the financial institution under its N40.0 billion commercial paper programme, Business Post gathered.
The sale of the N23.6 billion is being offered by FSDH in three series, series 3, 4 and 5, according to details of the issuance seen by this newspaper.
Subscriptions for the commercial paper commenced on Wednesday, July 14, 2021, and is expected to wrap up on Wednesday, July 21, 2021, but this is expected to be extended because of the two-day public holiday declared by the federal government on Tuesday and Wednesday for Eid-el-Kabir.
The series 3 CP is with a maturity of 116 days, with a coupon rate of 8.74 per cent, the series 4 note comes with a 188-day tenor with a coupon rate of 11.10 per cent, while the series 5 paper comes with a 270-day maturity and a coupon rate of 11.65 per cent.
A commercial paper is an unsecured, short-term debt instrument issued for the financing of accounts payable and inventories and meeting short-term liabilities.
Maturities on commercial paper rarely range longer than 270 days and are usually issued at a discount from face value and reflects prevailing market interest rates.
FSDH, a subsidiary of FSDH Holding Company, which started as the first discount house in Nigeria in 1993, transformed into a merchant bank in 2012 after it received approval from the Central Bank of Nigeria (CBN).
The firm offers services such as cash management, wealth management, risk management, financing and advisory.
Ecobank Begins Zero Transaction Fee on Rapidtransfer
By Aduragbemi Omiyale
The management of Ecobank Nigeria led by Mr Patrick Akinwuntan has said transactions carried out on its money transfer app, Rapidtransfer, would be free of charge for four months.
A statement issued by the lender disclosed that this zero transaction fee on Rapidtransfer is to celebrate this year's National Diaspora Day fixed for July 25. The day is set aside by the federal government to celebrate Nigerians in the diaspora in recognition of their contributions towards the development of their homeland.
Mr Akinwuntan said Nigerians in the diaspora contribute significantly to the socio-economic development of the country, lauding the decision of the government to celebrate them, noting that the recent launch of the National Diaspora Policy (NDP) by the government would further promote and harness the resources and capacity of Nigerians in the diaspora towards national development.
"As a pan-African institution positioned to foster the economic growth and integration of our continent, we are particularly pleased to work closely with NiDCOM, ably led by the Chairman/CEO, Mrs Abike Dabiri-Erewa towards the engagement of Nigerians in the diaspora on policies, projects and other initiatives geared at developing the nation.
"From our constant engagement with Nigerians in the Diaspora, we understand their peculiar needs and have created tailor-made solutions to serve them effectively," the banker said.
He noted further that Ecobank has partnered NiDCOM on webinars, diaspora quarterly lecture series and will continue to seek other collaboration opportunities to deepen engagement with the diaspora community.
Also speaking, the Head of Consumer Banking at Ecobank Nigeria, Mrs Korede Demola-Adeniyi, said Ecobank will apply zero fees to all Rapidtransfer transactions from July 1 to October 31, 2021, thereby enabling Nigerians living abroad to send money to their loved ones affordably.
According to her, the decision to waive charges underscores the bank's commitment to helping Nigerians abroad remit money home without placing an additional burden of charges on them, especially at this period of global economic downturn.
Rapidtransfer is Ecobank's proprietary money transfer service which enables users send funds across borders, affordably and instantly.
The banking app is available for use by Ecobank and non-Ecobank customers. Remittances can be received directly into the recipient's account or as cash at any Ecobank branch.
Beneficiaries who wish to receive funds into an account but do not have domiciliary accounts have the opportunity to open in Euro, GBP or USD instantly and enjoy all the benefits that come with Ecobank foreign currency accounts.
In addition, N5 is paid on every one dollar received as cash or direct to account in line with the Central Bank of Nigeria's ongoing Naira for Dollar initiative.
Fidelity Bank, Linda Ikeji Plan Platform to Empower Women
By Aduragbemi Omiyale
Efforts are being made by Fidelity Bank Plc and Linda Ikeji Blog (LIB) TV to create a long-term platform aimed to educate, support and empower women entrepreneurs in Nigeria.
Last week, the CEO of LIB TV, Ms Linda Ikeji, was at the head office of Fidelity Bank in Lagos on a courtesy call to the CEO of the financial institution, Mrs Nneka Onyeali-Ikpe.
During the visit, the duo not only explored business opportunities but discussed ways to lend their voice to the ongoing conversation about women empowerment.
The two beautiful amazons and consummate professionals in their respective fields of endeavour (banking and media) agreed that one of the best ways to develop the nation was to provide an avenue for women to thrive.
"Through strategic collaborations, we can set up a forum for young aspiring entrepreneurs to have a one-on-one interaction with successful career women in Fidelity Bank. This will provide them with the opportunity to ask questions and share their experiences," Ms Ikeji said.
The media guru, while speaking on the importance of innovation in entrepreneurship, encouraged budding female entrepreneurs to stay ahead of their time by conducting research and identifying the needs of consumers.
She praised Fidelity Bank for organising women empowerment programmes, explaining that more Nigerian women need such platforms for motivation whilst believing that there is no limit to what they can achieve.
Ms Ikeji also used the occasion to express her confidence in management's capacity to impact positively on the growth and development of women-owned businesses in Nigeria.
In her remarks, Mrs Onyeali-Ikpe, who was surrounded by top female management staff, applauded her guest's efforts to empower young women, alluding to her 2017 initiative, which saw her tour secondary schools across the country teaching young girls about entrepreneurship. She expressed the willingness of the bank to collaborate with LIB TV for the betterment of female entrepreneurs.
The bank chief also used the opportunity to provide a detailed insight into her seven-point agenda, which is part of plans to ensure the bank achieves Tier-One status in Nigeria by 2025.
Speaking about the bank's efforts to positively influence women in business, the Fidelity Bank boss stated that the company's long-standing support for the growth of women-owned businesses in Nigeria stems from its recognition of women's ability to effectively control the hem of affairs in business.
Whilst reiterating the bank's passion for women empowerment, she said the lender has put in place necessary measures to improve gender equality and assist women in the bank's workforce thrive effortlessly on the job.
One of these, she said, is the creation of a conducive workspace for all women by building a crèche for Fidelity women to enable them to take care of their children.
"Fidelity Bank is very concerned about the convenience of women in the workforce and I encourage that every work environment with mothers should have a crèche. We have just built a child-friendly environment and it would be unveiled very soon," she said.
On a final note, Mrs Onyeali-Ikpe noted that female business owners and professionals must make it a point of duty to be consistent and tenacious to succeed in business.
Latest News on Business Post