What is a Debt Consolidation Loan and How Does it Work?
Debt consolidation is the act of clubbing all your existing loans together and paying them off as one single debt.
The biggest advantage of taking a debt consolidation loan is that you don't have to worry about connecting with multiple vendors for repayments. There's no need for managing multiple credit cards and the EMIs you pay are dedicated towards a single big loan.
There are some cases where you cannot apply debt consolidation. For example, you cannot take a debt consolidation loan for paying off pending EMIs for liable or secured assets (such as a home loan).
However, for unsecured loans like personal loans, education loans, and credit card dues, you can apply for a debt consolidation loan to clear them up.
Some organisations these days offer secured debt consolidation loans for individuals where they put up their property or business assets as the collateral.
Unsecured debt consolidation loans are hard to apply for and charge higher rates of interest. Most banks aren't willing to give out individuals unsecured debt consolidation loans but there are NBFCs, fintech startups, and private organisations that disburse these loans as long as the borrower's profile is verified and they demonstrate sufficient creditworthiness.
The best part about these loans is that the interest rates remain fixed and do not fluctuate. This means your monthly EMI repayments stay the same and don't suddenly change, thus giving borrowers peace of mind.
Advantages of Debt Consolidation Loans
There are various reasons why you'd want to opt for a debt consolidation loan. Here's a list of the benefits:
One Single Liability – It's hard enough to keep track of multiple EMIs and repayment. Going for debt consolidation takes care of this legwork since your lender takes care of the communications. Your only duty is to make sure you make your EMI payments on time for the debt consolidation loan you applied for.
Lower Interest Rates – With multiple different loans, you have varying interest rates. But with a debt consolidation loan, you have to worry about a single interest rate. The payoff is lower too and it makes the monthly repayments lesser too.
Paperless Process – If you're applying for a debt consolidation loan online, you'll find that the entire process is paperless. You can file your application digitally and you'll find that lenders disburse the amount in just a few days if you meet their borrower requirements.
Flexible EMI Tenure – Debt consolidation loans can have a flexible repayment tenure of anywhere between 2 years to 20 years. Self-employed individuals can get a tenure of up to 18 years while salaried individuals are liable for more.
Debt Consolidation Loans vs Debt Settlement
The key point to remember about debt consolidation loans is that they don't completely erase all your debts. They simply club your loans together and transfer them to a single lender. As a borrower, you become responsible for making repayments to a single lender.
Debt settlement works a bit differently and aims in providing credit relief to borrowers. Here, negotiations are done with lenders to reduce the loan amount or interest rates instead of cutting down on the number of lenders by transferring the debt to an organisation.
There are many credit counselling services and organisations that help in doing debt negotiations with organisations and providing relief to borrowers, although they don't directly give out any loans on their own.
How Does It Work?
Let's say you've taken a loan of Rs 1 lac over a period of 2 years with an interest rate of 12%. And you have another loan of Rs 2 lacs which you have to clear within a year, its annual interest rate being 10%. The monthly EMI payments for each of these loans may come to around INR 5170 and INR 5830 respectively.
With a debt consolidation loan, your monthly EMI payment would amount to INR 6000 combined. However, the trade-off is that you get a longer tenure for making both the repayments on your existing debts. Instead of making multiple payments to lenders, you can now make a single EMI payment every month and end up saving money on interest. The longer tenure also gives you peace of mind as you know that you can handle your repayments a lot better. Debt consolidation gives you a favourable structure for making repayments and makes it convenient to pay off multiple small loans together by applying for a big loan.
Make sure you identify all your financial obligations and liabilities before going for this type of loan. It's always a good idea to talk to an advisor before applying for debt consolidation if you're not sure whether or not to go for one based on your financial circumstances.
What Are The Eligibility Requirements?
If it's your first time applying for a debt consolidation loan, you're going to have to make sure your KYC documents are with you. Lenders look for documents such as:
Proof of employment and stable income (at least 2 months')
Letters from credit agencies
Bank statements
Proof of Identity
You must also be a resident of India and be 25 years of age or older. If you've been self-employed for years and have taken loans before the age of 23, you can still go ahead and apply for a debt consolidation loan before this age limit criteria. Your lending organisation will decide which creditors you pay off after your debt consolidation loan is approved. The way this works is you pay off your highest-interest loans first and clear up the remaining ones over time.
However, some organisations may allow you to pay lower-interest loans in the beginning and later clear the higher-interest ones. This will depend on your lender whom you're applying for a debt consolidation loan through or the lending organisation. Additionally, you will have to demonstrate your creditworthiness and show your CIBIL Score when applying for these types of loans.
How Does A Debt Consolidation Loan Affect Your CIBIL Score?
If you take a debt consolidation loan and pay off the principal portion of your loan sooner, it can attract various credit lending organisations to your profile. The sooner you clear out the existing loans, the higher your CIBIL rating will be.
Also, the period involved in making all your repayments becomes shorter since you're clubbing different debts into a single EMI. Overall, it makes it much easier to manage your existing debt repayments. You can also get a much more reasonable interest rate when you go for debt consolidation and sometimes, you can cut that number to one-thirds depending on what your current CIBIL rating is like.
CBN's Digital Currency Will Deepen Financial Inclusion—FDC
By Adedapo Adesanya
Financial Derivatives Company (FDC) Limited has lauded the proposed plan by the Central Bank of Nigeria (CBN) to introduce a digital currency, saying it will deepen financial inclusion in the country.
In a new report, FDC explained that most central banks had indicated keen interests in developing their digital currencies in response to the threats and limitations of cryptocurrency, including poor regulation, price volatility and facilitating illicit financial transactions.
The report said, "Nigeria is set to follow the global trend as it plans to launch its digital currency by year-end. Unlike crypto, digital currencies are regulated by central banks, thus giving them some level of control over the financial system.
"On a positive note, virtual currencies would facilitate smooth financial transactions and eliminate bottlenecks associated with the use of cash (mutilated notes, forgery, cash handling charges, shortages). It will also deepen financial inclusion and increase the velocity of circulation."
The analysis highlighted the rising concerns of distrust in the government and its policies, cybersecurity and inadequate digital infrastructure.
"All these could limit the launch and widespread use of the digital currency in the country," it said.
According to the report, the drop in inflation rate in May for the second straight month contradicts market reality following the report by the National Bureau of Statistics (NBS) which disclosed that the country's inflation rate fell to 17.93 per cent in May from 18.12 per cent in April.
FDC said contrary to analyst expectations, the decline in consumer price inflation seemed to be more of a trend than a blip.
It said the headline inflation fell again in May primarily due to a fall in the food sub-index to 22.28 per cent from 22.72 per cent in April.
This is coming as the CBN last year issued a circular asking commercial banks and other financial institutions to close accounts transacting in, or operating on, cryptocurrency exchanges.
All deals involving cryptocurrency are now prohibited with severe regulatory sanctions awaiting erring outfits.
The apex bank also asked commercial banks to identify persons and or entities transacting in or operating cryptocurrency exchanges within their systems and ensure that such accounts are closed immediately.
But since the apex bank announced its intention to introduce a digital currency for the country, it has been applauded.
Apart from the FDC, other analysts have submitted that the proposed CBN's digital currency would benefit the nation, especially as the digital asset is becoming widely accepted across the globe.
CIBN to Revamp Banking Practice in Nigeria With A-TEAM Initiative
By Aduragbemi Omiyale
A strategic initiative aimed to revamp banking practice in Nigeria has been introduced by the Chartered Institute of Bankers of Nigeria (CIBN).
The new plan with the acronym A-TEAM means Accelerated Development; Technology and Digital Enhancement; Engagement for Growth; Accountability and Transparent Leadership and Membership Drive for Value.
As part of efforts for its successful implementation, the CIBN is seeking collaborations with financial institutions in the country.
Recently, the President/Chairman of Council, CIBN, Mr Bayo Olugbemi, visited Ecobank Nigeria and he said the A-TEAM initiative will benefit stakeholders in the banking sector.
He applauded Ecobank's consistent support for the institute over the years to ensure the realisation of its mandate of determining the standards of knowledge and skills development for those seeking to become members of the banking profession.
"We applaud Ecobank Academy as the first corporate member to become a member of the Global Business School Network and for the consistent support for the realisation of the institute's mandate of determining the standards of knowledge and skills to be attained by persons seeking to become members of the banking profession.
"We, therefore, seek Ecobank's collaboration and enlistment in our Endowment/Prize Awards in any subject of interest; support towards the renovation of Abuja Bankers' House; support for the establishment of banking museum by donating artefacts and other relevant materials; and to participate actively in training programmes of the institute," Mr Olugbemi said.
Further, he congratulated Ecobank Nigeria and the Ecobank Group on winning several International awards, which includes the Best Retail Bank in Nigeria by Asian Banker; Africa's Best Bank for Corporate Responsibility by Euromoney (Ecobank Group); African Bank of the Year (African Banker); Innovation in Financial Services Award from African Banker (Ecobank Group); EMEA Finance African Banking Awards 2020.
Responding, the Managing Director of Ecobank Nigeria, Mr Patrick Akinwuntan, pledged more support and collaboration with the institute, restating that Ecobank will continue to contribute to the efforts of the organisation to become top class and remain relevant globally.
"For us at Ecobank, we are extremely proud CIBNs efforts at ensuring public discourse on the future of the Nigeria economy and the banking and finance industry.
"This is not in isolation of the ethics, professionalism, accountability, transparency, good corporate governance without losing focus of harnessing the opportunities technology has provided in the new world order. Be assured of our maximum support and collaboration at all times," he said.
Mr Akinwuntan also identified with the efforts of the institute to raise the bar of competency and capacity building in the industry, stressing that with sound professional conduct, every banker will be held in high esteem.
He said Ecobank was working assiduously to ensure a majority of its staff become members of the institute, adding that the bank will also provide more mentees and mentors in its mentorship programme.
"We have a medium to long term programme to ensure all Ecobank Nigeria staff become chartered members of the institute.
"At Ecobank, we take human capacity development very seriously. Some of our staff that wrote the last examinations are now chartered members of the Institute.
"We will also ensure bulk subscription of our staff. We will be nominating 30 mentors and 100 mentees to participate in the second mentorship programme," he assured.
VBank Brightens Spirits at Lagos NYSC Orientation Camp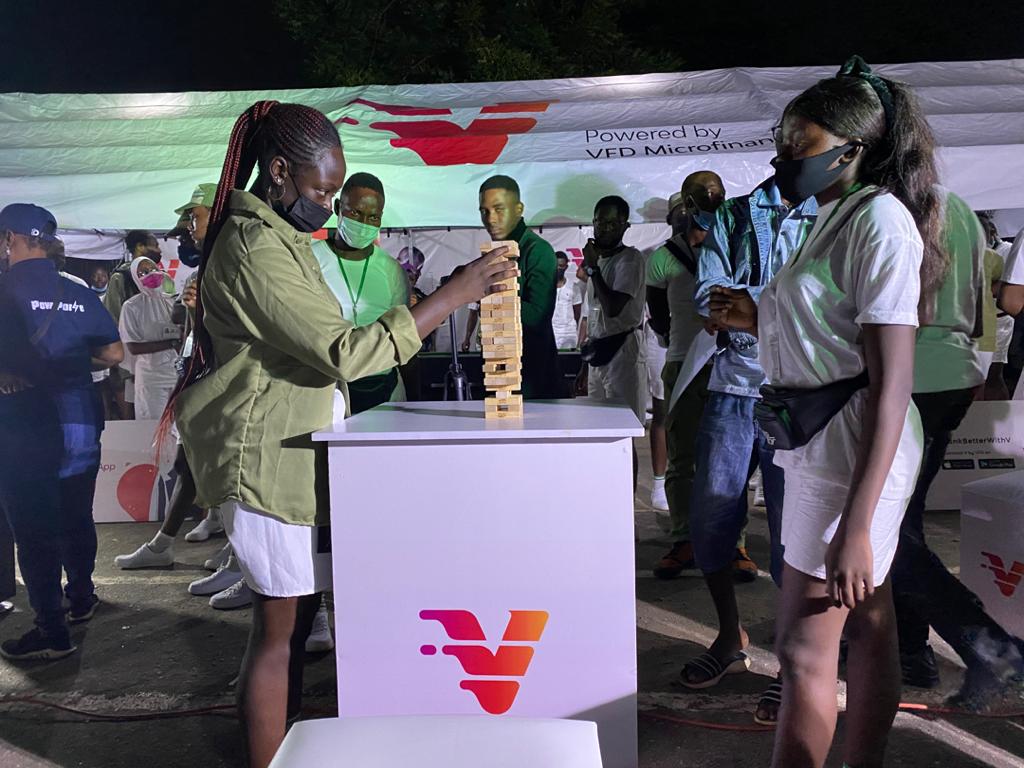 By Modupe Gbadeyanka
The National Youth Service Corps (NYSC) orientation camp in Lagos was recently brightened by VFD Microfinance Bank, owners of the 2020 banking app of the year, VBank.
The financial institution, for 10 days, entertained corps members and officials alike at their Games Veelage, an arcade set up with interesting games including snooker, Jenga, fuss ball, chess, scrabble, snakes & ladders and video games.
At the climax last Sunday, 15 NYSC members won N150,000 in cash prizes, while others received loads of consolation gifts.
Dayo Osborne, Gbenga Benedict, Olamide Ojedele, and Joseph Eweje were some of the winners of the N20,000 cash prize category and were rewarded instantly via transfer from the digital banking app, VBank.
While onboarding the graduates on the banking platform, the brand created an avenue for the Batch A Stream 2A corps members to relax after their usual daily camp routine.
The bank had equally sponsored the inter-platoon games night which took place days before, gifting participants cash transfers using the app's Proximity Payment feature.
According to Ebere Ahaotu, Product Manager, VBank, "It is our little way of encouraging young people to keep hope alive.
"Camp life can be hectic and VBank is all about ease and convenience so why not brighten up their camp experience, introduce them to a better way to bank and assist them with some funds to transport them to their places of primary assignment. It's about paying it forward."
The corps members have since been posted to different places of assignment within the state while another stream gets ready for camp in July.
Latest News on Business Post