Zoho Upgrades Zoho Desk With New Tools
By Modupe Gbadeyanka
The customer service platform of Zoho Corporation, Zoho Desk, has been enhanced with new tools aimed at enabling customer service agents to improve engagement and deliver higher-value customer experiences (CX).
In a statement, the company said the new features introduced into the application unify human-driven and bot-powered customer service capabilities for exceptional omnichannel support and better-informed agent interactions.
One of these features is blended conversations, a seamless combination of human-driven and bot-powered conversational service experiences, as well as several refinements to the user interface to make it simpler, faster, and more accessible to users with a wide spectrum of different needs.
Blended Conversations for Zoho Desk allows customer service agents to deliver the best experience at the moment by delegating the majority of manual and transactional tasks to bots while remaining in control of the overall service experience.
With fast and easy deployment that does not require external help, Zoho Desk allows brands to scale their conversational service experiences through higher agent productivity without compromising on the quality of CX.
This experience is a culmination of Zoho's Instant Messaging (IM) Framework and Guided Conversations, a low-code builder for self-service experiences. The IM Framework allows organizations to integrate any messaging service they use with Zoho Desk and comes pre-integrated with services like WhatsApp, Telegram, Line, WeChat, Messenger, and Instagram.
Guided Conversations for Zoho Desk allows business users to build powerful self-service flows that are useful throughout the customer journey and help customers quickly and securely manage their relationship with the organization.
It offers service teams tighter collaboration and integration with other Zoho marketing apps at no extra cost, including Zoho's CX Platform and Zoho CRM Plus.
Also, the firm has launched an express edition to help small and micro businesses transform their customer service operations by empowering them with an easy and value-rich helpdesk solution at an affordable price point.
"During these challenging economic times, the best companies are doubling down on customer retention while simultaneously trying to do more with less," said Hyther Nizam, President MEA, Zoho Corp.
"Great service experiences address this by forming the bedrock of sustainability through economic downturns. Blended Conversations in Zoho Desk addresses exactly this outcome by cleverly combining human and bot agents while also reducing friction, frustration, and costs-to-serve," Nizam added.
Also, Zoho has announced a technological overhaul of the user interface to include options to support cognitive and dyslexia challenges, visual impairments including astigmatism, animation reduction for those with seizure disorders, and customization capabilities for colour blindness. This is the company's biggest step towards improving digital accessibility to date.
Since its inception, Zoho Desk, the anchor application in the company's customer service platform, has achieved a 45 per cent year-over-year revenue growth for the past five years in Nigeria and globally.
It now serves more than 100K businesses around the world. The platform has also witnessed phenomenal adoption across the MEA region, achieving 580 per cent CAGR over the past five years.
Rite Foods Urges Consumers to 'Embrace The Thrill' of Fearless Energy Drink
By Dipo Olowookere
Rite Foods Limited, the makers of the premium award-winning Fearless energy drink, has unveiled a new mantra for the brand, Embrace the Thrill.
In its new television commercial, the company expressed its determination to continue revitalising consumers with its Classic and Red Berry flavours.
In the TVC, the brand motivated its consumers to go beyond their limits and not be laid back by the number of rejections they have received in time past. The new pay-off also encouraged them to be daring and energetic, to exhibit the willpower to excel, be enthusiastic in their endeavours, and be vigorous.
Commenting on the new development, the Assistant Brand Manager for Fearless Energy Drink, Ms Kanyinsola Sangowawa, said the brand is reassuring, through the new tagline, Embrace the Thrill, that it would continue to rejuvenate consumers to become braver and more adventurous, to activate their dreams to attain success.
She noted that the leading energy drink would continue to dominate other brands in its category as exemplified through its inventiveness and the distinctiveness that goes with it, stating the new slogan offers all its consumers the unquenchable desire to make a difference in their endeavours, with its positive energy.
As an award-winning brand, Fearless energy drink, produced in a world-class factory with state-of-the-art infrastructure and up-to-date technology, has embarked on lots of sponsorship initiatives that demonstrate its leading position in the industry, especially in the area of sports.
It has thrown its total weight behind FanFaro Auto-Fest, and The Fearless edition 2022, among others, reinforcing its market leadership in the food and beverage sector, thus helping in sports development and community/nation-building.
In entertainment, the Fearless energy drink, introduced into the Nigerian market in June 2017, among other initiatives, powered Felabration 2021 with a posthumous award presented to the late Afrobeat King, Fela Anikulapo-Kuti, for his legendary role in the music industry.
Similarly, the Max Live Musical Concert was sponsored by Max FM 102.3, with the theme Music Experience and the slogan Party of all Parties, for young talented artists who, after wonderful performances, eulogised the quality brand for advancing their course of becoming superstars in the future.
These and other initiatives were responsible for the laurel earned at the Brandcom 2021 awards as the Most Outstanding Energy Drink Brand of the Year, thus placing it ahead of others in its category.
It was adjudged as the leading brand because of its inventiveness and numerous contributions to the industry, talent promotion, ideapreneurship, and societal development.
Mouka Donates Mattresses to GNOSIS for Domestic Violence Victims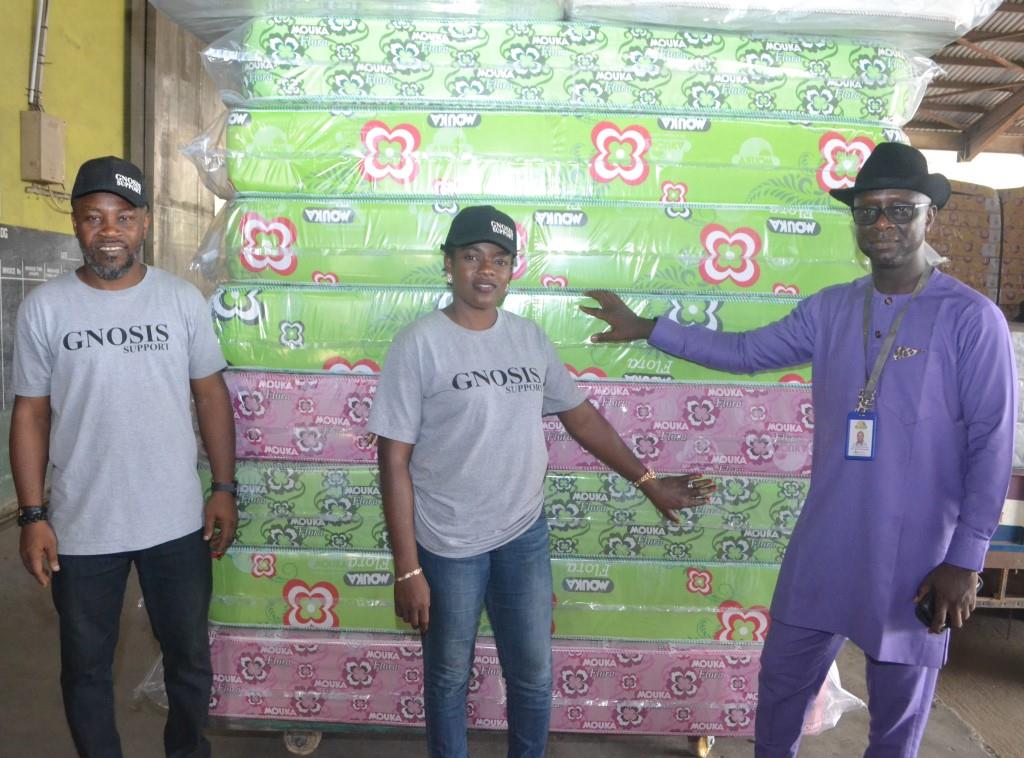 By Modupe Gbadeyanka
To bring succour to victims of domestic violence and abuse, Nigeria's preferred brand of mattresses, pillows and other sleep products, Mouka, has partnered with a non-governmental organisation (NGO), GNOSIS Help Initiative.
The company donated some mattresses to the NGO at its head office in Lagos on Wednesday to help improve the living condition of the displaced persons sheltered by the organisation, in line with its mission of adding comfort to life.
According to Mouka's Chief Commercial Officer, Mr Dimeji Osingunwa, the company truly cares about the wellbeing of its consumers and will continue to support worthy programs such as the GNOSIS Help Initiative that seek to alleviate the sufferings of Nigerians. He also called on other corporate organisations to lend a helping hand in making the lives of the victims easier in their journey of healing.
In his response, Barrister Olumide Kayode-Omosebi, Founder of GNOSIS Help Initiative (GHI), said, "When I reached out to Mouka, I did not expect they would respond with such a grand gesture.
"I am thankful as this would go a long way in making the victims feel comfortable in the places of shelter we provide."
He said with the donation, Mouka has truly demonstrated it is interested in the comfort of all Nigerians, even victims of abuse.
According to him, domestic violence and abuse cases are increasing. In the past year alone, GNOSIS Help Initiative has handled hundreds of abuse cases involving women, children and even men.
"We also engage secondary and tertiary institutions in the country to enlighten the students on how to identify abuse and seek help to break this vicious cycle as most times, the abuser was once a victim or witnessed a loved one being abused," Mr Kayode-Omosebi stated.
The founder and his co-founder, who is also his wife, shared numerous heartbreaking stories of abuse by spouses and parents that have, in many cases, resulted in grave physical injuries and, many times, death.
Mouka's National Customer Service Manager, Mr Femi Yussuf, also expressed his gratitude to GNOSIS Help Initiative for this opportunity to give back to society.
According to him, Mouka has given away thousands of mattresses in the past two years to worthy causes, including the first babies born in the year, COVID Isolation centres, internally displaced person's camps, flood victims, and orphanage homes as part of its CSR programs.
Mouka is a member of Dolidol International Group, Africa's leading brand of sleep products, with headquarters in Morocco.
The company has a wide range of products specially designed to meet the various needs of consumers based on their age, body build, lifestyle and budget to provide quality sleep to enable them to wake up refreshed and ready to take on the day.
Rite Foods Attributes Success of Products to Investment in Research, Technology
By Dipo Olowookere
The Managing Director of Rite Foods Limited, Mr Seleem Adegunwa, has disclosed that products of the company have continued to maintain market leadership because of the decision of the management to invest heavily in an ultra-modern factory with up-to-the-minute technology, with artificial intelligence and research in line with global best practices.
According to him, this is because of the company's quest to come up with sustainable and innovative products that will satisfy its consumers.
Rite Foods boasts a diverse range of unique products that cater to the needs of consumers across Nigeria and the continent.
The firm, which is recognised in the Africa 150 Report as one of the continent's innovative brands with unrivalled flavours, has on the shelf 13 Bigi variants of carbonated soft drink, the Bigi Table Water, the Fearless energy drink consisting of the Fearless Classic and Fearless Red Berry, the five variants of Sosa Fruit Drink as well as the Rite and Bigi Sausages.
"Research is critical to us, and we value that a lot. Our products are leaders in flavour innovation. On the Cola brand, there is a clear edge over the competition, and we lead on flavours like in the Apple and Tropical segments.
"Our brands are enhanced by having many products under them, which is why they look bolder and bigger on the shelf among competitors," Adegunwa stated.
On the Sosa Fruit Drink, the new entrant into its market segment, the Rite Foods boss stated that the brand is a symbol of quality and a new way the company has attained excellent reviews.
"I think one of the things we are known for and the important thing that we must build on is that symbol of quality. Looking to the future, we are ready to ensure that anything concerning our logo is of a very high standard, and we are strongly committed to that cause to produce world-class products," he said.
On the premium Fearless energy drink that has topped the list in the Nigerian market, Mr Adegunwa averred that, "Fearless is currently the market leader in the energy drinks segment in Nigeria, and to ensure that we stay on top and prevent competition, we intend to introduce new flavours, and for us, it is constantly about ingenuity and adding new brands to expand our business."
The company, which began operation with the slogans Truly World-Class and Proudly- Nigerian, describes the quality of what it tries to achieve by competing favourably at the global level, with a DNA and heritage that are completely Nigerian. As a pacesetter, it intends to expand across Africa, hence its new slogan Proudly-African.
"This has been intentional not just to limit us to Nigeria, especially as the product is already expanding across the borders," Mr Adegunwa explained.
Latest News on Business Post