Africa's e-Commerce Market is 5% of Total Retail—Anammah
By Aduragbemi Omiyale
The chairwoman of Jumia Nigeria, Ms Juliet Anammah, has said Africa's e-commerce market has remained largely untapped, accounting for just 5 per cent of the total retail.
However, she expressed optimism that her organisation will work hard to close the gap by expanding footprints in its current verticals.
Speaking in a recent interview with Darius Teeter of Stanford Seed, she said more tech companies are trooping into the African market, thus opening up more possibilities in the e-commerce space.
Between 2014 and 2018, the number of online shoppers on the African continent was said to have increased annually, at an average growth rate of 18 per cent, higher than the global average of 12 per cent.
Statista puts the number of digital buyers in Africa at 281 million in 2020, estimating an increase to 520 million by 2025.
However, the current number of active users on Africa's largest e-commerce platform stands at 7 million, thus showing the huge market gap yet to be explored on the continent.
"All said and done, we are the largest e-commerce platform on the continent, and you are on the continent where e-commerce is still 2-5 per cent of total retail, which is a huge upside.
"This is a huge area to focus on rather than look into new verticals. Now we are deepening our footprints within the countries we are in, and we are for now concentrating on those 11 countries," she said.
Given the vast untapped market, e-commerce brands deploy innovative ways to explore the unique African business terrain. Jumia has the JForce network that helps push online shopping services in rural communities. The company recently expanded its footprints by taking hubs and pickup stations closer to customers in different communities across Nigeria.
On Jumia's initiatives to further deepen market reach and acceptance, Ms Anammah said, "We are working to bring more sellers and brands to the platform.
"Another area we want to focus on is the shift from high-value products to everyday products, essentials and consumables. That's where we are deepening our presence.
"We already saw sales of consumables growing on our platform. Last year we saw that sugar and pears had record sales in some countries, unlike before where it might have been an electronic product."
Touching on the impact of COVID-19 on e-commerce on the continent, she stated that the effect of the pandemic on sales was more of a blip, as the continent was already on a trajectory.
"I think the pandemic was a blip in Africa. COVID-19 was not a determinant in the growth of e-commerce on the continent; rather, e-commerce had been on a trajectory given that you have over 500 million internet users and Africa is a mobile-first environment.
"So, it's almost like Africans have been hungry to do more with their mobile phones, and e-commerce happens to be one of those areas.
"If there's an area I think there was more awareness of the potential of e-commerce was in the public policy and agency where they discovered that this is something that can be leveraged for job creation and economic development as a whole," she added.
Ms Anammah noted that governments and agencies in Africa have been supportive of e-commerce and "are doing their best to see that companies like us are operating well."
NASD OTC Market Closes Flat in Midweek Session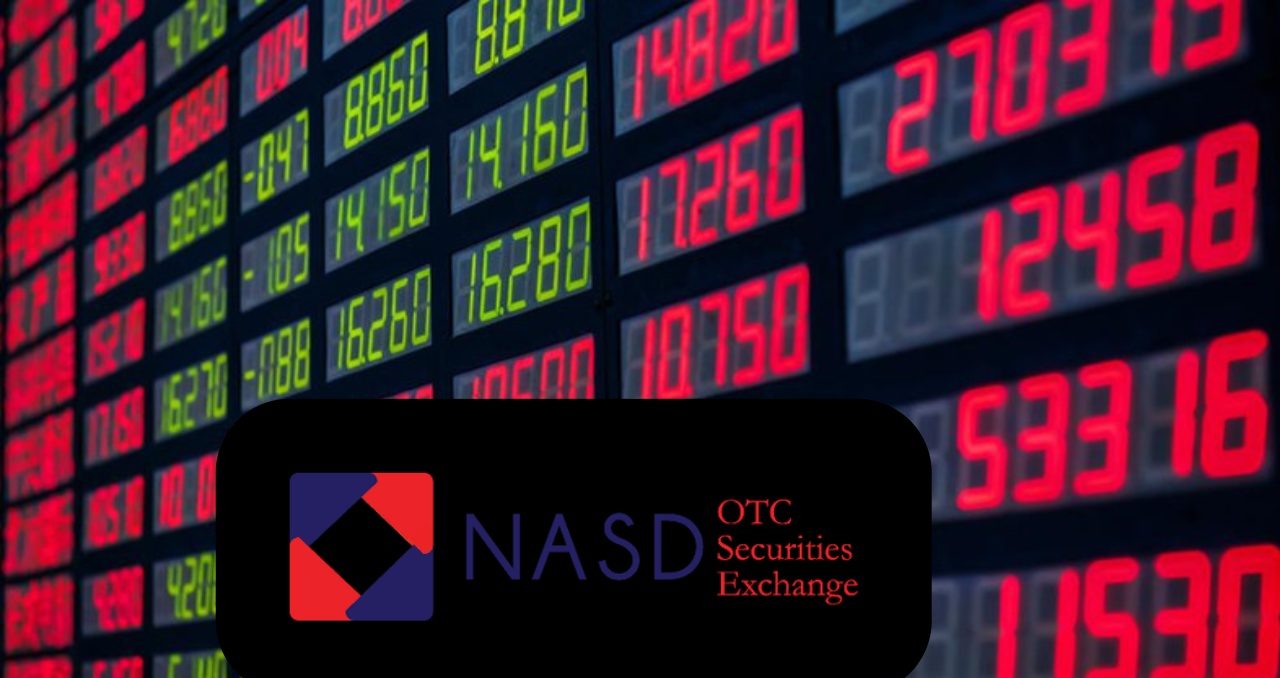 By Adedapo Adesanya
The NASD Over-the-Counter (OTC) Securities Exchange remained unchanged at the close of business on Wednesday, December 7, with the performance indicators closing flat.
Business Post reports that there was neither a price gainer nor a price loser at the midweek trading session, and this left the market capitalisation of the alternative bourse unchanged at N935.79 billion, as the NASD Unlisted Securities Index (NSI) also closed flat at 712.16 points.
However, the activity chart witnessed a downward movement during the session as the volume of transactions declined by 94.5 per cent due to the 56,370 units of securities traded by investors, in contrast to the 1.03 million units of securities transacted a day earlier.
Similarly, the value of shares exchanged by the market participants went down by 95.8 per cent yesterday as a result of the N1.3 million worth of stocks traded compared with the N31.0 million worth of stocks traded on Tuesday.
However, the number of deals carried out by traders increased by 30 per cent due to the 13 deals completed by investors as against the 10 deals executed in the preceding market day.
When trading activities ended for the day, AG Mortgage Bank Plc maintained its position as the most active stock by volume on a year-to-date basis with a turnover of 2.3 billion units valued at N1.2 billion, Central Securities Clearing System (CSCS) Plc stood in second place with the sale of 687.9 million units worth N14.3 billion, while Lighthouse Financial Services Plc was in third place with a turnover of 224.7 million units valued at N112.3 million.
Also, CSCS Plc retained its spot as the busiest stock by value on a year-to-date basis with the sale of 687.9 million units worth N14.3 billion, followed by VFD Group Plc with the sale of 29.1 million units valued at N7.7 billion, and FrieslandCampina WAMCO Nigeria Plc with a turnover of 17.6 million units worth N1.9 billion.
NGX Spurs Capital Market Innovation to Attract Investors
By Aduragbemi Omiyale
The Nigerian Exchange (NGX) Limited has disclosed that the NGX Made of Africa Awards will spur the next phase of capital market innovation to attract more investors into the space.
On Tuesday, December 6, 2022, the exchange held the award ceremony in Lagos to recognise innovativeness and compliance with best practices in the Nigerian capital market for the calendar year.
The event spotlighted excellence, creativity and integrity as NGX sought to amplify the activities of its stakeholders to further reinforce the values that attract investors to the market and grow the African economy.
Players in the capital market ranging from issuers, securities dealers, issuing houses, fund managers, trustees, legal firms and stakeholders, including the media and content creators were rewarded for their contributions to the development of the market.
In his opening remarks, the Chairman of NGX, Mr Abubakar Balarabe Mahmoud, explained that the goal of the exchange with the awards is to further catalyse innovation, corporate performance, shareholder return, compliance to rules and regulation in driving investor confidence and aiding regulatory oversight on the market.
"It is essential that we continue to collaborate, encourage and incentivise our partners through initiatives like the NGX Made of Africa Awards. At NGX, relationships, partnerships, collaboration and inclusivity continue to drive our actions in the quest to spotlight The Stock Africa is Made Of," he said.
On his part, the chief executive of the bourse, Mr Temi Popoola, said the event had been reviewed to reflect the dynamism of the capital market and the transformation it had witnessed so far.
"We are delighted to be extending the reach of these Awards to further highlight our commitment to inclusivity, innovation and integrity whilst highlighting NGX as the platform of choice to raise capital," he stated.
In his goodwill message, the Governor of Edo State, Mr Godwin Obaseki, highlighted the importance of the capital market to the economy, calling together all stakeholders to move Nigeria towards a more productive economy and less import-dependent.
He also noted that NGX has continued to stand out as a market infrastructure of choice for public and private sector capital formation.
Also, the Director-General of the Securities and Exchange Commission (SEC), Mr Lamido Yuguda, represented by the Executive Commissioner, Corporate Services, Mr Ibrahim Boyi, said that the commission had championed innovative measures that have improved the market, including dematerialisation, direct cash settlement and e-dividend.
"The long-term sustainability in the market requires innovation of which the fundamental outcome was a maximum return on investment, reduction in the cost of doing business and increased production," he said.
Speaking on the African capital market potentials, Mr Aigboje Aig-Imokuede, the Chairman of Coronation Capital and a former President of the Council of the Nigerian Stock Exchange pre-demutualisation, said that after a long haul of liquidity in global markets, central banks across the globe are implementing hawkish monetary policies to revive price stability and tame inflationary pressures.
He noted that the capital market in this period of restrained global growth had an important role to play in stimulating economic growth and development through the efficient allocation of resources.
Business Post reports that a few of the awardees were Dangote Cement as Best Issuer in Terms of Number of Fixed Income Listings; Lafarge Africa as Leader in Sustainability Reporting; Pilot Securities Limited as Most Compliant Trading License Holder; Aluko and Oyebode as Best Solicitor in terms of Value of Deals; and Coronation Securities Limited as Best Sponsoring Trading License Holder of the Year. Lagos State won the State with the Largest Sub-national Debt Instrument; MTN Nigeria Communications won the Most Compliant Listed Company; CardinalStone Securities won the Best Trading License Holder Across Asset Classes; BUA Foods was awarded the Listing of the Year; and Capital Markets Correspondent Association (CAMCAN) won Capital Market Reportage.
Crude Oil Prices Fall To Lowest Levels in 10 Months
By Adedapo Adesanya
The prices of the crude oil grades in the market fell to their lowest levels this year on Wednesday, losing all of the gains they had accumulated since Russia's invasion of Ukraine.
Brent futures fell by $2.18 or 2.8 per cent to trade at $77.17 a barrel, as the United States West Texas Intermediate (WTI) futures depreciated by $2.24 to $72.01 per barrel.
Oil surged to nearly $140 a barrel in March, close to an all-time record, following the launch of what Russia tagged a "special operation" in Ukraine a month earlier.
The market has been steadily declining recently as economists brace for weakened worldwide growth in part due to high energy costs.
The situation worsened on Wednesday with bigger-than-expected increases in US fuel inventories despite a drop in crude stocks.
The US Energy Information Administration (EIA) reported an inventory decline of 5.2 million barrels for the week of December 2 compared with a sizeable draw of 12.6 million barrels estimated for the previous week, which sent prices higher at the time.
A day before the EIA released its report, the American Petroleum Institute estimated another weekly crude inventory draw for the week to December 2 at 6.43 million barrels.
Meanwhile, the EIA also reported an inventory build in fuel and another rise in middle distillate stocks for the week to December 2. Gasoline (petrol) inventories added 5.3 barrels in the week to December 2, with production averaging 9.1 million barrels daily, in contrast to a build of 2.8 million barrels for the previous week and a production rate of 9.4 million barrels daily.
Prices are also slipping further down as traders relax about the potential consequences of the G7 and EU price cap on Russian oil.
It appears they have assumed that it would not affect the availability of oil in any significant way and are selling crude.
Analysts also note that Russian oil is already trading close to the cap, so it shouldn't make much of a difference in revenues, but it is worth remembering Russia has said it would not sell oil to countries that enforce the price cap, meaning the supply of Russian oil specifically might tighten for some importers.
Russia has also threatened to set a price floor for its oil in response to the G7 price cap, which may further complicate matters.
Support came as China, the world's biggest crude importer, announced the most sweeping changes to its anti-COVID regime since the pandemic began. The country's crude oil imports in November rose 12 per cent from a year earlier to their highest in 10 months, data showed.
Still, warnings from big US banks about a likely recession next year weighed on the value of the commodity.
Latest News on Business Post