Chinmark Allays Fears of Investors, Says No Cause for Panic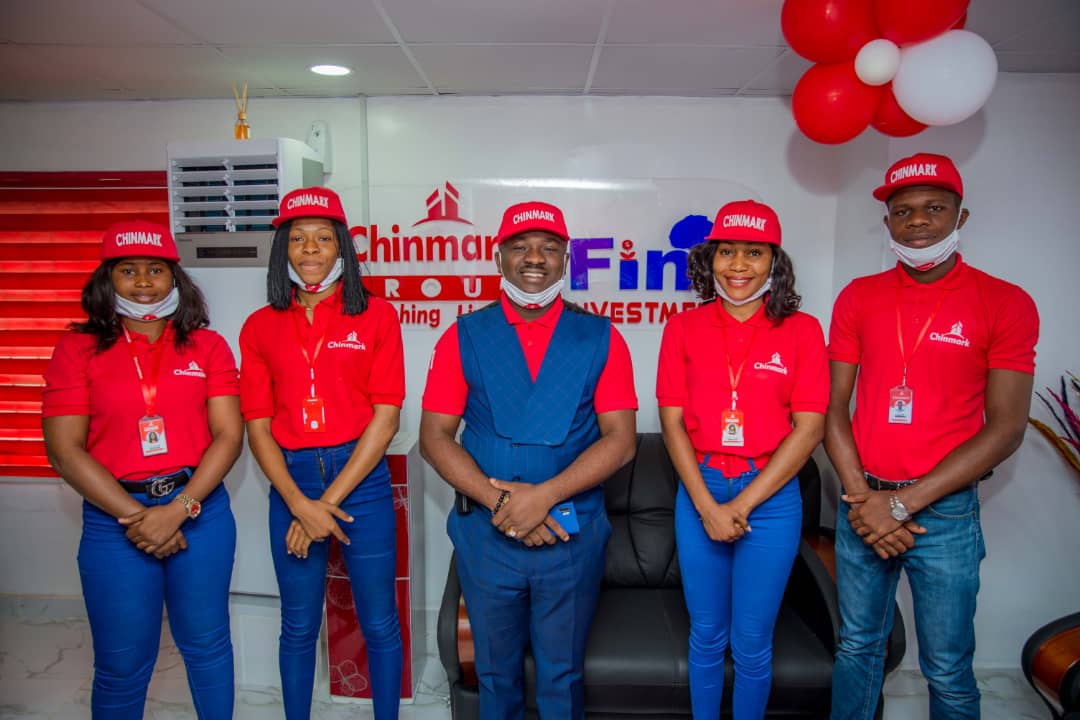 By Modupe Gbadeyanka
The management of Chinmark Group has allayed fears of its partners and investors, urging them to remain calm as their investments were safe.
In a message on Wednesday, the organisation said it was working to "comply with government regulations for quality control and assurance."
The firm said since it commenced operations, it has not disappointed its clients and will not do so at this moment, noting that it was "taking all necessary measures to ensure the system starts working again and more effectively."
According to the statement, Chinmark said its partnership arm would be off "for a short period of time which will not exceed 45-60 days."
However, it stressed that all its offices remain open for business activities, urging its partners to "to kindly support the smooth running of all our businesses during this period to enable us to pass through this phase and remain as strong as ever."
Recall that last month, the Securities and Exchange Commission (SEC) informed Nigerians that Chinmark, which is operating Finafrica Investment Limited, and Poyoyo Investment (Pilvest) Nigeria Limited, were running illegal investment schemes.
This caused panic among investors, necessitating the call for calm.
Below is the full statement from Chinmark;
We want to thank you for your support in the growth of the Chinmark Group.
Over the years, we have been able to set up businesses that have spread in Africa, Asia and other parts of the world successfully and create sustainable means of livelihood for over 4,000 individuals working with the Chinmark Group.
You will recall that since the commencement of the company, we have successfully built a track record of excellent and quality customer service delivery, we have never disappointed, and we promise not to disappoint you now.
However, the Chinmark Group wants to reassure all its clients that there is no cause for panic as the Partnership arm is taking all necessary measures to ensure the system starts working again and more effectively.
We wish to inform all our partners that we are working efficiently to comply with government regulations for quality control and assurance.
These processes are currently affecting the activities of the partnership arm of the company for a short period of time which will not exceed 45-60 days.
All our offices are open and activities are running. We implore you, our partners, to kindly support the smooth running of all our businesses during this period to enable us to pass through this phase and remain as strong as ever. Panic and unrest will affect the businesses that generate returns for the sustainability of the partnership arm.
For further enquiries, don't hesitate to reach us via our official email address, info@chinmarkgroup.com. A follow-up email will be sent periodically to our clients who are affected within the period of this process to update them on progress made.
Thank you for your patience and support as we are committed to serving you better.
Sterling Bank Assures Shareholders More Value With New Structure
By Aduragbemi Omiyale
Recently, shareholders of Sterling Bank Plc authorised the board of the company to transform its organizational structure into a holding firm to be known as Sterling Financial Holdings Company.
A holding company or Holdco is a company set up for the purpose of making and managing, for its own account, equity investment in two or more companies, being its subsidiaries, engaged in the provision of financial services, one of which must be a bank.
The Chief Executive of Sterling Bank, Mr Abubakar Suleiman, said with the new arrangement, shareholders would have value for their money as the company would have the opportunity to increase its income streams because of its involvement in new ventures.
He disclosed that the advantages of the newly formed holding company include value creation to maximise earnings through new businesses, agility to optimise for opportunities and adapt to a rapidly changing market, maximise current and future talent potential with opportunities within the group and subsidiaries to nurture and engage its wealth of young and innovative talent.
According to him, the holding company also affords Sterling another opportunity to leverage its successful HEART strategy, which has seen the bank make consolidated investments in the Health, Education, Agriculture, Renewable Energy and Transportation sectors, growing the company's year-on-year profits to record highs despite strong economic headwinds.
With the adoption of a Holdco structure, Sterling now possesses the latitude to make inroads into other sectors within financial services, such as pensions, asset management, payment services, real estate, and different verticals, along with the current banking licenses held by the commercial and non-interest banking subsidiaries, Sterling Bank and The Alternative Bank.
In recent times, the bank has doubled down on digitisation with specialised products through the development and introduction of Specta, OneBank, I-invest, Gazelle and Omni X to fulfil the market's needs for innovative retail and commercial banking solutions.
On his part, the Chairman of Sterling Bank, Mr Asue Ighodalo, said, "Following the implementation of the scheme, shareholders will exchange their shares in the Bank for shares in HoldCo in the same proportion as their current holdings in the Bank, which will be a regulated entity for CBN purposes."
He added that the scheme would provide several benefits to the shareholders of the bank, some of which include facilitating diversification into other permissible business lines, thereby promoting growth and enhancing shareholder value and facilitating a consolidated financial strength of the group, which will improve access and ability to raise capital.
It was gathered that upon the final ratification by the regulators, the commercial banking subsidiary of the holding company, Sterling Bank; will continue to operate with its current name as a limited liability company, with shares transferred from the publicly traded company transferred to the newly formed Sterling Financial Holdings Company.
Friesland Extends NASD OTC Securities Growth by 0.98%
By Adedapo Adesanya
FrieslandCampina WAMCO Nigeria Plc extended the bulls' presence at the NASD Over-the-Counter (OTC) Securities Exchange by 0.98 per cent on Tuesday, September 27.
This expanded the market capitalisation of the bourse by N9.38 billion to N963.94 billion from N954.56 billion and jerked the NASD Unlisted Securities Index (NSI) up by 3.19 basis points to end the day at 762.12 points as against the 765.31 points it recorded in the previous session.
FrieslandCampina WAMCO Nigeria Plc appreciated yesterday by N4.90 to sell at N78.00 per unit compared to the N73.10 per unit it was transacted a day earlier.
Despite the growth posted yesterday by the NASD OTC securities, there was a price loser and it was Niger Delta Exploration and Production (NDEP) Plc, which declined by N1.00 to settle at N199.00 per share compared with Monday's value of N198.00 per share.
During the session, there was a rise in the volume of securities traded by 408.8 per cent to 189,296 units from the 37,205 units transacted by market participants in the preceding session.
In the same pattern, there was a rise in the value of shares traded by 129.1 per cent to N6.2 million from the N2.7 million recorded on Monday.
These transactions were completed in 18 deals, the same amount of deals carried out in the previous trading session.
At the close of trades, AG Mortgage Bank Plc was the most traded stock by volume (year-to-date) with the sale of 2.3 billion units valued at N1.2 billion, Central Securities Clearing System (CSCS) Plc stood in second place with 687.6 million units worth N14.3 billion, and Mixta Real Estate Plc was in third place with 178.1 million units worth N313.4 million.
The most traded stock by value on a year-to-date basis was CSCS Plc with the sale of 687.6 million units worth N14.3 billion, VFD Group Plc was in second place with 27.7 million units valued at N7.4 billion, as FrieslandCampina WAMCO Nigeria Plc was in third place with 14.3 million units valued at N1.7 billion.
Naira Appreciates at P2P, Falls at I&E, Stable at Black Market
By Adedapo Adesanya
The value of the Naira appreciated against the United States currency in the Peer-to-Peer (P2P) segment of the foreign exchange market on Tuesday by N2 to close at N740/$1 compared with the previous day's value of N742/$1.
However, it depreciated against the American Dollar at the Investors and Exporters (I&E) window of the FX market yesterday by 33 Kobo or 0.08 per cent to trade at N436.33/$1 in contrast to Monday's value of N436.00/$1.
Data from the FMDQ Securities Exchange disclosed that the value of forex transactions recorded at the spot market yesterday went up by 27.31 per cent or $21.33 million to $99.43 million from the $78.10 million reported a day earlier.
In the interbank segment of the market, the Naira closed flat against the Pound Sterling at N463.96/£1 and against the Euro, it also remained unchanged at N416.15/€1 on Tuesday.
In the same vein, the exchange rate of the local currency paired with the greenback closed flat at the parallel market yesterday at N722/$1.
Meanwhile, the digital currency market was bearish yesterday, with Bitcoin (BTC) falling below the $20,000 mark again after it managed to rise above that level a day earlier.
On Tuesday, its value went down by 6.5 per cent to close at $18,765.50 as Ripple (XRP) recorded a 10.1 per cent slump to trade at $0.4282.
Ethereum (ETH) saw its value go down by 6.9 per cent to sell at $1,284.29, Solana (SOL) recorded a 6.5 per cent slide to quote at $32.44, Cardano (ADA) recorded a 5.6 per cent decline to settle at $0.4312, Binance Coin (BNB) shed 5.1 per cent to sell for $270.03, Litecoin (LTC) went down by 5.0 per cent to trade at $52.07, and Dogecoin (DOGE) saw a 4.5 per cent slump to trade $0.0594.
But Binance USD and the US Dollar Tether (USDT) closed flat at $1.00.a
Latest News on Business Post