Chooya Gets $950k to Proffer Marketing Solutions to Businesses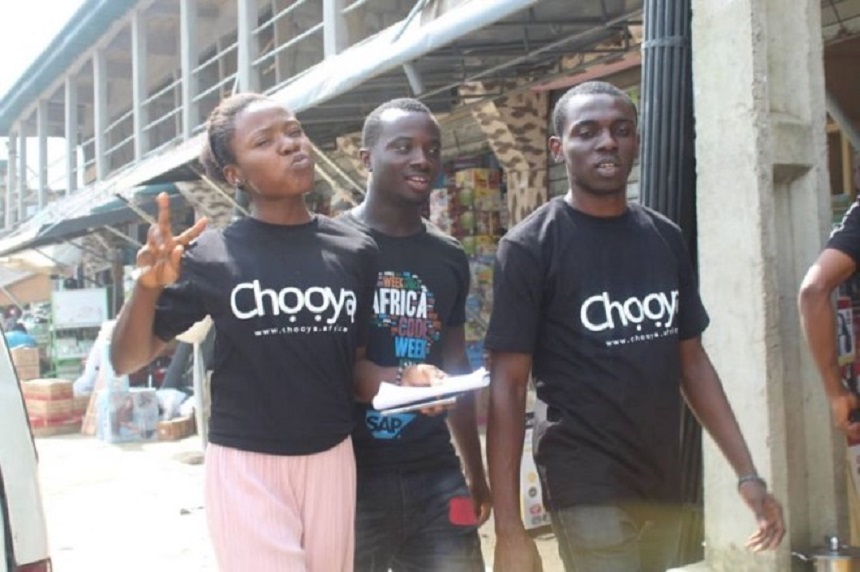 By Adedapo Adesanya
As part of efforts to further spread financial technology solutions to other parts of the country, Chooya, an Aba-based e-commerce startup digitising word-of-mouth marketing for African businesses and consumers, has announced funding of $950,000 in cash and program support from Entrepreneurship World Cup.
As one of the top 100 EWC finalists chosen from 200,000 participants spread across 200 countries, Chooya will benefit from the over $75 million service support from Misk Global Forum, Global Entrepreneurship Network (GEN), and other world-class partners.
With the injection of funds, Chooya will be tapping into product development, marketing and human resources to reach businesses (local and online) struggling with new customer acquisition to help them digitize word-of-mouth marketing and grow their sales.
According to the company, for any business to reach new customers and grow their sales they have to engage in marketing.
However, currently available channels do not provide an easy or budget-friendly way to automate word-of-mouth marketing which by research is the most effective type of marketing.
Chooya's word-of-mouth mobile solution called "addds" plans to target 5,000 businesses by the third quarter of 2022 and help them boost sales by 300 per cent.
Speaking on this, Mr Igwe Uguru, founder and CEO of Chooya said, "I was inspired to digitize word-of-mouth marketing by my experience helping my 72-year-old father at his local business.
"Without any form of paid commercial or social media ads, I watched the customers grow every single month through word-of-mouth marketing and helped my father train all his five children in the high institution. We are very excited about Chooya's future and the impact we are set to make considering the impact of the COVID-19 crisis, especially on small businesses."
On his part, Mr Jonathan Ortmans, President, Global Entrepreneurship Network — "As one of the top 100 EWC finalists chosen from 200,000 participants spread across 200 countries, we are excited to have Chooya join this community of promising founders.
"Through the Club, GEN Starters access global connections with experienced entrepreneurs, mentors and investors within the Global Entrepreneurship Network and our partners – as well as year-round opportunities for additional support and visibility through curated networking opportunities at special events and learning experiences through GEN Accelerates – our training platform."
Chooya was founded in 2019 as a search engine for African traditional markets. It has been bootstrapped since its inception. It has previously received recognition and awards from Alibaba Business School and African Leadership University (2020).
The Entrepreneurship World Cup is more than just a pitch competition. It gives everyone who enters access to the knowledge, networks and for some, the capital they need to start and scale a company.
Chooya received a $100,000 national and $850,000 global prize from the EWC.
SERAP Tasks FG to Recover Missing N105.7bn to Fund Universities
By Adedapo Adesanya
The federal government has been tasked to urgently recover the missing N105.7 billion of public funds from ministries, departments and agencies (MDAs) to fund the country's public tertiary institutions.
The charge was given by the Socio-Economic Rights and Accountability Project (SERAP) in a letter to President Muhammadu Buhari dated July 2, 2022.
The group, in the letter signed its deputy director, Mr Kolawole Oluwadare, noted that the money could be used to improve the welfare of members of the striking Academic Staff Union of Universities (ASUU).
"Pending the recovery of the missing public funds, we urge you to redirect some of the presidency's budget of N3.6 billion on feeding and travels, and the N134 billion allocated to the National Assembly in the 2022 budget to meet the demands by ASUU," it stated, urging the President to "send to the National Assembly a fresh supplementary appropriation bill, which reflects the proposed redirected budget, for its approval."
"Meeting the demands by ASUU would confront the persistent and widening inequality in educational opportunity, and promote equal protection for poor Nigerian children," the association said, adding that, "The apparent failure by your government to agree with the reasonable demands by ASUU, implement the good faith agreement with the union and to satisfactorily resolve the issues has kept poor Nigerian children at home while the children of the country's politicians attend private schools."
The ASUU accused the government of poor commitment to the payment of academic earned allowance (EAA); poor funding, the continued use of the Integrated Personnel Payroll Information System and refusal to adopt the Universities Transparency and Accountability Solution (UTAS), among others.
SERAP lamented, "The poor treatment of Nigerian children in the country's public tertiary institutions," saying it is "inconsistent and incompatible with the Nigerian Constitution and the country's international human rights obligations."
"Widening inequalities in the area of education bear all the more dramatic consequences given the importance of education, as an empowering right, in giving the possibility to all to explore and realise their potential.
"Inequalities in education have a rolling effect, leading to even more and continued inequalities in the future."
"Apart from being a right in itself, the right to education is also an enabling right. Education creates the 'voice' through which rights can be claimed and protected, and without education, people lack the capacity to achieve valuable functioning as part of living.
"If people have access to the education they can develop the skills, capacity and confidence to secure other rights. Education gives people the ability to access information detailing the range of rights that they hold, and government's obligations."
"We would be grateful if the recommended measures are taken within seven days of the receipt and/or publication of this letter. If we have not heard from you by then, SERAP shall take all appropriate legal actions to compel your government to comply with our request in the public interest," it stated.
Nigeria Loses $1bn to Crude Oil Theft in Q1 2022
By Adedapo Adesanya
The Nigerian Upstream Petroleum Regulatory Commission (NUPRC) has disclosed that Nigeria lost $1 billion in revenue during the first quarter of this year due to crude oil theft.
According to Mr Gbenga Komolafe, the head of the commission, out of the 141 million barrels of oil produced in the first quarter of 2022, only about 132 million barrels of oil were received at export terminals.
"This indicates that over nine million barrels of oil were lost to crude oil theft… this amounts to a loss in government revenue of about $1 billion… in just one quarter," Mr Komolafe said.
"This trend poses an existential threat to the oil and gas sector and by extension, the Nigerian economy if not curbed," he added.
The petroleum industry regulator said that crude oil theft has increased to a daily average of 108,000 barrels in the first quarter of 2022 from 103,000 barrels in 2021.
The theft has resulted in the declaration of force majeure at Bonny Oil & Gas Terminal, a pipeline transporting crude from the oil-rich Niger Delta to export vessels, among others, creating a hostile environment and disincentive to investors.
Nigeria loses millions of barrels of crude oil a year because of theft and vandalism including the tapping of crude from a maze of pipelines owned by oil majors.
This has restricted the country from meeting the 1.799 million barrels per day of crude oil production allocated to it by the Organisation of the Petroleum Exporting Countries and allies (OPEC+) for consecutive months.
Recently, the country for yet another month failed to meet its crude oil production output as it recorded a decline of 80,000 barrels per day in June.
Earlier in May, Nigeria lost 45,000 barrels per day, making it the largest laggard among the countries not exempted from the 2020 output deal.
According to a Reuters survey, secondary data from sources showed that this decline occurred as a result of outages and maintenance curbed output.
FX Shortage at Official Window Weakens Naira to N619/$1 at P2P
By Adedapo Adesanya
The difficulty in getting foreign exchange (FX) for transactions at the official forex window, the Importers and Exporters (I&E) segment, has deepened the woes of the Naira at the Peer-2-Peer (P2P) window.
On Friday, the value of the Nigerian currency to its American counterpart depreciated by N6 or 0.98 per cent as it was traded at N619/$1 compared with the preceding day's N613/$1.
Business Post reports that at the spot market, the value of transactions stood at $78.86 million last Friday, just 2.9 per cent or $2.22 million higher than the $76.64 million reported a day earlier.
The low trades eased the pressure on the domestic currency during the trading session as it appreciated by a marginal 5 kobo or 0.01 per cent to N425.00/$1 from the previous day's N425.05/$1.
Also, at the interbank segment, the local currency strengthened against the Pound Sterling by N5.26 to N500.65/£1 from N505.91/£1 and against the Euro, it gained N3.56 to sell at N434.03/€1 compared with Thursday's rate of N437.59/€1.
At the parallel market, the Naira gained N5 or 0.82 per cent on the greenback to trade at N607/$1 compared with the previous day's rate of N612/$1.
A look at the digital currency market revealed that the bears were dominant on Friday as seven of the key coins tracked by this newspaper shed weight, with Binance Coin (BNB) falling by 3.6 per cent to trade at $214.77.
Ethereum (ETH) went down by 3.3 per cent to trade at $1,034.82, Cardano (ADA) declined by 3.2 per cent to $0.4423, Solana (SOL) recorded a 3.1 per cent slump to quote at $32.04, Litecoin (LTC) depreciated by 2.7 per cent to $50.08, Bitcoin (BTC) crashed by 2.5 per cent to $19,034.61, while Ripple (XRP) depreciated 1.6 per cent to trade at $0.3105.
Conversely, TerraClassicUSD (USTC) continued its stellar growth as it rose by 26.3 per cent to $0.0565, Dogecoin (DOGE) went up by 1.2 per cent to sell at $0.0664, the US Dollar Tether (USDT) recorded a 0.02 per cent rise to $0.999.
Latest News on Business Post