Experts Foresees NGX Technology Board Deepening Capital Market
By Aduragbemi Omiyale
Experts in the Nigerian financial markets have expressed optimism about the proposed NGX Technology Board's positive impact on the capital market and the economy.
The Nigerian Exchange (NGX) Limited plans to establish this platform to attract the listing of technology companies, giving them an avenue to raise funds to expand their operations.
On Thursday, October 6, 2022, the exchange held a seminar themed Enabling the Next Wave of Growth for Technology Companies in Africa. It was held to allow stakeholders to discuss ways to make things better for players in the sector.
Speakers at the event included the Senior Special Assistant to the President on Digital Transformation, Mr Oswald Osaretin Guobadia; Kendall Ananyi, Chief Executive Officer, Tizeti; Vice President, Cardinalstone, Mrs Onyebuchim Obiyemi; CEO, Opay, Mr Olu Akanmu; Managing Director, Nigerian Capital Market Institute, Timi Agama; Head, Financial Markets Support and Development Division, Financial Markets Department, CBN, Mr  Demenongu J. Yanfa; and President, Pension Funds Operators Association of Nigeria (PenOp), Oguche Agudah.
Others were the CEO, Central Securities and Clearing System (CSCS) Plc, Jalo Waziri; Partner, Fund the Gap Alliance, Segun Cole; Associate Dean, Lagos Business School, LBS, Prof. Olayinka David-West; Representative of London Stock Exchange and Director, Tech Sector Specialist, Shah Neil; Co-Founder/COO, One Watt Solar Director, Jubril Adeojo; CEO Future Africa, Iyinoluwa Aboyeji and Chief Growth officer, Halo Invest, Nnenna Onyewuchi.
In his remarks, the Chairman of NGX, Mr Abubakar Mahmoud, represented by NGX board member, Mrs Angela Adebayo, said that Nigeria is home to several unicorns like Flutterwave, Andela, Jumia, Opay which have valuations surpassing $1 billion.
"As a sustainable exchange championing Africa's growth, NGX is positioned to support the growth of the next wave of technology companies.
"It is stimulating the capital market, providing a tailored platform for tech companies in Nigeria and wider Africa to access growth capital whilst providing exit opportunities for all investors.
"The next wave of growth for home-bred technology companies needs to be anchored on sustainability, agility, collaboration and digital innovation, and these are elements that NGX represents," he said.
Director-General of the Securities Exchange Commission (SEC), Mr Lamido Yuguda, represented by Dayo Obisan, Executive Commissioner, Operations, SEC, while delivering his goodwill message, noted that with the several developments recorded in the technology space, Africa remains a continent with the highest potential when it comes to tech and innovations and as such, its ability to determine its future digitally must be accelerated by strengthening its technological capabilities.
According to him, "Africa has the potential to grow into a technological giant with the right enablement, and SEC will support laudable initiatives aimed at improving on the capacity of our market to develop a robust ecosystem for the Nigerian capital market."
Also, the CEO of NGX, Mr Temi Popoola, while speaking on the proposed NGX Technology Board, said, "The exchange, in conjunction with other major stakeholders, including SEC, CBN, CSCS and PenOp, are working tirelessly to launch and on-board a new asset class.
"The specialised technology board aims to encourage the listing of companies in the technology space, provide increased transparency, and visibility on foreign investment activities in tech companies and local tech startups."
Giving the keynote address, the Deputy Governor, Financial Systems Stability Directorate, CBN, Mrs Aisha Ahmad, noted that tech had grown from an enabler of business to a fully-fledged sector as some of the largest companies in the world like Meta and Google.
"Africa is a $2.7 trillion economy, and for this growth to translate into broader economic impacts, we need more local investor participation. I'm particularly excited about NGX's Technology Board plan, which will help grow the listings of Nigerian and African tech companies. It will aid price discovery of tech industry valuations and channel capital to tech and other sectors," she said.
Panellists at the first panel titled The Path to Tech Listings – Leveraging Capital Market for Exponential Growth agreed that the proposed launch of NGX Technology Board is timely as it addresses challenges startups face with funding and capital formation during their developmental stage.
Additionally, they noted that having major stakeholders like NGX, SEC and CBN champion the Board would attract foreign investor participation, especially in terms of liquidity.
The second panel, themed Beyond Tech – Regulation as an Enabler for Technology Board Listings and Investor Protection, highlighted policies and the right standards as key factors in creating an enabling environment for tech listings and investor protection.
The panellists noted that regulators should be concerned about the companies listed, the governance structure, evaluations, returns and their positive impact on Nigeria's economy, such as introducing new founders to the market and creating employment for Nigerians.
Nigeria Records N269.34bn in Trade Surplus in Q3 2022
By Adedapo Adesanya
Nigeria's exports exceeded the total imports in the third quarter of this year as the country recorded N5.93 trillion in total exports, while total imports hit N5.66 trillion in the same period, indicating a trade surplus as the country's exports exceeded its imports.
This happened amid a decline in total trade as Nigeria's total trade stood at N11.59 trillion in the period, lower than the value recorded in the second quarter of 2022 (N12.84 trillion) but higher than the value recorded in the corresponding period of 2021, which stood at N10.47 trillion.
In the quarter under review, total exports declined by 19.9 per cent when compared to the second quarter of 2022 (N7.40 trillion), but increased by 15.5 per cent of the value recorded in the third quarter of 2021 (N5.13 trillion).
On the other hand, total imports increased by 4.22 per cent in the third quarter of 2022 when compared to the value recorded in the second quarter of 2022 (N5.44 trillion) and also grew by 6.2 per cent when compared to the value recorded in the corresponding quarter of 2021 (N5.34 trillion).
The value of Re-Exports in the third quarter of 2022 stood at N25.04 billion, showing an increase of 160.2 per cent compared to the value recorded in the second quarter of 2022 but declined by 86.1 per cent compared to the corresponding quarter of 2021 (N179.81 billion).
In the quarter under review, the top five re-export destinations were Cote d'Ivoire, Ghana, United Kingdom, China, and The Netherlands, while the most re-exported commodity were Vessels and other floating structures for breaking up with N8.05 trillion, followed by 'Floating or submersible drilling or production platforms' valued at N4.97 trillion and Aeroplanes and other aircraft, of an un-laden weight exceeding 15,000 kg, amounting to N3.43 trillion.
The top five export destinations in the third quarter of 2022 were Spain with a share of 14.7 per cent, followed by India with 10.4 per cent, France with 7.3 per cent, the Netherlands and Indonesia with 7.1 per cent and 7.0 per cent, respectively. Altogether, the top five countries accounted for a share of 46.5 per cent of the total value of exports (N5.93 trillion).
The commodity with the largest export values in the period under review was Petroleum oils and oils obtained from bituminous minerals, crude with N4.66 trillion representing 78.5 per cent, followed by Liquefied Natural Gas (LNG) with N757.36 billion accounting for 12.8 per cent, and Urea (whether or not in aqueous solution) with N133.17 billion or 2.2 per cent of total exports.
In terms of Imports (CIF), in the third quarter of 2022, China, The Netherlands, India, Belgium, and the United States of America were the top five countries of origin of imports to Nigeria. The value of imports from the top five countries amounted to N3.3 trillion, representing a share of 58.8 per cent of the total value of imports.
The commodities with the largest values among the top imported products were Motor Spirit ordinary (N1.19 trillion), Gas Oil (N261.60 billion), and Durum wheat (Not in seeds), amounting to N252.62 billion.
Panelists Discuss How To Grow Your Money In Difficult Times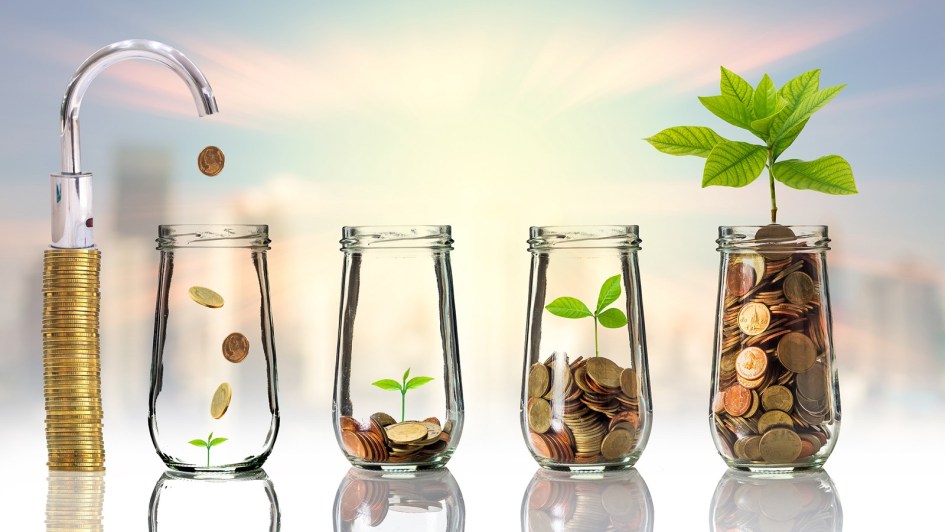 By Modupe Gbadeyanka
Investors have been advised by financial experts to avoid holding on to idle assets but must quickly deploy them to ventures that would yield returns.
This was one of the solutions and strategies discussed at a webinar organised recently by DLM Asset Management, a subsidiary of a leading investment firm, DLM Capital Group.
The event, which was themed How to Grow Your Money in Difficult Times, was put together to guide participants on how to find growth and value in a volatile economy.
It was also designed to educate clients, prospective clients, and the entire public on how to grow and preserve their wealth in difficult times.
The virtual session was necessary given the urgent circumstances in Nigeria at the moment, where unemployment and inflation are at all-time highs and insecurity is posing a severe danger to economic growth and stability.
"In critical times such as this, investors must avoid holding idle assets. In fact, all assets must be actively deployed with optimal efficiency in order to avoid asset deterioration due to inflation.
"As such, a typical solution to this is the DLM Fixed Income Fund, a mutual fund that provides investors with the opportunity to earn decent returns from their funds that ordinarily should yield so little when left in a typical bank account," the Head of DLM Asset Management, Mr George Aniegbunem, stated.
On her part, the Vice President at DLM Advisory, Ms Ekanem Etim, spoke about investing opportunities, associated risks, and the significance of seeking advice from an investment professional, mostly in uncertain times like this.
"It is important for investors to understand the underlying risks of an investment opportunity before taking any investment decision. As such, individual Investors will benefit greatly from seeking professional advice as they grow their wealth, mostly in challenging moments like this," she remarked.
Interswitch, FIRS Highlight Benefits of Digital Tax Remittance System
By Modupe Gbadeyanka
Taxpayers in Nigeria have been encouraged to embrace digital tax remittance because of the several benefits that come with the system.
At a programme themed Sustainable Tax Management: Exploring Digital Remittance held on Thursday, November 24, 2022, stakeholders agreed that this system allows for transparency and effective use of the funds.
At the event, which took place at the Victoria Crown Plaza Hotel, Lagos, it was stated that the digital tax remittance initiative also makes payment of the obligatory levy and allows for a convenient tax filing and payment system by private citizens, tax managers, accountants, tax auditors, tax consultants, bankers, and business owners.
Recall that the Federal Inland Revenue Service (FIRS), to make tax payment and filing easier, introduced the Tax-Pro Max e-filing platform.
At the programme held last month to increase awareness of the benefits of adopting the digital tax remittance system, FIRS explained that the Paydirect solution, which is integrated with the TaxPro Max system, adds to the seamlessness in the filing and remittance of taxes, boosting the efficiency of the collection system and facilitating compliance.
Remarking on the sensitisation of the critical mass on the need for the uptake of digital remittance in the country, the Assistant Director in charge of the Taxpayer Service Department at FIRS, Manasseh Otega, noted that there was a significant growth in the number of taxpayers as it continues in its awareness drive.
Also, one of the major partners of the workshop, Interswitch, noted that the rise of technology-led processes has led to the improvement of service delivery, and Interswitch, as a technology-driven and user-focused company.
The Group Head of Government at Interswitch, Osasere Atohengbe, assured that the company would continue to work with the collection agency to ensure that taxpayers have access to easy tax filing and payment systems while also boosting government revenue and national development.
"Not only is it important to pay taxes to improve infrastructural development, but the system of tax payment also needs to be addressed to ensure that its collection is sustainable, seamless, transparent and effective.
"To do this, taxpayers need to be in the loop, and we at Interswitch will continue our work with the FIRS to provide the necessary infrastructure that promotes the adoption of digital tax payments among taxpayers," Atohengbe added.
Latest News on Business Post