FAAC: FG, States, LGs Share N655.18b in January
By Modupe Gbadeyanka
A total of N655.18 billion was shared by the Federal, State and Local Governments in the month of January 2018 from the federation account.
The money was disbursed to the three tiers of government by the Federation Account Allocation Committee (FAAC).
According to the National Bureau of Statistics (NBS), the shared allocation was from the revenue generated in December 2017.
It comprised N538.51 billion from the Statutory Account and N83.96 billion from Valued Added Tax (VAT).
Also N14.713 billion and N16.055 billion were distributed as FOREX Equalisation while an excess bank charges of N1.938 billion recovered was also distributed.
Federal Government received a total of N278.73 billion from the N655.18 billion shared, while states received a total of N175.55 billion and Local Governments received N132.48 billion.
In addition, the sum of N51.74 billion was shared among the oil producing states as 13 percent derivation fund.
According to the stats office, revenue generating agencies such as Nigeria Customs Service (NCS), Federal Inland Revenue Service (FIRS) and Department of Petroleum Resources (DPR) received N4.12 billion, N7.44 billion and N3.10 billion respectively as cost of revenue collections.
Further breakdown of revenue allocation distribution to the Federal Government of Nigeria (FGN) revealed that the sum of N240.98 billion was disbursed to the FGN consolidated revenue account; N5.06 billion shared as share of derivation and ecology; N2.53 billion as stabilization fund; N8.50 billion for the development of natural resources; and N5.83 billion to the Federal Capital Territory (FCT) Abuja.
Legacy Funds: Relief as African Alliance Clears Debts
**PTAD Issues Certificate of Non-indebtedness
By Dipo Olowookere
At last, African Alliance Insurance Plc can now heave a sigh of relief as it has settled its outstanding indebtedness to the Pension Transitional Arrangement Directorate (PTAD) from legacy funds and assets.
Business Post reports that legacy funds are usually assets or investments with little or no economic value that have been written down for a loss in the balance sheet of a company and are likely to become a liability.
For a while, African Alliance has been with these types of funds, which have almost drawn the organisations backwards. This has made the management led by Mrs Joyce Ojemudia deploy innovative ways of clearing these debts.
Respite finally came for the leading insurance company in Nigeria when it cleared the debts and the PTAD has presented the insurer a certificate of non-indebtedness.
At a brief presentation held in Abuja, the Executive Secretary of PTAD, Ms Chioma Ejikeme, while handing over the certificate to a team of senior management staff from African Alliance, commended the leadership of the firm for its commitment to settling the debts against all odds.
"My congratulations go to the MD and her team for this uncommon accomplishment. While we thank African Alliance Insurance PLC for her commitment towards the liquidation of this lingering debt within the shortest period of time by the current MD, Mrs Joyce Ojemudia, we must add, without fear of contradiction, that the Directorate will not hesitate to approach African Alliance Insurance PLC for further clarification on Legacy Funds and Assets whenever the need arises," she said.
The directorate boss called on all other insurance underwriters holding on to legacy funds and assets to release them as a matter of urgency to meet obligations to pensioners.
In her response, the visibly excited Mrs Ojemudia thanked God for making the settlement of the debt possible whilst acknowledging the unstinting support of the board as well as the drive of the in-house committee on PTAD.
"With God, all things are possible and with a board like ours, ably led by the inimitable banker and financial guru, Dr Anthony Okocha, impossible is nothing.
"I am grateful for the board's support throughout this process; indeed, their support was the sail under our wings.
"I must not forget to thank my team, especially our amazing and reliable Executive Director, Finance, Mrs Olabisi Adekola, for working assiduously with the PTAD committee, as we call them in-house, to make this happen.
"African Alliance Insurance has scaled yet another hurdle in our quest to aggressively grow our market share and bring viable and humane life insurance to more Nigerians," she said.
Incorporated in 1960, African Alliance is recognized as the strongest specialist life insurer in these climes.
Following the assumption of Mrs Ojemudia as the MD/CEO under a year ago, the firm has continued to experience an upward trajectory in its overall growth, branch network, staff emancipation and consistent payment of claims.
Recently, the firm demonstrated its drive to expand its market with the opening of a new branch in Abeokuta, Ogun State, the first of two planned for 2021, as well as hosting the body of brokers in Lagos and Abuja.
Strong Appetite for Transcorp Shares Lifts Market by 0.16%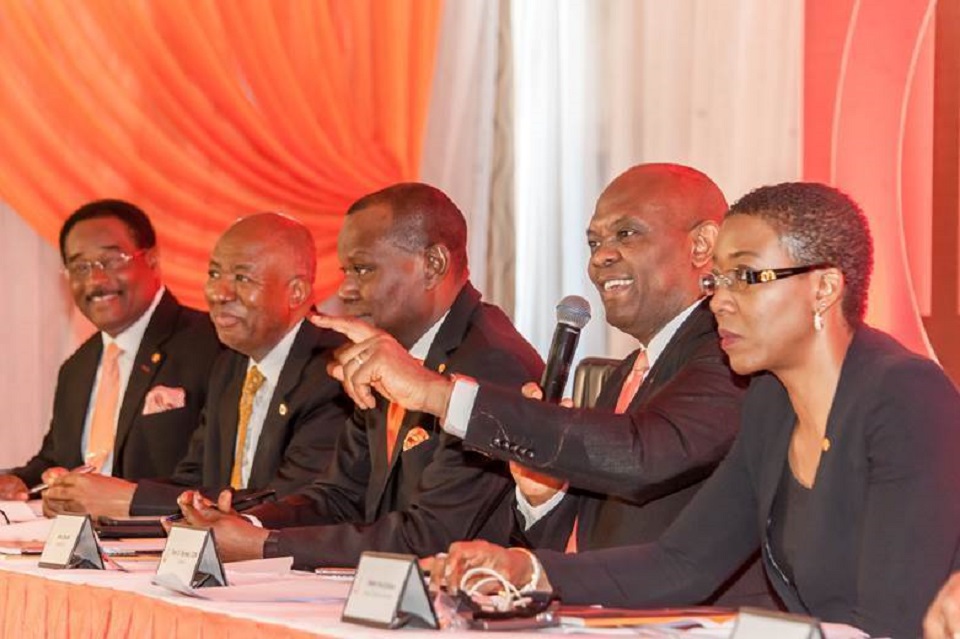 By Dipo Olowookere
The Nigerian Exchange (NGX) Limited appreciated by 0.16 per cent on Friday on the back of a strong appetite for Transcorp shares.
The company released its financial statements and the impressive numbers triggered investors to want to take a slice of the pie.
In the first half of 2021, Transcorp improved its revenue by 53 per cent to N53.3 billion from N35.0 billion in the same period of 2020, while the gross profit rose by 60 per cent to N23.5 billion from N14.7 billion, with the profit before tax increasing by 689 per cent to N7.1 billion from N0.9 billion and the profit after tax rising by 713 per cent to N6.5 billion from N0.8 billion.
These figures enticed investors, who quickly took positions in the organisation and this made Transcorp the most active stock yesterday with the sale of 159.6 million shares worth N159.8 million.
Ellah Lakes traded 26.6 million stocks for N113.2 million, Oando transacted 21.6 million stocks worth N104.7 million, GTCO traded 17.8 million equities valued at N508.8 million, while Courtville exchanged 14.5 million shares worth N3.6 million.
Business Post reports that the rush for Transcorp stocks at the market yesterday pushed its value higher by 9.68 per cent to N1.02.
Ikeja Hotel appreciated by 9.24 per cent to N1.30, NAHCO gained 6.09 per cent to trade at N2.44, Honeywell Flour improved by 5.00 per cent to N1.68, while Oando rose by 2.95 per cent to N4.89.
On the flip side, Learn Africa finished the session on top of the losers' chart after its value went down by 10.00 per cent to N1.35.
Ardova depreciated by 9.44 per cent to N16.30, Axa Mansard Insurance dropped 8.25 per cent to sell at 89 kobo, Sunu Assurance reduced by 8.16 per cent to 45 kobo, while Livestock Feeds depreciated by 6.93 per cent to N2.15.
At the close of business, the volume of shares transacted by investors increased by 48.92 per cent to 387.1 million from 260.0 million, while the value rose by 92.53 per cent to N3.8 billion from N2.0 billion, with the number of deals declining by 5.53 per cent to 4,700 deals from 4,975 deals.
A look at the performance indicators of the exchange on Friday signified that the All-Share Index (ASI) increased by 62.26 points to 38,547.08 points from 38,484.82 points, while the market capitalisation went up by N33 billion to N20.084 trillion from N20.051 trillion.
It was observed that improvement in the market performance was due to the rise in the industrial goods and banking sectors by 0.41 per cent and 0.36 per cent respectively.
However, the insurance counter depreciated by 2.94 per cent, the oil/gas sector went down by 0.15 per cent, while the consumer goods space declined by 0.08 per cent.
Naira Fights Back, Appreciates Across FX Segments
By Adedapo Adesanya
The Naira fought back against recent headwinds, appreciating against the US Dollar across the major segments of the foreign exchange (FX) market on Friday, July 30.
At the Investors and Exporters (I&E) window of the market, the local currency appreciated by 0.06 per cent or 23 kobo to close at N411.44/$1 compared with the previous rate of N411.67/$1.
During the trading day, the domestic currency was able to withstand the FX demand pressure as a result of the sufficient supply of foreign currency to the market.
The turnover for the session, according to data from the FMDQ Securities Exchange, was $121.08 million, 108.5 per cent or $63.01 million higher than the preceding day's $58.07 million.
Also, at the parallel market, the Naira appreciated by N5 against the Dollar to close the week at N515/$1 compared with N520/$1 it did on Thursday.
This market space is gradually going back to normal after a disruption caused by the announcement of the ban of forex sales to Bureaux De Change (BDC) operators on Tuesday by the Central Bank of Nigeria (CBN).
The CBN Governor, Mr Godwin Emefiele, had announced that the apex bank has stopped the sales of forex to BDC operators, explaining that the parallel market operations had become a conduit for illicit forex flows and graft.
At the same unregulated FX segment, the domestic currency gained N3 against the Pound Sterling to finish at N712/£1 in contrast to N715/£1 it quoted on Thursday, while against the Euro, it equally appreciated by N3 to sell at N597/€1 versus N600/€1 it traded a day earlier.
In the same vein, the Nigerian currency appreciated against the greenback at the interbank segment on Friday by 6 kobo to settle at N410.10/$1 compared to N410.16/$1 of the previous day.
A look at the cryptocurrency market yesterday showed that four of the seven tracked digital coins tracked by Business Post were bullish as the digital assets continue to nurse themselves to health.
Bitcoin (BTC) went up by 2.3 per cent to trade at N20,899,998/40, Ethereum (ETH) gained 9.7 per cent to sell at N1,319,000.00, Ripple (XRP) appreciated by 4.3 per cent to N380.01, while Litecoin (LTC) grew by 1.4 per cent to N70,000.
On the bearish side, the Dash (DASH) lost 2.9 per cent to trade at N77,603.12, the United States Dollar Tether (USDT) went down by 0.6 per cent to sell at N516.01, while Tron (TRX) depreciated by 0.5 per cent to trade at N31.72.
Latest News on Business Post