FG Fingers Two Firms in N100b Mining Scandal
By Dipo Olowookere
Two firms shut down last month in Zurak, Wase Local Government Area of Plateau State have been accused by the Federal Government of being involved in illegal mining activities to the tune of N100 billion.
Minister of Mines and steel Development, Dr Kayode Fayemi, during a meeting with staff of the ministry in Abuja recently, said the two illegal mining companies, Solid Unit Limited and Geotess Nigeria Limited, had illegally taken out minerals worth over N100 billion, in the past few years they have been involved in illegal activities in the area.
During a raid on August 15, 2017, 16 Chinese nationals and eight Nigerians involved in massive illegal mining were arrested in Zurak at the wake of the shutting down of the two firms on the orders of the National Security Adviser (NSA), Mr Babagana Monguno, and the Minister when the duo visited some illegal mining sites in the richly endowed lead/zinc belt.
Chairman of Solid Unit Limited, Mr Usman Abubakar (aka Dan China), who is regarded as the most notorious illegal miner in the state, was also declared wanted by the NSA, who ordered all security agencies to arrest him for acts seen as economic sabotage.
Mr Fayemi, in the meeting attended by all cadre of the workers in the ministry, said the huge scale of  illegal mining by the two companies in Wase was tantamount to economic terrorism, adding that government was determined to confront anyone or group that are out to sabotage the economy through illegal mining and other means.
He said the scale of illegal mining perpetrated by the two blacklisted companies and their foreign collaborators was humongous, stressing that they used very sophisticated equipment, including a tunnel with rail track and other heavy machines for their illegal operations.
The Minister said the arrested Nigerians have been in active connivance with foreigners to carry out massive illegal mining in the state thereby depriving the country of revenue.
"Their unwholesome activities have also led to environmental degradation and abandoned mine pits," he said.
He said the leadership of the ministry carried out the operation that led to the closure of the illegal mining companies/sites and the arrest in a discreet manner, because of the massive network of collaborators and informants at the disposal of the companies.
"We didn't want to leave anything to chance, so it was done discreetly", he said, adding that it was a successful operation, which according to him had also restored sanity to the area, which had been under the siege of illegal miners and criminal elements for some years.
The arrested Nigerians and their foreign collaborators, according to him, have been handed over to the newly inaugurated Mines Division of the Nigerian Police for prosecution.
In response to a question by one of the workers, Dr Fayemi said the ministry would adopt its own whistle blowing arrangement in order to encourage more information on illegal mining activities in the sector.
The Minister, however, added that the ministry would continue to guide and provide both technical and financial supports genuine artisanal and small scale miners, who abide by the rules and regulations guiding the sector.
Zurak is a key location of substantial mineral deposits notably lead, zinc, copper, tin, wolframite, tantalite and other base metals.
Over time the range of illegal mining activities have been recorded around the area leading to the wanton loss of revenue, minable land and social displacement of the rural communities.
Unlisted Securities Market Gets 0.34% Boost Thursday
By Adedapo Adesanya
Amid an increase in trading value and volume, the NASD Over-the-Counter (OTC) Securities Exchange ended in the positive territory on Thursday, January 26, as it shot up by 0.34 per cent.
This was buoyed by the increase in the share price of Central Securities Clearing Systems (CSCS) Plc by 50 Kobo to N13.00 per unit from N12.50 per unit, and the surge in the price of FrieslandCampina Wamco Nigeria Plc by 30 Kobo to N62.48 per unit from the preceding session's N62.18 per unit.
This jerked the total value of the unlisted securities market by N3.09 billion to close at N923.76 billion versus N920.67 billion of the previous day, as the NASD Unlisted Securities Index (NSI) increased by 2.36 points to settle at 703.01 points, in contrast to the midweek's 700.66 points.
During the session, market participants executed eight deals at the bourse, 68 per cent lower than the 25 deals executed a day earlier.
However, the value of transactions increased during the session by 41.3 per cent to N4.9 million from N3.5 million, and the volume of trades jumped by 52.4 per cent to 189,670 units from the 121,494 units published on Wednesday.
At the close of business, Geo-Fluids Plc remained the most traded stock by volume on a year-to-date basis, with the sale of 61.1 million units worth N49.2 million. UBN Property Plc stood in second place with 29.7 million units valued at N21.1 million, while NASD Plc was in third place with 944,112 units valued at N13.6 million.
Also, VFD Group Plc maintained its position as the most active stock by value on a year-to-date basis, with 422,074 units sold for N103.0 million, FrieslandCampina WAMCO Group Plc was in second place with 899,657 units valued at N59.1 million, while Geo-Fluids Plc was in third place for trading 61.1 million units for N49.2 million.
Naira Crashes at Parallel Market, Gains at Official Market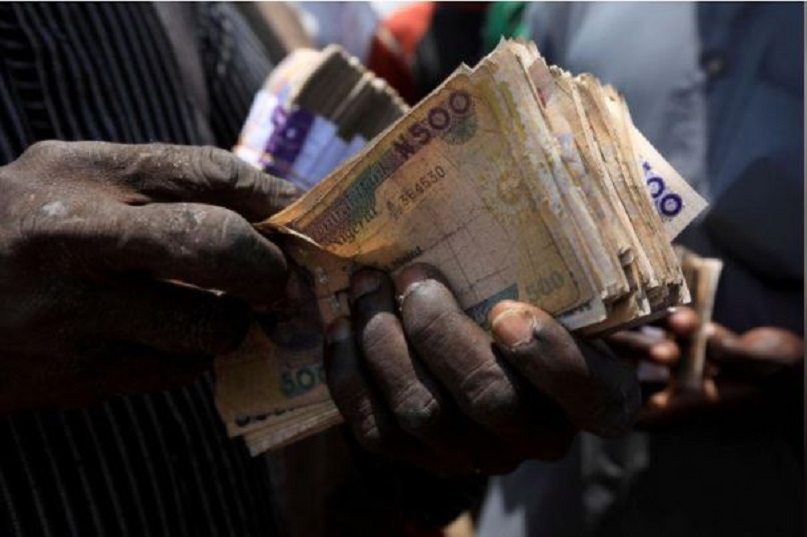 By Adedapo Adesanya
The Naira crashed against the United States Dollar at the parallel market on Thursday by N4 or 0.54 per cent to trade at N752/$1, in contrast to Wednesday's rate of N748/$1.
However, in the official market, which is the Investors and Exporters (I&E) window, the Nigerian currency appreciated against the greenback yesterday by 45 Kobo or 0.1 per cent to quote at N461.25/$1 compared with the previous day's value of N461.70/$1.
A 58.9 per cent or $64.66 million decrease in the value of forex turnover in the spot market helped the local currency close stronger during the session. Data from FMDQ Securities Exchange showed that FX trades worth $45.16 million were carried out compared with the $109.82 million executed in the previous trading day.
Also, in the Peer-2-Peer (P2P) segment of the FX market, the domestic currency gained N2 against the American Dollar to sell at N764/$1 versus Wednesday's N766/$1.
However, in the interbank segment, the Naira lost 24 Kobo against the British Pound Sterling to close at N567.21/£1 compared with the previous N567.45/£1, and depreciated by 20 Kobo against the Euro to quote at N500.73/€1, in contrast to N500.53/€1.
Meanwhile, most of the tokens monitored by Business Post in the crypto market depreciated in value at the close of transactions on Thursday, with Litecoin (LTC) shedding 1.6 per cent to trade at $87.48.
Further, Ripple (XRP) depreciated by 1.4 per cent to sell at $0.4109, Binance Coin (BNB) lost 0.4 per cent to quote at $305.07, Dogecoin (DOGE) dropped 0.2 per cent to finish at $0.0862, and Bitcoin (BTC) declined by 0.01 per cent to sell at $23,044.70.
Conversely, Cardano (ADA) appreciated yesterday by 2.8 per cent to settle at $0.3808, Ethereum (ETH) rose by 0.6 per cent to sell at $1,604.89, and Solana added a 0.02 per cent to its value to close at $24.36.
but the prices of the US Dollar Tether (USDT) and Binance USD (BUSD) remained unchanged at the close of trades at $1.00, respectively.
Stock Market Rebounds by 0.29% as GTCO, Others Enjoy Patronage
By Dipo Olowookere
A 0.29 per cent growth was recorded by the Nigerian Exchange (NGX) Limited on Thursday on the back of renewed demand for stocks after the Central Bank of Nigeria (CBN) aggressively cut down the stop rate of treasury bills on Wednesday.
The disappointment resulted in investors looking for alternative investment instruments, and equities were the next point of call.
In the previous two trading sessions, the stock market was down, but it rebounded yesterday on the back of a fresh bargain-hunting, which consequently pushed the All-Share Index (ASI) higher by 153.31 points to 52,752.96 points from 52,599.65 points, and the market capitalisation increased by N83 billion to N28.733 trillion from N28.650 trillion.
According to data from the NGX, the banking and energy sectors appreciated by 1.58 per cent each, the insurance space rose by 1.01 per cent, and the consumer goods counter grew by 0.05 per cent, while the industrial goods index depreciated by 0.01 per cent.
During the session, investors traded 139.7 million shares worth N2.0 billion in 3,549 deals compared with the 119.8 million shares valued at N2.7 billion traded in 3,552 deals, indicating an increase in the trading volume by 16.61 per cent, a decline in the trading value by 25.93 per cent, and a drop in the number of deals by 0.08 per cent.
GTCO emerged as the most traded equity yesterday with the sale of 17.8 million units, followed by Access Holdings, which transacted 15.4 million units. Fidelity Bank exchanged 11.9 million shares, Mutual Benefits sold 6.9 million equities, and Dangote Sugar traded 6.7 million stocks.
The market breadth was positive on Thursday, with 25 price gainers and seven price losers, indicating a very strong investor sentiment.
Geregu Power gained 10.00 per cent to trade at N147.40, Coronation Insurance appreciated by 9.76 per cent to 45 Kobo, Chellarams improved by 9.70 per cent to N1.81, International Energy Insurance grew by 9.43 per cent to 58 Kobo, and Tripple Gee jumped by 9.09 per cent to 96 Kobo.
On the flip side, RT Briscoe lost 9.09 per cent to settle at 30 Kobo, Royal Exchange dropped 8.24 per cent to sell at 78 Kobo, Courteville depreciated by 7.84 per cent to 47 Kobo, Linkage Assurance fell by 4.00 per cent to 48 Kobo, and Transcorp shed 0.82 per cent to N1.21.
Latest News on Business Post