FG Won't Scrap YouWin Programme—Adeosun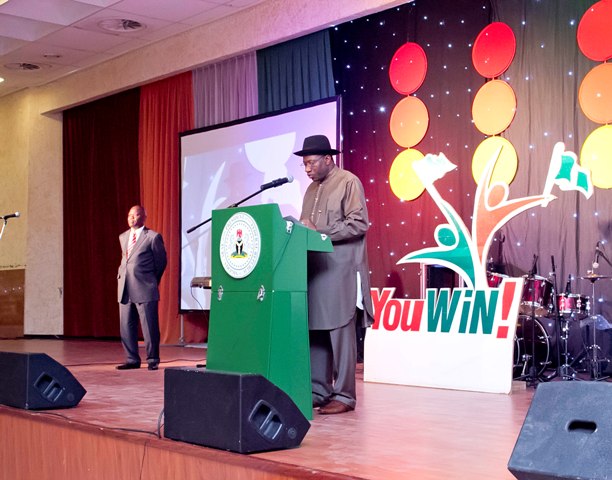 By Modupe Gbadeyanka
Minister of Finance, Mrs Kemi Adeosun, has assured that the YouWin programme of the Federal Government will not be stopped as being feared in some quarters.
Mrs Adeosun made this known during a Facebook Live session on Tuesday, April 4, 2017, which lasted 23 minutes and had over 130,000 participants.
Responding to a Facebook question during the session about the YouWiN! Entrepreneurship programme, Mrs Adeosun explained that the Buhari administration has no plans to scrap it.
According to her, the Federal Government has reviewed the scheme and repositioned it as YouWiN!Connect, which focuses on continuous enterprise education and skills building.
As part of the restructuring, the Minister noted that YouWiN!Connect now publishes weekly editorials in four national newspapers.
She added that the principles of YouWiN!Connect would be incorporated into university curricula across Nigeria.
On the Federal Government's Whistleblowing Policy, the Minister said it was introduced not only to recover stolen funds but to also serve as a deterrent against corrupt practices.
"Just last week, a whistleblower made claims of long-term fraud and funds misappropriation in YouWiN!," she disclosed, adding that the government was now investigating those claims with a view to taking appropriate action.
SEC to Step up Investor Education
By Aduragbemi Omiyale
The Head of the Office of the Chief Economist of the Securities and Exchange Commission (SEC), Mr Okey Umeano, disclosed that the commission would intensify its commitment to continue educating and enlightening investors to ensure they make informed investment decisions.
In an interview in Abuja, Mr Umeano stated that the recent upsurge in the activities of illegal fund managers has been a source of worry to the agency and assured investors that the SEC was working hard along with other government officials agencies to reduce their activities to the barest minimum.
"This is an area that we are doing a lot and still have a lot to do. If you look at the Capital Market Master Plan, you will see that a lot of the things we want to do revolves around investor education. In investor education, we tell investors how to know who is genuine, and it is very simple.
"Just go to the sec.gov.ng; on the search portal, you can type CMO. The search portal comes out, and you type the name of the firm marketing to you; if it is not there, then it is not registered with SEC, which means you are not protected. You are not covered by that investor protection that I am talking about. Those who are marketing financial products, investment-related financial products must come to SEC and be registered," he stated.
Mr Umeano disclosed that in an effort to protect investors further, the commission has been carrying out enforcement exercises against these illegal fund managers and would continue to do so.
"We have been going around closing Ponzi schemes and all those illegal fund managers, and you know we have been on different stations. I personally have been on several TV stations, radios, and newspapers talking about this. We are about to launch a few billboards around the country saying these same things. Nigerians must understand that the money that they are giving people it is difficult to get.
"It is difficult to raise capital, and before you give it to someone, it is important to know that person is the right person. This they can easily ascertain by going on our website. That is the message," he said.
He stated that SEC has a police Unit that assists in investigating these entities and carrying out enforcement actions when the need arises while also collaborating with relevant government agencies like the Nigeria Financial Intelligence Unit and the Economic and Financial Crimes Commission.
"The problem with Ponzi schemes is they use the money from Mr A to pay Mr B and use Mr B's own to pay Mr C, and while they are paying all that, they are taking their own, so by the time we close them, there's not enough money again to return to the people whose money they took. You also know they promise outrageous returns, and these returns are paid to the first people.
"We have a few now that we are trying to resolve, but I must tell you that it is difficult for anyone who has put money in a Ponzi scheme to recover much. Nigerians must understand this. If anyone promises you a return too good to be true, then it is probably not true," he said.
Mr Umeano, therefore, urged Nigerians to be vigilant and carry out their due diligence by visiting the commission's website to ascertain the registration status of the entities before investing, adding that there is also a need for them to understand the products they are investing in to obtain desired returns on their investments.
Dangote Cement N50bn Commercial Paper Sales Close
By Dipo Olowookere
The N50 billion commercial paper sales of Dangote Cement Plc are closing today, Thursday, February 2, 2023.
The exercise commenced on Monday, January 30, 2023, under its N150 billion commercial paper issuance programme.
According to details of the commercial paper sales, the cement firm is issuing the debt instruments in two maturities, with the Series 4 at a 183-day tenor and the Series 5 at a 267-day tenor.
Dangote Cement is offering the 183-day paper at a discount rate of 12.21 per cent with an implied yield of 13.00 per cent, while the 267-day paper is offered at a discount rate of 12.70 per cent with an implied yield of 14.00 per cent.
The publicly-quoted company is raising this money to fund its working capital requirements and for general corporate purposes.
Dangote Cement is a leading player in the cement industry in Nigeria, controlling more than half of the market share despite competing with big boys like Lafarge Africa, BUA Cement and others.
The firm has a combined capacity of 51.55Mta (35.25Mta in Nigeria) across its operations in 10 African countries. It operates a fully integrated "quarry-to-customer" business with activities covering manufacturing, sales and distribution of cement.
Through its investments, the organisation eliminated Nigeria's dependence on imported cement and transformed the nation into an exporter of cement, serving neighbouring countries.
Dangote Cement has relied on debts, especially from the capital market, to carry out its operations, especially as funds from commercial banks come with higher interest rates.
Moody's Downgrades Seplat Energy
By Dipo Olowookere
The ratings of Seplat Energy Plc and Dangote Cement Plc have been downgraded by Moody's Investors Service to Caa1 from B3.
In a statement on Wednesday, the rating agency said the action followed the "downgrade of Nigeria's long-term issuer rating to Caa1 from B3."
While Moody's noted that the two firms, listed on the Nigerian Exchange (NGX) Limited, "have relatively prudent financial policies, adequate liquidity, moderate to low leverage and strong business profiles, generally supported by market-leading positions," their operating environment poses risks which could affect their operations.
According to the statement, Dangote Cement's high proportion of dollar debt in the capital structure exposes the company to currency convertibility risk.
"While Dangote continues to grow its dollar revenue through exports and repatriations of dollar cash flow from its other African operations, it is still reliant on the Central Bank of Nigeria for dollars, which remains restricted.
"The company's liquidity profile is adequate but is exposed to ongoing refinancing risks because of the large portion of short-term debt equal to N383 billion, representing 55 per cent of total Moody's adjusted debt as of 30 September 2022.
"Dangote Cement benefits from strong cash flow generation with cash balances of N217 billion as of 30 September 2022," Moody's said.
However, the rating company noted that Seplat is less exposed to convertibility risk, given most of its revenue is paid in dollars.
It was stressed that the export dollar oil revenue of the energy firm is required to be repatriated back into Nigeria within 90 days of receipt, after which Seplat can transfer these US dollars funds back into offshore bank accounts.
"To date, Seplat has had no restrictions imposed by the Central Bank of Nigeria and the company targets to have 70 per cent of total cash balances in USD and 70 per cent of that in offshore accounts.
"Seplat's $650 million senior unsecured notes are due in 2026, and the company has a good liquidity profile supported by $305 million of cash on the balance sheet and full access to the $350 million undrawn revolving credit facility as of September 2022," it stated, adding that their ratings are only "constrained by the foreign currency country ceiling."
Latest News on Business Post