Financial Literacy Will Trigger Economic Growth—Banker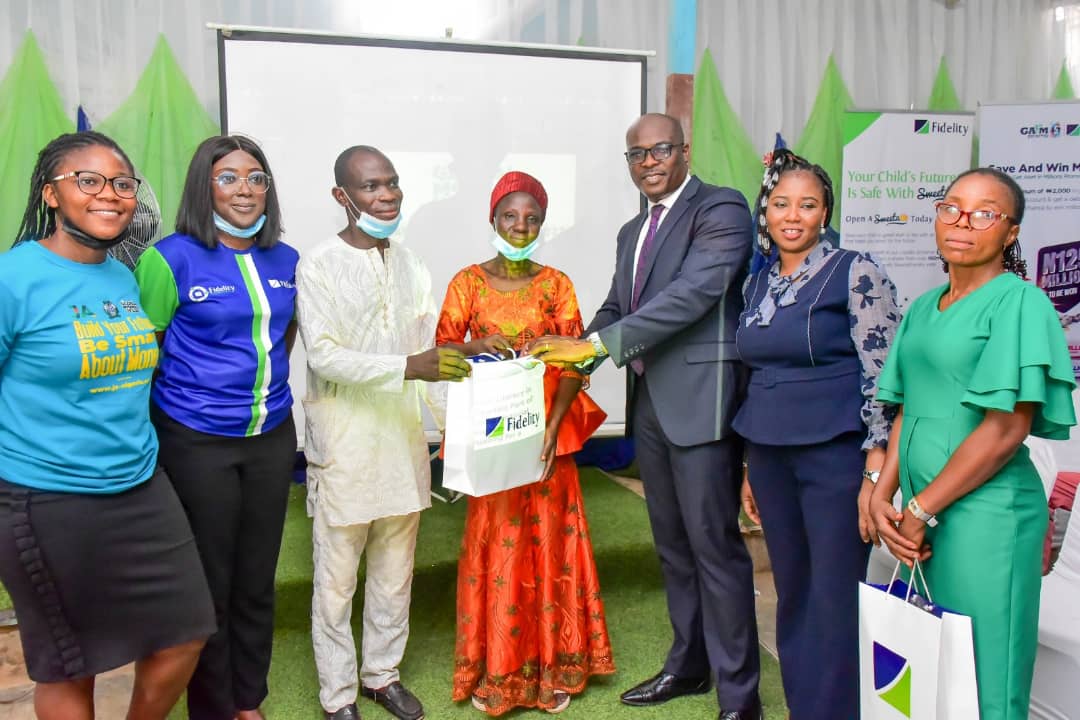 By Aduragbemi Omiyale
A senior banker, Mrs Nneka Onyeali-Ikpe, has re-echoed the importance of financial literacy to a nation, emphasising that it could trigger economic growth.
Mrs Onyeali-Ikpe, who is the Managing Director/CEO of Fidelity Bank Plc, said children should be exposed to financial literacy early so as to produce adults that are financially independent.
Speaking recently at the Bestline Distinct College in Ado-Ekiti, the Ekiti State capital, she said the bank has taken this as one of its Corporate Social Responsibility (CSR) strategies.
The MD/CEO said Fidelity Bank will not relent in its efforts to actualise the federal government's financial inclusion objectives by enabling more young Nigerians, particularly those in underserved communities, to participate in the formal banking system.
The lender, to celebrate the annual Global Money Week (GMW) of the Central Bank of Nigeria (CBN), tutored about 4,000 students in 36 schools across Nigeria on the value of managing financial resources effectively in order to improve their economic well-being.
The theme of this year's GMW, Build your future, be smart about money, emphasises the importance of ensuring that young people are financially conscious from an early age.
It also aims to ensure that they gradually acquire the knowledge, skills, attitudes, and behaviours required to make sound financial decisions, achieve financial well-being, and develop financial resilience.
At the Bestline Distinct College, Mrs Onyeali-Ikpe, who was represented by Mr Ayoola Alabi, Regional Operations & Service Supervisor (ROSS) for South-West 2, Fidelity Bank Plc, stated that, "Our children are the future and sharing such information with these young ones will help them develop into better adults. It will give them the ability to plan for their financial independence.
"For us as a bank, education and youth empowerment are major pillars of our Corporate Social Responsibility (CSR) strategy. We are always searching for opportunity to give back to communities where we operate."
In his remarks, the Proprietor of Best Distinct College, Mr Omodara David, stated that the program would broaden the minds of both students and teachers for the future.
"The knowledge gained here will make them successful in the future. What I have learnt has opened my eyes. Immediately after the program, I will open accounts in the bank and allow Fidelity to manage the school's account," he said.
On his part, the senior prefect of Best Distinct College, Master John Chinmaya, thanked Fidelity Bank for the lecture, noting that it will teach students how to save, budget, and bank properly to save for the future, as well as assist them financially and academically.
"We are going to tell our parents about the things we learnt here today and it will surely be beneficial to them," he assured.
Friesland Extends NASD OTC Securities Growth by 0.98%
By Adedapo Adesanya
FrieslandCampina WAMCO Nigeria Plc extended the bulls' presence at the NASD Over-the-Counter (OTC) Securities Exchange by 0.98 per cent on Tuesday, September 27.
This expanded the market capitalisation of the bourse by N9.38 billion to N963.94 billion from N954.56 billion and jerked the NASD Unlisted Securities Index (NSI) up by 3.19 basis points to end the day at 762.12 points as against the 765.31 points it recorded in the previous session.
FrieslandCampina WAMCO Nigeria Plc appreciated yesterday by N4.90 to sell at N78.00 per unit compared to the N73.10 per unit it was transacted a day earlier.
Despite the growth posted yesterday by the NASD OTC securities, there was a price loser and it was Niger Delta Exploration and Production (NDEP) Plc, which declined by N1.00 to settle at N199.00 per share compared with Monday's value of N198.00 per share.
During the session, there was a rise in the volume of securities traded by 408.8 per cent to 189,296 units from the 37,205 units transacted by market participants in the preceding session.
In the same pattern, there was a rise in the value of shares traded by 129.1 per cent to N6.2 million from the N2.7 million recorded on Monday.
These transactions were completed in 18 deals, the same amount of deals carried out in the previous trading session.
At the close of trades, AG Mortgage Bank Plc was the most traded stock by volume (year-to-date) with the sale of 2.3 billion units valued at N1.2 billion, Central Securities Clearing System (CSCS) Plc stood in second place with 687.6 million units worth N14.3 billion, and Mixta Real Estate Plc was in third place with 178.1 million units worth N313.4 million.
The most traded stock by value on a year-to-date basis was CSCS Plc with the sale of 687.6 million units worth N14.3 billion, VFD Group Plc was in second place with 27.7 million units valued at N7.4 billion, as FrieslandCampina WAMCO Nigeria Plc was in third place with 14.3 million units valued at N1.7 billion.
Naira Appreciates at P2P, Falls at I&E, Stable at Black Market
By Adedapo Adesanya
The value of the Naira appreciated against the United States currency in the Peer-to-Peer (P2P) segment of the foreign exchange market on Tuesday by N2 to close at N740/$1 compared with the previous day's value of N742/$1.
However, it depreciated against the American Dollar at the Investors and Exporters (I&E) window of the FX market yesterday by 33 Kobo or 0.08 per cent to trade at N436.33/$1 in contrast to Monday's value of N436.00/$1.
Data from the FMDQ Securities Exchange disclosed that the value of forex transactions recorded at the spot market yesterday went up by 27.31 per cent or $21.33 million to $99.43 million from the $78.10 million reported a day earlier.
In the interbank segment of the market, the Naira closed flat against the Pound Sterling at N463.96/£1 and against the Euro, it also remained unchanged at N416.15/€1 on Tuesday.
In the same vein, the exchange rate of the local currency paired with the greenback closed flat at the parallel market yesterday at N722/$1.
Meanwhile, the digital currency market was bearish yesterday, with Bitcoin (BTC) falling below the $20,000 mark again after it managed to rise above that level a day earlier.
On Tuesday, its value went down by 6.5 per cent to close at $18,765.50 as Ripple (XRP) recorded a 10.1 per cent slump to trade at $0.4282.
Ethereum (ETH) saw its value go down by 6.9 per cent to sell at $1,284.29, Solana (SOL) recorded a 6.5 per cent slide to quote at $32.44, Cardano (ADA) recorded a 5.6 per cent decline to settle at $0.4312, Binance Coin (BNB) shed 5.1 per cent to sell for $270.03, Litecoin (LTC) went down by 5.0 per cent to trade at $52.07, and Dogecoin (DOGE) saw a 4.5 per cent slump to trade $0.0594.
But Binance USD and the US Dollar Tether (USDT) closed flat at $1.00.a
Nigerian Stocks Fall as CBN Hikes Interest Rate by 1.5%
By Dipo Olowookere
Some of the gains recorded by the Nigerian Exchange (NGX) Limited on Monday were given up on Tuesday following the raising of the benchmark interest rate by 1.5 per cent to 15.5 per cent by the Central Bank of Nigeria (CBN).
The apex bank announced this hike in rate after its Monetary Policy Committee (MPC) meeting in Abuja. It explained that it was to tame the rising inflation, currently at 20.52 per cent.
Investors were unhappy with this action, and they abandoned Nigerian stocks, causing the bourse to deflate by 0.06 per cent at the close of transactions.
More profit-taking is expected in the coming days as traders attempt to leave the volatile space for a less-risky fixed income market, where the return on investment is nearing 15 per cent.
Business Post observed more sell-offs in the banking and consumer goods sectors as they respectively lost 0.65 per cent and 0.52 per cent yesterday. However, the energy and insurance counters grew by 0.20 per cent and 0.06 per cent, respectively, while the industrial goods space closed flat.
At the close of business, the All-Share Index (ASI) was down by 27.87 points to 49,161.45 points from 49,189.32 points as the market capitalisation decreased by N13 billion to N26.519 trillion from N26.532 trillion.
May and Baker recorded the highest price decline on Tuesday, losing 9.79 per cent to N3.50, with Regency Assurance declining by 7.69 per cent to 24 Kobo. Vitafoam fell by 6.98 per cent to N20.00, Unilever Nigeria went down by 5.38 per cent to N12.30, and GlaxoSmithKline dropped 5.08 per cent to N5.60.
On the flip side, NGX Group and Multiverse topped the gainers' log after their values rose by 10.00 per cent each to N19.80 and N3.41, respectively. Eterna gained 9.91 per cent to N6.32, Courteville grew by 8.89 per cent to 49 Kobo, and Champion Breweries expanded by 8.53 per cent to N3.69.
Analysis of the trading data showed that investor sentiment remained weak as the market breadth finished negative with 17 price losers and 13 price gainers.
Transcorp was the busiest stock yesterday as it transacted 38.5 million units for N39.0 million, followed by Zenith Bank, which sold 35.3 million units worth N710.8 million. FCMB traded 30.2 million shares valued at N105.6 million, Vitafoam transacted 18.1 million stocks for N362.8 million, and Linkage Assurance sold 8.9 million equities valued at N4.2 million.
In all, investors bought and sold 206.2 million stocks worth N2.4 billion in 3,679 deals on Tuesday, in contrast to the 119.3 million stocks worth N854.8 million traded in 3,580 deals on Monday. This implied that the trading volume, value and number of deals increased by 72.87 per cent, 176.38 per cent and 2.77 per cent apiece.
Latest News on Business Post