Here Today, Gone Tomorrow: 60 Causes of Small Business Failure in Nigeria
By Timi Olubiyi, PhD
Despite the significance of small and medium enterprises (SMEs) to the economy and national development, Africa has a high rate of business failures and short-lived businesses.
In Nigeria SMEs account for 48 per cent of the national gross domestic product (GDP), 96 per cent of businesses, and 84 per cent of employment in the country, according to a PricewaterhouseCoopers (PwC) report.
In contrast, due to the country's dire economic circumstances, at least 1.9 million SMEs have been lost since 2017, according to the report, yet business closures persist at an alarming rate.
Why do so many businesses fail so quickly, be they structured or unstructured? It can be attributed to many challenges, and this is the focus of this piece.
In the context of this article, the word "failure" refers to any kind of closure, including bankruptcy, liquidation, stopping further losses, giving up and starting a new business, and/or closing by choice (like retiring early or shutting down).
According to the author's observations, small businesses, especially those with one to nine staff, are prevalent, mostly unstructured, and largely operating informally throughout the country.
Convenience shops and grocery stores, dry cleaning and laundromat services, taxi services, trucking and transportation businesses, beauty salons, local restaurants, and several other small businesses operate with no data sets or registration databases.
For instance, in Lagos State, most of these small businesses are overwhelmingly dominated by people moving in from other states of the country, largely due to the fact that barriers to entry into the business ecosystem are low, and there is no compulsion for registrations or certifications, and the start-up capital is usually low.
The worry is that many of these business operators are inexperienced and pay no attention to business structure, technology, skill sets, accountability, or the importance of business continuity. Therefore, business failures keep getting worse without any known help.
In fact, it is hard to see how the sector can make a big difference or impact in creating jobs, growing the economy, and reducing poverty. Business failure is the last stage of the business life cycle. However, it is so prevalent that it happens within the first five years of a significant number of SMEs in Nigeria and the rate is alarming.
Even though the environment is a key part of how easy it is to do business, it is still harsh and hard in the country, with or without post-COVID-19 consequences. Truly, there are many problems with the economy's supply chain and infrastructures, such as the price of diesel, problems with the foreign exchange market, and regulations that hurt businesses.
Many of the business failure factors are frequently categorized as "poor management or lack of access," though the failure predictors are in two broad categories: internal factors (controllable) and external factors (uncontrollable).
Without a systematic outline and identification of the many challenges faced by small businesses, here are the most common business failure factors in the country that operators need to pay attention to low quality or low level of education and qualification of operators and workforce; lack of manpower, loss of seasoned personnel and management due to social mobility and relocation (Japa), resulting in skill shortages within the business and inability to attract and retain new highly qualified personnel; lack of an appropriate corporate governance structure and organogram in the case of the few structured SMEs; Customer dissatisfaction due to a low product or service quality; poor customer experience and declining patronage.
A variety of funding issues are also relevant to business failures, including no or low business capital or profitability, revenue erosion (in some cases referred to as undercapitalization), insufficient cash flow or cash reserve, and excessive reliance on borrowed funds (high leverage).
Poor accounting practice, teeming, and lading can also result in business failures. The absence of adequate marketing channels, poor market knowledge, outdated services and products, and not being in touch with customer needs (for illustration, dealing in Nokia 3310-related accessories or phone sales when the market demand is for Android phones).
Poor and negative customer relations; poor pricing techniques; lack of innovative drive, ignoring product or service innovations and new ideas; ignoring competitors' pressure and offerings; resource mismanagement; undue family influence and control in the business operations can kill businesses.
Further to this, poor internal communication, lack of free flow of business information, and fraudulent acts by employees, including legal tussles, can also be contributory to the failures.
Others are ineffective and reckless leadership tendencies, a high cost of running the business, huge overhead, and an inability to control expenses, inappropriate response to new external and/or internal challenges, lack of strategic and business planning (competitor analysis, marketing analysis, risk analysis, opportunity and threat analysis). under-estimating or over-estimating risks in the marketplace, among others.
There is also the failure to recognise and capitalise on new market opportunities, intense competition, and adherence to ineffective competitive formulas or strategies. Another is being outwitted by competitors or even former employees; and relying too heavily on one or a few clients' patronages are also attributable.
Leadership tussles and conflicts within management, business owners, and/or power struggles cannot be ignored. Failure to provide value for money can make customers disgruntled and avoid patronage.
Poor inventory management, and failure to differentiate products and services in a highly competitive environment. and the strong bargaining power of buyers can cause business failure. In the era of globalization, e-commerce, and high adoption of technology, any old equipment, machinery, or technology issues can make a business fail. Low or no online visibility, inadequate technological adoption, or failure to take advantage of new technological advances can also adversely affect businesses.
Largely unforeseen mishaps can happen, failing to learn from this or one's errors, and the repetition of such errors and poor decision-making can have huge consequences. Overlapping responsibilities in the case of one-man businesses where the owner claims to be an expert in all departments and business functions can make the business fail. Where there is no distinction between ownership and management and there is an excessive concentration of authority, including excessive administrative rule imposition on subordinates and employees, it can ruin a business.
From the government side, unanswered macroeconomic challenges, economic instability, multiple taxation, no ease of doing business, regulatory hurdles and multiple permits, and a harsh economic climate are just some of the negative factors. Poor infrastructure, bad roads, erratic power supply, limited access to government grants and support, and much more, particularly power and the cost of generating alternative power are also some factors.
Further to this, the rising costs of doing business, inflation, irregular policies, the judicial system where disputes linger for several years, and political influence and interest, including corruption, are all part of the factors attributable to business failure.
Even common macroeconomic factors like recessions, insecurity, government debt, exchange rates, and high-interest rates, are just a few. The power (electricity) situation in Nigeria has been a great cause for concern for businesses, investors, and citizens at large and is equally significant in the overall performance of the economy.
These infrastructure gaps and weak macroeconomic factors can be blamed on the depressed economy and prevalence of business failure in Nigeria. The turn-around time at the ports, and congestion on the roads, are all imperative causes of business failures in the country and cannot be controlled by entrepreneurs and SME operators.
Consequently, it poses a big risk to businesses unless the government intervenes decisively and gives the needed policy responses. This is the big prayer of all SMEs and entrepreneurs in the country.
Above all, the culture of not seeking expert opinion, advice, and consultation for problem-solving is the overall bane of SME operators or owner-managers.
One or more of the above-mentioned factors are warning indications of business failure. SMEs must pay close attention to these indicators as soon as they appear, in order to avoid a crisis. Maintaining an appropriate structure, adequate capital, and having contingency plans are some of the best strategies to control and reduce business failure that these factors can cause. Further prerequisites for small business success may just be the next article from the author. Good luck!
How may you obtain advice or further information on the article? 
Dr Timi Olubiyi is an Entrepreneurship & Business Management expert with a PhD in Business Administration from Babcock University Nigeria. He is also a prolific investment coach, author, seasoned scholar, Chartered Member of the Chartered Institute for Securities & Investment (CISI), and Securities & Exchange Commission (SEC) registered capital market operator. He can be reached on the Twitter handle @drtimiolubiyi and via email: drtimiolubiyi@gmail.com, for any questions, reactions, and comments.
The opinions expressed in this article are that of the author- Dr Timi Olubiyi and do not necessarily reflect the views of others.
CBN Orders Banks Not to Load N500, N1,000 Notes in ATMs
**Pegs Weekly Cash Withdrawal Limits at N100,000
By Aduragbemi Omiyale
The Central Bank of Nigeria (CBN) has directed commercial banks and other financial institutions operating Automated Teller Machines (ATMs) in the country not to load banknotes above N200.
In a circular, the central bank said this move is to deepen its cashless policy and reduce the volume of cash transactions in the financial system.
Recall that on October 26, 2022, the Governor of the CBN, Mr Godwin Emefiele, announced at a press conference that the higher Naira notes would be redesigned.
He explained that this was because over 80 per cent of cash in circulation was dwelling outside the vaults of commercial banks in the country.
This implied that the cash was in possession of politicians, kidnappers and other criminals. To control the cash in circulation, he said President Muhammadu Buhari approved the redesigning of the Naira.
Last month, Mr Buhari unveiled the new notes, and according to plans, they would be in circulation from December 15, while the old notes would cease to be legal tender after January 31, 2023.
To increase the use of electronic transfers, the apex bank has placed limits on cash withdrawals via over-the-counter (OTC), ATMs and others.
In the notice, the CBN said customers would no longer be able to withdraw more than N20,000 per day via the ATM and N100,000 per week via the same channel.
"The maximum cash withdrawal per week via Automated Teller Machine (ATM)) shall be N100,000, subject to a maximum of 20,000 cash withdrawals per day. Only denominations of N200 and below shall be loaded into the ATMs," the disclosure stated.
It also said, "the maximum cash withdrawal via point of sale (POS) terminal shall be N20,000 daily."
As for cash withdrawals via OTC, the central bank stated that it would be N100,000 for individuals, with a 5 per cent processing fee for amounts above the cap, while for corporate organisations, the limit is N500,000 and 10 per cent charge for amounts above the limit.
"The maximum cash withdrawal over-the-counter (OTC) by individuals and corporate organizations per week shall henceforth be N100,000 and N500,000, respectively," a part of the circular said.
Nigeria Records N269.34bn in Trade Surplus in Q3 2022
By Adedapo Adesanya
Nigeria's exports exceeded the total imports in the third quarter of this year as the country recorded N5.93 trillion in total exports, while total imports hit N5.66 trillion in the same period, indicating a trade surplus as the country's exports exceeded its imports.
This happened amid a decline in total trade as Nigeria's total trade stood at N11.59 trillion in the period, lower than the value recorded in the second quarter of 2022 (N12.84 trillion) but higher than the value recorded in the corresponding period of 2021, which stood at N10.47 trillion.
In the quarter under review, total exports declined by 19.9 per cent when compared to the second quarter of 2022 (N7.40 trillion), but increased by 15.5 per cent of the value recorded in the third quarter of 2021 (N5.13 trillion).
On the other hand, total imports increased by 4.22 per cent in the third quarter of 2022 when compared to the value recorded in the second quarter of 2022 (N5.44 trillion) and also grew by 6.2 per cent when compared to the value recorded in the corresponding quarter of 2021 (N5.34 trillion).
The value of Re-Exports in the third quarter of 2022 stood at N25.04 billion, showing an increase of 160.2 per cent compared to the value recorded in the second quarter of 2022 but declined by 86.1 per cent compared to the corresponding quarter of 2021 (N179.81 billion).
In the quarter under review, the top five re-export destinations were Cote d'Ivoire, Ghana, United Kingdom, China, and The Netherlands, while the most re-exported commodity were Vessels and other floating structures for breaking up with N8.05 trillion, followed by 'Floating or submersible drilling or production platforms' valued at N4.97 trillion and Aeroplanes and other aircraft, of an un-laden weight exceeding 15,000 kg, amounting to N3.43 trillion.
The top five export destinations in the third quarter of 2022 were Spain with a share of 14.7 per cent, followed by India with 10.4 per cent, France with 7.3 per cent, the Netherlands and Indonesia with 7.1 per cent and 7.0 per cent, respectively. Altogether, the top five countries accounted for a share of 46.5 per cent of the total value of exports (N5.93 trillion).
The commodity with the largest export values in the period under review was Petroleum oils and oils obtained from bituminous minerals, crude with N4.66 trillion representing 78.5 per cent, followed by Liquefied Natural Gas (LNG) with N757.36 billion accounting for 12.8 per cent, and Urea (whether or not in aqueous solution) with N133.17 billion or 2.2 per cent of total exports.
In terms of Imports (CIF), in the third quarter of 2022, China, The Netherlands, India, Belgium, and the United States of America were the top five countries of origin of imports to Nigeria. The value of imports from the top five countries amounted to N3.3 trillion, representing a share of 58.8 per cent of the total value of imports.
The commodities with the largest values among the top imported products were Motor Spirit ordinary (N1.19 trillion), Gas Oil (N261.60 billion), and Durum wheat (Not in seeds), amounting to N252.62 billion.
Panelists Discuss How To Grow Your Money In Difficult Times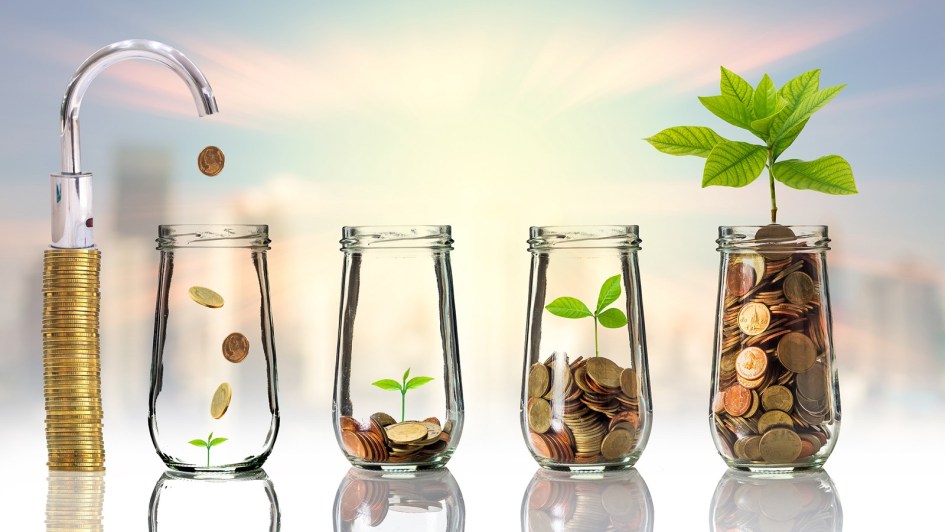 By Modupe Gbadeyanka
Investors have been advised by financial experts to avoid holding on to idle assets but must quickly deploy them to ventures that would yield returns.
This was one of the solutions and strategies discussed at a webinar organised recently by DLM Asset Management, a subsidiary of a leading investment firm, DLM Capital Group.
The event, which was themed How to Grow Your Money in Difficult Times, was put together to guide participants on how to find growth and value in a volatile economy.
It was also designed to educate clients, prospective clients, and the entire public on how to grow and preserve their wealth in difficult times.
The virtual session was necessary given the urgent circumstances in Nigeria at the moment, where unemployment and inflation are at all-time highs and insecurity is posing a severe danger to economic growth and stability.
"In critical times such as this, investors must avoid holding idle assets. In fact, all assets must be actively deployed with optimal efficiency in order to avoid asset deterioration due to inflation.
"As such, a typical solution to this is the DLM Fixed Income Fund, a mutual fund that provides investors with the opportunity to earn decent returns from their funds that ordinarily should yield so little when left in a typical bank account," the Head of DLM Asset Management, Mr George Aniegbunem, stated.
On her part, the Vice President at DLM Advisory, Ms Ekanem Etim, spoke about investing opportunities, associated risks, and the significance of seeking advice from an investment professional, mostly in uncertain times like this.
"It is important for investors to understand the underlying risks of an investment opportunity before taking any investment decision. As such, individual Investors will benefit greatly from seeking professional advice as they grow their wealth, mostly in challenging moments like this," she remarked.
Latest News on Business Post