I Never Knew my NYSC Certificate was Fake–Adeosun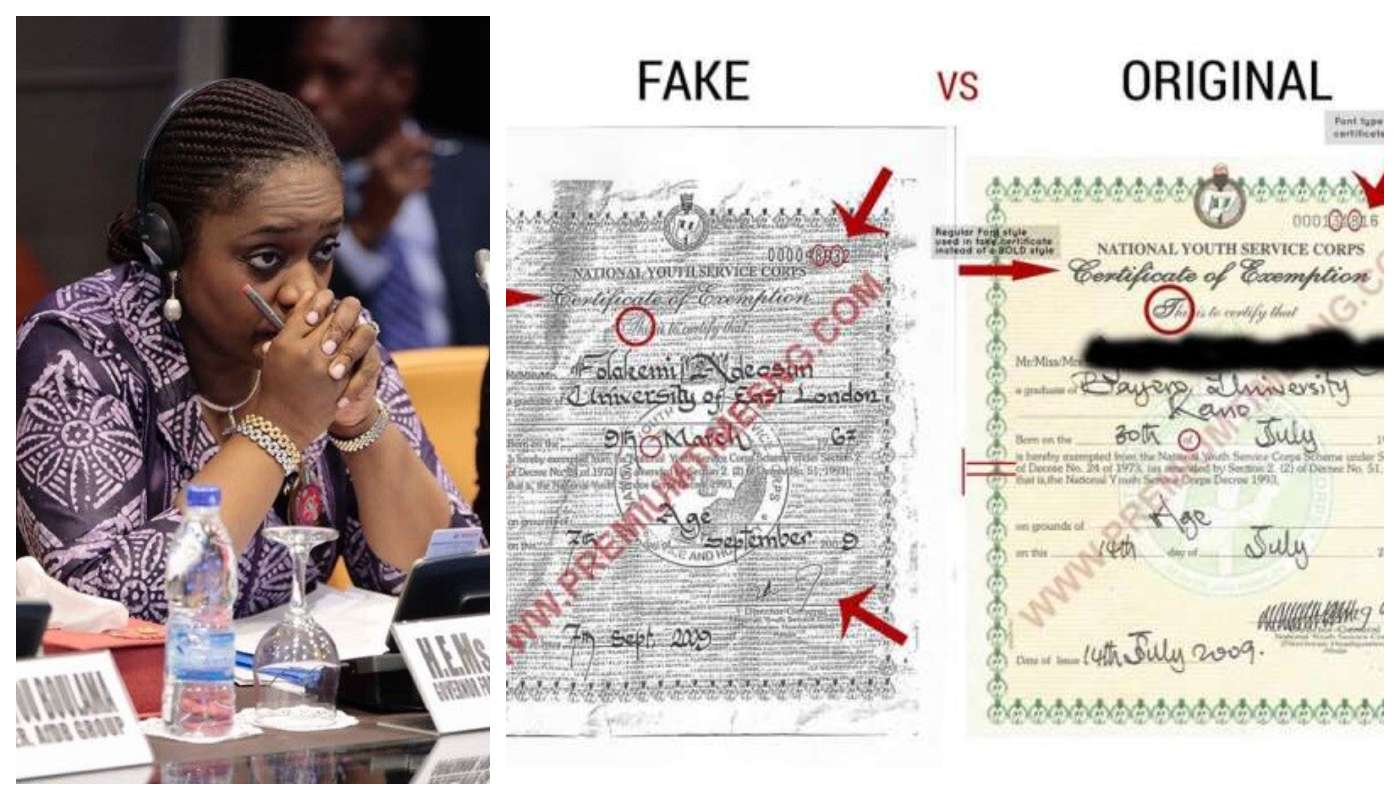 By Modupe Gbadeyanka
Former Minister of Finance, Mrs Kemi Adeosun, has expressed shock over her realisation that the Certificate of Exemption from National Youth Service Corp (NYSC) with her "was not genuine."
In her resignation letter, Mrs Adeosun said having received the said document through a third party, she had no idea it would have not been original.
"On the basis of that advice and with the guidance and assistance of those, I thought were trusted associates, NYSC were approached for documentary proof of status.
"I then received the certificate in question. Having never worked in NYSC, visited the premises, been privy to nor familiar with their operations, I had no reason to suspect that the certificate was anything but genuine," she said in her letter to President Muhammadu Buhari.
However, the Minister thanked the President, her colleagues and members of staff of the Ministry of Finance for the bond they created with her while in office.
Read her full resignation letter below:
Let me commence by thanking you profusely for the honour and privilege of serving under your inspirational leadership. It has been a truly rewarding experience to learn from you and to observe at close quarters your integrity and sense of duty.
I have, today, become privy to the findings of the investigation into the allegation made in an online medium that the Certificate of Exemption from National Youth Service Corp (NYSC) that I had presented was not genuine. This has come as a shock to me and I believe that in line with this administration's focus on integrity, I must do the honourable thing and resign.
Your Excellency, kindly permit me to outline some of the background to this matter. I was born and raised in the United Kingdom, indeed my parental family home remains in London. My visits to Nigeria up until the age of thirty-four (34) were holidays, with visas obtained in my UK passport. I obtained my first Nigerian passport at the age of thirty-four (34) and when I relocated there was debate as to whether NYSC Law applied to me. Upon enquiry as to my status relating to NYSC, I was informed that due to my residency history and having exceeded the age of thirty (30), I was exempted from the requirement to serve. Until recent events, that remained my understanding.
On the basis of that advice and with the guidance and assistance of those, I thought were trusted associates, NYSC were approached for documentary proof of status. I then received the certificate in question. Having never worked in NYSC, visited the premises, been privy to nor familiar with their operations, I had no reason to suspect that the certificate was anything but genuine. Indeed, I presented that certificate at the 2011 Ogun State House of Assembly and in 2015 for Directorate of State Services (DSS) Clearance as well as to the National Assembly for screening. Be that as it may, as someone totally committed to a culture of probity and accountability I have decided to resign with effect from Friday, 14th September, 2018.
Your Excellency, It has been an exceptional privilege to have served our nation under your leadership and to have played a role in steering our economy at a very challenging time. I am proud that Nigeria has brought discipline into its finances, has identified and is pursuing a path to long term sustainable growth that will unlock the potential in this great economy. Under your leadership, Nigeria was able to exit recession and has now started to lay the foundations for lasting growth and wealth creation. Repositioning this huge economy is not a short term task and there are no short cuts, indeed there are tough decisions still to be made but I have no doubt that your focus on infrastructural investment, revenue mobilisation and value for money in public expenditure will deliver growth, wealth and opportunity for all Nigerians.
I thank His Excellency, the Vice President and my colleagues in the Federal Executive Council for the huge pleasure and honour of working with them. I also thank most specially, the team in the 'Finance Family' of advisers and heads of agencies under the Ministry of Finance. Your Excellency, this group of committed Nigerians represent a range of backgrounds, ethnicities and ages. They have worked well above and beyond the call of duty to support me in the tasks assigned. The diversity in my team and their ability to work cohesively to deliver reforms, convinces me that Nigeria has the human capital required to succeed.
Your Excellency, let me conclude by commending your patience and support, during the long search for the truth in this matter. I thank you again for giving me the honour of serving under your leadership, it is a rare privilege, which I do not take for granted. As a Nigerian and committed progressive, I appreciate you for your dogged commitment to improving this nation.
Please be assured, as always, of my highest regards and best wishes.
Kemi Adeosun (Mrs)
NGX Index Contracts by 0.03% on Renewed Selling Pressure
By Dipo Olowookere
Selling pressure on large and mid-cap stocks like GTCO, Lafarge Africa, FBN Holdings, Flour Mills and others weakened the Nigerian Exchange (NGX) Limited by 0.03 per cent on Wednesday.
The renewed profit-taking came a day after the local stock market rebounded, as investors embarked on cautious trading, monitoring happenings in the macroeconomic environment.
This left the sectorial performance index mixed at the close of transactions in the midweek session, with the banking space losing 0.25 per cent, the industrial goods index shedding 0.02 per cent, and the consumer goods counter depreciating by 0.01 per cent.
However, the insurance sector appreciated yesterday by 3.61 per cent, while the energy space went up by 0.42 per cent.
The All-Share Index (ASI) could not withstand the pressure and lost 14.22 points to the bears to close at 56,024.52 points, in contrast to Tuesday's 56,038.85 points.
In the same vein, the market capitalisation of the NGX depleted by N8 billion to settle at N30.506 trillion compared with the preceding day's N30.514 trillion.
NPF Microfinance Bank was the most actively traded stock yesterday for exchanging 100.8 million units valued at N181.4 million, GTCO traded 43.0 million units worth N1.2 billion, Japaul transacted 27.8 million units worth N11.5 million, Fidelity Bank sold 24.3 million units valued at N140.9 million, and Access Holdings traded 23.0 million units for N293.0 million.
In all, investors bought and sold 397.6 million shares worth N6.5 billion in 5,613 deals on Wednesday compared with the 322.5 million shares worth N5.8 billion transacted in 6,165 deals on Tuesday, representing a decline in the number of deals by 8.95 per cent, an increase in the trading volume and value by 23.29 per cent and 12.07 per cent, respectively.
Union Bank topped the losers' chart after dropping 4.20 per cent to trade at N7.20, Flour Mills also shed 4.20 per cent to close at N33.10, NGX Group declined by 3.11 per cent to N28.00, Prestige Assurance went down by 2.44 per cent to 40 Kobo, and Courteville slumped by 2.08 per cent to 47 Kobo.
On the flip side, Honeywell Flour gained 9.87 per cent to settle at N3.45, Eterna improved by 9.87 per cent to N12.25, FTN Cocoa rose by 9.86 per cent to 78 Kobo, Cornerstone Insurance expanded by 9.78 per cent to N1.01, and Coronation Insurance grew by 9.52 per cent to 46 Kobo.
Subsidy Removal: CNG at N130 Per Litre Cheaper Than Petrol—IPMAN
By Adedapo Adesanya
The Independent Petroleum Manufacturers Association of Nigeria (IPMAN) has advised Nigerians to begin to look into the direction of Compressed Natural Gas (CNG) as an alternative energy source to cushion the effect of subsidy removal.
The National President of IPMAN, Mr Chinedu Okorokwo, made this known in an interview with the News Agency of Nigeria (NAN) in Abuja on Wednesday, as the federal government continues its dialogue with the organised labour over the hike in the price of premium motor spirit (PMS), otherwise known as petrol.
On May 29, 2023, during his inaugural speech, President Bola Tinubu said the payment of subsidy for fuel had ended because there was no provision for it in the 2023 budget beyond June 30.
His announcement triggered the hoarding of fuel by marketers, and when the Nigerian National Petroleum Company (NNPC) Limited increased the price of the product across its retail outlets, prices of food, transportation and services went up, forcing the Nigeria Labour Congress (NLC) and the Trade Union Congress (TUC) to threaten a nationwide strike, which was supposed to start today but was stopped by the National Industrial Court.
At a meeting on Monday night between the government and the labour unions, it was agreed that the adoption of CNG as an alternative fuel would be the best option, and it was agreed that the CNG conversion programme earlier planned in 2021 should be revived.
CNG, which is a gas mainly composed of methane and produces less emission, is the cleanest burning fuel operating today with less vehicle maintenance and longer engine life.
In the interview with NAN, Mr Okoronkwo said bringing CNG, which was cheaper than even firewood, as an alternative energy, would create relief for the government and its citizens.
"We have also discovered that bringing an alternative that is cheaper than even firewood which is CNG, will not only create relief for the government and its citizens but it is environmentally friendly.
"The CNG is abundantly available in Nigeria than anywhere in Africa.
"In the Niger Delta region, you see billions of tonnes of gas flare being wasted daily, these are huge amounts that should be accruing to our GDP, but we are wasting it because there is no market for it.
"So, we are asking the government to create the market. How do you create the market?
"What Egypt and India did was to give soft loans to be paid back within stipulated periods; from there, you can get vehicles to use gas instead of fuel," he said.
"There's a franchise for the bottling of CNG so that an average woman in the kitchen can use it,'' he added, noting that the introduction of CNG would cushion the effect occasioned by the high price of fuel currently as a litre of CNG would not cost more than N130.
He advised that repairing the local refineries as well would reduce the impact of the removal as it would eliminate the cost of importation and exportation.
Nigeria Upgrades Tax-to-GDP Ratio to 10.86% From 6%
By Modupe Gbadeyanka
The National Bureau of Statistics (NBS) has disclosed that Nigeria's tax to Gross Domestic Product (GDP) ratio has been upwardly reviewed to 10.86 per cent from the 6 per cent earlier reported to reflect better data sources and improved estimation using the Organisation for Economic Co-operation and Development (OECD) manual.
The OECD manual is an improvement over the System of National Accounts (SNA 2008) classification of taxes.
Although the System of National Accounts conceptual framework and its definitions of the various sectors of the economy are reflected in the OECD's classification of taxes, the OECD classifications provide the maximum disaggregation of statistical data on what is generally regarded as taxes by tax administrations.
In a disclosure, the statistics office said the country's total tax revenue compared with its GDP was at that level in 2021, higher than 8.40 per cent in 2020, which was impacted by the COVID-19 pandemic.
In the previous year, the ratio was 10.20 per cent, marginally lower than the 10.36 per cent recorded in 2018 but higher than the 9.02 per cent in 2017.
The NBS said the revised computation considered more comprehensive coverage of data at the federal, state, and local government levels and revenue items not previously included in the computations, particularly relevant revenue collected by other government agencies.
The review of the tax-to-GDP ratio was initiated by the Federal Inland Revenue Service, which collaborated with the Federal Ministry of Finance and the NBS for better measurement of the ratio.
The data used were sourced from the Office of the Accountant General of the Federation (OAGF), FIRS, NBS, the Nigeria Customs Service (NCS), the Joint Tax Board (JTB), and other relevant agencies of government that collect revenue.
Latest News on Business Post