Lafarge, Others Join Meristem Value Index as FBN, Honeywell Exit
By Dipo Olowookere
Nigerian Exchange (NGX) Limited has rejigged its market indices, with some companies leaving and joining, according to a statement made available to Business Post.
It was stated that the review became effective from Tuesday. January 4, 2022, and the affected indices are the NGX 30, NGX Lotus Islamic, NGX Pension, Corporate Governance Index, Afrinvest Bank Value Index, Afrinvest Dividend Yield Index, Meristem Growth Index, Meristem Value Index; and the five sectoral indices of the exchange; NGX Banking, NGX Insurance, NGX Industrial, NGX Consumer Goods and NGX Oil & Gas.
For the Meristem Value Index, Cadbury Nigeria, Eterna, Nascon Allied Industries, Sterling Bank and Lafarge Africa were added, while Ardova, Cap, Custodian Investment, FBN Holdings, Honeywell Flour Mill, United Capital and Unilever Nigeria were removed.
Also, the NGX added Dangote Cement, GlaxoSmithKline, Guinness Nigeria, Livestock Feeds and Total Energies Marketing Nigeria to the Meristem Growth Index and yanked the duo of Nestle Nigeria and Stanbic IBTC Holdings from it.
Further, Afrivest Dividend Yield Index witnessed the addition of Guinness Nigeria, Vitafoam and Tripple Gee and the removal of AIICO Insurance, Conoil, Dangote Sugar, Fidelity Bank and United Capital, while Afrivest Bank Value Index welcomed UBA as a new member and the exit of FCMB.
The NGX 30 Index saw the entry of Oando and the exit of Nascon Allied Industries, while NGX Industrial Index only recorded the entry of Tripple Gee, with the NGX Lotus Islamic Index only witnessing the removal of Ardova and Unilever Nigeria.
However, the Corporate Governance Index, NGX Pension Index, NGX Oil & Gas Index, NGX Insurance Index, NGX Banking Index and NGX Consumer Goods Index remained unchanged.
The Nigerian bourse began publishing the NGX 30 Index in February 2009 with index values available from January 1, 2007. On July 1, 2008, the NGX developed five sectoral indices with a base value of 1,000 points, designed to provide investable benchmarks to capture the performance of specific sectors.
The sectoral indices comprise the top 15 most capitalized and liquid companies in the Insurance and Consumer Goods sectors; the top ten most capitalized and liquid companies in the Banking and Industrial Goods sector; and the top seven most capitalized and liquid companies in the Oil & Gas sector.
In July 2012, the Nigerian bourse launched The NGX Lotus Islamic Index (NGX LII) which consists of companies whose business practices are in conformity with Shari'ah Investment Principles, with the aim of increasing the breadth of the market and creating an important benchmark for investments as the alternative ethical and noninterest investment space widened.
The companies that appear on the Islamic Index have been thoroughly screened by Lotus Capital Halal Investment, in accordance with a methodology approved by an internationally recognized Shari'ah Advisory Board comprising of renowned Islamic scholars.
These indices were developed to allow investors to follow market movements and properly manage investment portfolios. Designed using the market capitalization methodology, the indices are rebalanced on a semi-annual basis on the first business day in January and in July.
AfDB to Establish Onion Commodity Exchange in Sokoto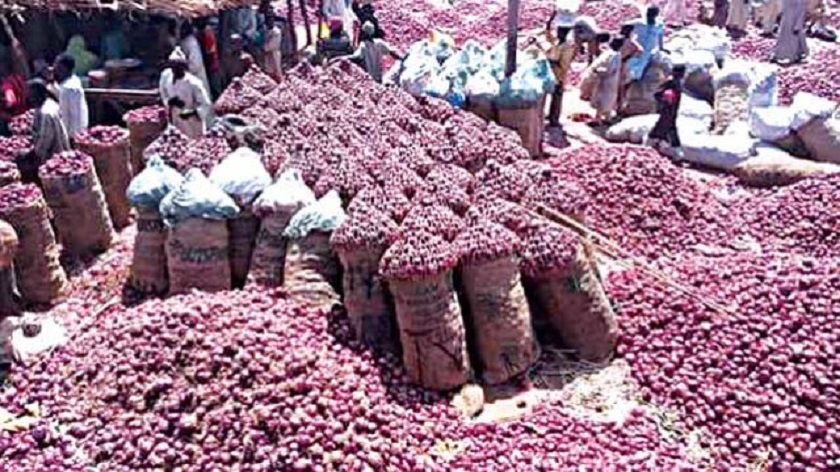 By Adedapo Adesanya
The Sokoto State Governor, Mr Aminu Waziri Tambuwal, has revealed that the African Development Bank (AfDB) will soon facilitate the establishment of an Onion Commodity Exchange in the state.
According to the Governor, this was part of the outcomes of a high-level meeting he and some of his Commissioners had with the management team of the bank last week in Abidjan, Côte d'Ivoire.
A statement signed by his media aide, Mr Muhammad Bello, said the Governor made this known at the closing of a three-day training for budding entrepreneurs in the state last week, adding that his administration was dedicated to supporting indigenous farmers.
The realisation of the plan will make such an establishment the 15th of its kind in Africa and the fourth in the country after the Abuja Securities and Commodity Exchange, Lagos Commodities and Futures Exchange; and AFEX Commodities Exchange Limited.
In economic parlance, trading in exchanges includes derivatives contracts, such as forwards, futures, options and spot trades- focusing on immediate delivery.
It could also be traded on interest rates, foreign exchange futures, freight contracts instruments and environmental instruments.
According to the statement, Mr Tambuwal revealed that "during our visit to the AfDB, we had engagements with them and agreed that an Onion Commodities Exchange will be established in Sokoto with the help of the bank on the framework and technical support."
He said the potential for onions trade abounds in the state, thus putting it in the topmost position of states cultivating the commodity in the country.
He cited an example of an individual in Abidjan, who transacts over N2.8 billion onion trade annually from Sokoto-Côte d'Ivoire, elaborating that the result of a survey he commissioned has revealed that from onion trade alone, the state engages in an annual transaction of between N250 and N300 billion.
Over the past few months, several stakeholders have been looking at how to push the onion species produced in the country to one of the best in the world.
Experts note that because of its strong pungency, it is exported to many countries including France, Japan, India, Niger Republic, Ghana and others.
GSK Consumer Healthcare Business Not Worth Than £50bn—Unilever
By Dipo Olowookere
Unilever Plc has said it will not increase its £50 billion bid for the acquisition of GSK Consumer Healthcare business owned by GlaxoSmithKline, which was earlier rejected by the company.
In a statement issued last Saturday, GSK confirmed that it "received three unsolicited, conditional and non-binding proposals from Unilever" for the acquisition of its consumer healthcare arm, which is jointly owned by GSK and Pfizer, with GSK holding a majority controlling interest of 68 per cent and Pfizer 32 per cent.
According to GSK, the acquisition value of £50 billion comprising £41.7 billion in cash and £8.3 billion in Unilever shares was below the true value of the business.
The offer was rejected, according to the company, because the consumer healthcare business was "fundamentally undervalued" as the business has great "future prospects", which was not factored into the proposals.
"The board of GSK is strongly focused on maximising value for GSK shareholders and has carefully evaluated each Unilever proposal.
"In doing so, the board and its advisers assessed the proposals relative to the financial planning assessments completed to support the proposed demerger of the business in mid-2022, including the sales growth outlook," a part of the statement noted.
But reacting to the rejection in a statement on Wednesday, Unilever said it does not feel that the value of the GSK consumer business is worth more than its £50 billion valuations and because of that, it would not increase it.
"We note the recently shared financial assumptions from the current owners of GSK Consumer Healthcare and have determined that it does not change our view on fundamental value," the statement said.
Unilever said, "Accordingly, we will not increase our offer above £50 billion," noting that it will continue to maintain "strict financial discipline to ensure that acquisitions create value for our shareholders."
"Unilever also reiterates its commitment to continuing to improve the performance of its existing portfolio through its ongoing focus on operational excellence, its upcoming reorganisation and by rotating the portfolio to higher growth categories," it added.
Unilever and GSK both have subsidiaries in Nigeria and are also listed on the local stock exchange.
Business Post reports that on Wednesday, shares of Unilever Nigeria closed flat N13.20, while GSK rose by 0.84 per cent to N6.00 from N5.95.
Airtel Africa, Others Lift NGX All-Share Index Above 45,000 Points
By Dipo Olowookere
The Nigerian Exchange (NGX) Limited appreciated by 1.73 per cent on Wednesday amid interest in some blue-chips equities trading on the platform, including Airtel Africa.
The stock price of the telco rose by the maximum 10.00 per cent at the midweek session to close at N1,155.50 and was trailed by Cornerstone Insurance, which gained 6.00 per cent to trade at 53 kobo.
Courtville appreciated by 5.26 per cent to quote at 40 kobo, Union Bank rose by 4.46 per cent to N5.85, while Seplat improved by 4.36 per cent to sell for N720.10.
On the flip side, FTN Cocoa topped the losers' chart yesterday with a price depreciation of 7.69 per cent to trade at 36 kobo, Consolidated Hallmark Insurance lost 7.25 per cent to close at 64 kobo, Regency Assurance fell by 6.67 per cent to 42 kobo, Japaul depreciated by 4.76 per cent to 40 kobo, while Jaiz Bank went down by 4.55 per cent to 63 kobo.
At the close of business, a total of 16 stocks appreciated in price while 17 stocks depreciated in price, indicating a negative market breadth and a weak investor sentiment.
Business Post reports that only the consumer goods sector ended bearish as it dropped 0.02 per cent as the industrial goods sector closed flat, with the energy, insurance and banking counters appreciating by 2.21 per cent, 0.59 per cent and 0.50 per cent respectively.
When the closing gong was beaten by 2:30 pm yesterday, the All-Share Index (ASI) rose by 774.25 points to 45,430.14 points from 44,655.89 points, while the market capitalisation expanded by N417 billion to N24.477 trillion from N24.060 trillion.
It was observed that the activity level improved on Wednesday as investors traded 252.9 million stocks valued at N8.9 billion in 4,218 deals as against the 235.2 million stocks valued at N1.9 billion transacted on Tuesday in 4,151 deals, indicating an increase in the trading volume, value and number of deals by 7.53 per cent, 365.28 per cent and 1.61 per cent respectively.
GTCO emerged as the most active stock of the session with a turnover of 25.5 million units valued at N649.4 million, followed by Dangote Cement, which commenced its share buy-back scheme during the session with the sale of 24.5 million units worth N6.5 billion.
FBN Holdings traded 23.1 million shares for N277.2 million, Fidelity Bank exchanged 21.1 million equities worth N57.2 million, while FCMB exchanged 12.9 million stocks for N38.8 million.
Latest News on Business Post