Market Data Vital to Stock Market Investors—Experts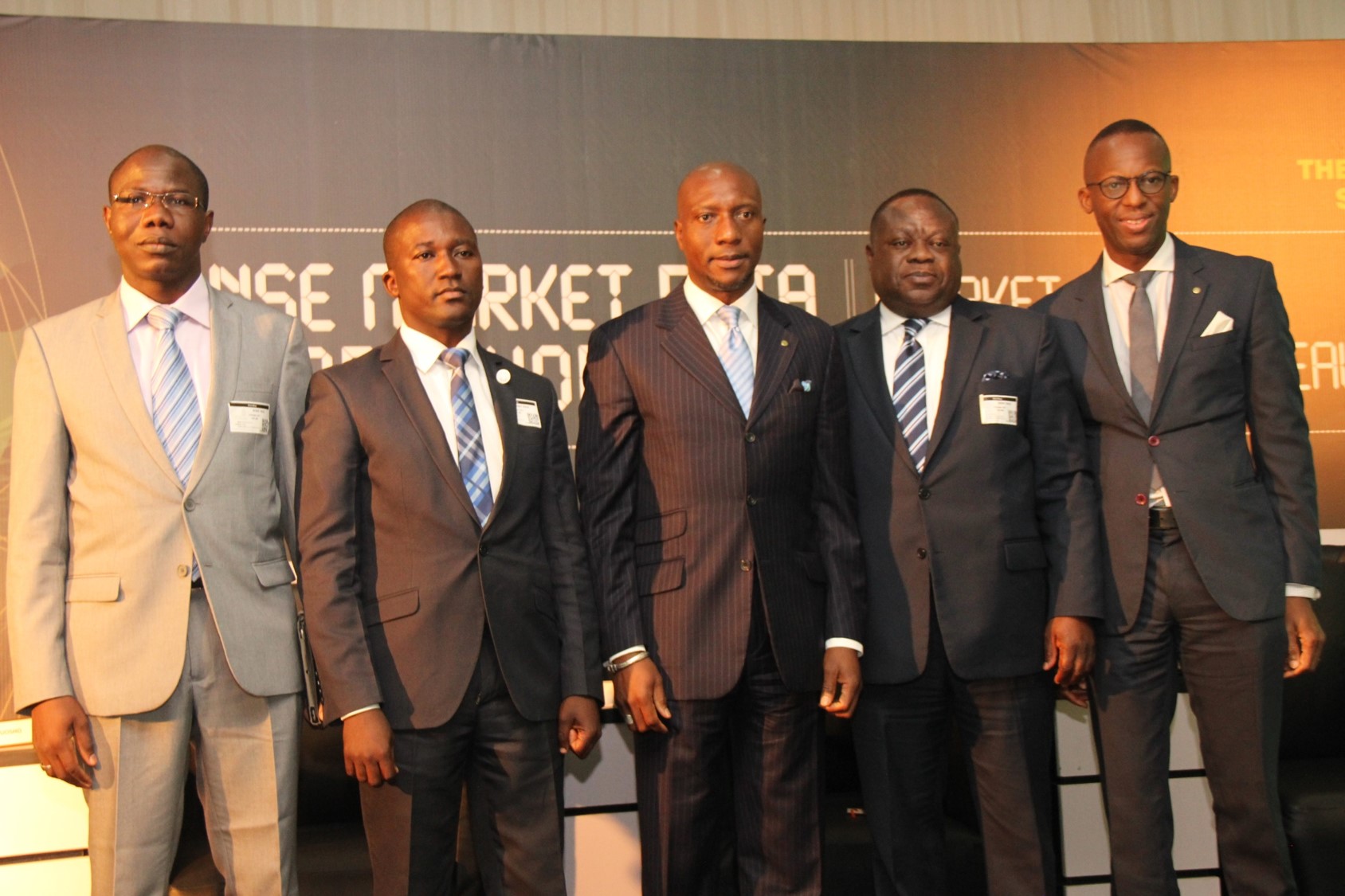 By Dipo Olowookere
Stock market investors have been advised not to joke with market data if they hope to succeed in the capital market.
Speakers at the 2nd edition of the Market Data Workshop organised by the Nigerian Stock Exchange (NSE) on Wednesday, October 4, 2017 at the Civic Centre, Lagos, noted that adequate knowledge of the market data helps investors in making sound investment decisions.
At the event themed 'Market Data: The Bedrock of Wealth Creation,' the chief executive of the NSE, Mr Oscar Onyema, noted that the NSE Market Data workshop was designed to provide participants with more insights into the importance of market data in making robust and informed investment decisions.
"Market Data, the by-product of activities on the platform of the Exchange, remains a key ingredient for investment endeavours.
"We are leveraging this workshop to intimate investors of our new data products that will complement our existing list of non-display products, which cut across real time, reference and thematic datasets," he said.
According to him, "Market events of yesterday are written in Market Data, just as a book​ is written for its readers. So, if it is true that readers are leaders, then it is safe to conjecture that the investors who read Market Data would eventually lead the market, that is, emerge profitable."
On his part, the keynote speaker, the CEO of Financial Derivatives, Mr Bismark Rewane, noted that market data is vital to real-time trading and described Nigeria as an economy evolving into a perfect market. In his opinion, the crash and the loss of value, live and assets were driven by people making decisions on fictitious data.
"Wonder banks, MMM and other investment schemes have all been possible due to lack of frequency of data," he said.
Delivering his presentation titled 'The Market Game Changers: Market Data, Mobile Trading, Algo Trading, Machine Learning,' the Executive Director, Market Operations and Technology, NSE, Mr Ade Bajomo, stated that "timely access to market intelligence and swift trade execution remains key to wealth creation."
Some of the other speakers included Euvin Naidoo, Head of Financial Institutions for Africa, Thomson Reuters, who made a presentation on 'Extending Market Horizon through FinTech' and Mrs Omoleye Alake, Team Lead, Market Data, NSE who spoke on 'Understanding Market Data Contracts.'
Both agreed that market data was very important to investors in the capital market because it would help them make the right decisions.
The workshop also featured three panel sessions on 'Leveraging Market Data to drive high-end returns', 'How Exchanges across Africa can come together for a viable market data business' and 'The role of media in Market Data.'
This year's workshop brought together more than 40​0 in-person attendees, and 21 speakers and panel discussants, for rich discussions in topics ranging from leveraging market data to drive high end returns, to extending market horizon through FinTech.
In addition, about 401,425 people joined the workshop on Twitter via the hash tag #NSEMDW2017 which was one of the trending topics in Nigeria with over 3.4million impressions.
NNPC'll Earn More Revenue—Kyari
By Adedapo Adesanya
The Nigerian National Petroleum Company Limited (NNPC) is set to earn more revenue for the country as the federal government has positioned it to become the most capitalised company in Africa, says the Chief Executive Officer (CEO) of the company, Mr Mele Kyari.
This will happen as the central government has commenced full implementation of the Petroleum Industry Act (PIA) in earnest.
Mr Kyari made this assertion while addressing staff in a town hall meeting at the weekend said the PIA had put "all money-making options on the table; it is up to us to take advantage of it".
Highlighting the significance of the PIA to the NNPC and by extension the Nigerian economy, Mr Kyari said the new legislation has raised shareholders' expectations on the company, even as it has given it wide room to make progress.
He said as a result of the new legislation, NNPC Limited would not only shed some of its toxic liabilities but will be the largest and most capitalised company in the whole of Africa and, potentially, the most profitable on the entire continent.
The CEO charged employees of the organisation to ensure that the company becomes a commercially viable entity and a multi-billion-dollar company that will continuously deliver value to its shareholders–the over two hundred million Nigerians.
Business Post had reported that President Muhammadu Buhari recently instituted the board of NNPC Limited led by Mrs Margery Chuba Okadigbo, Chairman, Mr Mele Kolo Kyari, Chief Executive Officer, Mr Umar I. Ajiya, Chief Financial Officer, Mr Tajudeen Umar (North East), Mrs Lami O. Ahmed (North Central), Mallam Mohammed Lawal (North West), Mr Henry Obih (South East), Barrister Constance Harry Marshal (South-South), and Mr Pius Akinyelure (South West).
Others included Mr Nasir Sani Gwarzo, Permanent Secretary, Ministry of Petroleum Resources and Mr Aliyu Ahmed, Permanent Secretary, Minister, Finance, Budget and National Planning.
The President charged the board members to enforce the reforms put forward by the Petroleum Industry Act (PIA) 2021, which seeks to reposition the Nigerian petroleum industry to a commercially viable and competitive industry in line with global business dynamics and best practices.
"The Nigerian National Petroleum Company Limited is mandated to focus on profitability and continuous value creation beyond the simple fulfilment of legal and regulatory requirements.
"NNPC Limited is expected to operate at par with its industry peers across the world while acting as Enabler Company that will foster the development of other sectors of our economy," he said.
Gains in NDEP, Nipco Push NASD Exchange 0.25% Higher
By Adedapo Adesanya
The week ended in the positive territory on the floor of the NASD Over-the-Counter (OTC) Securities Exchange following a 0.25 per cent rise on Friday, January 14.
The favourable outcome came on the back of gains recorded by the duo of Niger Delta Exploration and Production (NDEP) Plc and Nipco Plc.
NDEP Plc appreciated by N2.5 or 1.1 per cent during the session to close at N238.00 per unit as against N235.50 per unit it finished at the preceding session, while Nipco Plc improved by N6 or 8.7 per cent to close at N69.00 per unit compared with N63.00 per unit it closed at the previous session.
As a result of the good performances put up by the two stocks, the NASD unlisted security index (NSI) moved up by 1.86 points to 750.02 points from 748.16 points, while market capitalisation gained N1.58 billion to wrap the day at N635.10 billion in contrast to N633.52 billion it closed on Thursday.
There was no price loser during the trading day, through the trading volume slid by 36.9 per cent as a total of 207,618 units of shares exchanged hands compared with 329,347 units transacted on Thursday.
But the trading value rose by 15.6 per cent to N10.7 million from the previous day's value of N9.3 million, while the number of deals depreciated by 36.4 per cent as only seven deals were carried out compared to the 11 deals executed at the previous session.
Central Securities Clearing Systems (CSCS) Plc remained as the most active stock by volume (year-to-date) as it has traded 1.02 million units of its shares for N19.9 million. Friesland Campina WAMCO Nigeria Plc was in second place for transacting 40,804 units of its stocks valued at N4.8 million, while NDEP Plc was in third place with 28,289 units valued at N6.7 million.
Also, CSCS Plc ended the session as the most traded stock by value with a turnover of 1.0 million units exchanged at N19.9 million, NDEP Plc trailed with 28,289 units worth N6.7 million, while Friesland Campina WAMCO Nigeria Plc has exchanged 40,804 units worth for N4.8 million.
28.7% Drop in I&E Turnover Strengthens Naira to N416.00/$1
By Adedapo Adesanya
The Naira closed the week stronger against the US Dollar at the Investors and Exporters (I&E) segment of the foreign exchange (forex) market on Friday, January 14.
At the I&E window, the local currency appreciated by 0.06 per cent or 50 kobo to trade at N416.00/$1 as against N416.50/$1 it closed on Thursday.
The strengthening of the local currency happened on the back of a 28.7 per cent or $49.59 million fall in turnover at the market segment as data obtained by Business Post from the FMDQ Securities Exchange showed that transactions worth $123.4 million were carried out compared with the $172.99 million recorded at the previous session.
However, at the interbank window of the market, the Naira recorded a flat outcome against the United States Dollar, closing at N414.79/$1, the same rate of the preceding day.
In the same vein, the domestic currency closed flat against the Pound Sterling on Friday at N565.57/£1 and against the Euro, the exchange rate of the indigenous currency remained intact at N475.22/€1.
Meanwhile, at the cryptocurrency market, six of the 10 digital currencies tracked by the newspaper across several trading platforms appreciated in value.
The highest gainer was Cardano (ADA) as it moved higher by 7.4 per cent to trade at N783.58, Tron (TRX) made a 3.8 per cent gain to sell at N40.46, Litecoin (LTC) improved by 3.5 per cent to trade at N82,485.74, Ripple (XRP) appreciated by 1.8 per cent to sell at N450, Binance Coin (BNB) rose by 0.7 per cent to trade at N205,719.75, while Dogecoin (DOGE) grew by 0.2 per cent to trade at N105.12.
However, Dash (DASH) went down by 1.6 per cent to sell for N80,050.10, Ethereum (ETH) depreciated by 0.5 per cent to sell at N1,896,100.03, the United States Dollar Tether moved down by 0.3 per cent to trade at N783.58, while Bitcoin (BTC) declined by 0.2 per cent to quote at N24,576,842.26.
Latest News on Business Post