Methods of Trading Bitcoin like a Pro
Read this article to learn how to trade Bitcoin like a Pro. Know more about mining, investing without holding and other helpful info.
Smart Ways to Trade Bitcoin
Bitcoin started a rollercoaster of ups and downs in the last few months. Once it got down, the crypto world was flooded with small prices and huge losses that affected millions of investors. So, which are the smartest ways to trade Bitcoin, and how does it work?
Understanding How Blockchain Work
Before starting to invest in Bitcoin, traders should know what blockchain is, and how it works. It is a decentralized system distributed across a network infrastructure that consists of blockchains used to store and transfer information in a way that assures the immutability of data.
Not to say that the blockchain is not controlled by a specific institution but only by its members. The users that compile the info into cryptographic data sets and make a new block will receive a small compensation when mining cryptocurrencies like Bitcoin. This can be a fraction of a Bitcoin or one or more coins, depending on how much an individual can mine.
Investing Without Holding Bitcoin
Investing money in companies that hold cryptocurrencies like Bitcoin is a smart move. As the price of this coin has been volatile for the last 3 months, investors have barely made a profit. Also, most of them don't know the future of cryptocurrency and some may be afraid to invest in this period. To minimize losses, buyers can take a closer look at stocks that accept Bitcoin as a payment method. The most popular 5 stocks that meet this criterion are Silvergate, Mogo, Coinbase, PayPal, and Square INC.
Another way to invest without holding is putting money into a related Bitcoin Fund like Grayscale Bitcoin Trust. This fund will make investors' jobs easier as it doesn't require a crypto wallet to make transactions. Therefore, traders have the option to buy Bitcoin easier but this does come with a 2% tax.
Now that you understand how blockchain works, how to invest without holding, there is one more thing to know about Bitcoin, and that's how versatile and useful it could be for lots of niches. For instance, you would be surprised to find out that South African gambling websites use cryptocurrencies as a payment method. To find the best ones, there are comparison sites that inform which bitcoin casinos are safe, secure, and legal. They are specialists who analyze everything you'll need to know from bonuses, transfers, and security criteria. Who knew?
Mining Bitcoin
For those who don't know, the region of the Caucasus is a hotspot for miners as it comes with regulatory freedom and cheap operations. These two elements are the main attractor for people who are not only mining Bitcoin but other cryptocurrencies too. But not all investors can move abroad and mine in a more favourable context. Starting this crypto activity implies costs, time, and patience.
It is much safer to mine than to buy Bitcoin. Beginners can start to learn how to do that at home, with their PC or smartphone, but they won't earn a fortune. Moreover, those who want to see higher returns, have to build a customized computer with a powerful GPU, and power supply units. An affordable setup could reach up to $1,500 or more.
Buying Fractions of Bitcoin
Traders can buy a fraction of a Bitcoin if they don't want to acquire it at full price. Even 1 satoshi (0.0000001 BTC) is enough to have it stored in a crypto wallet. Although the market is unpredictable, lots of people believe in Bitcoin and other cryptocurrencies and invest regularly.
Beginners should know that they don't need fortunes to start and invest, even $10.00 can purchase a part of Bitcoin. Once traders think about a budget, all they need to do next is to find a wallet to store their assets. Some of the best ones you can find on the market right now are MetaMask, Coinbase, or Robinhood.
Investing in Bitcoin isn't too hard for those who take a moment to find the right way to do it. From buying fractions to mining or investing in stocks that accept Bitcoin, there are lots of methods to choose from. The market has lots of apps to download for free and even PRO versions to trade with carrying no extra costs. As a final piece of advice, make sure to choose a wallet that boosts security, safety and comes with updated prices of Bitcoin before starting to trade.
Nigerian Breweries Lists Additional Shares on Stock Exchange
By Dipo Olowookere
The Nigerian Exchange (NGX) Limited has admitted additional shares of Nigerian Breweries Plc on its trading platform, a notice from the exchange has confirmed.
The new stocks were issued to shareholders of the brewery giant as part of their dividend payment. They are those who opted to exchange their cash payment for shares of the firm.
According to the disclosure from the NGX on Monday, Nigerian Breweries listed a total of 78,929,849 ordinary shares of 50 kobo on the platform, increasing its total issued and fully paid-up equities to 8,075,831,900 ordinary shares from 7,996,902,051 ordinary shares.
"Additional 78,929,849 ordinary shares of 50 kobo each of Nigerian Breweries Plc were today, Monday, January 24, 2022, listed on the daily official list of the Nigerian Exchange Limited.
"The additional shares listed on NGX arose from Nigerian Breweries scrip dividend election scheme.
"With this listing of the additional 78,929,849 ordinary shares, the total issued and fully paid-up shares of Nigerian Breweries Plc has now increased from 7,996,902,051 to 8,075,831,900 ordinary shares of 50 kobo each," the statement noted.
Shares of Nigerian Breweries depreciated by 1.46 per cent or 70 kobo today at the stock exchange to close at N47.30, according to data obtained by Business Post.
FG Suspends Fuel Subsidy Removal, to Amend 2022 Budget
By Modupe Gbadeyanka
The federal government has suspended fuel subsidy removal, which was earlier meant to be from July 1, 2022, and will now amend the 2022 Appropriation Act to accommodate the new change.
This action followed the pressure mounted by the Nigeria Labour Congress (NLC), which threatened to embark on a nationwide protest from January 27, 2022.
In the 2022 budget signed into law by President Muhammadu Buhari last month, the provision of petrol subsidy was till June 30, but the labour said fuel subsidy removal at this period of high inflation would be resisted.
On Monday, January 24, 2022, the Minister of Finance, Budget and National Planning, Ms Zainab Ahmed, was at the National Assembly for a meeting with lawmakers.
She explained that due to ongoing consultations, it was agreed that the planned removal of fuel subsidy should be shelved for now.
"Provision was made in the 2022 budget for subsidy payment from January till June. That suggested that from July, there would be no subsidy.
"The provision was made sequel to the passage of the Petroleum Industry Act which indicated that all petroleum products would be deregulated.
"Sequel to the passage of the PIA, we went back to amend the fiscal framework to incorporate the subsidy removal.
"However, after the budget was passed, we had consultations with a number of stakeholders and it became clear that the timing was problematic.
"We discovered that practically, there is still heightened inflation and that the removal of subsidy would further worsen the situation and impose more difficulties on the citizenry.
"Mr President does not want to do that. What we are now doing is to continue with the ongoing discussions and consultations in terms of putting in place a number of measures.
"One of these includes the rollout of the refining capacities of the existing refineries and the new ones which would reduce the amount of products that would be imported into the country.
"We, therefore, need to return to the National Assembly to now amend the budget and make additional provision for the subsidy from July 22 to whatever period that we agreed was suitable for the commencement of the total removal," the Minister informed the lawmakers.
The Senate President, Mr Ahmad Lawan, who conveyed the meeting, commended the federal government for the bold step, urging the labour unions to suspend their action.
Also present at the gathering were the Minister of State for Petroleum Resources, Mr Timipre Sylva; the Group Managing Director of the Nigerian National Petroleum Company (NNPC) Limited, Mr Mele Kyari; among others.
Stanbic IBTC Finances Ardova LPG Storage Terminal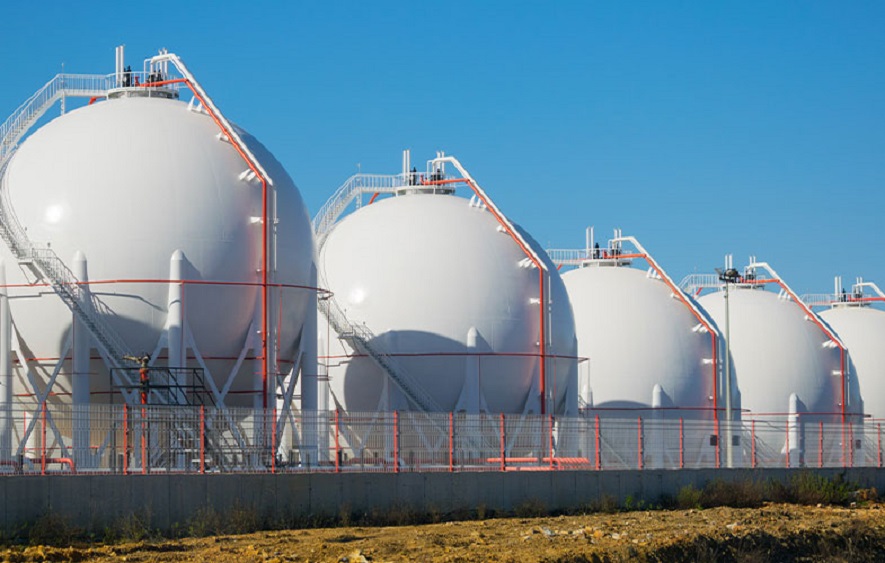 By Aduragbemi Omiyale
The 20,000 metric tonnes Liquefied Petroleum Gas (LPG) storage terminal being constructed in Ijora, Lagos, by AP LPG terminal, a fully owned subsidiary of Ardova Plc, is being financed by the Stanbic IBTC Infrastructure Fund, Business Post has learned.
In August 2021, Stanbic IBTC closed the first tranche of its N100 billion Stanbic IBTC Infrastructure Fund aimed to support the funding of critical projects in the country with competitive return profiles, sustainable environmental practices, and the potential to positively impact the economy.
Ardova, one of the leading players in the energy sector in Nigeria, keyed into the initiative and on Wednesday, January 19, 2022, the firm performed the groundbreaking ceremony for the construction of the LPG storage terminal, which is expected to be completed in December 2022.
Upon completion, the project will be the largest LPG storage facility in the nation and will ease some of the existing bottlenecks in the value chain for the supply of cleaner and more efficient energy for domestic use (cooking gas) in Nigeria, amongst other strategic benefits.
Speaking at the event, the Group Chief Executive Officer of Ardova, Mr Olumide Adeosun, commended Stanbic IBTC for its commitment to the project, noting that the importance of having formidable partners for project development, planning, execution, and investment support cannot be overemphasised.
"We are pleased to have the support of the Stanbic IBTC Infrastructure Fund for its pioneering role in a transformational project within the LPG value chain, which will undoubtedly accelerate the various energy transition initiatives currently underway at Ardova Plc.
"This support has helped us commence construction of this 20,000 metric tonne LPG storage terminal, which is expected to bring efficiency and reliability of LPG supply to Nigerian consumers as well as create long term value for our shareholders; and for this, we are thankful," he said.
Mr Adeosun further that, "Beyond the cleaner energy premise, approximately 600 direct jobs will be created during the construction of the project and there is a multiplier effect of about additional 1,400 indirect jobs that will be created during the construction period after which it settles to about 250-300 jobs once the project becomes operational."
On his part, the CEO of Stanbic IBTC Asset Management, Mr Oladele Sotubo, noted that, "Across the globe, cleaner energy investments have continued to be the focus."
"Given the environmental sustainability benefits of this project, Stanbic IBTC Infrastructure Fund's investment philosophy is properly aligned, hence the support for the 20,000 metric tonne LPG storage facility terminal," he added.
Mr Sotubo applauded Ardova for partnering with Stanbic IBTC Infrastructure Fund and used the opportunity to also commend all the Tranche 1 investors, including institutional investors such as Trustfund Pensions, Veritas Glanvills Pensions, NPF Pensions, Fidelity Pensions, Crusader Sterling Pensions, Agip CPFA, Progress Trust CPFA, AIICO Insurance, and other High Networth Individuals (HNIs), for the confidence reposed in the fund.
He pointed out the impact their investment is making in terms of solving some of Nigeria's infrastructure bottlenecks, creating jobs while earning returns. "As an organisation, we remain committed to bridging Nigeria's infrastructure deficit through the provision of investment capital needed to develop projects", he added".
The Stanbic IBTC Asset Management Chief Executive highlighted that the Stanbic IBTC Infrastructure Fund remains dedicated to meeting the investment needs of its clients, providing them with the right investment vehicles, opportunities and professional investment services needed to achieve their financial objectives.
He urged institutional investors such as pension fund administrators, insurance companies and asset managers to explore the unique opportunities of the Stanbic IBTC Infrastructure Fund in meeting their long-term financial goals.
Latest News on Business Post