Mushe (XMU), Crypto.com and the Challenge to Put Cryptocurrency in Every Wallet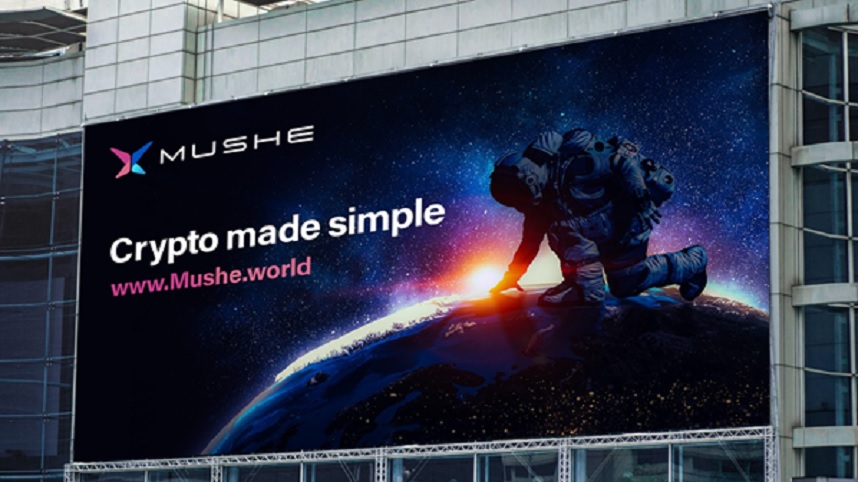 The cryptocurrency landscape is evolving and the next logical step is to get it in every wallet and on every smartphone. Mushe (XMU) and Crypto.com are leading the charge.
The face of cryptocurrency has changed dramatically since the launch of Bitcoin in 2009, and the growth has accelerated to breakneck speeds over the past five years in particular as more and more investors join the revolution. In fact, the number of people using cryptocurrencies surpassed 100 million in 2021 to confirm that the industry is currently enjoying a watershed moment.
While the success of several platforms and crypto tokens proves that cryptocurrency is set to enjoy a sustained future spearheaded by continued growth. However, the sector still faces several challenges – not least in relation to getting tokens into every wallet. Mushe is one of the crypto companies currently leading the charge as its ambitious creators have set a goal of reaching every digital wallet and smartphone.
Despite not officially launching until July 4, Mushe (XMU) has now opened its pre-sale phase and has already seen great success. The XMU crypto token's price grew from $0.005 to $0.009 within the opening 48 hours, with buyers investing in over 3.3 million tokens during that time.
In addition to the XMU token, the Mushe World includes several key features, including a simplified MusheWallet for storing crypto coins and MusheVerse for using all products within the decentralized platform. When combined with backing from Lattice and Constellation, as well as MetaVerse banking for buying, selling, and trading all assets, it's not hard to see why many experts predict that it can overtake LBLOCK to become the hottest digital token release of 2022.
Mushe creators have already set out their roadmap. While the concept is somewhat reminiscent of Crypto.com's plans with Cronos (CRO), Mushe is also launching MusheSwap to facilitate the exchange of cryptocurrencies across multiple blockchains. This will bring a level of accessibility that has not been seen before, which could help Mushe get XMU in every digital wallet. Like MetaMask for CRO, the MetaVerse is designed with optimal security in mind.
With 83% of the world's population now owning smartphones, securing a place in every digital wallet and on every device could see the dawn of a new era for cryptocurrencies. XMU, CRO, and other pioneers may reap the biggest rewards. Mushe (XMU) is particularly appealing to those who want to take advantage of the low transaction fees and faster processing speed, allowing cheaper and faster transactions than its competitors.
The demand from investors for accessibility and convenience has been a hot topic among commentators in recent times. Prateek Arora of Business2Community explains that low fees and a larger selection of crypto tokens mean that a "veteran in the crypto space can go for Crypto.com over Coinbase" and other popular platforms. As for XMU, the few barriers to entry and the easy access to the token make it extremely appealing to crypto enthusiasts who enjoy privacy and those who are unbanked
As the average crypto investor now wants to build a more diverse portfolio than ever before, the ability to store and trade multiple coins in their wallets will be key. Similarly, getting tokens into multiple wallets will be the catalyst for tapping into the growing audience. As XMU and CRO break down the barriers to hit every device and wallet, it can be anticipated that many others will follow suit. In turn, the universal nature of trading digital coins will finally reflect the situation with physical coins – only with the many benefits of digital tokens thrown in too.
Investors looking to invest in XMU with a view to opening their MusheWallet will want to act before July 4 before the token price ascends any further.
Learn more about Mushe (XMU)
Official Website: https://www.mushe.world/
Presale Registration : https://portal.mushe.world/sign-up
Telegram: https://t.me/MusheWorldXMU
Twitter: https://twitter.com/Mushe_World
Instagram: https://www.instagram.com/mushe_world/
Dollar Shortages Strike Again…Nigeria Indexes in Crosshairs
By Lukman Otunuga
Despite oil prices surging to multi-year highs, Nigeria has failed to cash in.
The destructive combination of sub-optimal oil production, poor infrastructure, and fuel subsidies have drained oil revenues that account for roughly 90% of foreign exchange earnings.
Lower oil revenues and falling foreign exchange reserves are forcing Nigeria to ration dollars. The negative impacts continue to be reflected across the economy and local currency. But now the dollar shortages have attracted the attention of MSCI Inc. which is considering downgrading the MSCI Nigeria indexes to the status of a standalone market from frontier markets.
It is worth keeping in mind that a developed market is the highest ranking, followed by emerging markets, frontier markets, and then finally standalone markets at the bottom.
Given the difficulty in repatriating funds from Nigeria, this has placed the MSCI Nigeria Indexes in the crosshairs. Such a negative development may hit sentiment toward the county's assets at a crucial period where economic growth remains fragile.
To add insult to injury, the NGX All Share Index has gained roughly 20% this year in local currency terms. A blockbuster performance when compared to the MSCI Emerging market Index which is down roughly -19%.
In other news, the Naira was trading around N419 versus the dollar on the official spot rate and has weakened only 1.3% year-to-date. However, on the Peer-to-Peer (P2P) segment of the FX, the Naira ended Thursday at N620 versus the dollar and N602 on the black market. Nigeria still faces the issue of multiple exchanges but this will be a discussion for another time.
Lukman Otunuga is a Senior Research Analyst at FXTM
Binance, Cristiano Ronaldo to Release Exclusive NFTs
By Adedapo Adesanya
Binance, the world's leading blockchain ecosystem and cryptocurrency infrastructure provider, has announced the signing of an exclusive and multi-year NFT partnership with football icon, Cristiano Ronaldo.
Through this partnership, Binance will launch a global campaign aiming to give Ronaldo's fans an introduction to Web3 with a compelling entry point into the world of NFTs.
The company disclosed that over the course of the agreement, Cristiano Ronaldo and Binance will create a series of collections for sale exclusively on the Binance NFT platform.
The first collection of the exclusive NFTs will be released later this year and will feature designs created in collaboration with Ronaldo.
Speaking on the deal, Binance founder and Chief Executive Officer, Mr Changpeng "CZ" Zhao said, "Cristiano Ronaldo is one of the world's best footballers, and has transcended sport to become an icon in multiple industries.
"He has amassed one of the world's most dedicated fan bases through his authenticity, talent, and charity work."
"We are thrilled to provide his fans with exclusive engagement opportunities to connect with Ronaldo and own a piece of iconic sports history," he added.
"My relationship with the fans is very important to me, so the idea of bringing unprecedented experiences and access through this NFT platform is something that I wanted to be a part of," said Ronaldo.
"I know the fans are going to enjoy the collection as much as I do."
The Cristiano Ronaldo NFT collections will be available exclusively on Binance NFT at www.Binance.com/en/nft/home.
Binance is the world's leading blockchain ecosystem and cryptocurrency infrastructure provider with a financial product suite that includes the largest digital asset exchange by volume.
The Binance platform is dedicated to increasing the freedom of money for users, and features an unmatched portfolio of crypto products and offerings, including trading and finance, education, data and research, social good, investment and incubation, decentralization and infrastructure solutions, and more.
Cellulant Wins Payment Platform Solutions Provider of the Year 
By Adedapo Adesanya
Cellulant, Africa's leading payments company, has been awarded the Payment Platform Solutions Provider of the Year in Nigeria at the 13th Beacon of ICT Awards 2022.
This award is a recognition of Cellulant's work in providing a payments platform that focuses on driving merchant business and digital payments for local, regional and global merchants in the continent.
It was also lauded for digitising both online and offline payments.
The award was presented to Cellulant Nigeria by Communication Week Media Limited, the publishers of Nigeria Communications Week.
The annual event, which recognises leading players in the ICT sector in Nigeria whose outstanding achievements contribute to the industry's growth, was themed Impact of Blockchain Technology in a Digitalized Nigeria. 
Renowned businesses such as Emirates, GIG logistics, Coldstone, Bolt, Dominos and Ethiopian Airlines to name a few, have partnered with Cellulant to use their Tingg digital payments solution as a single collection gateway in Nigeria.
Cellulant simplified their product, unifying their offering into Tingg — a digital payments platform that addresses the complex needs of managing different payment channels for a business.
This has made it easy for businesses to conveniently and affordably accept payments from a single integration.
Customers can make payments for goods and services using locally relevant payment options.
Founded in 2003, Cellulant has more than 18 years of experience providing locally-relevant payment solutions for businesses and their consumers. Its evolution over the years, from a digital content business to mobile banking and now to payments, has allowed the company to build an expansive network, strong relationships and partnerships.
Cellulant provides a unified, single-contract, and single API payments platform – named Tingg- that makes it easy for businesses to receive and make payments; while allowing anyone to pay from their mobile money, local and international cards or directly from their bank.
Today, Cellulant has an office presence in 18 countries, including Nigeria, with a payments platform connecting thousands of businesses with 257 payment options across 35 countries. The platform powers payments for 200 million consumers on a single inclusive network for interoperability across Africa.
Speaking on the recognition, Mr Opeyemi Fowler, Cellulant's Head of Enterprise Sales stated "the digital payments landscape in Nigeria and Africa is evolving rapidly with differing payment channels such as card, mobile money, bank transfer and cash – with volatile currency fluctuations and no single settlement framework.
"This is creating a highly fragmented landscape for businesses whose customers increasingly request to pay for their purchases using digital payment options. Every day, our job at Cellulant is to work with our customers and partners to solve this fragmentation in payments."
"This award is a testament to our work in providing a payments platform that is transforming the way people do business in Nigeria and beyond; and a reflection of the hard work done by our people."
Latest News on Business Post