Mushe (XMU) Holds Strong, Terra (LUNA) Continues to Struggle
The crypto arena may be on unstable ground, with the likes of LUNA and BTC struggling, but it could yield great returns for XMU holders.
It's safe to say that May has been a difficult month for millions of crypto investors around the globe. One look at the current state of play in the cryptocurrency landscape will show that a lot of digital tokens are seeing red. In the worst cases, like Terra LUNA, over 99% of its value has been lost within a matter of days. Yet, despite the widespread problems, some coins like Mushe (XMU) now look even stronger than ever.
Mushe (XMU) stands firm while others crash and burn
The current crypto crash is unlike anything ever witnessed in the 13 years of trading digital coins, and it's not only LUNA that has seen its value plummet. Bitcoin (BTC), Ethereum (ETH), Ripple (XRP) are just three of the big players to see a major slump over the past week. Yet, XMU continues to see growth in its pre-launch phase, rallying from 0.005 to 0.027 per token.
In fact, with over 53 million – and rising – tokens already sold before going public on July 4, experts still predict that Mushe can take on Lucky Block (LBLOCK) to enjoy the biggest launch of any digital coin in 2022. Tokens stemmed from Layer_0 blockchain infrastructure have performed well in the first few months of this year, while many of the best altcoins over the past five years have enjoyed healthy growth in their first 12 months.
XMU has long been touted as one to watch in Q3 and Q4 of 2022. It has been suggested that buying the dip might not be a great strategy, with Oleg Giberstein warning, per Forbes: "Many a novice investor has been burned trying to 'catch falling knives'. Despite the anticipation that the slump will last, the market should begin to correct itself and rally by July, which may leave XMU as one of the prime candidates to keep growing.
Ultimately, the Mushe roadmap has not been disrupted by the industry's current problems, thus enabling it to stay firm in the face of a crash.
Major damage to Terra (LUNA) investors
While XMU is aiming to reach every digital wallet, investors of LUNA and other decimated tokens are cutting losses in their millions. Widespread stories of lost life savings have dominated column inches in recent days, while millions of investors have seen their portfolios become far less valuable as a direct result of the situation.
Meanwhile, the fact that the TerraUSD (UST) digital coin has lost its $1 peg is telling. The stablecoin has been linked to the USD but has been hit hard over the past week, resulting in suspended withdrawals from several trading platforms. Similar situations have been seen in relation to other struggling digital assets.
The episode has underlined how volatile the crypto landscape can be and how quickly the top 10 biggest crypto tokens can change. Just as quickly as they can slump, though, digital assets can soar. Mushe (XMU) has cemented its place as one of the most relevant coins during the crash investors can embrace the presale with immediate results.
Learn more about Mushe (XMU)
Official Website: https://www.mushe.world/
Presale Registration: https://portal.mushe.world/sign-up
Telegram: https://t.me/MusheWorldXMU
Twitter: https://twitter.com/Mushe_World
Instagram: https://www.instagram.com/mushe_world/
FrieslandCampina Boosts NASD OTC Bourse by 0.08% at Midweek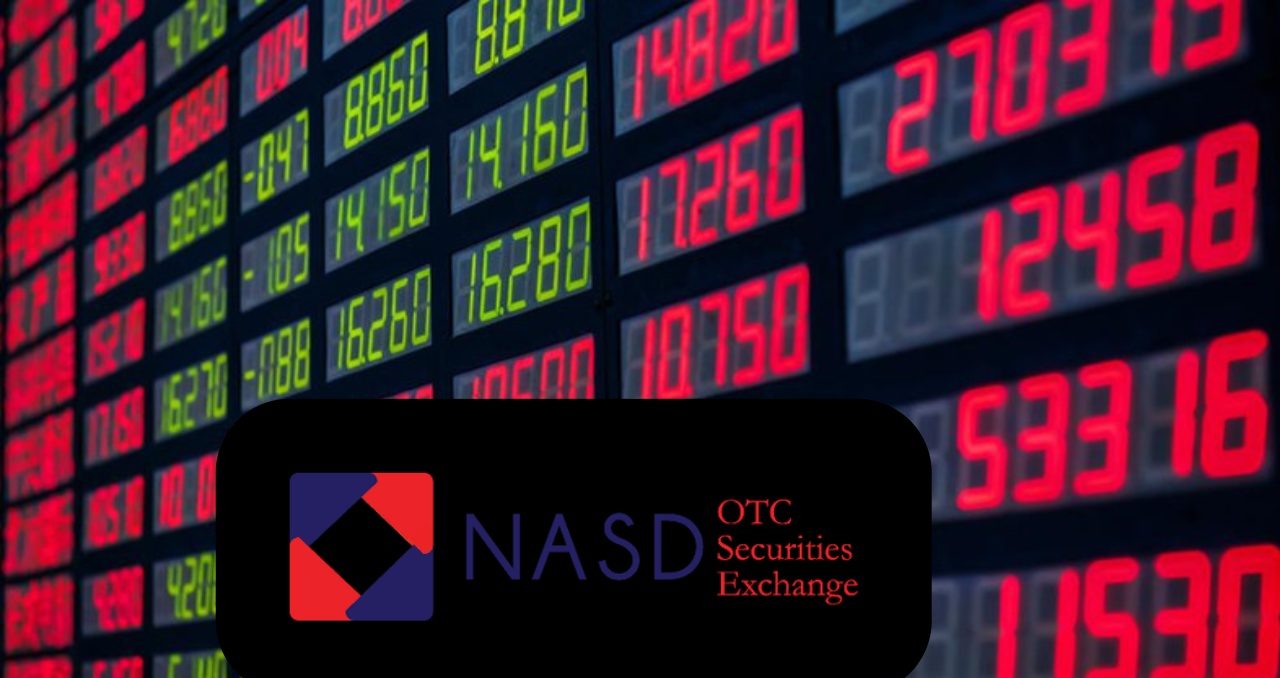 By Adedapo Adesanya
The NASD Over-the-Counter (OTC) Securities Exchange closed in the positive zone by 0.08 per cent on Wednesday, June 29 driven by a bullish price movement from FrieslandCampina WAMCO Nigeria Plc.
The milk-producing company appreciated during the midweek session by 99 Kobo or 1.03 per cent to settle at N96.79 per share compared with the previous closing price of N95.80 per share.
The NASD OTC bourse recorded a price loser and it was Niger Delta Exploration and Production (NDEP) Plc, which depreciated by N6.21 or 3.14 per cent to N191.79 per unit from N198.00 per unit.
But the gains printed by FrieslandCampina offset the losses reported by NDEP as the market capitalisation expanded by N810 million to N1.005 trillion from N1.004 trillion, while the NASD Unlisted Securities Index (NSI) increased by 0.62 points to wrap the session at 763.24 points compared with the 762.62 points recorded in the previous session.
Securities worth N10.1 million were bought and sold by traders at the market on Wednesday compared with the N1.8 million securities transacted a day earlier, indicating an increase of 462.5 per cent.
However, the volume of the securities went down by 18.9 per cent as investors traded only 72,550 units, 18.9 per cent lower than the 89,440 units transacted in the preceding session.
The transactions were carried out in 20 deals as against the 11 deals executed on the bourse on Tuesday, implying a decline of 81.8 per cent rise.
AG Mortgage Plc remained the most traded stock by volume (year-to-date) with 2.3 billion units valued at N1.2 billion, Central Securities Clearing System (CSCS) Plc stood in second place with 674.4 million units worth N14.1 billion, while Food Concepts Plc was in third place with 146.5 million units valued at N127.2 million.
On the flip side, CSCS Plc was the most active stock by value (year-to-date) with 674.4 million units exchanged for N14.1 billion, VFD Group Plc was in second place with 10.9 million units worth N3.2 billion, while FrieslandCampina Plc was in third place with 9.7 million units valued at N1.3 billion.
Crude Oil Drops as Economic Worries Offset Tighter Supply Signals
By Adedapo Adesanya
Prices of crude oil were in red on Wednesday as worries about a weaker global economy offset data showing a weekly drawdown in crude stockpiles, indicating supplies remained tight.
Investors are also worried a slowing economy could dent energy demand as central banks hike interest rates to battle inflation, causing the price of the Brent crude to fall yesterday by 1.75 per cent or $2.06 to $115.90 per barrel, with the United States West Texas Intermediate (WTI) dropping 1.98 per cent or $2.21 to $109.50 a barrel.
US crude inventories fell last week even as production hit its highest level since April 2020 during the first wave of the coronavirus pandemic.
Even comments from the US central bank chief did nothing to quell the fear as prices went down.
The US Federal Reserve Chair, Mr Jerome Powell, announced that the economy would not be allowed to slip into a "higher inflation regime" even if it means raising interest rates to levels that put growth at risk.
The oil market had been propelled in the previous session as concerns over tight supplies due to Western sanctions on Russia outweighed fears that demand may slow in a potential future recession.
Analysts are concerned that Saudi Arabia and the United Arab Emirates (UAE) may not have enough spare capacity to make up for the lost Russian supply.
French President, Mr Emmanuel Macron, said this week he was told these producers will struggle to increase output further.
However, the UAE energy minister said the country, which is producing about 3 million barrels per day, has some spare capacity above its OPEC quota of 3.17 million barrels per day.
The Organisation of the Petroleum Exporting Countries (OPEC) and its allies such as Russia, which form the OPEC+ group, began a series of two-day meetings on Wednesday and will hold its official meeting on Thursday.
There are no indications that there will be changes to the current level of output as was agreed earlier this month.
At its last meeting in early June, OPEC+ sped up production cuts and agreed to raise output each month by 648,000 barrels per day in July and August, up from earlier increases of 432,000 barrels per day.
Naira Plunges to New Low at Spot Market, Trades N610/$1 at Parallel Market
By Adedapo Adesanya
The Naira on Wednesday, June 29 depreciated to its lowest level in the Investors and Exporters (I&E) segment of the foreign exchange (FX) market.
Amid a biting forex crunch, the local currency fell by N3.88 or 0.80 per cent against the US Dollar to close at N424.88/$1 versus the N421.00/$1 it was sold on Tuesday despite a decline in the value of transactions at the spot market.
According to data from the FMDQ Securities Exchange, the turnover for the midweek session was $112.83 million, 45.4 per cent or $93.82 million lower than the turnover of $206.65 million published the day before.
Also, in the parallel market, the domestic currency reported a dismal performance against the greenback as it lost N1 to quote at N610/$1 compared with the previous day's value of N609/$1.
However, the value of the Naira to the Dollar remained unchanged at the Peer-to-Peer market window at N619/$1.
In the interbank segment of the market, the Naira appreciated against the British currency – the Pound Sterling and the Euro.
Against the Pound Sterling, it was strengthened by N3.91 to N505.91/£1 from N509.82/£1 and against the Euro, it gained N1.90 to settle at N437.59/€1 versus N439.49/€1 on Tuesday.
Meanwhile, four of the 10 tokens monitored by Business Post closed in the green territory, with the TerraClassicUSD (USTC) recovering more grounds as it traded higher by 59.9 per cent to $0.0691. Dogecoin (DOGE) rose by 5.4 per cent to trade at $0.0707, Litecoin (LTC) went up by 1.9 per cent to settle at $54.15, while Bitcoin (BTC) added 0.3 per cent to its value to close at $20,315.78.
However, Binance Coin (BNB) recorded a 4.7 per cent fall to sell at $221.44, Ethereum (ETH) depreciated by 3.7 per cent to $1,116.72, Solana (SOL) decreased by 3.6 per cent to $34.68, Ripple (XRP) recorded a 1.9 per cent slide to sell for $0.3329, Cardano (ADA) dropped 0.2 per cent to trade at $0.4722, while the US Dollar Tether (USDT) moved downwards by 0.02 per cent to $0.9989.
Latest News on Business Post