N40b Debt: MRS Oil, AMCON Agree Out-of-Court Settlement
In a bid to settle out of court the debt of N40billion,Asset management Corporation of Nigeria AMCON and MRS Holding limited has filed terms of settlement before a Federal High court in Lagos south west Nigeria.
MRS Oil and Gas Company limited and its subsidiaries are primary obligors under a syndicated loan facility in the sum of $40 million availed to them by a consortium of Nigerian banks pursuant to a bridge facility agreement dated November 18, 2008 and a supplemental bridge facility agreement dated September 18, 2009.
The syndicated loan facility was for the purpose of acquiring Chevron Texaco downstream operations in West Africa.
The security package for the syndicated loan facility included a personal guarantee from the Chairman of MRS Oil and Gas company Mr Sayyu Dantata, as well as a corporate guarantee and indemnity from each of Corlay Global S. A., Ovals Trading S. A. and Societe Nationale D'Operations Petrolieres de Cote D'Ivoire.
The syndicated loan facility was subsequently classified as non-performing loan and acquired by AMCON pursuant to the provisions of the AMCON Act.
In a bid to recover the debt AMCON instituted a suit AMCON versus Petroci and another,. MRS subsequently applied to be joined as a party to the action and filed a counter -claim against Petroci.
In that suit, AMCON and Petroci executed Terms of Settlement on June 16, 2015 in the sum of $90 million, the terms were subsequently entered as the consent judgement on June 29, 2015.
In relation to the proportion of the debt that remains outstanding AMCON commenced suit (winding Up Proceedings) on July 4, 2016 against MRS as the respondent on the ground of MRS inability to pay its debt.
The winding up proceedings seeks an order of the court winding up MRS for being insolvent company.
AMCON also commenced suit number FHC/L/BK/04/2016(the bankruptcy Proceedings against Mr Sayyu Dantata, Chairman of MRS, on the basis of a personal guarantee dated September 17, 2008 to repay the sum of N350 million in the event of a default by MRS to repay the syndicated loan facility.
The parties now agreed to settle fully and finally the dispute concerning the debts
Now it is hereby agreed that:
MRS shall pay to AMCON, the sum of N42 billion in full and final settlement of all sums due and owing to AMCON by MRS pursuant to the syndicated loan facility extended to MRS, and AMCON shall hereby release and forever discharge all claims against MRS, its parent, subsidiaries, assigns, transfees, representatives, principals, agents, officers, and directors subject to the following terms and conditions:
MRS shall between the 1st day of February 2018 and 10th day of April 2018 pay over to AMCON the sum of N2 billion of which the sum of N1 billion is acknowledged as having been paid.
(b)MRS shall pay the balance of N40 billion over a period of four years at an interest rate of 9% per annum on a quarterly basis.
(c)The sum of N2.5 billion plus accrued interest shall be paid by MRS on a quarterly basis, commencing ninety days from the effective date being 1st February 2018.
(d)MRS shall provide an acceptable unconditional bank guarantee with four year tenor from a reputable bank to back up the quarterly payment envisaged under this Terms of Settlement. A maximum period of ninety days shall be afforded to MRS to procure and provide the bank guarantees envisaged under this Terms of Settlement.
(e)MRS agrees to be bounded by the terms and conditions contained in the offer letter dated March 22, 2018 to which a breach of any of these terms would automatically become enforceable.
(f)AMCON shall accept lump sum prepayment without penalty.
2 AMCON shall be entitled to call in the bank Guarantee in the event of a default in making the quarterly payments, without the requirement to give notice.
AMCON shall be entitled to cancel all the concessions granted under this terms of settlement and call in the total balance outstanding in the event of default of any of the terms and conditions undertaken by MRS under the terms of Settlement
Upon full payment of the total sum of N42 billion in full and final settlement of all sums due and owing to AMCON, AMCON agrees to release and discharge MRS, its parent, agents and Directors from liability and obligation to it in connection with the debts.
It is expressly agreed between parties that the terms of settlement herein compromises all prior and existing judgement obtained against MRS and its directors.
Upon execution of this agreement and payment of the sum of N2 billion, as contained in clause 1(a) above, AMCON shall immediately discontinue and withdraw all pending court case between parties in relation to the debt subject mystery of this settlement agreement, the winding up proceeding and the Bankruptcy proceedings and filed and adopt these terms as a consent judgement in the winding up proceedings.
These terms of settlement are expressly without prejudice to MRS's ability to maintain and pursue the MRS's Counter Claims in the Petroci Proceedings and/or purse the MRS's counter claims against Petroci in arbitration or otherwise.
AMCON agrees, on behalf of itself and on behalf of its parent and agents or Directors, not to sue, commence, voluntarily aid in any way prosecute against MRS or it agents or Directors any action or proceedings concerning the release claims, in this jurisdiction or any other
Parties to bear their respective litigation cost.
The terms of Settlement was endorsed on behalf of AMCON by: their counsel Adeniyi Adegbomire SAN, Head, Energy group, Sulaiman Abdul Majeed, Group Head, Credict Joshua Ikioda, and a Director, Secretary, and a lawyer Oladapo Ajayi on behalf of MRS Holding limited.
Geregu Power to List Shares on Stock Exchange
By Aduragbemi Omiyale
The Nigerian Exchange (NGX) Limited will have a new member in the coming days as an electricity generating firm, Geregu Power Plc, is planning to list its shares on the platform.
According to regulatory documents, the company will list a total of 2.5 billion units of its shares at N100.00 per unit by way of introduction on the bourse, increasing the market capitalisation of the exchange by N250 billion.
The listing of these equities is expected on Wednesday and a ceremony to commemorate it will happen later this month.
"We look forward to hosting you at the exchange on October 25 or 26, 2022, for a closing gong ceremony to commemorate the listing," a message to Geregu Power by the chief executive of the NGX, Mr Temi Popoola, read in part.
Geregu Power has Mr Femi Otedola as its majority shareholder. He left the stock exchange a few years ago after he sold his holdings in the defunct Forte Oil Plc, a company rebranded to Ardova Plc by the new owner, Mr Abdulwasiu Sowami.
Multiverse Stocks Rise 30.85% in One Week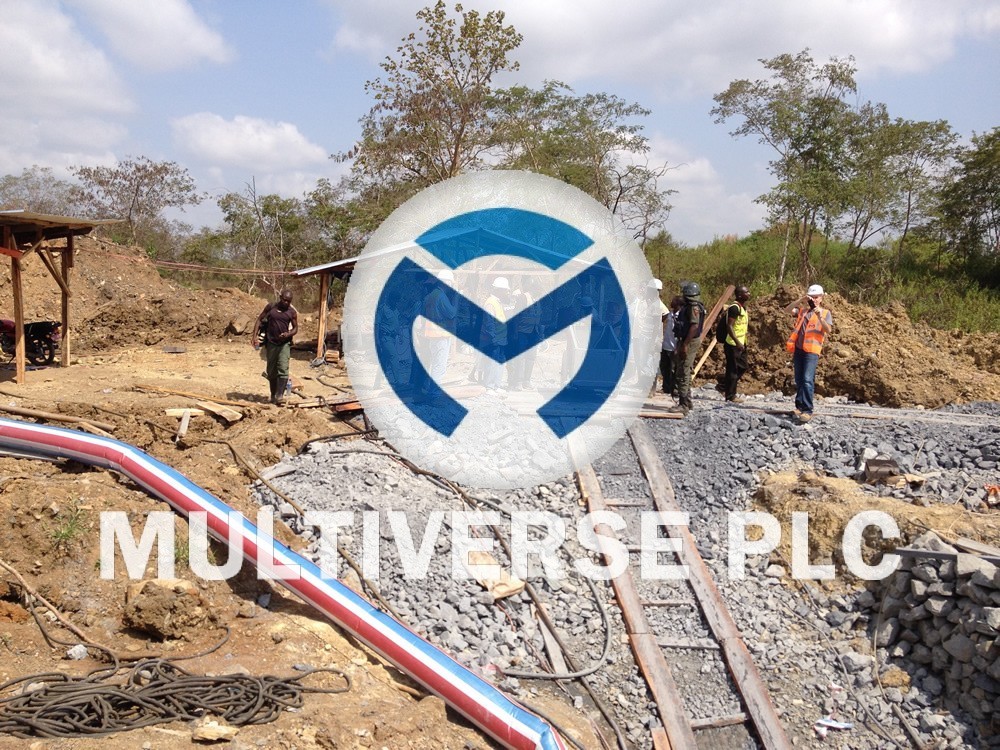 By Dipo Olowookere
Investors renewed their interests in the shares of Multiverse Mining and Exploration Plc last week, pushing the price higher by 30.85 per cent to N3.69.
Another stock that attracted attention in the week was the Nigerian Exchange (NGX) Group Plc, as investors pushed aside the recent corporate governance issues raised in the media and keyed into the company's dividend policy.
At the close of the five-day trading week, its price rose by 17.65 per cent to N20.00. Jaiz Bank grew last week by 15.38 per cent, Cadbury Nigeria expanded by 14.77 per cent, while Eterna improved by 9.91 per cent to N6.32.
However, the shares of Neimeth fell by 10.26 per cent to N1.40, Nestle lost 10.00 per cent to N1,215.00, Africa Prudential dropped 9.91 per cent to N5.00, Royal Exchange depreciated by 9.80 per cent to 92 Kobo and Fidson went down by 9.05 per cent to N9.05.
At the close of transactions for the week, 25 equities appreciated, higher than 17 equities in the previous week; 33 equities depreciated, lower than 42 equities in the previous week; while 98 equities remained unchanged, higher than 97 equities recorded in the previous week.
Business Post reports that the All-Share Index (ASI) depreciated by 0.01 per cent to close the week at 49,024.16 points, while the market capitalisation appreciated by 0.03 per cent to close at N26.451 trillion.
Similarly, all other indices finished lower except for NGX Main-Board, NGX 30, oil/gas and industrial goods indices, which appreciated by 0.25 per cent, 0.04 per cent, 0.20 per cent, and 3.01 per cent, apiece as the ASeM, growth and sovereign bond indices closed flat.
During the week, a total of 1.005 billion shares worth N10.406 billion were traded in 17,844 deals as against the 562.856 million shares valued at N9.438 billion transacted in 16,013 deals a week earlier.
A total of 757.289 million financial shares valued at N6.947 billion were traded in 9,483 deals in the week, accounting for 75.38 per cent and 66.76 per cent of the trading volume and value.
A total of 75.118 million units of conglomerate stocks worth N82.955 million exchanged hands in 494 deals, as 50.186 million units of consumer goods shares worth N1.457 billion were transacted in 2,798 deals.
Jaiz Bank, GTCO and Zenith Bank were the most active stocks as they traded 460.216 million units worth N4.963 billion in 4,281 deals, contributing 45.81 per cent and 47.69 per cent to the total trading volume and value, respectively.
Nigeria's Crude Oil Exports Jump 88.6% to N11.53trn in Six Months
By Adedapo Adesanya
Nigeria earned N11.53 trillion from the export of crude oil in the first half of 2022, according to the latest data released by the National Bureau of Statistics (NBS), jumping by 88.6 per cent compared with N6.11 trillion recorded in the first half of 2021.
In its Foreign Trade Statistics for the Second Quarter of 2022, the NBS noted that crude oil export in the first six months of 2022 accounted for 79.47 per cent of total exports in the period under review, while it also accounted for 44.62 per cent of total trades in the same period.
Giving a breakdown of crude oil exports in the first half of 2022, the NBS stated that in the first quarter of the year, crude oil valued at N5.621 trillion was exported by the country, while in the second quarter, N5.908 trillion was exported.
In comparison, in the first quarter of 2021, the NBS said Nigeria earned N2.043 trillion from crude oil exports, while in the second quarter, N4.072 trillion crude oil export sales were recorded. Furthermore, in the third and fourth quarters of 2021, Nigeria recorded crude oil export of N4.026 trillion and N4.269 trillion, respectively.
The country's statistical authority put Nigeria's total trade in the first half of 2022 at N25.843 trillion, comprising N13.001 trillion and N12.841 trillion in the first and second quarter of the year, respectively; while total export trade for the first half of 2022 stood at N14.507 trillion, with N7.1 trillion and N7.407 trillion export recorded in the first and second quarter respectively.
Specifically, the NBS reported that in the second quarter of 2022, crude oil ranked as the most exported commodity in the country, with 79.77 per cent of the country's total export.
Furthermore, the statistics agency stated that the most of Nigeria's crude oil export in the second quarter of 2022 was to European countries, with the continent purchasing Nigeria's crude oil valued at N2.737 trillion; followed by Asia, with N1.916 trillion; while countries in America purchased N861.937 billion.
Africa accounted for N355.853 billion of Nigeria's crude oil export, while N36.459 billion worth of Nigeria's crude oil was exported to Oceania.
India emerged as the highest buyer of Nigeria's crude oil, with N1.009 trillion worth of the commodity shipped to the country in the second quarter; followed by the Netherlands, with the purchase of N886.314 billion worth of Nigeria's crude oil; while N854.859 billion crude oil was exported to Spain.
Other major crude oil export destinations were Indonesia, N614.954 billion; United States, N488.356 billion; Italy, N253.817 billion; Sweden, N232.152 billion; Canada, N226.704 billion; France, N192.273 billion and Ivory Coast, N191.425 billion.
Latest News on Business Post