NDIC Insists Cryptocurrencies Illegal in Nigeria
By Dipo Olowookere
Nigerians have again been warned to stay away from transactions involving digital currencies because the Central Bank of Nigeria (CBN) has not approved the use of cryptocurrencies in the country.
In the past, various government agencies in Nigeria have cautioned citizens on the new form of money, which is fast gaining ground across the world.
The digital currencies come in form of Bitcoin, which is the most popular, and Ethereum (ETH), Zcash (ZEC), Dash, Ripple (XRP) and Monero (XMR).
Speaking in an interview with the News Agency of Nigeria (NAN) on Friday at the ongoing 29th Enugu International Trade Fair, the Manager in charge of Research Department at the Nigeria Deposit Insurance Corporation (NDIC), Mr Adikwu Igoche, stated that cryptocurrencies were not deposits or financial instruments authorised by the CBN.
He said as a result of the above, the currencies "are no insured by the NDIC" and if anyone loses his money trading in the business, the person does so at his own risk.
"These forms of currencies are not backed by any physical commodity, such as gold or other precious stones.
"They do not belong to the category of currencies or coins issued by the CBN or the central bank of any other country," he stressed.
According to him, the NDIC will not relent in sensitising Nigerians to financial, operational, legal and security risks they face by patronising ponzi schemes and digital currencies.
Mr Igoche also urged Nigerians to patronise only banking institutions that displayed the NDIC sticker with the inscription, `insured by NDIC," in their banking halls or entrances.
He said a help desk had been created at the NDIC's stand at the fair where depositors of closed banks could ascertain where and how to access their deposits and process their claims.
"The corporation also operates a robust 24 hours national help desk with a toll-free telephone line number 080063424357.
"The desk is for further information and enquires on depositors' claim settlement and complaints or sharp practices by their banks.
"The general public can also access our website on www.ndic.gov.ng," he noted.
Bitcoin and other crypto currencies are forms of digital currencies which only exist in some websites and not backed by the country's law.
NGX Index Sheds 0.15% as Bears Resurface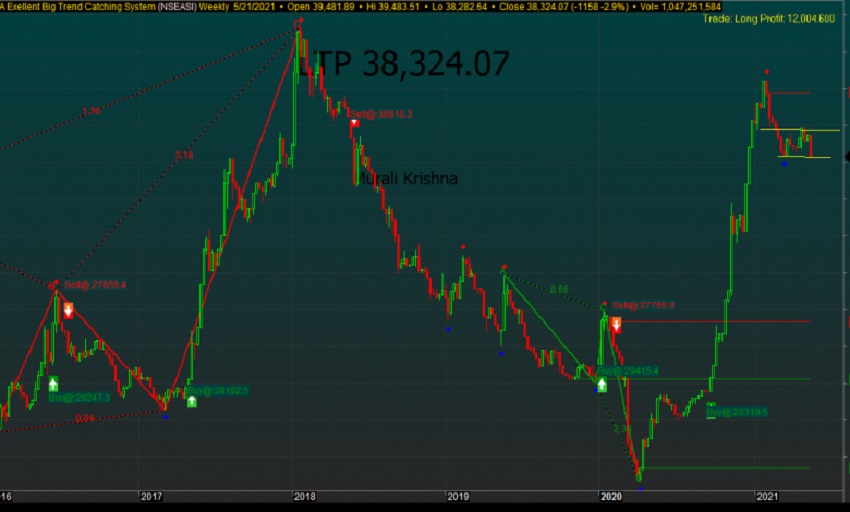 By Dipo Olowookere
The bears resurfaced at the Nigerian Exchange (NGX) Limited on Thursday after taking a two-day break to allow the bulls to enjoy the market for a while.
Business Post reports that the NGX index went down by 0.15 per cent yesterday as a result of profit-taking by investors, who quickly offloaded some stocks, especially in the banking sector.
As a result, the All-Share Index (ASI) depreciated by 57.03 points to settle at 38,911.31 points versus 38,968.34 points it closed a day earlier, while the market capitalisation reduced by N30 billion to finish at N20.273 trillion compared with the previous day's N20.303 trillion.
It was observed that only the insurance sector closed in the green as it appreciated by 0.47 per cent, while the other four key sectors pointed south.
The energy counter lost 0.57 per cent, the consumer goods space decreased by 0.36 per cent, the banking counter went down by 0.28 per cent, while the industrial goods index fell by 0.14 per cent.
The market breadth was bearish yesterday as there were 10 price risers and 17 price laggards led by Eterna, which depreciated by 9.44 per cent to N6.52.
SCOA Nigeria fell by 9.40 per cent to N1.06, International Breweries declined by 4.00 per cent to N4.80, Honeywell Flour depleted by 3.93 per cent to N3.91, while Union Bank reduced by 3.00 per cent to N4.85.
On the flip side, Unity Bank topped the gainers' chart after its share price improved by 9.62 per cent to 57 kobo and was trailed by FTN Cocoa, which appreciated by 8.70 per cent to 50 kobo.
Cornerstone Insurance gained 8.33 per cent to trade at 52 kobo, Chams grew by 5.00 per cent to finish at 21 kobo, while Sovereign Trust Insurance went up by 4.17 per cent to 25 kobo.
At the close of transactions, a total of 130.2 million shares worth N1.4 billion exchanged hands in 2,962 deals in contrast to the 141.4 million shares worth N3.0 billion transacted in 3,079 deals on Wednesday, implying a decline in the trading volume, value and number of deals by 7.92 per cent, 52.00 per cent and 3.80 respectively.
Access Bank ended the trading day as the most active stock with the sale of 24.8 million units worth N230.3 million, Universal Insurance exchanged 15.3 million stocks valued at N3.1 million, Zenith Bank transacted 8.5 million equities for N200.7 million, GTCO sold 6.8 million shares for N182.8 million, while Japaul traded 6.0 million stocks worth N3.0 million.
Naira Sells N413.07/$1 at I&E, N570/$1 at Black Market
By Adedapo Adesanya
As observers await a possible policy action from the Central Bank of Nigeria (CBN) on Friday just like it happened on July 27, 2021, the Naira sustained its free fall at the unofficial segment of the foreign exchange (FX) market on Thursday.
At the unregulated forex market segment yesterday, the local currency depreciated against the US Dollar by N8 to sell at N570/$1 compared with N562/$1 it was traded on Wednesday.
The fall occurred as more Nigerians are panicking over the fast rate the Naira is losing its value and to hedge their funds, some are buying the Dollar, causing traders to tamper with the exchange rate at will because of the desperation.
At the same black market, the Nigerian currency lost N10 against the Pound Sterling to trade at N770/£1 compared to N760/£1 of the preceding session and against the Euro, the local currency declined by N7 to sell at N655/€1 in contrast to N648/€1 it traded previously.
The situation was not different at the Investors and Exporters (I&E) segment of the market as the local currency depreciated by 0.24 per cent or N1.01 against the greenback to close at N413.07/$1 as against the N412.06/$1 it was traded on Wednesday.
According to data obtained by Business Post from FMDQ Securities Exchange, the value of transactions at the investors' window went down yesterday by $181.96 million or 58.90 per cent to $126.96 million from the previous day's $308.92 million.
Also, at the interbank window, the Nigerian currency depreciated against the American Dollar by 2 kobo to close at N410.57/$1 compared to N410.55/$1 it ended a day earlier.
As for the digital currency market, the positive momentum was sustained, with the Dash (DASH) rising by 4.9 per cent to trade at N122,773.27 and was trailed by Litecoin (LTC), which moved up by 3.2 per cent to N106,821.02.
Ethereum (ETH) gained 1.4 per cent to sell at N1,984,998.99, Bitcoin (BTC) grew by 0.9 per cent to trade at N26,796,654.74, the US Dollar Tether (USDT) improved by 0.9 per cent to sell for N564.59, Tron (TRX) went up by 0.8 per cent to sell at N66.60, while Ripple (XRP) gained 0.4 per cent to trade at N564.59.
However, Dogecoin (DOGE) fell by 3.5 per cent to sell at N141.35, Binance Coin (BNB) dropped 3.4 per cent to trade at N152,000, while Cardano (ADA) went south by 3.1 per cent to trade at N1,438.41.
NASD Plc Lifts OTC Stock Market by 0.04%
By Adedapo Adesanya
The NASD Over-the-Counter (OTC) Securities Exchange returned to the positive zone with a 0.04 per cent growth on Thursday inspired by a bullish price movement in the shares of NASD Plc.
The share price of the company appreciated by 60 kobo or 8.9 per cent during the session to settle at N6.71 per unit compared with the previous closing price of N6.11 per unit.
This raised the total value of stocks on the OTC stock market by N230 million at the close of business to N639.55 billion from N639.32 billion it closed on Wednesday.
Also, the positive performance lifted the NASD Unlisted Security Index (NSI) by 0.27 points to wrap the session at 735.82 points compared with 735.55 points recorded at the previous session.
Business Post reports that yesterday, the bourse had a price loser and it was the Nigerian Exchange (NGX) Group Plc as its equity price went down by 2 kobo or 0.2 per cent to finish at N12.98 per share versus N13.00 per share it ended a day before.
When market activities were wrapped up on Thursday, shares worth N34.6 million were traded by investors, 11.7 per cent lower than the N39.1 million achieved on Wednesday, while 2.9 million units of securities exchanged hands in the session, 24.7 per cent lower than the 3.9 million units of securities traded at the preceding session, with the number of deals falling by 20.9 per cent to 34 deals from 43 deals.
However, Geo Fluids Plc remained the active stock by volume (year-to-date) as it has traded 1.0 billion units of its shares for N700.1 million. NGX Group Plc has transacted 436.2 million units valued at N8.9 billion, while Food Concepts Plc has exchanged 297.5 million units worth N387.8 million.
In terms of value, NGX Group maintained its top position with the sale of 436.2 million units of its securities for N8.9 billion, VFD Group Plc followed with 9.4 million units of its securities valued at N3.1 billion, while FrieslandCampina WAMCO Nigeria Plc has traded 8.3 million units of its stocks worth N1.0 billion.
Latest News on Business Post