Nigerdock Attracts More Investments, Deepens Nigeria-UK Ties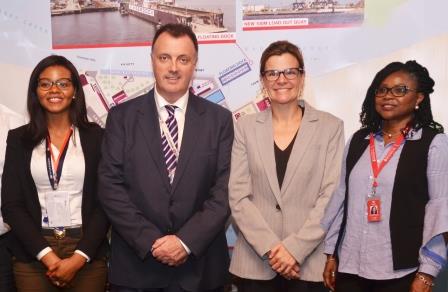 By Dipo Olowookere
The new British Deputy High Commissioner for Lagos, Ms Laure Beaufils, visited Snake Island Integrated Free Zone (SIIFZ) to see first-hand the significant potential to further strengthen the bilateral relationship between the United Kingdom and Nigeria, by enabling UK businesses to partner with Jagal Energy and Nigerdock and to promote exports to, and investment in, Nigeria.
Ms Beaufils made this known during her visit to the company's extensive facility, located at Snake Island Integrated Free Zone in Lagos, as part of her familiarization of the oil and gas industry in her new role to explore opportunities for UK firms to do business in Nigeria. To date, Jagal has invested over $550m at the Free Zone and continues to expand to drive greater local content capability, working with the UK and many others.
Speaking during the visit, the British Deputy High Commissioner lauded the significant contributions of Jagal Energy and Nigerdock to the growth of Nigeria's energy sector by stating:
"The scale of investment within Nigerdock here is much more than I had anticipated. The facility is very large and there is so much strategic investment in terms of materials and facilities which provides massive opportunities for companies working in oil and gas supply chain to partner with Nigerdock and Jagal Energy.
"There is a lot more I know that can be done here and I have been incredibly impressed by what is available here.
"We all know that oil and gas industry contributes hugely to Nigeria's export revenue, so it is fundamental that this industry continues to be effective and efficient. Stakeholders like Jagal Energy are key players in the field. And they are at the heart of growth, job and economic development in Nigeria," she noted.
The British Deputy High Commission will explore opportunities for UK businesses to partner with Nigerdock as this can further strengthen the socio-economic and political ties between the two countries.
She was received and conducted on a tour by a team of top executives of Jagal and Nigerdock.
While presenting an overview of Jagal Energy to the delegation, the Group MD Chris Bennett explained that Jagal has been at the forefront in providing world class services in Nigeria's energy sector for many years, driven by its core values of leadership, excellence, accountability and dynamism.
Nigerdock is a wholly owned Nigerian company with diverse capabilities that support highly complex oil and gas projects, during all stages of an asset lifecycle.
The company's facility is an integrated hub that offers services to broad range of leading global IOC's and National clients across the energy sector.
The Group MD also stated that at the very core of these major oil and gas deliveries is Nigerdock's committed passion for developing a highly skilled indigenous workforce in-country in line with local content development standards.
Nigerdock is also the largest shipyard facility in West Africa and continues to strive to achieve its vision to maximize its stakeholder returns, thus fostering National economic development, enhance the capabilities and most importantly the competencies of its people, and build a sustainable and efficient skills base. In terms of capacity building in Nigeria, Nigerdock provides the highest quality needs-based training and development.
This track record is delivered through the Nigerdock Training and Development Academy, a fully-equipped facility which has trained over 6,000 personnel in a range of skills including project management, quality, occupational health and safety, welding, fitting, painting and coating, machining, lifting and rigging as well as scaffolding etc.
Even before the enactment of the NOGICD Act, Nigerdock was at the forefront of Nigerian content development and has come to be known across the industry as the Champion of Nigerian Content. We have attained this recognition not only by consistent investment in our people, infrastructure, equipment and facilities, but also by our dedication to lead the market in building National capacity in Nigeria," Chris Bennett explained.
The British Deputy High Commission delegation was given an extensive tour of the facility including viewing where Nigerdock are currently preparing to load out, on schedule, to budget the second phase of some 6,500 tonnes of fabricated FPSO structures; the single largest fabrication location in-country for the Egina project. The Egina project involvement, a flagship project for Total, attests to Nigerdock's massive contributions to local content development in Nigeria.
Nigerdock also added that several global blue-chip businesses and smaller service providers have become investment Partners with Jagal and Nigerdock, due to Jagal Energy's track record of successful Partnering relationships and bespoke Partnership methods and agreements.
The delegation commended Nigerdock for its commitment to Nigeria and the energy services sector. Over the years, Nigerdock has continuously demonstrated its project execution expertise by taking on and delivering complex projects of an ever-increasing scope and complexity; these projects include the Ofon Phase II Project for Total, the Satellite Field Development project and Erha North Projects for ExxonMobil, and the DSO (Meren and Sonam) project for Chevron among others.
Unlisted Securities Market Gets 0.34% Boost Thursday
By Adedapo Adesanya
Amid an increase in trading value and volume, the NASD Over-the-Counter (OTC) Securities Exchange ended in the positive territory on Thursday, January 26, as it shot up by 0.34 per cent.
This was buoyed by the increase in the share price of Central Securities Clearing Systems (CSCS) Plc by 50 Kobo to N13.00 per unit from N12.50 per unit, and the surge in the price of FrieslandCampina Wamco Nigeria Plc by 30 Kobo to N62.48 per unit from the preceding session's N62.18 per unit.
This jerked the total value of the unlisted securities market by N3.09 billion to close at N923.76 billion versus N920.67 billion of the previous day, as the NASD Unlisted Securities Index (NSI) increased by 2.36 points to settle at 703.01 points, in contrast to the midweek's 700.66 points.
During the session, market participants executed eight deals at the bourse, 68 per cent lower than the 25 deals executed a day earlier.
However, the value of transactions increased during the session by 41.3 per cent to N4.9 million from N3.5 million, and the volume of trades jumped by 52.4 per cent to 189,670 units from the 121,494 units published on Wednesday.
At the close of business, Geo-Fluids Plc remained the most traded stock by volume on a year-to-date basis, with the sale of 61.1 million units worth N49.2 million. UBN Property Plc stood in second place with 29.7 million units valued at N21.1 million, while NASD Plc was in third place with 944,112 units valued at N13.6 million.
Also, VFD Group Plc maintained its position as the most active stock by value on a year-to-date basis, with 422,074 units sold for N103.0 million, FrieslandCampina WAMCO Group Plc was in second place with 899,657 units valued at N59.1 million, while Geo-Fluids Plc was in third place for trading 61.1 million units for N49.2 million.
Naira Crashes at Parallel Market, Gains at Official Market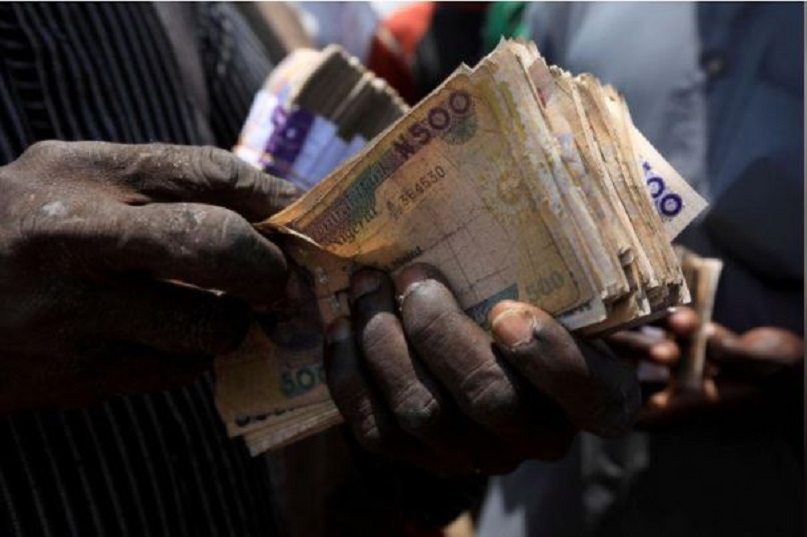 By Adedapo Adesanya
The Naira crashed against the United States Dollar at the parallel market on Thursday by N4 or 0.54 per cent to trade at N752/$1, in contrast to Wednesday's rate of N748/$1.
However, in the official market, which is the Investors and Exporters (I&E) window, the Nigerian currency appreciated against the greenback yesterday by 45 Kobo or 0.1 per cent to quote at N461.25/$1 compared with the previous day's value of N461.70/$1.
A 58.9 per cent or $64.66 million decrease in the value of forex turnover in the spot market helped the local currency close stronger during the session. Data from FMDQ Securities Exchange showed that FX trades worth $45.16 million were carried out compared with the $109.82 million executed in the previous trading day.
Also, in the Peer-2-Peer (P2P) segment of the FX market, the domestic currency gained N2 against the American Dollar to sell at N764/$1 versus Wednesday's N766/$1.
However, in the interbank segment, the Naira lost 24 Kobo against the British Pound Sterling to close at N567.21/£1 compared with the previous N567.45/£1, and depreciated by 20 Kobo against the Euro to quote at N500.73/€1, in contrast to N500.53/€1.
Meanwhile, most of the tokens monitored by Business Post in the crypto market depreciated in value at the close of transactions on Thursday, with Litecoin (LTC) shedding 1.6 per cent to trade at $87.48.
Further, Ripple (XRP) depreciated by 1.4 per cent to sell at $0.4109, Binance Coin (BNB) lost 0.4 per cent to quote at $305.07, Dogecoin (DOGE) dropped 0.2 per cent to finish at $0.0862, and Bitcoin (BTC) declined by 0.01 per cent to sell at $23,044.70.
Conversely, Cardano (ADA) appreciated yesterday by 2.8 per cent to settle at $0.3808, Ethereum (ETH) rose by 0.6 per cent to sell at $1,604.89, and Solana added a 0.02 per cent to its value to close at $24.36.
but the prices of the US Dollar Tether (USDT) and Binance USD (BUSD) remained unchanged at the close of trades at $1.00, respectively.
Stock Market Rebounds by 0.29% as GTCO, Others Enjoy Patronage
By Dipo Olowookere
A 0.29 per cent growth was recorded by the Nigerian Exchange (NGX) Limited on Thursday on the back of renewed demand for stocks after the Central Bank of Nigeria (CBN) aggressively cut down the stop rate of treasury bills on Wednesday.
The disappointment resulted in investors looking for alternative investment instruments, and equities were the next point of call.
In the previous two trading sessions, the stock market was down, but it rebounded yesterday on the back of a fresh bargain-hunting, which consequently pushed the All-Share Index (ASI) higher by 153.31 points to 52,752.96 points from 52,599.65 points, and the market capitalisation increased by N83 billion to N28.733 trillion from N28.650 trillion.
According to data from the NGX, the banking and energy sectors appreciated by 1.58 per cent each, the insurance space rose by 1.01 per cent, and the consumer goods counter grew by 0.05 per cent, while the industrial goods index depreciated by 0.01 per cent.
During the session, investors traded 139.7 million shares worth N2.0 billion in 3,549 deals compared with the 119.8 million shares valued at N2.7 billion traded in 3,552 deals, indicating an increase in the trading volume by 16.61 per cent, a decline in the trading value by 25.93 per cent, and a drop in the number of deals by 0.08 per cent.
GTCO emerged as the most traded equity yesterday with the sale of 17.8 million units, followed by Access Holdings, which transacted 15.4 million units. Fidelity Bank exchanged 11.9 million shares, Mutual Benefits sold 6.9 million equities, and Dangote Sugar traded 6.7 million stocks.
The market breadth was positive on Thursday, with 25 price gainers and seven price losers, indicating a very strong investor sentiment.
Geregu Power gained 10.00 per cent to trade at N147.40, Coronation Insurance appreciated by 9.76 per cent to 45 Kobo, Chellarams improved by 9.70 per cent to N1.81, International Energy Insurance grew by 9.43 per cent to 58 Kobo, and Tripple Gee jumped by 9.09 per cent to 96 Kobo.
On the flip side, RT Briscoe lost 9.09 per cent to settle at 30 Kobo, Royal Exchange dropped 8.24 per cent to sell at 78 Kobo, Courteville depreciated by 7.84 per cent to 47 Kobo, Linkage Assurance fell by 4.00 per cent to 48 Kobo, and Transcorp shed 0.82 per cent to N1.21.
Latest News on Business Post