NNPC Requests $15b to Generate 4,000MW Power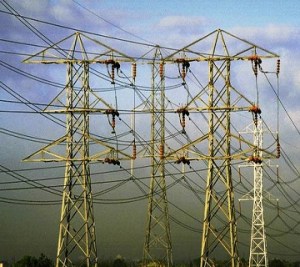 By Modupe Gbadeyanka
The Nigerian National Petroleum Corporation (NNPC) says it plans to generate about 4,000 megawatts of power in the next 10 years to boost the supply in the country.
To achieve this goal, the agency said it would require about $15 billion investment for the Gas and Power Autonomous Business Unit (ABU) aspirations and that discussions were already ongoing with investors world-wide to address gas deficit by building on the already existing gas infrastructure.
Speaking at the 2017 retreat of his Autonomous Business Unit (ABU); Gas and Power, in Kaduna, NNPC's Chief Operating Officer (COO), Gas and Power, Mr Saidu Mohammed, explained that the power plants would be built in the next three to 10 years by Incorporated Joint Venture Companies that would involve NNPC, International Power Companies and other Nigerian Investors to be structured after the Nigerian Liquefied Natural Gas (NLNG) business model.
Mr Mohammed said, "Power generation is a big business. As at today, NNPC has interest in two power plants, one in Okpai, Delta State and the other in Afam, Rivers State, which were respectively built by our Joint Ventures with Nigerian Agip Oil Company (NAOC), and Shell Petroleum Development Company (SPDC).
"These two power plants collectively generate up to 1,000 megawatts and they are the most reliable and cheapest source of power to the national grid in Nigeria today."
He said plans were underway to commence Okpai Phase 2 Power Plant and that other JV power plants like Obite & Agura would also be progressed soon to boost power generation in the country.
The NNPC COO noted that the new thinking involved the extension of the Corporation's major gas pipeline infrastructure into a robust network to connect various parts of the country, adding that implementation of the Ajaokuta to Abuja-Kaduna-Kano (AKK) extension has progressed.
"The main base-loads to justify such infrastructure are power plants that would consume the gas and for that, we are planning to build about 2,000 to 3,100 megawatts, combined, in these three cities.
"The partnership will involve players who will bring in their various capacities as operators, builders of power plants and as investors. NNPC will also bring its strength of being a dominant player in the Nigerian gas value chain," Mr Mohammed revealed.
He stated that NNPC as a stakeholder in the gas value chain had developed capabilities in processing, transportation and marketing of gas for export and domestic utilization. He further added that the nation's gas resources had the potential of changing the landscape of the Nigerian economy for the better.
"If you generate enough power, the multiplier effect will revive most of the moribund industries across the country. NNPC intends to capture 50 per cent of the gas market in Nigeria by growing the Nigerian Gas Marketing Company (NGMC) from the 500 million standard cubic feet/day of gas that it is today to about 3 to 4 billion standard cubic feet/day in the next 10 years," the COO enthused.
Mr Mohammed noted that in line with the Gas Master Plan, NNPC would be producing gas with its JV partners and with other interested Nigerian investors to build treatment plants to achieve the deadline.
"We are going to unbundle the upstream by delineating the midstream so as to allow other players operate in it while NNPC as the operator of the pipeline network will continue to deliver gas to the downstream sector and ultimate consumers," he stated.
NIMASA, NCC Collaborate to Create Submarine Cable Regulation in Nigeria
By Adedapo Adesanya
The Nigerian Maritime Administration and Safety Agency (NIMASA) and the Nigerian Communications Commission (NCC) are collaborating to develop a regulatory framework to provide operational guidelines for Submarine Cables and Pipeline Operators in Nigeria.
Submarine and cable operators in Nigeria have been notified of the soon-to-be-implemented regulatory guideline for submarine cables and pipelines in Nigeria, in line with the provisions of the United Nations Convention on the Law of the Sea (UNCLOS).
Speaking at a pre-audit meeting of both organs of government in Lagos on submarine cable regulation, the Director General of NIMASA, Mr Bashir Jamoh, noted that the agency was committed to the Ease of Doing Business while implementing International Conventions which Nigeria has ratified and domesticated.
He noted that with Nigeria now a destination for global communication players, the time has come to prevent unregulated underwater cable laying, which might become hazardous to shipping.
According to him, "It is worthy to note that marine cable laying has been ongoing for over two decades in Nigerian waters. Our focus is to ensure the safety of navigation of shipping in Nigerian waters with all these underwater cables being laid."
"NIMASA is developing the guidelines to regulate submarine cable operators in line with the provisions of UNCLOS; which we have ratified and NIMASA will be the agency responsible for its implementation.
"We do not just implement laws; we consult. Where the responsibility of an Agency stops, that is where the responsibilities of another agency start. Collaboration is a key component of ease of doing business in the best interest of the country and we will work closely with the NCC to achieve this," he said.
On his part, the Executive Vice Chairman of the NCC, Mr Umar Garba Danbatta, who was represented by the Director, Compliance Monitoring and Enforcement, Mr Efosa Idehen, noted that the stakeholders' dialogue strategy adopted by NIMASA in developing the guidelines would ensure a win-win situation urging NIMASA management to include the Ministry of Justice, a request NIMASA DG immediately granted.
Also speaking at the meeting was the Director General of the Bureau of Public Service Reforms, Mr Dasuki Arabi, who commended NIMASA and NCC for adopting effective Inter-Agency collaboration to avert a potential challenge for the country in the future.
NIMASA and the NCC also agreed to identify and resolve areas of likely regulatory overlaps, ensuring a regulatory framework based on consultation to engender the attainment of Nigeria's digital economy transformation.
BUA Cement, Nigerian Breweries, Others Drive Stock Market's 0.06% Loss
By Dipo Olowookere
The Nigerian Exchange (NGX) Limited recorded a 0.06 per cent loss on Friday as a result of the selling pressure on some blue-chip stocks at the bourse.
It was observed that the decline was mainly driven by the poor performances of financial and industrial goods shares during the trading session.
Data obtained by Business Post showed that the insurance space lost 1.01 per cent, the industrial goods counter depreciated by 0.66 per cent, the banking sector declined by 0.25 per cent, and the consumer goods category shed 0.21 per cent, while the energy index remained flat.
Consequently, the All-Share Index (ASI) moderated by 31.55 points to 54,892.53 points from 54,924.08 points, and the market capitalisation went down by N18 billion to N29.903 trillion from N29.921 trillion.
A total of 137.6 million shares valued at N3.9 billion exchanged hands in 2,912 deals on the last trading session of the week compared with the 117.9 million shares worth N1.4 billion traded in the preceding session in 2,575 deals, representing an improvement in the trading volume, value and the number of deals by 16.71 per cent, 178.57 per cent, and 13.09 per cent, respectively.
Fidelity Bank closed the session as the most traded equity after it sold 21.5 million units and was trailed by GTCO, which sold 14.9 million units. Neimeth traded 14.0 million shares, UBA exchanged 12.8 million equities, and Transcorp traded 8.9 million stocks.
Investor sentiment was slightly strong yesterday as the market breadth was positive with 13 price gainers and 11 price losers led by AIICO Insurance, which fell by 5.00 per cent to 57 Kobo.
Linkage Assurance depleted by 4.76 per cent to 40 Kobo, Coronation Insurance went down by 4.76 per cent to 40 Kobo, International Breweries depreciated by 2.25 per cent to N4.35, and Transcorp lost 2.19 per cent to trade at N1.34.
On the flip side, NPF Microfinance gained 6.94 per cent to finish at N1.85, Geregu Power appreciated by 6.25 per cent to N323.00, Lasaco Assurance rose by 5.00 per cent to N1.05, Chams grew by 4.17 per cent to 25 Kobo, and Japaul improved by 3.57 per cent to 29 Kobo.
Analysis of the market data indicated losses reported by BUA Cement (1.60 per cent), Nigerian Breweries (0.55 per cent), GTCO (0.25 per cent), and Zenith Bank (0.15 per cent) caused the downfall of the exchange on Friday.
Again, NASD OTC Exchange Valuation Crosses N1 trillion
By Adedapo Adesanya
The market capitalisation of the NASD Over-the-Counter (OTC) Securities Exchange recorded a 5.3 per cent appreciation at the final session for the week, Friday, March 24, to close at N1.01 trillion from N959.06 billion on Thursday.
Business Post reports that this is the second time the value of the NASD OTC exchange would cross the N1 trillion mark.
The first was when Access Bank Plc was admitted to the alternative stock exchange in March 2022 and about a year later, it again crossed the same mark after Purple Real Estate Income Plc joined the platform on Thursday and began trading the next day.
Meanwhile, the NASD Unlisted Securities Index (NSI) grew by 0.5 points or 0.07 per cent yesterday to wrap the session at 730.37 points compared with 729.87 points recorded in the previous session.
The day's single price gainer was Geo-Fluids Plc, which improved its value by 16 Kobo to close at N1.80 per share versus Thursday's closing price of N1.64 per share.
The volume of securities traded by investors depreciated on Friday by 67.3 per cent to 1.7 million units from 5.2 million units, the value of transactions slumped by 87.2 per cent to N3.1 million from N24.3 million, while the number of deals decreased by 78.6 per cent to three deals from the 14 deals carried out in the previous trading day.
Geo-Fluids Plc remained the most traded stock by volume on a year-to-date basis with 462.1 million units valued at N505.0 million, UBN Property Plc stood in second place with 365.8 units valued at N309.5 million, while IGI Plc was in third place with 71.1 million units valued at N5.1 million.
In terms of the most traded stock by value on a year-to-date basis, VFD Group Plc was on top of the chart for exchanging 7.3 million units worth N1.7 billion, followed by Geo-Fluids Plc with 462.1 million units valued at N505.0 million, and UBN Property Plc with 365.8 million units valued at N309.5 million.
Latest News on Business Post