Oil Returns to $79 Ahead of OPEC+ Meeting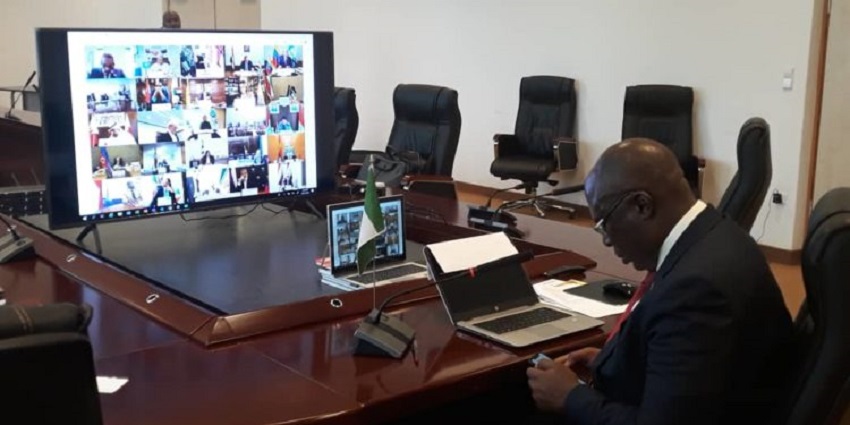 By Adedapo Adesanya
A grade of crude oil, Brent, rose above $79 a barrel on Friday, supported by tight supplies due to supply curbs ahead of the meeting of the Organisation of the Petroleum Exporting Countries and allies (OPEC+) on Monday.
The global crude benchmark appreciated by 1.07 per cent or 85 cents yesterday to sell at $79.15 per barrel, while the US grade, West Texas Intermediate (WTI), moved up by 0.93 per cent or 70 cents to trade at $75.73 per barrel.
The group is slowly unwinding record output cuts made last year, although sources say it is considering doing more to boost production.
Ahead of the OPEC+ meeting next Monday, speculations have been rife regarding the group's intentions to bring more crude into the market as the first US inventory stock build since late July and news of laggards, Russia and Kazakhstan ramping up supply have provided some downside for prices.
At the same time, exorbitantly high gas prices driving gas-to-oil switching in Asia and the US dollar weakening are largely offsetting those factors.
In July, the group agreed to boost output by 400,000 barrels per day a month to phase out 5.8 million barrels per day in cuts.
Reports cited four OPEC+ sources saying that the producers were considering adding more than that deal envisaged, but none gave details on how much more, or when supply would increase.
Another OPEC+ source suggested an increase of 800,000 barrels per day for one month was possible, with zero the next month.
It is not yet clear what the market will do yet but discussions among members will be reached at the virtual meeting on October 4.
Brent oil had risen to a three-year high above $80 a barrel, boosted by unplanned outages in the United States and a strong recovery in global economic activity and energy demand as many countries emerge from the pandemic but rising oil, gas, coal and power prices are feeding inflationary pressures worldwide and slowing the recovery.
US energy firms this week added oil and natural gas rigs for a fourth week in a row as more storm-hit offshore units resumed service in the Gulf of Mexico. Rigs rose by 7 to 528 in the week to October 1, its highest since April 2020, according to data.
Ellah Lakes, Enugu Government Seal Rice Processing Deal
By Dipo Olowookere
A Nigerian agribusiness company, Ellah Lakes Plc, has sealed an agreement with the Enugu State government for the processing of rice aimed to improve food security in the state and the nation at large.
The chief executive of the firm, Mr Chuka Mordi, described the deal as "a significant landmark for the company in fulfilling our strategic objective of diversifying our portfolio and production base."
Ellah Lakes said in a statement that with the partnership, it will transform the Ada Rice Company and Plantation in Adani, Uzo-Uwani LGA, into a Staple Crop Processing Zone (SCPZ) in Enugu State.
This is expected to create not less than 5,000 jobs over the next 24 months as the company will have the opportunity to establish a feed mill and ethanol processing plant on the site in Adani.
Business Post reports that Adani community is well-known for the cultivation and production of rice but due to poor infrastructure and support of the government, it has suffered low patronage.
This partnership between the Enugu State government and Ellah Lakes should change the narrative for good and boost local production of rice.
In the statement issued on Wednesday by Ellah Lakes, a company listed on the trading platform of the Nigerian Exchange (NGX) Limited, work is scheduled to begin immediately in Adani.
"Ellah Lakes is happy to announce that it has entered into an agreement with the Enugu State Government, through the Enugu State Technical Committee on Privatisation and Commercialisation, for the expansion and further development of the Ada Rice Company and plantation in Adani, Uzo-Uwani LGA, into a Staple Crop Processing Zone (SCPZ) in Enugu State, Nigeria.
"Ellah Lakes will produce and process rice with the participation of over 200 indigenous farmers in the local out-grower program. Ellah Lakes will also develop a feed mill and ethanol processing plant on the site in Adani.
"The development is expected to create a minimum of 5,000 jobs over the next 24 months, and work is scheduled to begin immediately," a part of the statement disclosed.
"This is a significant landmark for the company in fulfilling our strategic objective of diversifying our portfolio and production base, and we are very excited to be working with the Enugu State Government.
"We are very pleased with this collaboration with the very progressive government of Enugu State. For us, this is the beginning of a great journey to expand the industrial base of the state, and we look forward to a mutually beneficial, valuable and fruitful venture," Mr Mordi was quoted as saying.
Stanbic IBTC Pension Managers Rewards Customers
Ahead of the festive season, Stanbic IBTC Pension Managers, Nigeria's largest Pension Fund Administrator (PFA), has unveiled the Stanbic IBTC Pension Managers Loyalty Program tagged Umatter.
It is a reward scheme targeted at the customers of the PFA, to reward them for their loyalty and patronage through exclusive discounts as they shop with their e-loyalty card.
The loyalty program is available at the PFA's partner merchants' locations and stores across the nation. It is aimed at providing Stanbic IBTC Pension Managers' customers with exciting shopping discounts to help them spend less and save more when they shop.
Some of the participating merchant outlets are Maybrands, Café Royale, Hubmart Stores, Chocolate Royal, La Campagne Tropicana, Physio Centers of Africa, Medplus, iStore, Oriki, Launderland and Active Leisure.  The discounts range from 5 to 12 per cent on products and services purchased.
Stanbic IBTC Pension Managers' partnerships with these major outlets will enable customers to seamlessly enjoy instant discounts on their purchases during this festive period, thereby making life even more easy and affordable for customers who use the Stanbic IBTC Pension Managers e-loyalty card.
Stanbic IBTC Pension Managers will continue to initiate valuable programs like this that encourage people to continue saving for their retirement and building their financial future.
New and existing customers can be a part of this exciting loyalty program by visiting www.stanbicibtcpension.com or calling 01 271 6000.
FG to Inject N381trn into Economy to Create Job, Tackle Poverty
By Adedapo Adesanya
The federal government is partnering with the Industrial Training Fund (ITF) to inject N381 trillion into the economy to cushion the growing rate of poverty, job losses and economic degradation in Nigeria.
This was disclosed by the Director-General of the Fund, Mr Joseph Ari, during a media interaction with the Correspondent Chapel of the Nigeria Union of Journalists in Jos.
Mr Ari said the federal government came up with a 5-year National Development Plan tied around the sum of money to be able to achieve this aim.
He said the plan will replace the initial Economic Recovery and Growth Plan (EGRP).
According to him: "The plan, which projects the creation of 21 million jobs, with 35 million Nigerians lifted out of poverty, affordable housing for Nigerians and an export-led economy among others, is expected to cost N381 trillion to implement and have six focal areas of economic growth and development, infrastructure, public administration, human capital development, social development and regional development.
"As the leading human capital development institution in Nigeria, we have commenced the process of repositioning our programmes and activities to effectively prepare the Nation's workforce in line with our mandate of developing a pool of qualified Nigerians to man the public and private sectors of the national economy as we believe that for this plan to succeed, all Nigerians as individual citizens and as institutions must contribute their bit.
"You will recall that on the assumption of office in 2016, the economy was in recession leading to massive job losses and corresponding increases in poverty.
"Our initiatives then particularly the emphasis on skills intervention programmes was borne out of the need to drive the actualization of the Economic Recovery and Growth Plan (EGRP), which we achieved to an appreciable degree by training hundreds of thousands of Nigerians that are today gainfully employed or even employers of labour," Mr Ari said.
He, however, lauded the media for a robust coverage of the Funds activities over the years, saying that the media has been critical in return of peace in the state.
"Beyond this, fora such as we are holding today have been critical to the return of peace in plateau state, thereby creating the necessary environment for our organisation to thrive especially within the last five years on account of your professionalism and determined efforts to rise above sensationalism, headline-grabbing and petty politics," Mr Ari said.
Latest News on Business Post