Philips, Masimo Sign Deal On Patient Monitoring, Select Therapy Solutions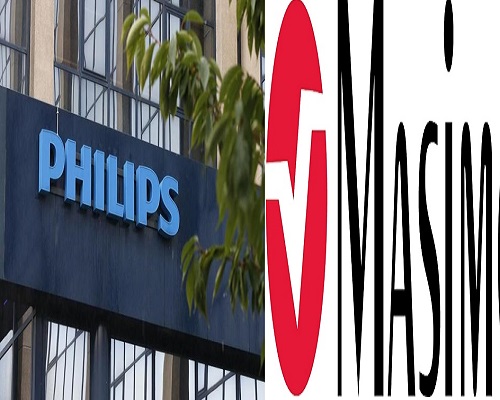 By Dipo Olowookere
A multi-year business partnership agreement has been sealed between Philips and Masimo Corporation focused on innovations in patient monitoring and therapy solutions.
The partnership, Business Post leant, includes joint marketing and sales programs in North America and certain markets in Asia and Europe for Masimo's non-invasive sensor technologies, such as its rainbow and SET platforms, in conjunction with Philips' patient monitoring and select therapy solutions.
In addition, Philips will in the future integrate Masimo SedLine brain function monitoring, O3 regional oximetry, and Nomoline capnography technologies in certain Philips IntelliVue monitors.
Philips is a global leader in patient monitoring solutions with a comprehensive product portfolio ranging from multi-parameter bedside monitors to wearable patient monitors combined with mobile applications and clinical decision support tools.
With a primary focus on prediction and prevention of patient deterioration, these integrated solutions aim to support clinical workflow and caregiver efficiencies, and enhance patient care. In 2015, an estimated 275 million patients were monitored using Philips' patient monitoring solutions.
Sensor and signal processing technologies are an essential component of patient monitoring solutions, and Masimo is a prolific innovator in this field. Examples of Masimo's non-invasive sensor and signal processing technology innovations include Masimo SET pulse oximetry, Masimo rainbow Pulse CO-Oximetry and Masimo total hemoglobin (SpHb) monitoring technology.
"This business partnership agreement marks an important day for us and our customers as two leaders in patient monitoring collaborate to develop solutions designed to enhance clinical outcomes and patient safety," said Frans van Houten, CEO of Royal Philips. "I am very satisfied that we have reached an agreement that is beneficial for both companies and that we have ended our legal disputes. Going forward, Philips and Masimo will completely focus on jointly delivering meaningful innovations to our customers, such as the integration of Masimo rainbow technology across our IntelliVue patient monitoring product range."
"It's wonderful to think that Masimo and Philips will be working together for the benefit of patients and clinicians around the world," said Joe Kiani, Chairman and CEO of Masimo. "I am delighted that we were able to reach this important agreement which allows us to focus on the future to deliver the solutions that our customers have been looking for."
In conjunction with the appropriate Philips patient monitoring platform, Masimo's rainbow SET technology analyzes multiple wavelengths of light to accurately measure total hemoglobin (SpHb), oxygen content (SpOC), carboxyhemoglobin (SpCO), methemoglobin (SpMet) and Pleth Variability Index (PVI) non-invasively and continuously. Continuous monitoring of SpHb on a Philips monitor at the point of care provides clinicians with real-time visibility to changes in hemoglobin in between invasive blood samplings.
Anticipated cash flow and income consequences for Philips
As part of the business partnership agreement, Philips and Masimo have agreed to end all pending lawsuits between the two companies, which includes that Philips is released from paying the $467 million jury verdict that was awarded to Masimo in October, 2014.
Philips has agreed to make a $300 million cash payment to Masimo in the fourth quarter of 2016; and to invest in the relationship by making certain marketing and product integration commitments over the coming years. Entering into the business partnership agreement has minimal impact on income from operations (EBIT) in the fourth quarter of 2016.
Anticipated cash flow and income consequences for Masimo
As the result of anticipated legal fee savings during the fourth fiscal quarter, Masimo now expects its fiscal 2016 GAAP earnings per diluted share, exclusive of the impact of the business partnership agreement, to be $2.14, up from $2.13.
Masimo expects to use some of the after-tax proceeds from the business partnership agreement to repay amounts outstanding under its revolving line of credit. The guidance set forth above is an estimate only and actual performance could differ.
Dangote Says N300bn Bond Listing Reflects Nigerian Capital Market Depth
By Aduragbemi Omiyale
The listing of Dangote Industries Limited's N300 billion series 1 and 2 bonds on the Nigerian Exchange (NGX) Limited has been described as an indicator of the depth of the Nigerian capital market.
The Group Chief Executive Officer of the conglomerates, Mr Olakunle Alake, said this on Wednesday when a closing gong ceremony was held to celebrate the completion of the listing of the corporate debt instrument on the local stock exchange.
Mr Alake, represented by the Group Chief Finance Officer, Mr Mustapha Ibrahim, said, "We are pleased to have showcased the depth and liquidity of the domestic capital market whilst we reflect the strong quality of the issuer, despite the current global market realities."
According to him, the depth of the market was reflected in the successful issuance of the bond, which was the largest aggregate local currency bond issued in the capital market so far within the year.
He further noted that the listing of the bond recorded participation from a wide range of investors, including domestic pension funds, asset managers and insurance companies and further demonstrated investors' confidence in Nigeria's credit reality.
On his part, the Divisional Head of Capital Markets at NGX, Mr Jude Chiemeka, speaking at the event, applauded the listing of the bond, which provides corporates with the opportunity to raise capital.
"The listing of this transaction on our platform not only allows for a more liquid capital market, but it also shows our capacity to facilitate large transactions towards enabling a more robust ecosystem," Mr Chiemeka said.
He further noted that NGX remains committed to fostering similar transactions through its digital gateways such as this and a confident market where corporates and investors can achieve their respective objectives.
Unlisted Securities Market Closes Flat at Midweek
By Adedapo Adesanya
Trading activities ended in a stalemate on the floor of the NASD Over-the-Counter (OTC) Securities Exchange on Wednesday, with no single price gainer or a price loser at the close of business.
As a result of this development, the market capitalisation of the bourse remained intact at N1.03 trillion, as the NASD Unlisted Securities Index (NSI) also remained unchanged at 743.15 points.
The unlisted securities market closed flat in the midweek session amid low investor appetite for the market, as attention shifted to the fixed-income market, where the Central Bank of Nigeria (CBN) sold treasury bills at the primary market, with the stop rate over 14 per cent.
Data from the bourse showed that the volume of securities traded yesterday was abysmally low as it went down by 99.9 per cent to 8,299 units from the 20.1 million units transacted a day earlier.
Likewise, the value of shares traded during the session dropped to N1.2 million, 97.3 per cent lower than the N44.5 million posted in the preceding trading day.
These transactions were carried out yesterday in nine deals, 75 per cent lower than the 36 deals executed on Tuesday.
Geo-Fluids Plc remained the most traded stock by volume on a year-to-date basis with a turnover of 482.1 million units valued at N544.1 million, UBN Property Plc occupied second place with the sale of 365.8 units worth N309.5 million, while Industrial and General Insurance (IGI) Plc was in third place with the sale of 71.1 million units valued at N5.1 million.
Also, VFD Group Plc ended the session as the most traded stock by value on a year-to-date basis with a turnover of 7.3 million units worth N1.7 billion, Geo-Fluids Plc was in second place with a turnover of 482.1 million units worth N544.1 million, while UBN Property Plc was in third place with the sale of 365.8 million units valued at N309.5 million.
Naira Sells N461.24/$1 at I&E, N764/$1 at P2P, N747/$1 at Black Market
By Adedapo Adesanya
The Nigerian Naira appreciated against the US Dollar in the Peer-2-Peer (P2P) and the Investors and Exporters (I&E) windows of the foreign exchange market on Wednesday, March 30, but depreciated in the black market.
In the P2P segment, it gained N3 against its American counterpart to quote at N764/$1, in contrast to the N767/$1 it was traded on Tuesday as the demand for cryptos, which most traders in this category use the funds to buy, was relatively mild.
In the I&E window or the spot market, the Naira appreciated against the greenback yesterday by 51 Kobo or 0.11 per cent to settle at N461.24/$1 compared with the previous day's N461.75/$1, according to data obtained from FMDQ Securities Exchange, with the forex turnover put at $74.31 million.
But in the parallel market, the domestic currency depreciated against the US Dollar in the midweek session by N4 to trade at N747/$1 versus Tuesday's exchange rate of N743/$1.
Also, in the interbank window, the Naira lost N1.93 against the Pound Sterling to sell at N567.68/£1 versus Tuesday's N565.52/£1, and against the Euro, it slid by N2.25 to at N499.21/€1 compared with the preceding day's N496.66/€1.
Meanwhile, the digital currency market swayed to the bulls yesterday as most of the tokens tracked by Business Post ended in the green territory amid better-than-expected consumer confidence figures from the United States.
Data from the US Conference Board showed that its monthly survey rose to a reading of 104.2 basis points, better than the 101 mark expected, lifting Bitcoin (BTC) by 4.2 per cent to $28,519.76, as Ethereum (ETH) rose by 0.5 per cent to $1,788.52.
Solana (SOL) grew by 2.1 per cent to $21.08, Dogecoin (DOGE) gained 1.4 per cent to sell at $0.0751, Litecoin (LTC) increased by 0.6 per cent to $90.14, while Cardano (ADA) chalked up 0.5 per cent to quote at $0.3797.
However, Ripple (XRP) dropped 0.4 per cent to trade at $0.5336, Binance Coin (BNB) lost 0.2 per cent to settle at $313.02, and Binance USD (BUSD) and the US Dollar Tether (USDT) traded flat at $1.00 apiece.
Latest News on Business Post