PwC Partners OGFZA to Boost FDI
By Modupe Gbadeyanka
A partnership agreement has been signed between PricewaterhouseCoopers (PwC) and the Oil and Gas Free Zones Authority (OGFZA).
The deal is to pool resources in a strategic relationship that will see the two organisations working together to drive investments into Nigeria's oil and gas free zones.
The partnership agreement commits PwC to long-term collaboration with OGFZA's investment subsidiary, the Free Zone Global Investments Limited, in the areas of strategic advisory services, optimisation of processes and investment promotion.
Speaking at the signing ceremony in OGFZA's office in Abuja, Managing Director of the authority, Mr Umana Okon Umana, described the new relationship with PwC as important.
Mr Umana said the mandate of OGFZA to manage the nation's oil and gas free zones and grow foreign direct investment inflow into them required professionalism that can only be enhanced through partnership with the right brand like PwC.
"Given what you represent as a global brand, working together we can win for OGFZA and for Nigeria," Mr Umana told the team from PwC, and thanked them for accepting to partner with OGFZA to "fully realise the promise of the free zones as vehicles for growth and development."
Mr Cyril Azobu, partner at PwC and leader of the team, said his organisation was excited to be part of the OGFZA initiative, adding, "I strongly believe you have the right niche for investments."
Mr Azobu said it was for him a great moment to be "a participant in the process for the development of my country."
Naira Appreciates on Dollar Across FX Segments
By Adedapo Adesanya
The Naira appreciated against the United States Dollar across the main segments of the foreign exchange (forex) market, the Peer-2-Peer (P2P), the Investors and Exporters (I&E), and the black market windows, on Friday, March 31.
In the spot market, the Naira gained 12 Kobo or 0.03 per cent against the greenback during the session to sell at N461.38/$1, in contrast to the previous day's value of N461.50/$1, amid the sale of FX valued at $188.98 million, according to data obtained from FMDQ Securities Exchange.
Also, in the P2P arm of the market, the Nigerian currency was exchanged with its American counterpart on Friday at N765/$1, in contrast to the previous day's N766/$1, indicating an appreciation of N1.
Similarly, in the parallel market, the domestic currency closed stronger against the US Dollar yesterday by N2 to settle at N747/$1 compared with Thursday's closing rate of N749/$1.
However, in the interbank window, the local currency lost N1.85 against the Pound Sterling to quote at N570.35/£1 compared with the preceding session's N568.50/£, and against the Euro, it depreciated by 96 Kobo to finish at N501.17/€1 versus N500.21/€1.
Meanwhile, in the digital currency market, the bulls had a field day as they strengthened most of the tokens tracked by Business Post, with Bitcoin (BTC) rising by 1.3 per cent to $28,421.28, and Ethereum (ETH) expanding by 1.1 per cent to $1,816.98.
Further, Litecoin (LTC) increased its value by 3.5 per cent to quote at $92.52, Cardano (ADA) gained 3.4 per cent to sell for $0.391, Dogecoin (DOGE) appreciated by 2.8 per cent to trade at $0.0766, and Solana (SOL) recorded a 2.6 per cent jump to finish at $20.91.
On the flip side, Ripple (XRP) suffered a 5.3 per cent to trade at $0.5175, Binance Coin (BNB) went down by 0.5 per cent to quote at $314.38, as the value of Binance USD (BUSD) and the US Dollar Tether (USDT) remained unchanged at the close of transactions at $1.00 apiece.
Unlisted Stocks Shed 0.38%
By Adedapo Adesanya
The NASD Over-the-Counter (OTC) Securities Exchange ended the last trading session of the week on a bearish note with a 0.38 per cent loss on Friday.
The decline reported by unlisted stocks was influenced by FrieslandCampina Wamco Nigeria Plc and Central Securities Clearing Systems (CSCS) Plc.
FrieslandCampina shed 91 Kobo yesterday to close at N80.09 per unit versus Thursday's closing price of N81.00 per unit, as CSCS Plc depreciated by 49 Kobo to sell at N14.86 per share, in contrast to the previous day's N15.35 per share.
The duo overshadowed the gains posted CitiTrust Plc and Afriland Properties Plc, with the former rising by 25 Kobo to N13.50 per share from N13.25 per share, and the latter growing by 7 Kobo to N2.16 per unit from N2.09 per unit.
At the close of trades, the market capitalisation of the bourse decreased by N3.88 billion to N1.025 trillion from N1.029 billion, while the NASD Unlisted Securities Index (NSI) went down by 2.80 points to 741.97 points from 743.84 points.
There was a rise in the volume of securities traded at the bourse yesterday by 1,238.5 per cent to 318.5 million units from the 23.8 million units transacted a day earlier, as the value of shares traded at the session ballooned by 4,146.7 per cent to N1.3 billion from the N31.3 million posted on Thursday, with the number of deals increasing by 300 per cent to 36 deals from the nine deals carried out in the preceding session.
Geo-Fluids Plc remained the most traded stock by volume (year-to-date) with 801.1 million units valued at N1.2 billion, UBN Property Plc was in second place with 365.8 units valued at N309.5 million, and Industrial and General Insurance (IGI) Plc was in third place with 91.2 million units worth N6.7 million.
VFD Group Plc ended the session as the most traded stock by value (year-to-date) with 10.3 million units worth N2.3 billion, Geo-Fluids Plc was second with 801.1 million units worth N1.2 billion, and UBN Property Plc was in third place with 365.8 million units valued at N309.5 million.
Oil Market Grows on Positive Inflation Signal, Supply Factor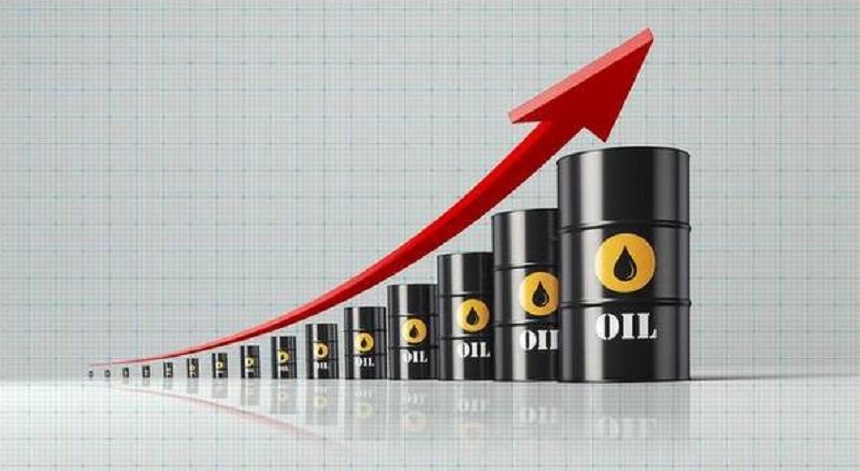 By Adedapo Adesanya
The oil market improved by more than 1 per cent on Friday to record its second-straight week of gains, as supplies tightened in some parts of the world and US inflation data indicated price rises were slowing.
Brent futures grew by $1.29 or 1.6 per cent to $79.89 a barrel, as the US West Texas Intermediate crude (WTI) increased by $1.30 or 1.8 per cent to $75.67 a barrel.
Data on Friday showed the US Personal Consumption Expenditure (PCE) index, the Federal Reserve's preferred inflation gauge, rose 0.3 per cent in February on a monthly basis compared with a 0.6 per cent rise in January.
On a 12-month basis, core PCE increased 4.6 per cent, a slight deceleration from the level in January. Including food and energy, headline PCE rose 0.3 per cent monthly and 5 per cent annually, compared with 0.6 per cent and 5.3 per cent in January.
The softer-than-expected data came with monthly energy prices in the world's largest economy decreasing by 0.4 per cent while food prices went up by 0.2 per cent, with goods prices climbing 0.2 per cent and services increasing 0.3 per cent.
In other data from the report, personal income rose 0.3 per cent, slightly above the 0.2 per cent estimate. Consumer spending climbed 0.2 per cent, compared with the 0.3 per cent estimate.
This points to the fact that inflation and supported oil prices could point to less aggressive interest rate hikes from the US central bank, lifting investor demand for risk assets like oil.
Oil prices were also buoyed after producers shut in or reduced output at several oilfields in the semi-autonomous Kurdistan region of northern Iraq following a halt to the northern export pipeline.
Since Saturday, Iraq has been forced to halt around 450,000 barrels per day of crude exports, or half a per cent of global oil supply, from the Kurdistan region (KRI) through a pipeline that runs from its northern Kirkuk oil fields to the Turkish port of Ceyhan.
Turkey stopped pumping Iraqi crude from the pipeline after Iraq won an arbitration case in which it said Turkey had violated a joint agreement by allowing the Kurdistan Regional Government (KRG) to export oil to Ceyhan without Iraq's consent.
The Organisation of the Petroleum Exporting Countries and allies (OPEC+) led by Russia are likely to stick to their existing output deal at a meeting on Monday.
Latest News on Business Post