All Set for 5th Africa Business Forum in Ethiopia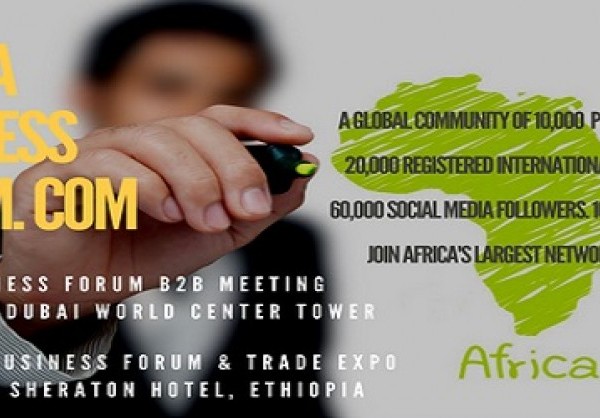 By Modupe Gbadeyanka
The 5th edition of the Africa Business Forum in Addis Ababa, Ethiopia will be held for the second time in Ethiopia on March 1, 2017 at Sheraton Hotel, under the patronage of Saudi Sheikh Mohammed Al Amoudi, one of the largest investors in Africa, Forbes ranked billionaire and Ethiopia's biggest employer.
Prior to the conference, the Africa Business Forum B2B Investment Meeting was held successfully on January 25, 2017 at the Dubai World Trade Center Tower, to welcome potential investors to Africa.
Emirates Airline has also become the official airline partner of the event and has offered special fares from GCC countries, details can be found on AfricaBusinessForum.com.
Since its creation in 2014, The Africa Business Forum has become one of the most important bi-annual gatherings in Africa and the Middle East.
Africa Business Forum presents an invaluable opportunity for investors to connect with clients from across industries and from around the world.
An opportunity to maximize market share by building connections with African customers and partners. The conference will host distinguished panellists and speakers, including ambassadors, high government officials, business leaders, investors and CEOs, our special guests include Fitsum Arega – Director General of the Ethiopian Investment Commission – Ethiopia Government; Belachew Fikre, PhD – Deputy Commissioner – Ethiopian Investment Commission – Ethiopia Government.
Others are Mohamad Saeed Al Raqbani – General Manager at Dubai investments Industries a subsidiary of Dubai Investments; Zemedeneh Negatu Country Managing Partner for EY (Ernest & Young) Ethiopia; Yohannes Tilahun – Former CEO to General Electric (Ethiopia) and Adviser to the commissioner at Ethiopian Investment Commission; Hussain Bin Jama Al Ishaqi – Acting CEO of Oman Oil; Rob Withagen, Managing Director and Co-founder – Asoko Insight; John Small – Chief Executive Officer of the Eastern Africa Association; and Johnny Muteba – CEO, Pan African Chamber of Commerce.
Also to be at the programme are Craig Bridgman – Former Global Head of Investment Banking for Clarkson Capital Markets, currently Executive Chairman of East Africa Oil Field Services; Jari Matero – Senior Investment Manager at Finnfund; Gianluigi Esposito – Managing Partner – AEM Carnelutti Law; Mohamoud Dualeh – Head of Products at Alizz islamic bank (Oman); Mohamud Kasil – General Manager, Covestro Middle East (formerly Bayer's $12.3 billion materials science division); Seyoum Bereded – CEO Consopia Consulting Services and President of the ICT Association of Ethiopia; Attorney N. Jude (Jay) Menes – President, Meneslaw Konsult & Europlaw; Olatorera Oniru – Entrepreneur & CEO of Dressmeoutlet(dot)com; Joachim Yebouet – Chief Executive Officer – East African Tiger Brands Industries and many more.
"We are very excited about the level of enthusiasm we have received from speakers, sponsors and attendees for this unique conference," said Mr R Ahmed, founder and chairman of Africa Business Forum.
"We look forward to bringing together the many business leaders and offering international companies considerable opportunities to enter and become successful in one of the fastest growing economies in the world. The 5th Africa Business Forum in Addis Ababa, Ethiopia is an incredible convening center for global stakeholders and an opportunity to share perspectives on the issues facing global business and beyond," said Mr R Ahmed.
The panel topics at the 5th Africa Business Forum represent the areas of Finance & Capital Investment, ICT, Agriculture & Mining, Power & Energy, Consumer Goods & General Trade, Logistics & Aviation, Infrastructure, Tourism, Hospitality & Real Estate, Manufacturing and all related industries.
Confusion Over Fresh Court Order on Suspended Oando AGM
By Dipo Olowookere
There seems to be confusion over a fresh court order secured by a shareholder of Oando Plc concerning the suspension of the company's Annual General Meeting (AGM).
In 2019, the Securities and Exchange Commission (SEC) suspended the yearly shareholders' meeting of Oando, preventing the energy firm from meeting its obligations of filing financial statements to the Nigerian Stock Exchange (NSE).
But on Tuesday, February 23, 2021, one Mr Patrick Ajudua claimed he obtained an order from Justice O. A Musa of the High Court of the FCT, Abuja, declaring the action of SEC, the apex regulator in the nation's capital market, as illegal and unconstitutional.
It was reported that the court held that Mr Ajudua, as a member and shareholder of Oando, has a right and freedom of association and assembly with other shareholders and the right to receive information at the AGM.
Also, it was reported that a letter dated May 31, 2019, by SEC to Oando sanctioning its management was declared unconstitutional, null and void by the court because it was in violation of Mr Ajudua's fundamental right to a fair hearing and his human right to receive information on the affairs of Oando and his interest and shares in Oando.
According to reports, the court set aside the directive of SEC suspending/postponing indefinitely the AGM of Oando because it was in violation, breach, and contravention of Mr Ajudua's right and freedom of association and assembly with other shareholders and right to information from other shareholders and Oando Plc;
The shareholder was said to have obtained an order from the court restraining SEC and Oando from interfering with, disrupting, and or interfering with his constitutional right of association, assembly and right to receive information from other shareholders and members of Oando Plc at the postponed 2019 AGM.
He further received an order of injunction restraining SEC from acting and/or taking any steps pursuant to its letter of May 31, 2019, or interfering in any manner whatsoever with directors lawfully appointed him.
Also, Mr Ajudua was said to have secured an order directing Oando to convene and hold AGM within 90 days of the order of the court in compliance with the provisions of CAMA.
But SEC, in a statement made available to Business Post on Wednesday said it was not aware of the case or the judgment.
"The attention of the commission has been drawn to several publications in the social media, where it is reported that a shareholder of Oando Plc, purportedly obtained a judgment from the Federal Capital Territory High Court against the commission.
"The commission wishes to inform the general public that it was never at any time served with court processes with respect to the purported matter at the FCT High court.
"The commission will consequently take all necessary steps to verify and set aside the purported decision of the said court," the statement signed by the management disclosed.
However, Mr Ajedua has described his action as "a win" for him and "all shareholders," noting that, "The lingering delay in resolution of the conflict has brought untold hardship, financial difficulty and loss of capital appreciation on our investments."
"Therefore, we receive this judgement with humility and the pray that with all hands on deck, we can move the company forward.
"We plead with the regulators to give peace a chance and allow for a harmonious resolution to the conflict.
"The shareholder community will continue to protect our investments by ensuring high compliance with the code of corporate governance and the integrity of the company's operations in the capital market," he added.