SON Educates Youths On Standardisation, Quality Policy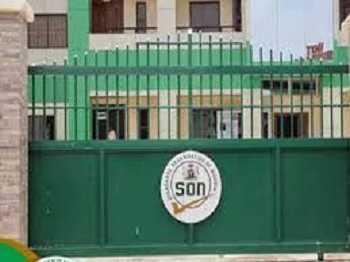 By Modupe Gbadeyanka
The Standards Organisation of Nigeria (SON) has spread its net to inculcate standardisation and quality in the youth and children.
Its Director-General, Mr Osita Anthony Aboloma said in line with the "World's Standards Day" with the theme: "Standards Build Trust," the agency was promoting awareness on standards among children and the youth as agents of change.
He spoke in his Lagos office when he hosted some children from schools in Lagos, who made presentations on standardisation and the need to ensure quality of products and services.
Mr Aboloma, who was represented by Mrs Cynthia Ifeagwu, said standards should guide Nigerians in businesses, schools and daily live, noting that if the rudiments of standards and quality are imbibed at a young age, children and youths could identify substandard goods.
He said: "Good habit if learnt at a young age, there is a  possibility that a youngster will grow living his life insisting on quality and standard product and services through one's life time. Children interface with different types of food and also are in a position to drive quality standards by engaging their parents to buy goods and services with SON standards mark of quality".
In its presentation, Chrisland School, led by Miss Mmesoma Okonkwo, defined her understanding of what standards are and its role in economic growth. She also stated that compliance to standards could encourage sustainable economic growth.
Miss Oyindamola Samuel, from Agape Bundle School, said compliance to standards could make people entrust their lives to particular products. She said no product could claim to have quality and standards except it is approved by SON.
She encouraged the public to insist on products with SON quality mark, stressing that the mark of quality helps organisations create wealth, build trust and stand-out in the pack.
Mr Aboloma educated the students on the need to get their parents to patronise quality and safe products. This, he stressed, will safeguard them from the effects of unsafe products.
Mr Aboloma said his agency's mandate was to educate the public on the dangers of substandard products in school, and to build a nation whose economy is sustainable.
He further stated that the mandate included safeguarding people's lives and property from the impacts of substandard products through consumer education.
SON has recorded successes in several sectors of the economy through the SONCAP and MANCAP, which are mandatory regulatory programmes for imported and locally manufactured goods.
OPEC+ Likely to Keep Output Cut Levels as Group Meets April 3
By Adedapo Adesanya
The Organisation of the Petroleum Exporting Countries and its allies (OPEC+) will likely stick to its existing deal to cut oil output at a meeting on Monday, April 3.
According to Reuters, this was said disclosed by five delegates from the producer group after oil prices recovered following a drop to 15-month lows due to banking fears and demand worries.
Brent crude has recovered towards $80 a barrel after falling to near $70 on March 20 as fears ease about a global banking crisis and as a halt in exports from Iraq's Kurdistan region curbs supplies.
OPEC+ is due to hold a virtual meeting of its ministerial monitoring panel, which includes Russia and Saudi Arabia, on Monday.
The consensus was that Kurdistan curbs and recent price drops were not sufficiently important to affect the overall OPEC+ policy path for 2023.
Kurdistan's crude oil exports – around 400,000 barrels per day shipped through an Iraqi-Turkey pipeline to Ceyhan and then on tankers to the international markets – were halted late last week by the federal government of Iraq.
Last week, the International Chamber of Commerce ruled in favour of Iraq against Turkey in a dispute over crude flows from Kurdistan. Iraq had argued that Turkey shouldn't allow Kurdish oil exports via the Iraq-Turkey pipeline and Ceyhan without approval from the federal government of Iraq.
Talks between officials from Kurdistan and from the Iraq federal government have failed in recent days, but they are set to continue next week.
Three other OPEC+ delegates also told Reuters that any policy changes were unlikely on Monday. After those talks, the next full OPEC+ meeting is not until June.
Last November, OPEC+ reduced its output target by 2 million barrels per day – the largest cut since the early days of the COVID-19 pandemic in 2020. The same reduction applies for the whole of 2023.
Saudi Arabia's energy minister, Prince Abdulaziz bin Salman, has said OPEC+ will stick to the reduced target until the end of the year.
Oando to Quit Nigerian, Johannesburg Stock Exchanges
By Dipo Olowookere
The board of Oando Plc has informed the investing community of its intention to leave the Nigerian and Johannesburg stock exchanges in the coming months.
The reason for exiting the stock market, according to the energy firm, is to become a private company and to achieve this, its core investor, Ocean and Oil Development Partners Limited (OODP), has offered to buy all the shares held by minority shareholders in Oando.
OODP is offering to pay N7.07 in cash or its equivalent in South African Rand (ZAR) for each of the stock, which it said represents a 58 per cent premium to the last traded share price of Oando on Tuesday, March 28, 2023, being the day prior to the date it submitted the scheme application to the Securities and Exchange Commission (SEC).
Oando trades its shares on the floors of the Nigerian Exchange (NGX) Limited and the Johannesburg Stock Exchange (JSE).
This news comes hours after the company announced that it had bounced back into profitability after years of dishing out losses to the frustration of shareholders.
In its unaudited financial results for 2021, Oando reported a profit after tax of N34.7 billion, in contrast to the loss after tax of N140.7 billion of the preceding year.
Before now, Oando has had it rough with regulators in Nigeria, leading to its suspension from the market and a court tussle over allegations that it tampered with its financial statements to deceive investors.
In the notice released this week, Oando said after the acquisition of "the shares of all minority shareholders in Oando," it would "subsequently be delisted from NGX and JSE and re-registered as a private company."
At the moment, the energy firm said it has "applied for the SEC's No Objection to the scheme, noting that the deal is "subject to the approval of the shareholders of Oando at the Court-Ordered Meeting of the company, as well as the sanction of the Federal High Court."
However, it disclosed that, "The terms and conditions of the transaction will be provided in the scheme document, which will be dispatched to all shareholders following the receipt of an order from the Federal High Court to convene a Court-Ordered Meeting," promising to update the market "upon receipt of requisite approvals from shareholders and regulators."
Ajay Banga to Become World Bank President Unopposed
By Adedapo Adesanya
The World Bank Group's Board of Executive Directors has announced Mr Ajay Banga, a US national, as the only nominee for the position of the bank's next president and may clinch the post if he passes the next hurdle.
This was contained in a statement issued by the World Bank on Friday.
"The World Bank Group's Board of Executive Directors today confirmed that, as announced on February 22, the period for submitting nominations for the position of the next President of the World Bank Group closed on Wednesday at 6:00 pm ET."
"The board received one nomination and would like to announce that Ajay Banga, a US national, will be considered for the position.
"In accordance with established procedures, the Board of Executive Directors will conduct a formal interview with the candidate in Washington D.C., and expect to conclude the Presidential election in due course," the board said.
US President Joe Biden in February nominated Mr Banga to lead the World Bank, saying he is "well equipped" to lead the global institution at "this critical moment in history."
No other country proposed an alternate candidate for the prestigious post.
Mr Banga, 63, was born in India and is a naturalised US citizen. He has led Mastercard Inc and now currently serves as Vice Chairman at General Atlantic.
If confirmed, Mr Banga would become the first-ever Indian-American to head either of the two top international financial institutions, the International Monetary Fund (IMF) and the World Bank.
Mr Banga is expected to replace the current World Bank president, Mr David Malpass, who will step down in June, nearly a year before his term is scheduled to expire.
Mr Malpass faced strong criticism over the bank's commitment to climate action and over his personal views on climate change.
Latest News on Business Post