Stock Investors Gain N301bn Amid 30% Drop in Volume of Trades
By Dipo Olowookere
A renewed buying pressure sustained the gains on the floor of the Nigerian Exchange (NGX) Limited on Thursday as the trading platform further closed higher by 1.06 per cent.
Unlike the previous session, the mood of stock investors was upbeat yesterday, resulting in a higher number of price gainers than price losers. A total of 27 equities ended in the green territory, while 11 equities finished in the danger zone.
This was because of the growth posted by the major sectors of the market except for the energy space, which lost 0.30 per cent. The banking counter grew by 1.22 per cent, the consumer goods index rose by 0.93 per cent, while the insurance and industrial goods sectors gained 0.42 per cent each.
At the close of business, the All-Share Index (ASI) expanded by 559.91 points to 53,151.32 points from 52,591.41 points, while the market capitalisation climbed higher by N301 billion to N28.654 trillion from N28.353 trillion.
Business Post reports that the volume of trades depreciated by 30.40 per cent on Thursday to 266.2 million units from N382.5 million units, the number of trades also fell by 7.11 per cent to 5,501 deals from 5,922 deals, while the value of trades appreciated by 20.81 per cent to N5.1 billion from N4.2 billion.
A breakdown revealed that Transcorp recorded the highest trading volume with 47.7 million units valued at N60.1 million, Access Holdings exchanged 25.3 million units worth N248.3 million, GTCO traded 20.7 million units worth N481.1 million, Jaiz Bank sold 16.4 million units for N13.2 million, while Universal Insurance transacted 16.3 million units valued at N3.3 million.
On the price movement index, Industrial and Medical Gases was the best-performing stock of the session as its value rose by 10.00 per cent to N11.00, Champion Breweries appreciated by 9.94 per cent to N3.76, Linkage Assurance grew by 9.09 per cent to 60 kobo, Livestock Feeds improved by 7.35 per cent to N1.46, while Lafarge Africa jumped by 6.23 per cent to N28.15.
However, the worst-performing stock was NPF Microfinance Bank after it depleted by 9.90 per cent to N1.82, UAC Nigeria declined by 9.69 per cent to N11.65, Academy Press fell by 9.59 per cent to N1.32, Learn Africa went down by 8.89 per cent to N2.05, while Royal Exchange deflated by 5.26 per cent to N1.08.
I am Leaving Nigeria Better in 2023 Than in 2015—Buhari
By Adedapo Adesanya
President Muhammadu Buhari has claimed that he is leaving Nigeria better in 2023 than when his administration came into power in 2015.
The outgoing president said this when he addressed the nation in a farewell broadcast on Sunday morning, ahead of his exit from power on Monday, May 29.
President Buhari will on Monday hand over power to the president-elect, Mr Bola Ahmed Tinubu, who was declared the winner of the February 25 election by the Independent National Electoral Commission (INEC).
In his address, the President expressed his gratitude to Nigerians and explained the thinking behind some of his administration's key decisions.
Read the full text of his broadcast below:
FAREWELL SPEECH BY HIS EXCELLENCY, MUHAMMADU BUHARI, PRESIDENT AND COMMANDER-IN-CHIEF, FEDERAL REPUBLIC OF NIGERIA.
My fellow Nigerian brothers, sisters and friends of Nigeria.
2. I address you today, in my last assignment as a democratically elected President of our great and well endowed nation, with a deep sense of gratitude to God, a great deal of appreciation to the Nigerian people and a modest sense of fulfilment.
3. Today we mark and celebrate another peaceful transition of power from one elected government to another in our steady march to improve and sustain Nigeria's democracy.
4. This year we witnessed the most keenly contested presidential elections since the First Republic and this demonstrates that our democracy is getting better and more entrenched with each election.
5. We must as a nation improve and sustain gains we make in the electoral process, on an incremental basis for Nigeria to take its rightful place among nations.
6. Our democracy provides for, allows and encourages seeking redress for any perceived injustices, enabling some candidates and political parties that did not agree with the results to go to court.
7. Irrespective of the outcome of the various cases, I urge all parties involved to accept the decision of our courts and join hands to build a better Nigeria.
8. I salute the doggedness and resilience of all the Presidential Candidates and their political parties for believing in our judicial system by taking their grievances with the election results to court.
9. In the course of the campaigns, we had argued and disagreed on how to make Nigeria better but we never disagreed or had any doubts that Nigeria has to be better.
10. As your President, I call on all of us to bring to bear the strength of our individualism, the power of our unity, the convictions of our beliefs to make Nigeria work better and together with one spirit and one purpose.
11. To my brother, friend and fellow worker in the political terrain for the past ten years – Asiwaju Bola Ahmed Tinubu -, I congratulate you on the realisation of your dream, which was propelled by a burning passion to put Nigeria amongst the leading nations of the world.
12. You have indeed worked for this day and God has crowned your efforts. I have no doubt that your passion for excellence, reliance on competence, fairness in relationships, commitment to equity, loyalty to the country and desire for Nigeria to be globally relevant would come through for you, under God's guidance, as you lead our country to levels higher that I am leaving.
13. You are the best candidate among all the contestants and Nigerians have chosen well.
14. The last eight years have been an exciting experience in my desire and commitment to see a Nigeria in which public goods and services are available, and accessible within a united, peaceful and secure nation.
15. Fellow Nigerians, on the strength of your over-whelming support for me and my political party, I started this journey with a great deal of promise and expectation from you. I never intended to be just politically correct but to do the correct things that will make meaningful impact on the lives of the common Nigerian.
16. This high expectation was not misplaced because, like the ordinary Nigerian, I had grown tired of watching the country progressively moving away from the path of correctness.
17. To ensure that our democracy remains resilient and our elected representatives remain accountable to the people, I am leaving behind an electoral process which guarantees that votes count, results are credible, elections are fair and transparent and the influence of money in politics reduced to the barest minimum. And Nigerians can elect leaders of their choice.
18. We are already seeing the outcome of this process as it provided an even playing field where persons without any political God-Father or access to money defeated other well-resourced candidates.
19. The Nigerian economy has become more resilient due to the various strategies put in place to ensure that our economy remained afloat during cases of global economic downturns.
20. You would all recall the supply chain disruptions and economic downturn that the world witnessed between 2020 and 2022 as a result of the COVID-19 pandemic. The deftness of our response to the pandemic still remains a global best practice.
21. Furthermore, we increased the ability of the poor and rural Nigerians to earn a living, provided more food for millions in our villages and gave our women opportunities to earn a living.
22. Young men and women in urban centres were also supported to put their skills into productive use. Our administration also provided an enabling environment for the private sector to engage in businesses for which their return on investments is guaranteed.
23. The private sector proved a strong partner in our drive to build a resilient and sustainable economy as evidenced by the growing number of turn-key projects in various sectors of the economy.
24. In the course of revamping the economy, we made some difficult choices, most of which yielded the desired results. Some of the measures led to temporary pain and suffering for which I sincerely apologised to my fellow countrymen, but the measures were taken for the overall good of the country.
25. Mindful of the need to ensure adequate infrastructure to drive economic growth, we completed age-long projects and processes notably amongst which are the Petroleum Industry Act, completion of some power projects, completion of the second Niger bridge and various important roads linking cities and states.
26. Our battle to ensure that all Nigerians live in a safe and secure environment has achieved considerable results. As I complete my term in office, we have been able to reduce the incidences of banditry, terrorism, armed robbery and other criminal activities considerably.
27. To sustain the gains made so far, I call on all Nigerians to be more vigilant and support the security agencies by ensuring that our values defined by being your brothers' keeper govern our actions.
28. Up-till now, I still grieve for our children still in captivity, mourn with parents, friends and relatives of all those that lost loved ones in the days of the senseless brigandage and carnage. For all those under unlawful captivity, our security agencies are working round the clock to secure their release unharmed.
29. Fellow Nigerians, you know how dear the desire in my heart to rid the country of corrupt practices that had consistently diminished our efforts to be a great country.
30. I did pursue this commitment relentlessly, in spite of the expected pushback. I am happy that considerable progress had been made in repatriating huge sums of money back to the country and also taking over properties illegally acquired from our commonwealth.
31. To improve service delivery, we began the implementation of a number of reforms aimed at producing an Efficient, Productive, Incorruptible and Citizen-oriented (EPIC) Federal Civil Service and the results are beginning to show.
32. On the international scene, Nigeria's influence continues to grow as exemplified by notable Nigerians occupying headship and leadership positions in renowned global bodies.
33. Our democracy is built on and continues to thrive on the principles of separation of powers. The leadership and members of the National Assembly deserve my appreciation for their patriotism which did not detract from their roles as a check to the executive arm.
34. I also want to use this opportunity to express my appreciation to a good number of Nigerians who provided their support and encouragement to help me navigate the exciting journey in moving Nigeria forward.
35. I cannot and will not forget the millions who prayed for me during my illness in my first term of office. I am constantly praying for you and for Nigeria to thrive in peace.
36. As I retire home to Daura, Katsina State, I feel fulfilled that we have started the Nigeria Re-Birth by taking the initial critical steps and I am convinced the in-coming administration will quicken the pace of this walk to see a Nigeria that fulfills its destiny to be a great nation.
37. I am confident that I am leaving office with Nigeria better in 2023 than in 2015.
38. I thank you all. And may God Bless the Federal Republic of Nigeria.
Nigerian Exchange Rebounds by 0.20% on Renewed Bargain Hunting
By Dipo Olowookere
Renewed bargain hunting triggered a 0.20 per cent rebound on the floor of the Nigerian Exchange (NGX) Limited on Friday as investors look forward to Monday's swearing-in of Mr Bola Tinubu as the next President of Nigeria.
Investor sentiment improved yesterday as the stock exchange finished with 42 price gainers and 11 price losers, indicating a positive market breadth index.
NASCON topped the gainers' chart after it appreciated by 10.00 per cent to N15.40, Conoil rose by 9.98 per cent to N47.95, NEM Insurance improved by 9.95 per cent to N4.75, NCR Nigeria increased by 9.68 per cent to N3.06, and FTN Cocoa chalked up 9.68 per cent to 68 Kobo.
On the flip side, Sovereign Trust Insurance lost 7.69 per cent to finish at 36 Kobo, Mutual Benefits depreciated by 5.56 per cent to 34 Kobo, NGX Group declined by 4.04 per cent to N27.35, Royal Exchange depleted by 4.00 per cent to 48 Kobo, and Tantalizers fell by 3.85 per cent to 25 Kobo.
The insurance counter recorded the biggest gain during the session after it closed 2.40 per cent higher, the banking sector rose by 2.14 per cent, the energy index rose by 1.05 per cent, the consumer goods counter expanded by 0.41 per cent, while the industrial goods sector depreciated by 0.88 per cent.
Consequently, the All-Share Index (ASI) increased by 152.28 points to 52,973.88 points from 52,821.60 points, and the market capitalisation grew by N83 billion to N28.845 trillion from N28.762 trillion.
During the session, investors transacted 461.8 million stocks worth N7.7 billion in 6,520 deals compared with the 377.1 million stocks worth N9.2 billion traded in 5,879 deals on Thursday, representing a decline in the trading value by 16.30 per cent and an increase in the trading volume and the number of deals by 22.46 per cent, and 10.90 per cent apiece.
UBA sold the most stocks on Friday (59.4 million units), Access Holdings traded 51.5 million shares, Zenith Bank exchanged 50.0 million equities, GTCO traded 41.0 million stocks, and Transcorp transacted 29.7 million shares.
Geo-Fluids Triggers 0.12% Appreciation at NASD OTC Bourse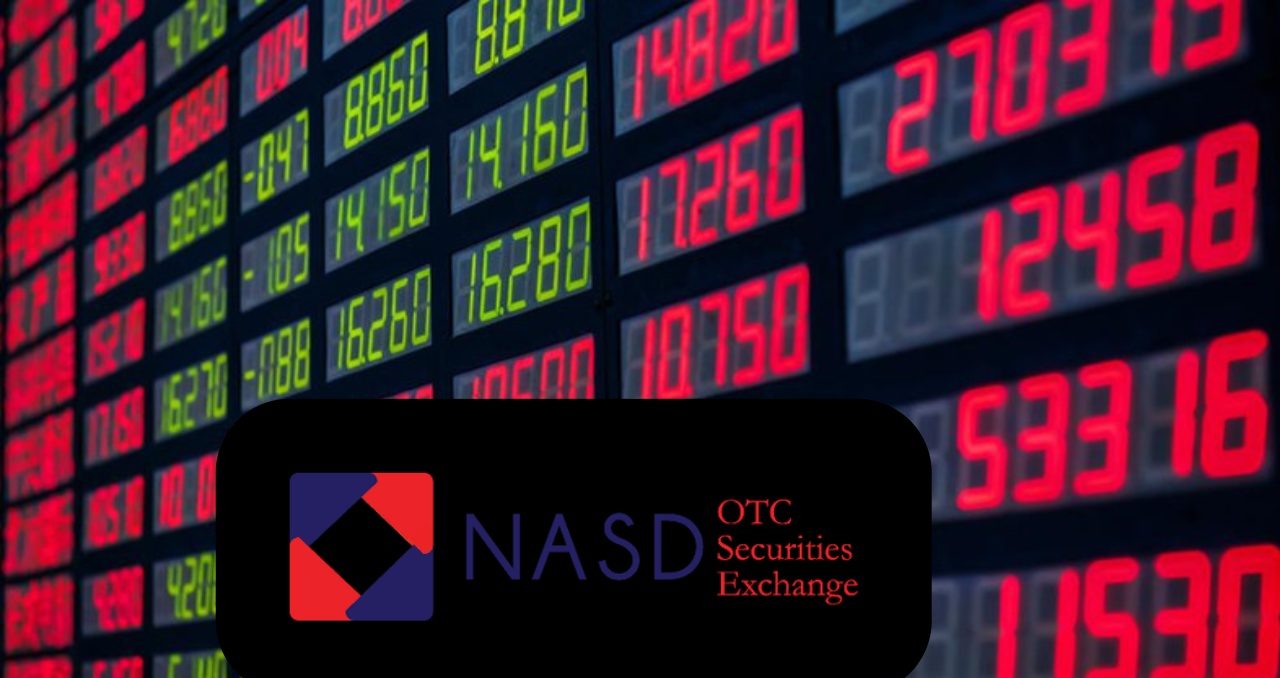 By Adedapo Adesanya
The NASD Over-the-Counter (OTC) Securities Exchange appreciated by 0.12 per cent on Friday, May 26, following the upward movement in the price of Geo-Fluids Plc.
The company, which is the most traded stock by volume at the exchange in the year so far, closed the session as the sole price mover after it gained 28 Kobo to finish at N3.08 per share versus the previous closing price of N2.80 per share.
This pushed the total value of the NASD OTC bourse higher by N1.19 billion at the close of business to N1.002 trillion from N1.001 trillion, as the market index, NASD Unlisted Securities Index (NSI), increased by 0.86 points to wrap the session at 724.12 points compared with the 723.26 points recorded at the previous session.
There was a surge in the volume of securities traded at the bourse by 125.6 per cent at the final trading session of the week, as investors exchanged 117,100 units, in contrast to the 51,910 units traded at the preceding session.
In the same vein, the value of shares traded yesterday went higher by 1,603.4 per cent as the total equities traded amounted to N4.2 million versus the N245,560.00 recorded a day earlier.
These transactions were completed in six deals compared with the seven deals carried out in the previous trading session, representing a decline of 14.3 per cent.
Geo-Fluids Plc remained the most traded stock by volume (year-to-date) with 832.1 million units valued at N1.3 billion, Industrial and General Insurance (IGI) Plc stood in second place with 627.7 units worth N49.4 million, while UBN Property Plc was in third place with 390.9 million units valued at N332.0 million.
Similarly, VFD Group Plc was the most traded stock by value (year-to-date) with 10.6 million units worth N2.4 billion, Geo-Fluids Plc followed with 832.1 million units valued at N1.3 billion, as FrieslandCampina Wamco Nigeria Plc remained in third place with 12.4 million units worth N874.5 million.
Latest News on Business Post