Entries for Ecobank National Essay Competition Close Saturday
By Dipo Olowookere

The national essay competition organised by Ecobank Nigeria Limited to commemorate Children's Banking Month is gradually gaining momentum, especially as the window for the submission of entries draws closer.
According to the financial institution, all entries are expected to be filed to AllENG-ConsumerProductsTeams@ecobank.com, with the contact details of the parent/guardian on or before Saturday, May 21, 2022, at 12 noon.
Results would be sent on all entries by Wednesday, May 25 at 12 noon and winners will be celebrated and given their gifts on May 28, 2022, as part of activities to mark the International Children's Day.
The contest is for children between the ages of 13 and 16 and the topic is What will you consider as the future of banking. Participants are required to write the essay in 400 words, in font size 12 with one and a half line spacing. Winners would be given laptops, educational tabs, and several consolation prizes.
The Head of Consumer Banking at Ecobank Nigeria, Mrs Korede Demola-Adeniyi, in a statement made available to Business Post, explained that the bank initiated the competition to expose children to financial education early in life, adding that it is also part of the lender's commitment towards the Nigerian child.
According to her, "the month of May is set aside by the bank to celebrate childhood and how our children enrich our lives. We acknowledge the importance of our customers, young and old, to Ecobank's ongoing success story. The bank, whose vision is to build a world-class pan-African bank and contribute to the economic development and financial integration of Africa, sees educational development as a fulcrum for positive integration."
Mrs Demola-Adeniyi called on school proprietors, administrators, parents, and guardians to encourage their students, children, and wards to participate actively in the essay competition, stressing that beyond the prizes, the competition is also part of the process to push the frontiers of academic excellence among the young ones in society.
She stated that Ecobank has a MyFirst Account which caters for children and young ones, noting that, "This is our savings account specifically designed for children and teenagers aged between 0-16 years old."
"If you are a parent, the account allows you to save money in your child's name, which they can redeem when they are older. It is the perfect way to save for their education or kickstart a fund for future projects. It gives your child the best start in life," she added.
81 Students Qualify for Next Stage of InterswitchSPAK 4.0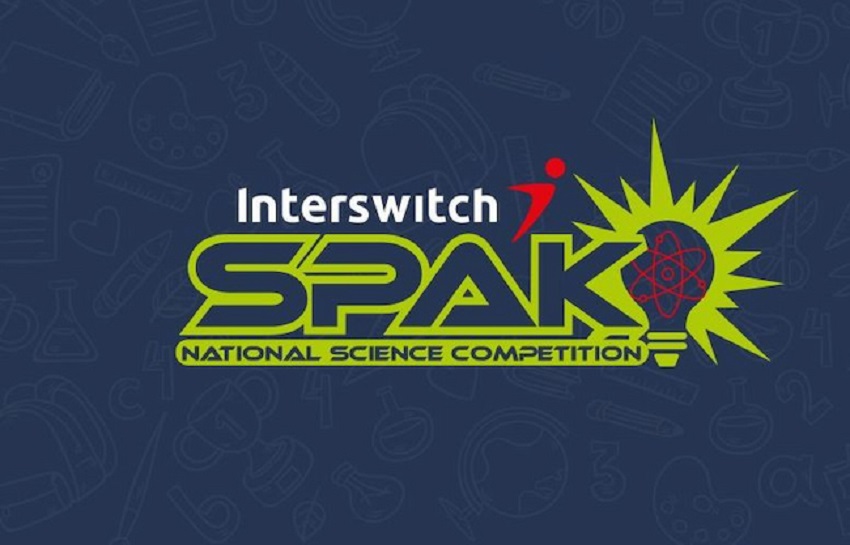 By Modupe Gbadeyanka
The organisers of the prestigious InterswitchSPAK National Science Competition have shortlisted 81 students for the next stage of the educational contest.
The students were chosen from the over 12,000 students who vied for a spot in the finals of the fourth edition of the programme through a nationwide computer-based test (CBT) held between June 2 and 8, 2022, in two stages.
Business Post gathered that the first stage of the CBT was held on June 2 and 5, with the participants pruned to 500 from 12,000 and on June 8, another test was conducted to further trim the number to 81.
The students were tested in Science, Technology, Engineering, and Mathematics (STEM) subjects and the eventual winner of the competition will smile home with N7.5 million in scholarships for five years, a laptop, and monthly stipends.
The first runner-up will receive N4 million in scholarships, a laptop, and monthly stipends for a period of 3 years, while the second runner-up will go home with N1 million in scholarships for a year, a laptop and monthly stipends.
It was learned that the top 81 students who scaled the screening process were from 13 schools, including Adedokun International School, Ota; The Ambassador College, Ota; Marist Brothers' Juniorate, Uturu, Abia; Faith Academy Canaan Land, Ota; Loyola Jesuit College, Abuja; and Mount Olive College, Anambra.
Others are Greater Tomorrow International College, Arigidi, Ondo State; Bofoat Model College, Ondo State; FUTA Staff Secondary School Akure, Ondo; Seolad International College, Ogun; Great Cornerstone International Science College, Ondo State; Apt Scholars Universal College, Ogun State; and Oritamefa Baptist Model School, Ibadan.
Speaking on the importance of InterswitchSPAK and the need to encourage and reward more students in Africa to take up STEM subjects, the Group Chief Marketing and Corporate Communications Officer of Interswitch, Ms Cherry Eromosele, noted that Africans should play a more central role in mapping out the future of Africa.
Ms Eromosele added that the continent was ripe for development at the same scale as observed in the developed world, adding that this development had been proven to be spurred by the knowledge and application of STEM.
"InterswitchSPAK remains an integral expression of the belief we hold at Interswitch, which is that Africa's story can be changed from the inside out. And what this means is that only through the active participation of Africans can the change we seek to come about.
"For this reason, we leverage the InterswitchSPAK National Science Competition, now in its fourth run, to encourage young Africans to find value in STEM subjects that have been identified as drivers of economic prosperity, something that we at Interswitch have seen firsthand," she said.
InterswitchSPAK is a Corporate Social Responsibility (CSR) initiative of Interswitch and since its inception, it has continued to champion the study of STEM subjects among students in Africa as the competition has moved beyond a locally-organized initiative and has expanded to other parts of Africa such as Kenya in East Africa.
In 2021, the contest was won by Jubril Dokun of Brainfield College, Alagbado, Lagos State. Ayanlade Jesuferanmi of Obafemi Awolowo University International School, Ile-Ife, Osun State was the second-place winner, while Omoniyi Qudus of Scholars Universal Secondary School, Ota, Ogun State, was the third-place winner.
Significance of Establishing Stronger Relationship Between Corporate Business and Career Development in Higher Education System in Russia
By Kestér Kenn Klomegâh
Far ahead of the special session that thoroughly reviewed and discussed Russia's education and the employment market at the 25th St. Petersburg International Economic Forum (SPIEF), Russian legislators have, on May 25, launched a Telegram survey on the future of higher education and the Bologna system in Russia.
Russia's State Duma speaker Vyacheslav Volodin wrote on his Telegram channel calling for a new higher education system in the country based on the best contemporary and Soviet practices.
"We would be right to create an effective national higher education system based on today's and Soviet practices," Vyacheslav Volodin wrote on his Telegram channel. "The existing higher education system needs change, as per 90% of the respondents," Volodin reported, saying that more than 413,000 people had been surveyed.
The Duma speaker said this and other issues would be discussed at a parliamentary session on June 27, with Science and Higher Education Minister Valery Falkov, as well as representatives from the country's universities and education experts expected to attend.
At the St. Petersburg forum, its traditional face-to-face format for the first time in two years after the coronavirus pandemic, during a special discussion entitled How to Provide the Russian Economy with the Qualified Personnel?' and looked at the question of the 'qualification pit' – the mismatch of skills and competencies of employees with the needs of employers is becoming more acute by the year. At the same time, according to the Ministry of Education, today more than 60% of schoolchildren choose secondary vocational education. Is it not enough? And what measures should be taken by the state and businesses to solve the current problem?
There were more questions on aspects of education. How to attract employers to active, meaningful cooperation with educational organizations? How can business contribute to a better quality of personnel training? How can we increase employers' satisfaction with the level of secondary vocational graduate training? How can the right conditions for mastering fundamentally new professional skills and competencies be created? How can we reduce the time necessary for the adaptation of new personnel in production and increase the efficiency of the process?
Some experts have argued that the integration of creative industries into the educational process is becoming an important trend and necessity of the 21st century. Thus, getting involved in educating and training future professionals should be viewed as an integral part of any sector of the economy from the nuclear industry to agriculture and construction.
Deputy CEO of the Roscongress Foundation and Director of the social platform of the Roscongress Foundation – the Innosocium Foundation Yelena Marinina explained at the session at the St. Petersburg forum that the future and the trajectory of its development depend on the values, knowledge, and aspirations of today's young people.
There are new opportunities and the new horizons that are opening up in all areas are in high demand. It makes it imperative effectively utilise the potential of graduates to accelerate economic growth. This explains the need to understand the relationship between employers and employees, and to stimulate cooperation, especially in a rapidly changing world, between business and educational institutions, Marinina asserted in her presentation.
Speaking at the SPIEF plenary session, Russia's President Vladimir Putin strongly urges big business representatives to link their families' future with Russia. "Recent events have only confirmed what I kept saying earlier: it's safer at home. Those who didn't want to hear this obvious message lost hundreds of millions, if not billions of dollars in the West. This is how the supposedly safe haven for capital turned out," the Russian leader stressed.
"Today I would also like to address our leaders, large companies owners, our major entrepreneurs and managers. Dear colleagues, friends, real, lasting success, a sense of dignity and self-respect come only when you connect your future, your children's future with your Motherland," Putin reiterated.
Putin carefully noted that he has been in contact with many CEOs and company owners for a long time and knows their sentiments. It is, indeed, important to understand that business is much more than making a profit. It involves changing the life around, and contributing to the development of your hometown, region, and the country as a whole is an extremely important thing for self-realization. Nothing can replace service to people and society. This is the meaning of life, the genuine meaning of work.
On several occasions of award ceremonies for young talented entrepreneurs in the Kremlin, Putin has, long ago, supported the implementation of the strategic socio-economic initiative entitled Professionalism. The initiative is aimed at a complex reset of the whole system of secondary vocational education.
The key task is to ensure the training of specialists in professions that are truly in demand in a shorter period of time. This will provide a possibility to build a new sectoral model of personnel training, synchronized with the demands of the labour market. It will help stipulate employment for graduates and, as a consequence, give a new impetus to the development of regional economies.
As of September 1, 2022, 150,000 students will be involved in training at educational production centres. The primary focus is on key working professions and specializations in areas such as metallurgy, pharmaceuticals, petrochemicals, and transportation. The new approach that lies at the heart of the project will help solve the issue of targeted training for the priority sectors of the economy under the conditions of import substitution.
New documents were signed by Alexander Stuglev, Chairman and CEO of the Roscongress Foundation, Elena Chernova, First Vice-Rector of St. Petersburg State University, Ivan Lobanov, Rector of Plekhanov Russian University of Economics, and Marina Buntova, CEO of TALENTI. These documents stipulate joining forces in implementing state policy aimed at improving the socio-economic sector, creating conditions meant to assist students and young professionals in professional orientation and successful employment.
Under the agreement, the Roscongress Foundation will be involved in forming a database of the main beneficiaries of the projects, and organizing classes and events held as part of these joint projects. In addition, the agreements provide for cooperation between the parties in conducting joint internships, theoretical classes and training seminars for young people, including using the 'Country's Potential' digital platform.
According to the organizers' website information, about 2,700 business representatives from 90 countries were expected to attend – far below the 13,500 participants from 140 countries pre-coronavirus years. Some business leaders had concerns about attending the forum due to the sanctions against Russia. Under the chosen theme 'New Opportunities in a New World' that reflects the changing global situations, the conference runs from June 15 to June 18 and it is the 25th St. Petersburg International Economic Forum (SPIEF) since its establishment.
Oyo Promotes 7,460 Primary School Teachers to Boost Morale
By Modupe Gbadeyanka
In order to boost the morale of teachers in the state, the Oyo State government has promoted no fewer than 7,460 teachers in public primary schools on its payroll, with letters distributed to 9,227 teachers on Grade level 13-15.
At the presentation of the letters on Friday by the Executive Chairman of the Oyo State Universal Basic Education Board, Dr Nureni Aderemi Adeniran, it was explained that it was in fulfilment of the promises made to teachers in the state by Governor Seyi Makinde.
Dr Adeniran noted that the category of teachers who received their letters of promotion was placed on a six-year waiting period by the previous administrations, adding that this policy had affected the morale of public primary school teachers as their counterparts in the secondary schools were not affected by the policy.
"I am pleased to be here this morning at the official presentation of Promotion letters to our teachers from grade level 13 to 15. You are all aware that a similar programme was held in October 2021 for teachers and non-teaching staff," he said.
Dr Adeniran praised Governor Makinde for his love for teachers, which was demonstrated by the approval granted, that six years waiting period be reverted with immediate effect.
"This by implication means that all teachers affected are going to enjoy their promotions with a month's arrears and this takes financial effect from the month of June 2022," he said.
He added that teachers that have retired from service in the course of processing the approval for the lifting of the six-year waiting period will also enjoy the promotion due to them, simply by applying for the re-computation of their gratuity and pension in line with the Pension Act.
The Oyo SUBEB boss said, "The present administration has positively impacted the lives of both public and Civil Servants because of its people-oriented policies. In view of this, I want to admonish all our teachers to ensure that, to whom much is given, much is expected".
He, therefore, called for the support of teachers, adding that the state government has left no stone unturned to better the lives of teachers in the state.
"This administration will request your support to enjoy continuity of prompt payment of salaries and promotion as and when due, as well as, a conducive working milieu," he said.
Dr Adeniran acknowledged the support of the Nigerian Union of Teachers (NUT) and Association of Primary School Head-teachers of Nigeria (AOPSHON) Oyo State Branch to the success of this exercise.
"In all, a total number of Nine Thousand, Two Hundred and Twenty-seven (9,227) letters of promotion were produced for teachers on GL. 13-15," he said.
"This has taken care of those that will benefit from two promotions. Once again, I wish to admonish all teachers to be patient and appreciative of the present administration's various kind gestures, geared towards ameliorating their sufferings, improving their career progression and their well-being, all of which are unprecedented. These gestures can only be reciprocated by being more committed to their duties at all times, with a view to ensuring improved learning outcomes in our schools," Dr Adeniran added.
Speaking earlier, the NUT Chairman, Mr Raji Oladimeji, assured the state government that the gesture of the state government would never be forgotten, adding that this would further encourage teachers in Primary schools to deliver good, qualitative and efficient education to the pupils across the state.
Latest News on Business Post