Finalists Share Experiences at InterswitchSPAK Masterclass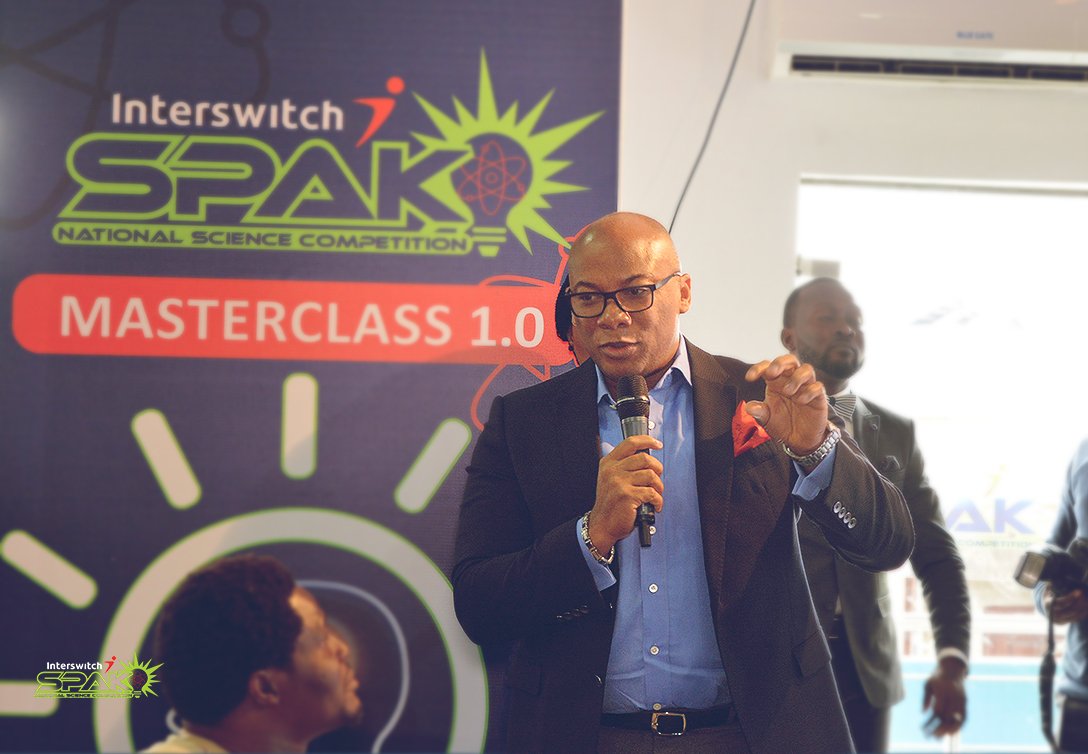 By Dipo Olowookere
The InterswitchSPAK Masterclass 1.0 might have come and gone but the experience will linger on in the minds of the 81 finalists who participated in the project.
The Masterclass, which was held on Monday, August 27, 2018, comprised three 45-minute sessions where top-notch speakers engaged the students in lectures on various subjects.
Students were intellectually motivated by high-profile speakers led by Mr Mitchell Elegbe, GMD, Interswitch Group  who discussed: 'Emotional Intelligence and the Leadership Responsibility of Youths'; Mr Yinka Sanni, CEO, Stanbic IBTC Holdings Ltd, focused  on 'Social Innovation – The Power of Transformative Ideas' and Eloho Omame, MD, Endeavour Nigeria, on the topic 'Entrepreneurship – A Tool to Creating Impact in Our Society'.
The students certainly had very rewarding experiences from the Interswitch Masterclass 1.0. Some of them were willing to share;
'I have decided to study Medicine to stop politicians from travelling abroad for medical treatment' – Rasheed Yekini, from Demonstration Standard College, Okene, Kogi State.
The word 'medical tourism' has become commonplace in Nigeria, no thanks to government officials and their likes travelling abroad for every little health challenge. This is the reason why Rasheed Yekini of Demonstration Standard College, Okene intends to study Medicine and Surgery.
"The other day, a former Minister fell sick and was flown abroad for treatment. Recently, the governor in my state had an accident and travelled abroad for medical attention. From the Masterclass, I learnt that I can achieve anything I want by putting my mind to it. I also learnt that people from poor homes have a better chance to see opportunities and find solutions to them," he said.
'The Masterclass has helped change my mind about running away from Nigeria,' Glory Okoli, from Ambassador School, Ota, Ogun State.
Although she also dreamt of relocating abroad for greener pastures, Glory Okoli has had a shift in mindset, thanks to the inspiring sessions at the Masterclass 1.0.
"When I saw people like Mitchell Elegbe and Yinka Sanni who against all odds, schooled and made it here in Nigeria, I changed my mind about 'running away", she said. An aspiring paediatrician, Glory wishes to study at the John Hopkins University, USA, but promises she would return home as a qualified paediatrician to help save the lives of Nigerian children who are most susceptible to diseases.
'The Masterclass made me understand that by inventing new things, I can solve existing problems,' Uchenna Okoro, from Incubators Academy, Kaduna.
Uchenna Okoro has always had the desire to create new things. He said: "The Masterclass made me understand that by inventing new things, I can solve existing problems and make the world a better place to live". On why he entered for the InterswitchSPAK science competition, the aspiring Genetic Engineer sees the platform as one that will fully groom his potentials.
'It is more beneficial when one person grows a business to employ thousands of people; than many small businesses of two, three people,' Kosiso Ugorji, from Lagoon Secondary School, Lekki, Lagos.
The aspiring biomedical engineer has big dreams of inventing something that will revolutionize the entire medical system, beginning from her state (Imo State).
However, she learnt the importance of not just starting small, but steadily growing a business to become large-scale.  She said: "I really gained a lot from the session by Ms Eloho Omame where she talked about scaling I learnt that it is important and more beneficial to the society when one person grows a business to become an employer of hundreds and thousands of people; instead of many small businesses of two, three people".
'My takeaway from the sessions is the need to imbibe principles, values, skills, wisdom and knowledge for a successful life,' Asusu Cookey-Gam, from Jephthah Comprehensive Secondary School, Rivers State.
For Asusu Cookey-Gam of Jephthah Comprehensive Secondary School, Rivers State, coming to the competition was scary but the Masterclass was interesting and impactful. He said: "I learnt how to use technology to solve societal problems.
'I plan to create a software which will help Nigerians become more tech-savvy,' Feyisayo Adeaga, from the Ambassador School, Ota, Ogun State.
Feyisayo Adeaga, a student of The Ambassador School, Ota, was enlightened about the need to create a solution to a societal problem during the Masterclass.
Speaking on his experience, Feyisayo stated that he was ready to accept Mr. Sanni's challenge of helping the country solve real problems to improve the lives of fellow Nigerians.
"I plan to become a Software/ Computer Engineer because I realize that many people in Nigeria are technologically illiterate," he said.
'Life goes beyond Physics, Chemistry and Biology; a good attitude is important,' Oreofe Daniel, from Ambassador School, Ota, Ogun State.
For Oreofe Daniel, the Masterclass was super fun and interesting. The 15-year-old, who incidentally scored the highest marks in the InterswitchSPAK national qualifying examinations, also learnt that beyond knowing and passing Physics, Chemistry and Biology, it was important to apply the knowledge acquired to real-life situations and to develop a good attitude to life in general.
'I want to impact my love of Math's on the younger generation,' Anuoluwa Aruleba, from Ambassador School, Ota, Ogun State.
Worried about the dearth of trained teachers in Nigeria and the resultant brain drain of Nigeria's best educators, Anuoluwa Aruleba of The Ambassador School, Ota, wants to become a Mathematics teacher.
"Mathematics is my favourite subject and I want to impart my love and knowledge of Math's on the younger generation", she said. Her key takeaway from Mitchell Elegbe's session of the Masterclass was that people will have expectations and perceptions about you and things around.
She said, "Expectations cannot be controlled but can be managed, so try to change people's perception instead of lowering their expectations."
'Creating a positive impact is more important than making money,' Gift Ukpoweh, from ECWA Model College, Oyo.
Ukpoweh Gift is a 14-year-old student of ECWA Model College, Oyo State. Probably one of the youngest finalists, Gift's vision in life is to become a frontline architect due to her love for drawing and a desire to improve the field of architecture.
Her participation in the Masterclass further enhanced this vision as she learnt that impact should be the major reason for any venture.
She said, "I learnt that in everything we want to do in life, we should have a vision. I also learnt that in any field we want to go into, we must not go there only because of profit. Creating a positive impact is more important and should be our number one goal in life.  That is what I intend to do when I become an architect".
Commendably, Interswitch has sparked off a huge ripple from this 135 minutes of mentoring at the InterswitchSPAK Masterclass. There is no doubt that the forum has changed the mindsets of the students that participated, rekindling their interest in STEM and helping them to refocus their purpose and career paths.
Indeed, the InterswitchSPAK project has all the trappings of a revolution that will hopefully change the face of STEM education in Nigeria, leading into the future.
LuTA Digital School to Revolutionise Education System in Africa
By Adedapo Adesanya
LuTA, an education technology platform, has launched its operations to spur digital education in Africa with plans to make the continent competitive when it comes to skills relevant to the 21st century.
To achieve this, the startup has built a digital school to be at the forefront of digital education in Africa to unlock global opportunities, marketability and talent with code and no-code tech skills.
The company currently has more than 11,000 applicants, and projections show that it is on its way to training five million students annually across Africa within the next five years.
The African online education market will be worth $77 billion by 2026, but this is affected as more than 900 million Africans do not have access to quality education due to broken, expensive, outdated and archaic knowledge, curriculum and teaching method that have stalled growth in Africa.
However, with a growing internet penetration on the continent set to reach 1.24 billion in 2025, the opportunities are boundless and LuTA with its digital school hopes to capitalise on this to bridge the gap and unleash the potential and ingenuity of youths across the continent.
According to the founder and Chief Executive Officer (CEO) of LuTA, Mr Kolawole Akinsumbo, the school will help revolutionise the education system in Africa as well as promote inclusivity for people based on their various skill levels.
"We are building a digital school to change the African narrative and to make digital education accessible in Africa to unlock global opportunities, marketability and talent with code and no-code tech skills.
"Poverty, exclusion, and skill chasm is already pilling pressure on the ability for people to be educated. Africa is bedevilled by many issues. In some places, conflict is not allowing children and youths to go to school, some were heavily impacted by the coronavirus, and even in places with relative peace, there is one strike or the other making it difficult to get the proper education.
"So, we can see that this only points to the fact that the current education system is not working and we want to eliminate these barriers with our digital school offering which will train about five million people in the next few years," he said.
Entries for Ecobank National Essay Competition Close Saturday
By Dipo Olowookere

The national essay competition organised by Ecobank Nigeria Limited to commemorate Children's Banking Month is gradually gaining momentum, especially as the window for the submission of entries draws closer.
According to the financial institution, all entries are expected to be filed to AllENG-ConsumerProductsTeams@ecobank.com, with the contact details of the parent/guardian on or before Saturday, May 21, 2022, at 12 noon.
Results would be sent on all entries by Wednesday, May 25 at 12 noon and winners will be celebrated and given their gifts on May 28, 2022, as part of activities to mark the International Children's Day.
The contest is for children between the ages of 13 and 16 and the topic is What will you consider as the future of banking. Participants are required to write the essay in 400 words, in font size 12 with one and a half line spacing. Winners would be given laptops, educational tabs, and several consolation prizes.
The Head of Consumer Banking at Ecobank Nigeria, Mrs Korede Demola-Adeniyi, in a statement made available to Business Post, explained that the bank initiated the competition to expose children to financial education early in life, adding that it is also part of the lender's commitment towards the Nigerian child.
According to her, "the month of May is set aside by the bank to celebrate childhood and how our children enrich our lives. We acknowledge the importance of our customers, young and old, to Ecobank's ongoing success story. The bank, whose vision is to build a world-class pan-African bank and contribute to the economic development and financial integration of Africa, sees educational development as a fulcrum for positive integration."
Mrs Demola-Adeniyi called on school proprietors, administrators, parents, and guardians to encourage their students, children, and wards to participate actively in the essay competition, stressing that beyond the prizes, the competition is also part of the process to push the frontiers of academic excellence among the young ones in society.
She stated that Ecobank has a MyFirst Account which caters for children and young ones, noting that, "This is our savings account specifically designed for children and teenagers aged between 0-16 years old."
"If you are a parent, the account allows you to save money in your child's name, which they can redeem when they are older. It is the perfect way to save for their education or kickstart a fund for future projects. It gives your child the best start in life," she added.
Stanbic IBTC Funds University Education of 100 Students
By Modupe Gbadeyanka
A total of 100 students will receive funding support for their university education in Nigeria from Stanbic IBTC Holdings Plc, a member of Standard Bank Group.
Each of the undergraduates in 33 universities across the 36 states of the federation and the FCT, will receive scholarships valued at N400,000, which would be disbursed in tranches of N100,000 across four academic years.
The beneficiaries were chosen through the scholarship scheme of the financial institution designed to provide financial aid needed to fulfil their educational needs and pursue their dreams.
The 100 Nigerian youths selected this year excelled in the University Tertiary Matriculation Examination (UTME) organised by the Joint Admissions and Matriculation Board (JAMB).
Asides from the first tranche of disbursement, subsequent disbursements would be subject to beneficiaries maintaining their enrolment in their respective universities and degree programs they were admitted into, adhering to the academic and administrative policies of the university, and the provision of a letter of good conduct issued by their respective departments.
Also, beneficiaries would be required to maintain a Cumulative Grade Point Average (CGPA) of at least a second class upper range, amongst other requirements.
Commenting on the initiative, the chief executive officer of Stanbic IBTC Holdings, Mr Demola Sogunle, stated that it was borne out of the need to empower hardworking and diligent young Nigerian undergraduates, who aspired to pursue their tertiary education in any state or federal university in Nigeria.
"We believe that everyone deserves a chance to access quality education and we believe in rewarding students who have shown remarkable academic excellence.
"This initiative will go a long way in easing the financial burdens of these undergraduates who participated in the UTME and gained admission into various Nigerian state and federal universities for the 2021-2022 academic session.
"We are pleased to announce the 100 winners of this year's scholarship scheme for undergraduates in 33 universities across the 36 states and the FCT. We wish them great success in their academic journey."
Mr Sogunle further added that education remains one of the keys to facilitating a nation's prosperity, hence the introduction of the scholarship initiative.
Stanbic IBTC remains committed to driving value-added initiatives like the university scholarship programme to contribute to the educational development of the Nigerian youth.
The scheme, which commenced in 2019, now has had almost 200 recipients. The beneficiaries were chosen across the six geo-political zones in Nigeria through fair screening processes.
Latest News on Business Post