A Nation Troubled From All Directions
By Jerome-Mario Chijioke Utomi
Even when it is a known fact that right from 1967, the nation, Nigeria suffered acute leadership challenges; yet, each passing day brings to mind reasons why the President Muhammadu Buhari led administration should apologize to Nigerians.
This present assertion is predicated on the fact that if what happened in the years preceding the current administration was a challenge to Nigeria and Nigerians, what is happening currently under the present administration is a crisis.
Aside from the fact that the administration has glaringly failed to implement pro-poor initiatives, this piece will site three recent concerns/examples.
First and very fundamental is the latest declaration/awareness by Prof. Oyedunni Sola Arulogun of the Department of Health Promotion and Education, University of Ibadan (UI) that Nigeria was boiling as virtually all citizens live in extreme poverty.
Going by media reports, the don, who spoke on the topic The invading force of science and technology and the complementary role of entrepreneurial education in the new world at the 4th matriculation ceremony of 156 students of Admiralty University of Nigeria (ADUN), Ibusa, near Asaba, Delta State, among other concerns explained that as of April 19, 2022, at 1:00 pm, the poverty index of Nigeria shows that 83,005,582 Nigerians (representing 39 per cent of the world) are currently living in extreme poverty with 53 per cent in rural areas of equal proportion of males and females.
She described the trend as a bad omen for a country like Nigeria and stressed that "by our economic planning, the target escape rate is 0.3 per minute but the reality is -3, hence the poverty rate is increasing in Nigeria on daily basis."
Of course, looking at a similar report recently released by World Bank, it is evident in my view that the don, who expressed empathy on the plights of the poor and called on governments and other relevant bodies to take a drastic and rationale decision to jump out of the boiling water now that the strength and means are available at our fingertips to avoid hunger and war, has neither said something strange or new but only said it differently.
Titled A Better Future for All Nigerians: Nigeria Poverty Assessment 2022, the report represents the culmination of the World Bank's engagement on poverty- and inequality-relevant data and analytics in Nigeria in the past two years.
It draws primarily on the 2018/19 Nigerian Living Standards Survey (NLSS), which provided Nigeria's first official poverty numbers in almost a decade, as well as the Nigeria COVID-19 National Longitudinal Phone Survey (NLPS). These surveys were implemented by Nigeria's National Bureau of Statistics (NBS) in collaboration with the World Bank.
According to the report, which brings together the latest evidence on the profile and drivers of poverty in Nigeria, as many as 4 of 10 Nigerians live below the national poverty line. Many Nigerians – especially in the country's north – also lack education and access to basic infrastructures, such as electricity, safe drinking water, and improved sanitation.
The report further notes that jobs do not translate Nigerians' hard work into an exit from poverty, as most workers are engaged in small-scale household farm and non-farm enterprises; just 17 per cent of Nigerian workers hold the wage jobs best able to lift people out of poverty.
Before the dust raised by the above comment could settle, another was up. This time around from the World Health Organization (WHO), which released during the celebration of the World Malaria Day (WMD), a day set aside to raise awareness of the mosquito-borne disease and examine efforts towards prevention, treatment, control and elimination of the illness and had as theme WMD 2022 Harness innovation to reduce the malaria disease burden and save lives.
While calling for investments and innovation that will bring new vector control approaches, diagnostics, anti-malarial medicines and other tools to speed up the pace of progress against malaria, the WHO said something that will be a source of worry to all Nigerians of goodwill.
The WHO, in that report, stressed that; Four African countries accounted for just over half of all malaria deaths worldwide: Nigeria (31.9%), the Democratic Republic of the Congo (13.2%), the United Republic of Tanzania (4.1%) and Mozambique (3.8%). The global body was particularly worried that despite efforts to contain malaria, Nigeria loses over $1.1 billion (N645.7 billion) yearly to prevention and treatment of the disease as well as other costs.
But if these two reported cases of economic hardship and ravaging malaria in the country are considered a challenge, the next report coming from UNICEF, another global body centred on a high degree of malnutrition in the country, should cause a dropping spirit among Nigerians with critical minds.
UNICEF, among other declarations, noted that about 14.5 million Nigerians suffer from acute food insecurity while about 12.5 million people are hungry. The figures indicated that Nigeria still remains off track in achieving the Sustainable Development Goals (SDGs) 2 of ensuring zero hunger.
The Nutrition Officer of the United Nations International Children's Emergency Fund (UNICEF), Nkeiruka Enwelum, who disclosed this at a media dialogue on 'SDGs as Child Rights' organised in collaboration with the Child Rights Information Bureau (CRIB) of the Federal Ministry of Information and Culture, in Enugu, said Nigeria ranks number one in Africa and second in the world in terms of the number of children malnourished, adding that about 35 million children in the country under the age of five were malnourished.
Enwelum noted that 3.3 million child deaths annually were attributed to malnutrition, stressing that poor nutrition in the first 1000 days from the conception of a child to two years of age results in permanent damage.
"Nutrition situation in Nigeria is worrisome and requires strategic action. The burden of malnutrition is extremely high in the Northwest and Northeast. Failure to prevent and treat malnutrition can result in long term cognitive and growth impacts, loss of income for households and up to 15 per cent GDP loss for Nigeria, increased morbidity and potential death."
While this development remains a pain deepened by the fact that they were avoidable, this piece holds the opinion that there is no end in sight to such ugly occurrences and reports particularly as the running of our country's economy continues to go against the provisions of our constitution which stipulates forcefully that the commanding heights of the economy must not be concentrated in the hands of few people.
The continuous takeover of national assets through dubious (privatization) programs by politicians and their collaborators is deplorable and clearly against the people of Nigeria. The attempt to disengage governance from public sector control of the economy has only played into the hands of private profiteers of goods and services to the detriment of the Nigerian people.
Finally, from the above, it is clear that much needs to be done to help lift millions of Nigerians out of poverty, including boosting health and education, bolstering productive jobs, and expanding social protection.
To use the words of the World Bank in the cited report, achieving this purpose will require at least three types of deep, long-term reforms to foster and sustain pro-poor growth and raise Nigerians out of poverty.
These include (1) macroeconomic reforms (including fiscal, trade, and exchange rate policy); (2) policies to boost the productivity of the farm and non-farm household enterprises; and (3) improving access to electricity, water, and sanitation while bolstering information and communication technologies.
These reforms together could help diversify the economy, invigorate structural transformation, create good, productive jobs, and support social protection programs as well as other redistributive government policies.
The report emphasizes that these reforms are urgent as Nigeria's population continues to grow; now is the time to ensure that the country seizes the promise of its young people for economic prosperity. It adds that shaping the specifics of Nigeria's poverty-reducing policies will depend strongly on redoubling efforts to gather and analyse data regularly.
This holds the opinion that President Buhari must do something theatrical to save Nigeria and Nigerians from these troubles. He must do this not for political reason(s) but for the survival of our democracy!
Jerome-Mario Utomi is the Programme Coordinator (Media and Public Policy), Social and Economic Justice Advocacy (SEJA), Lagos. He can be reached via jeromeutomi@yahoo.com/08032725374
How Standard of Living in Africa is Making Start-Ups Innovate Around Disposable Income
By Otori Emmanuel
An organisation in its early phase of existence is referred to as a start-up. Entrepreneurs that desire to create a product or service think there is a market for launching start-ups. Because start-ups often have high startup costs and low revenue, founders frequently look for money from a variety of internal and external sources, including personal savings, loans from family and friends, business venture capitalists, and crowdsourcing. There are start-ups in different industries like Information Technology, agriculture, communication, health and other sectors.
Start-ups and Innovation
Establishing a start-up takes careful planning, including consideration of factors like business location, cost of goods or services, product packaging, and supply efficiency. Start-ups frequently run the risk of failing because of unfavourable environmental and industry conditions. Embracing new opportunities and focusing on innovation, among other methods, are accelerators for a business' survival and growth.
Although, it is true that established businesses also frequently collapse. Technology has advanced throughout time, and many start-ups are combining the cutting-edge idea of tech into their respective fields.
For example, tech is now being used to improve education as in edtech, finance as in fintech, and more use cases are being introduced to daily activities. Statistics show that start-ups are expanding most quickly globally in the technology sector. Over the past few decades, Africa has seen an exceptional number of start-up generations.
The State of Start-ups in Africa
The phrase "start-up" became more common in the 1990s as the number of enterprises centred on technology and the internet rapidly increased.
According to an analysis, African start-up marketplaces hit historic heights in 2021 at over $4 billion, representing a nearly 20x rise since 2015. Start-ups have been increasingly popular in Africa due to various factors, including drawing on previous success stories from the west, attempting to address grassroots challenges, adapting global content to local quirks, and adhering to supportive policies. In terms of current economic events and cultural developments, numerous different facts are at play here.
In terms of living standards, the rate of extreme poverty in rural areas in Africa was close to 50%, which was far higher than the rate in urban areas, which was about 11%. According to the conference board's Global Economic Outlook, the pace of global GDP growth will reach a recessionary level in 2023 after starting to decline from 3.1% in 2018 to 2.7% in 2022.
Africa has clearly also been impacted by the global economic downturn, which has resulted in a sharp decline in living standards, lower-quality goods, higher costs, and inflation. When prices increase generally, yet fewer goods are available for the same amount of money in an economy, this is called inflation.
When there is inflation, sources and forms of income are affected, from passive income to investment income to disposable income. Our focus here is the disposable income which is the money left to take home after tax and other deductions. Most households depend on disposable income for survival, and the trending inflation gradually steals from this income of an individual in the form of increased grocery prices and the cost of feeding. This has led to the term "sachetization".
Startup business owners use this approach to satisfy declining demand and maintain operations. Sachetization is the idea of distributing products, which are typically sold in greater amounts, in smaller quantities using sachets in an effort to increase sales. Sachetization helps consumers purchase what they can afford. When only a small amount is required, consumers do not need to buy big quantities of the commodity. So far, this has appeared to be sustainable, with the exception of its drawbacks, where it has been observed that sachet items are of low quality, contain fewer items than is indicated, and even defraud the consumer into purchasing smaller packages when, in reality, a larger package would have been more appropriate.
Reduced disposable income has also affected start-ups in maintaining production costs, purchasing raw materials, increased interest rates on loans, market instability and declined demand.
Therefore, to get through the process of inflation, individuals, households, and businesses seek sustainable measures to meet their needs. A few include:
Cost efficient purchases
Budgeting
Opportunity cost methods
Valuable investments etc.
Upskilling Young People to be Entrepreneurial in Digital Age is Critical
Africa's young people are undoubtedly one of the continent's greatest resources. As other regions battle with ageing populations and declining birth rates, Sub-Saharan Africa can lay claim to a median age of 19.7 with around 70% of the population under the age of 30. Those young people are increasingly well-educated and connected. 
But all that potential means nothing if they aren't getting the opportunities needed to fulfil it. And in many countries, it's clear that they aren't. In South Africa, the continent's most advanced economy, the unemployment rate sits at  63.9% for those aged 15-24 and 42.1% for those aged 25-34 years. In Nigeria, meanwhile, the rate among people aged 15-34 is around 42.5%. And in Kenya, the lobby group, The Youth Congress, claims that seven out of every 10 unemployed people are aged 35 and under. 
While there are a number of interventions that could, and should, be made to help reverse those figures, perhaps the most important is to ensure that young people have the skills they need to be entrepreneurial. Indeed, research has shown that innovators can create significant wealth and have considerable developmental influences on society.  
It's even more critical at a time when technology is accelerating so fast that jobs can quickly become redundant.    
"Fostering entrepreneurship among young people not only enables them to create their own opportunities and employment for other young people," says Didi Onwu, Managing Editor at The Anzisha Prize, an organisation born out of a partnership between African Leadership Academy and Mastercard Foundation that seeks to increase the number of job generative entrepreneurs fundamentally and significantly in Africa. "It can also help them recognise and pursue employment opportunities that they might not have been able to otherwise." 
Yes, entrepreneurship  really is a skill 
Before digging into exactly what kind of skills can help foster entrepreneurship among a whole continent's worth of young people, it's worth pointing out that there's a pervasive myth that needs to be busted. Over the years, glowing profiles of entrepreneurs (particularly in the tech space) have convinced many that entrepreneurs are born rather than made. 
But, as Onwu points out, that's simply not true. 
"The idea of the brilliant innovator turned billionaire makes for a good story," she says. "But dig a bit further and you'll see that most successful entrepreneurs were given the tools they needed to succeed from a very young age."
Microsoft founder Bill Gates, for example, was given extensive time with his high school's computer at a time when having one was still a rarity. His mother also sat on the board of a non-profit with then IBM chairman John Opel, and helped the then fledgling company score a contract with the computing giant which ultimately proved crucial to its future success.   
"While we can't give every prospective young African entrepreneur a family connection, we can help them develop critical entrepreneurial skills that will serve them well in the future," says Onwu. 
The right skills matter most  
While there are obviously a number of hard skills, such as those that concern technological proficiency, which are important to being an entrepreneur, the really valuable ones are a little more intangible. And equipping young people with those skills requires more than a straightforward curriculum. 
Take network building, for example. While you could teach the basics in a course, establishing real networks takes time and consistent effort. The same is true for pitching to investors for funding. Other skills, such as mastering the fear of failure, can only be learned through practice. 
"It's something that we thought hard about when we redesigned the fellowship programme from the ground up a few years ago," says Onwu. "We wanted to ensure that our fellows were holistically building a broad range of entrepreneurial skills throughout their fellowships and beyond."
Fellows are, for example, given access to communities of fellow entrepreneurs, introduced to a wide network of stakeholders and business experts, and provided with the opportunity to shadow successful entrepreneurs in their sector. It's an approach which makes a great deal of sense when you consider that research has shown that exposure to innovation has a significant positive impact not just on the kind of innovation that young people produce, but also on their overall ability to be innovators.    
Upskilling, now and forever
It should be absolutely clear that Africa needs its young people to be equipped with entrepreneurial skills if they are to meet their full potential in an age of accelerated technology. And, as Onwu points out, efforts to ensure that this is the case need to be made at every level of society. 
"While we're incredibly proud of the work we do at the Anzisha Prize, along with our partners, no single organisation can provide all of Africa's young people with the skills they need to thrive as entrepreneurs," she says. "It needs buy-in from governments, NGOs, the private sector, and a variety of other stakeholders."
Moreover, these efforts cannot simply be short-term and instead need to be sustained over a prolonged period.
"The factors that make upskilling Africa's young people to be entrepreneurial so important now aren't going away anytime soon," she concludes. "It's therefore critical that all efforts are made to ensure that any initiatives aimed at building entrepreneurship are sustainable and capable of adapting to a constantly shifting business and technology environment."
Why Collaboration Tools are Critical for Organisations in the Age of the Hybrid Workplace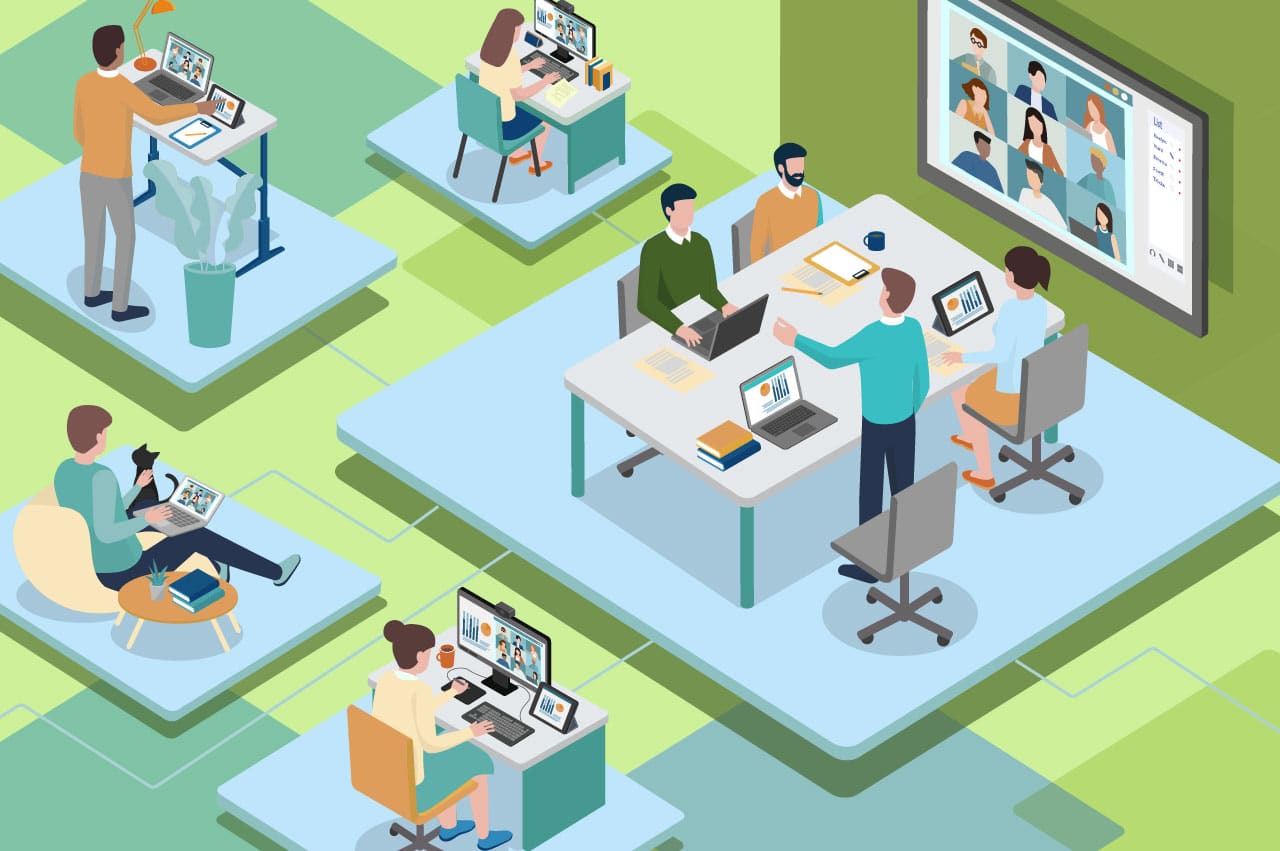 By Hyther Nizam
The workplace today is vastly different than it was a few years ago. The pandemic has accelerated the adoption of digital technologies by businesses, both for their customers and employees.
Today, the majority of businesses operate on a hybrid model, and as a result, internal collaboration—both digital and in-person, has become critical for business success.
When it comes to creating an environment that supports online and offline employee collaboration, many businesses continue to fall short and work in restricted silos.
In today's age, companies need to think about implementing effective collaboration platforms that facilitate team communication regardless of whether employees work in-office or remotely. With the necessary tools in hand, developing a strong digital collaboration culture becomes significantly easier.
The importance of collaboration
Before diving into what businesses should look for in collaborative online tools, it's important to understand why collaboration is so effective. Research shows that high levels of collaboration result in more engaged employees, who communicate openly and don't fall prey to bottlenecks (such as managers taking overly long to sign off on projects). That, in turn, results in better service delivery and improved customer experience.
Besides the increased employee engagement mentioned above, effective collaboration also improves the flow of information across the organisation and fosters better communication. That, in turn, results in faster problem-solving. Employees recognise this too. According to a study, 86% of employees pin workplace failures on a lack of collaboration and ineffective communication. When people collaborate, they're more likely to see a project through to the end. In other words, collaboration is important for any organisation seeking long-term success.
Finding the right tools to digitally recreate organizational cultures and improve collaboration
As many organisations have learned over the past couple of years, the general assortment of tools that they previously relied on simply won't cut it anymore. Hopping between different instant messaging services, meeting platforms, and productivity solutions means that vital information is bound to get lost at some point. Context carry-over, informational continuity, and service uniformity become challenges for employees when they are forced to use a bunch of non-integrated tools for their everyday work. When digital employee experience drops, it has a direct effect on customer experience.
As the virtual world increasingly infiltrates the workplace and becomes a permanent fixture, organisations should consider implementing a company-wide collaboration and connectivity platform that enables inter- and intra-team communication, eliminates silos, and assists employees in maintaining productivity levels. Especially, productivity platforms or suites that leverage tight integrations and consistent interfaces to combine essential office productivity needs such as email, instant messaging, internal forums, A/V conferencing, and word processors with live-collaboration features, for example, enable these applications to become even more powerful and contextually relevant across services.
For instance, when email and instant messaging applications work together, employees have an easier time converting email conversations that warrant live discussions into chat threads and porting relevant information into the chatbox. Based on chat discussions, employees can also add final deliverables as personal tasks directly from the chatbox. And online word processors that facilitate live collaboration, allowing multiple people to contribute and comment simultaneously, can be convenient and life-changing for remote workers. Not to mention the version control issues that can be averted by freeing employees from having to email documents back and forth.
Another aspect to look for in collaboration suites is the ability to fold this internal collaboration into business applications like CRMs. For instance, the capability of an instant messaging tool to contextually integrate with an organisation's CRM platform will enable executives to discuss a certain ticket via chat or a quick audio call before responding to the customer. Collaboration-conducive elements like these can further elevate productivity levels and get work done faster as well as make the experience of working across multiple services a smooth-sailing experience for employees.
A change in mindset
To help fuel the mindset shift needed to ensure that digital collaboration becomes ingrained in a company's organisational culture, it's equally critical that managers adopt, and are seen to adopt, the platform. If they're getting full use out of it, their team members will also be spurred to. At the same time, employees all over the world are also experiencing digital burnout and virtual fatigue as their entire work schedules shift online. So it's vital that managers balance empathy and humaneness with the usage of such tools in a non-intrusive way.
A virtual world of work
Businesses must adapt to the new virtual working environment. This requires re-evaluating processes and prioritising online solutions that facilitate collaboration, all while maintaining a focus on company culture. The customer experience begins with employees, and businesses will ultimately benefit from improved teamwork and communication.
Hyther Nizam is the President in charge of MEA at Zoho Corporation
Latest News on Business Post