Christianity, Per Capita GDP: What Could Change Africa's Economic Era?
By Nneka Okumazie
What era is Africa in? What are the obvious commonalities across Africa that signify what Africa currently faces? What are problems unique to the countries, the people and continent? How remote is Africa, from where it should be?
Though statistics say the percentage of extreme poor around the world has dropped, yet, quality and standard of living for many in Africa looks like unvarnished poverty, even if income seem above what it used to be decades ago.
There is so much corruption, unfairness, rigidity, repetition of what has failed, blaming of the government while ignoring the change that the financial power of the private sector can deliver, as well as the intellectual power of the academe.
The pace of change in Africa with the list of problems puts Africa decades away from actual development.
There are so many projects ongoing, some seem promising, some so-so, but they come in an era of something else for most of Africa, so the potential for change seems slight.
What can be done to transform this era of Africa to a different new course?
Over a few score decades, some underdeveloped nations accelerated towards advancement and kept at it.
Experimentation – for diverse sets of approaches to problems were done, and people did much more selflessly for the good of all and the good of the future of the nation.
There are questions – for Africa, on many existing works and projects, can this solve the problem in this severely challenging era?
Who can work on a project to ensure fairness across the board in Africa, just fairness?
Who can work on a project to ensure immanent selflessness [for all and for future] across Africa?
Yes, some nations or communities seem more serious than others, but many of the moves that should ascendingly modify Africa get stuck and stranded.
This does not seem to be a good era for Africa to keep working on simple ideas or keep building businesses or doing projects for incremental action, or basic survival.
There are nations that [maybe] can afford to rest, sleep and do the most little, but Africa can't.
In Christianity, there's a lesson for times, which can be interpreted for eras – to rend old and sew new.
[Ecclesiastes 3:7, A time to rend, and a time to sew; a time to keep silence, and a time to speak;]
The Need for Digital Marketing Inclusion in Varsities' Curriculum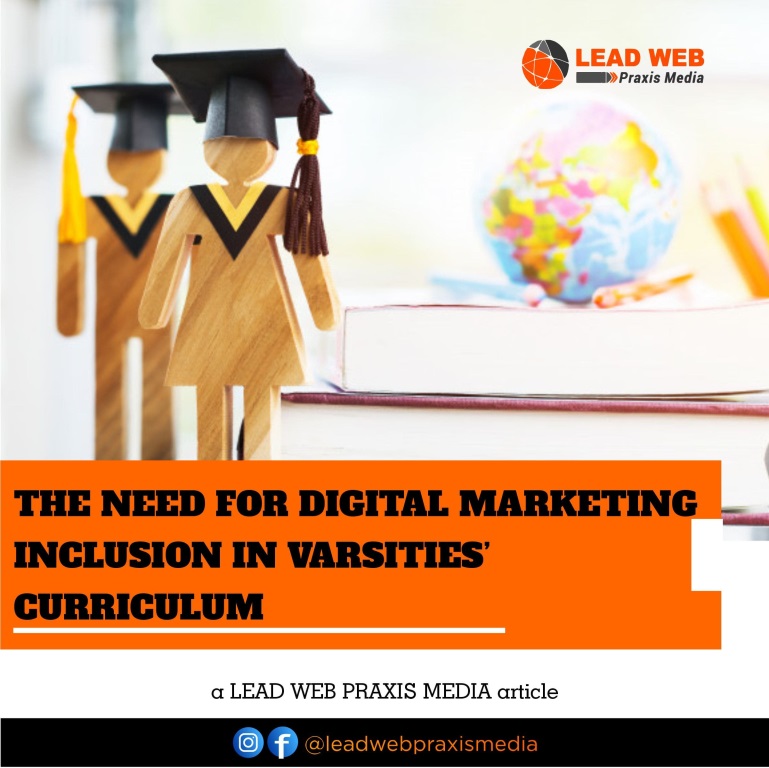 By Lead Web Praxis Media
The internet can boast of a high number of users worldwide and this is attributable to the development of technology.
This has led to the utilisation of digital marketing by a lot of businesses interested in reaching their target audience via the internet.
Simply put, digital marketing can be defined as the branch of marketing that makes use of the internet as well as the various digital technological devices for the facilitation and promotion of goods and services.
This concept is very vital especially if included in the curriculum of universities and here are the various reasons why such a move should be taken:
Fast-growing rates of digital markets
Digital marketing is experiencing a very rapid increase and statistics have revealed that this field of marketing will witness a very high number of job opportunities.
People are moving away from the analogue form of advertising and marketing and turning to more digitized options.
Introducing digital marketing as a course in the curriculum of universities across the country would be a step in the right direction. It will expose the students to an early learning experience in digital marketing and better equip them for this newly evolving field.
High profit
Digital marketing is believed to have one of the highest return on investment (ROI) in the marketing field. In a general sense, this means that a lot of companies are utilising this marketing strategy to push their products and services to their target audience.
Social media marketing as well as content marketing are best known to produce a very high ROI. Email marketing is also known to have a good conversion rate. The students would be taught the various types of digital marketing and they will also get the opportunity to choose the best digital marketing platform to use.
Active online shoppers
About 84 per cent of internet users would prefer to read reviews about certain products and services which will inform their buying decision. Google has about 3.5 billion searches carried out each year and most of these searches relate to businesses.
Most of the times, these searches are geared towards the purchase of goods and services rather than mere informational purposes about the businesses. These shoppers are always impatient with these searches and often don't go past the first 5 pages of Google or any other search engine. This is the reason why most businesses adopt Search Engine Optimisation (SEO) strategies. Students can learn more about SEO if digital marketing is introduced in the university's curriculum.
Boost in economy
This is one of the important benefits of digital marketing that cannot be overlooked. Some people are still making use of the traditional marketing mediums which includes flyers, newspaper, TV and radio adverts in trying to put their businesses out in the visibility domain.
The truth of the matter remains that these approaches have a different impact on business. If students are able to understand and learn about the various aspects of digital marketing in the university, there is a higher chance that some of the traditional approaches to marketing would be jettisoned and online marketing would be adopted which will, in turn, boost sales and the economy generally.
Versatility and digital skill gap
Once a student is able to master the top roles of a Digital Marketer, he or she will be exposed to a wider range of skills that may be related or not. It is important to note that there is a very high demand for people that possess digital marketing skills.
There are a lot of online skills which most people lack and this is often referred to as the skills gap. It is not strange to find out that certain persons that possess one skill might not be able to complete certain projects or jobs because of the fact that they don't possess certain skills too. Well, that is different from digital marketing because, with it, you can be able to up-skill your knowledge about trending technologies
Digital Marketing is very vital to the growth of every business owing to the latest trend in technological advancement. Early exposure to this area of online marketing would be the best for the growth of businesses across the country and the economy generally thereby the need for introducing digital marketing into the curriculum of universities.
We strongly suggest Digital Marketing inclusion in varsities globally.