February Elections: Nigerians Just Dey Play…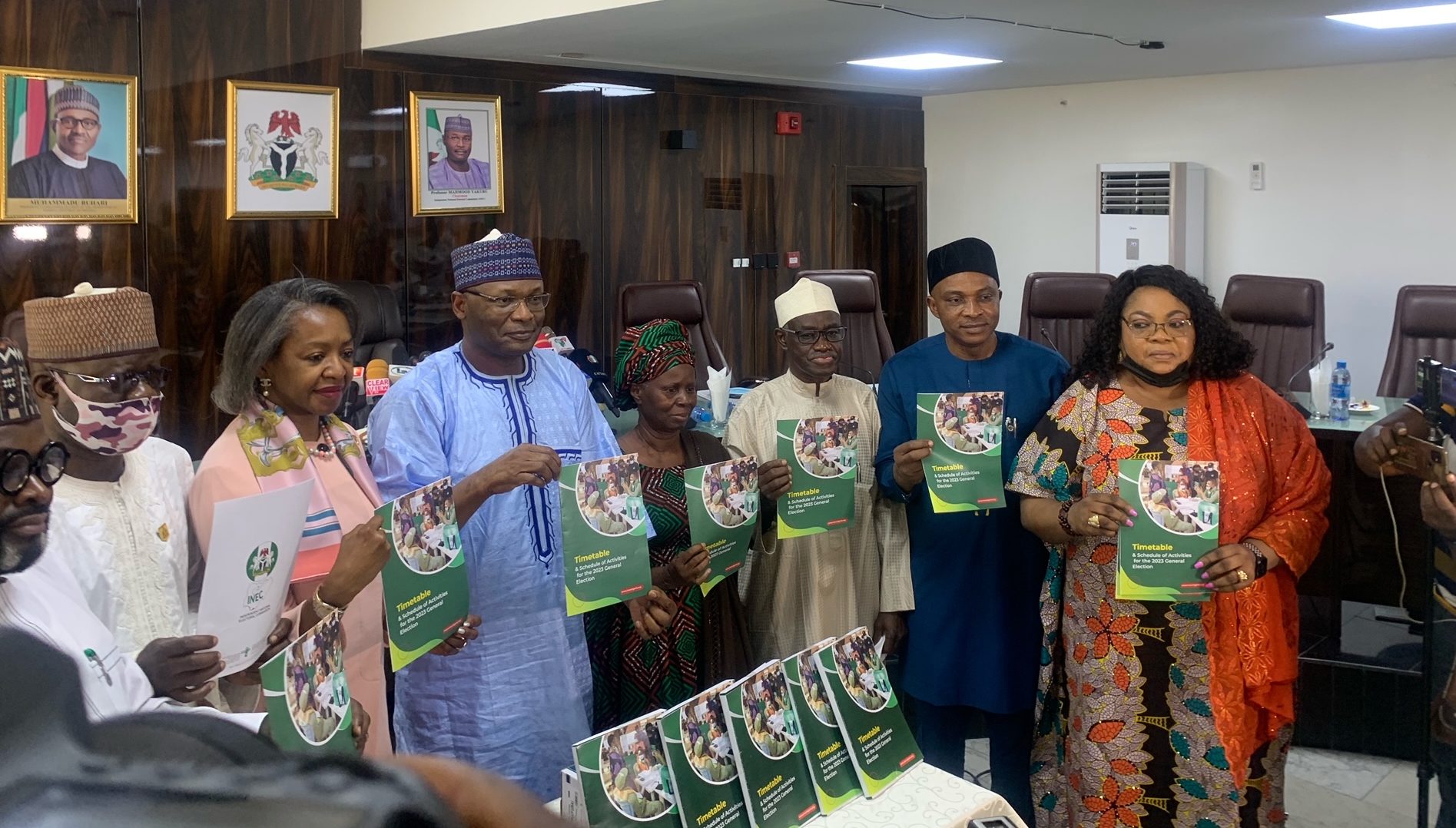 By Prince Charles Dickson PhD
('A person is dead, but their spirit lives; if you poke the iris of their eye, they still come alive')
Democracy has a dream-like character. It sweeps into the world, carried forward by an immense desire by humans to overcome the barriers of indignity and social suffering. When confronted by hunger or the death of their children, earlier communities might have reflexively blamed nature or divinity, and indeed those explanations remain with us today. But the ability of human beings to generate massive surpluses through social production, alongside the cruelty of the capitalist class to deny the vast majority of humankind access to that surplus, generates new kinds of ideas and new frustrations. This frustration, spurred by the awareness of plenty amidst a reality of deprivation, is the source of many movements for democracy.
Habits of colonial thought mislead many to assume that democracy originated in Europe, either in ancient Greece (which gives us the word 'democracy' from demos, 'the people', and kratos, 'rule') or through the emergence of a rights tradition, from the English Petition of Right in 1628 to the French Declaration of the Rights of Man and of the Citizen in 1789. But this is partly a retrospective fantasy of colonial Europe, which appropriated ancient Greece for itself, ignoring its strong connections to North Africa and the Middle East, and used its power to inflict intellectual inferiority on large parts of the world. In doing so, colonial Europe denied these important contributions to the history of democratic change. People's often forgotten struggles to establish basic dignity against despicable hierarchies are as much the authors of democracy as those who preserved their aspirations in written texts still celebrated in our time.
The large mass demonstrations that laid at the heart of these struggles were built up through a range of political forces, including trade unions – a side of history that is often ignored.
In much of the world (as in Brazil, the Philippines, and South Africa), it was trade unions that fired the early shot against barbarism. The cry in the Philippines 'Tama Na! Sobra Na! Welga Na!' ('We've had enough! Things have gone too far! It's time to strike!') moved from La Tondeña distillery workers in 1975 to protests in the streets against Ferdinand Marcos' dictatorship, eventually culminating in the People Power Revolution of 1986.
In Brazil, industrial workers paralysed the country through actions in Santo André, São Bernardo do Campo, and São Caetano do Sul (industrial towns in greater São Paulo) from 1978 to 1981, led by Luiz Inácio Lula da Silva (now Brazil's president). These actions inspired the country's workers and peasants, raising their confidence to resist the military junta, which collapsed as a result in 1985.
Fifty years ago, in January 1973, the workers of Durban, South Africa, struck for a pay rise, but also for their dignity. They woke at 3 am on 9 January and marched to a football stadium, where they chanted 'Ufil' umuntu, ufile usadikiza, wamthint' esweni, esweni usadikiza' ('A person is dead, but their spirit lives; if you poke the iris of their eye, they still come alive'). These workers led the way against entrenched forms of domination that not only exploited them, but also oppressed the people as a whole. They stood up against harsh labour conditions and reminded South Africa's apartheid government that they would not sit down again until class lines and colour lines were broken.
The strikes opened a new period of urban militancy that soon moved off the factory floors and into wider society. A year later, Sam Mhlongo, a medical doctor who had been imprisoned on Robben Island as a teenager, observed that 'this strike, although settled, had a detonator effect'. The baton was passed to the children of Soweto in 1976.
The above ranting, for me, captures the frenzy in the lead-up to the Nigerian General Elections next month; whoever it is, one supports amongst the three musketeers; the fact is that not much will change because Nigerians still dey play… The Nigerian worker is at a crossroads, there is a potpourri, people who want to see real change. He is the one that will play a crucial role in the general elections by exercising his right to vote and selecting the candidate who they believe will represent their interests and address the issues affecting their daily life. It is also important for workers to actively participate in election campaigns and advocate for their rights to be recognized and addressed by elected officials.
Sadly, at the other corner, countless corrupt Nigerian workers are engaging in unethical or illegal practices, such as embezzlement, bribery, or nepotism, for personal gain. This behaviour undermines the integrity of the workplace and can harm the reputation of the organization and, in this case (the Nigerian state) and the individual. It can also negatively impact the economy and society as a whole. The government and private sector have a responsibility to take measures to prevent and address corruption among workers.
But we dey play, the POS Operator is charging 2K for 20K if you want the new currency, no matter who wins the next election, we will remain the same because Nigerians contribute to over 50% of their sufferings, like play we fundamentally exploit our crisis against the common man. The #endsars movement looked close, but it lost steam and lacked leadership, and as such, the powers that be had loopholes to exploit and truth be told, we don't seem ready for a movement.
Listening to Hugh Masekela's 'Stimela' ('Coal Train'), the 1974 song of migrant workers travelling on the coal train to work 'deep, deep, deep down in the belly of the earth' to bring up wealth for apartheid capital. I thought of the Durban industrial workers with the sound of Masekela's train whistle in my ear, remembering Mongane Wally Serote's long poem, Third World Express, a tribute to the workers of southern Africa and their struggles to establish a humane society.
– it is that wind
It is that voice buzzing
It is whispering and whistling in the wires
Miles upon miles upon miles
On the wires in the wind
In the subway track
In the rolling road
In the not silent bush
It is the voice of the noise
Here it comes
The Third World Express
They must say, here we go again.
'Here we go again', Serote wrote, as if to say that new contradictions produce new moments for struggle. The end of one crushing order will not herald a new beginning if we are not ready. It was the workers who brought us this democracy, and it will be workers who will fight to establish a deeper democracy yet. Here we go again, if the February elections will change our play mode—Only time will tell.
Maintaining Nigeria's Momentum in the Fight Against Maritime Criminality
By Musa Ilallah
2023 kicked off on a significant note for the Nigerian Navy, with the hosting by Nigeria of Exercise Obangame Express 2023, the largest multinational maritime exercise in Western and Central Africa, in collaboration with the US Africa Command and the US Naval Forces Europe and Africa.
This year's edition featured 32 countries from the Gulf of Guinea and beyond, coming together to "improve regional cooperation, information-sharing practices, and tactical interdiction expertise."
At the beginning of March, barely a month after the end of Exercise Obangame Express 2023, Nigeria commemorated one year since the International Maritime Bureau (IMB) announced the country's exit from the Global List of Piracy-prone countries. This feat came as a welcome follow-up to the IMB's Global Piracy Report of July 2021, which indicated that Nigeria had recorded its lowest number of piracy and sea robbery against ships attacks in 27 years.
These remarkable milestones were the culmination of unprecedented naval and maritime security investments by the Buhari administration through such initiatives as the Falcon Eye Maritime Domain Awareness System, commissioned by President Buhari in 2021, and the acquisition of several new platforms, including a brand-new Hydrographic Survey Ship, NNS LANA, as well as a new Warship, the Landing Ship Tank (LST) NNS KADA, whose inaugural operational assignment was a mission to Guinea Bissau to support the ECOWAS Stabilization Force there, in August 2022.
Two brand-new Seaward Defense Boats (SDBs) are currently under construction by the Naval Dockyard Limited in Lagos, while, in September 2022, the keel-laying ceremony of two 76-metre Offshore Patrol Vessels (OPVs) took place in Turkey.
Weeks after the March 2022 IMB announcement on Nigeria exiting the Piracy List, the Nigerian Navy launched one of its biggest operations in years, Operation Dakatar Da Barawo, aimed at curbing crude oil theft and vandalism in the creeks of the Niger Delta.
The Operation, launched in partnership with the Nigerian National Petroleum Company (NNPC) Limited, has since begun yielding fruit. So far, well over N80 billion worth of stolen petroleum products have been seized or recovered, with hundreds of arrests made.
Importantly, oil production, which had been declining since the start of 2022, reversed course and began climbing steadily from October, a feat that has been roundly commended by all stakeholders.
Speaking on this, the Minister of State for Petroleum, Timipre Sylva, said, "I am happy to announce that there is a significant improvement in crude oil production, with both Nigerians and the international community acknowledging the improvement."
The Chief of Naval Staff, Vice Admiral Awwal Zubairu Gambo, has consistently stated his determination to achieve this goal and has expressed gratitude to President Buhari for providing the wherewithal and the resources to record the significant progress being recorded in the fight against maritime piracy and criminality.
One of the high points of the fight against maritime criminality was the interception, in August 2022, of a Very Large Crude Carrier (VLCC), the MT Heroic Idun, a timely action that helped abort unauthorized entry into a producing Nigerian oilfield.
Working with Nigeria's regional partners, through the Yaoundé Architecture, a Gulf of Guinea maritime safety and security coordinating mechanism covering 19 countries, the Nigerian Navy successfully alerted Equatorial Guinea to arrest the vessel, which had by then fled into the country's waters.
Interestingly, the West Africa Regional Maritime Safety Centre (CRESMAO), based in Abidjan, Côte d'Ivoire, and the ECOWAS Multinational Maritime Coordination Centre (MMCC) Zone E (covering Nigeria, Benin, Niger, and Togo), two critical operations centres within the Yaounde Architecture, are currently headed by Nigerian Naval Officers.
Following the arrest and investigations by the government of Equatorial Guinea, the ship owners paid a substantial fine, after which it was handed over to the Nigerian Navy and duly repatriated to Nigeria to face justice. The case is currently being tried by a Federal High Court in Port Harcourt.
MT Heroic Idun is the most high-profile of a number of rogue vessels arrested by the Nigerian Navy in 2022. According to the Chief of Naval Staff, Vice Admiral Gambo, "The arrest of MT Heroic Idun will serve as a deterrent to those who are stealing our crude."
But, of course, the arrest and trial have not come without resistance from the powerful owners and elements behind the VLCC. They have been waging a vicious international propaganda campaign against the Nigerian Government and the Nigerian Navy. But the Chief of Naval Staff has made it very clear that he will not be deterred and that justice will take its due and transparent course through the Nigerian legal system.
Nigeria's hosting of Obangame Express, to kick off 2023, is a testament to the Nigerian Navy's determined efforts at advancing regional and multinational cooperation to achieve its objectives of securing, in a holistic and sustainable manner, Nigeria's maritime environment and the wider Gulf of Guinea.
It is this unwavering commitment to partnership that saw the CNS and Naval Headquarters host, at the Naval Headquarters in Abuja, delegations from the European Union, China National Aero-Technology Import and Export Corporation, Defense Academy of UK, the African Union, International Seabed Authority (ISA), European Security Academy, Italian Defense firm, Leonardo; the United States Navy Office of Security Cooperation, among many others.
The CNS, also, in this spirit of partnership and engagement, attended Euro-Naval 2022, the Sixth Symposium of Chiefs of Staff of Navies of the Gulf of Guinea in Paris, France, and the XIII Trans-Regional Sea-Power Symposium in Venice, Italy, among others.
In October 2022, President Buhari awarded him the National Honour of Commander of the Federal Republic (CFR), and a month later, he was in Banjul, Gambia, to receive the Award of Most Outstanding Naval Chief in Africa, presented at the 17th Edition of the Africa Security Watch Awards and Conference (ASWAC).
In 2023, the partnerships are set to continue, and Obangame Express 2023 is just the beginning. Speaking at the closing ceremony on February 3, 2023, Vice Admiral Gambo noted, memorably, "Coming together is a beginning, staying together is progress, and working together is a success."
Musa Ilallah writes from Abuja, Nigeria
Democracy, Poverty: When Will Africa Develop?
By Nneka Okumazie
There is no exam anywhere in the world that Africans can't ace. There is no profession in the world or office position that Africans won't excel at. There is no pass mark required for any certification that Africans cannot surpass. These directly discredit the notion that Africans are not as intelligent or smart.
It was assumed that intelligence is developedment, but education has gone around the world, yet development is not everywhere.
What exactly is development, and why is Africa not developed? There are often government projects, international efforts, private enterprises, etc., yet no development.
Development is more about attitudes and values than about information because the power of information is propelled by attitudes and values. A new housing project, school, bridge or hospital will be defined by the attitude of the people, in just a few months.
In the second half of the twentieth century, several nations used the opportunity to develop. There were places where lands were offered to the public for farming and no issues yet about deforestation or climate. There were forms of credit available, the population was lower, and the opportunity to grow was there, even with an average attitude. Africa, with much fresh off independence, could not take much of that opportunity, in part because of low attitude.
In recent times, with climate, state debts, and then conspiracy theories, it is more difficult to develop, even where there is a great attitude. Everything is now subject to conspiracy theories, with several contrasting pieces of information making it more difficult to get people to agree towards working on progress.
Development is not democracy, it is not human rights, it is not religion: local or foreign, it is not education, it is not healthcare, it is not the government, it is not business, it is not employment.
There are pockets of changes in different countries in Africa, but the attitudes in general, from the top and across, do not indicate anything resembling what can germinate development.
Government is not the problem of Africa. Corruption is a byproduct of a lack of selflessness as an attitude. The question the people of Africa should keep asking themselves is this, where did these attitudes come from? Lack of courage, no selflessness, easy satisfaction, trouble with sincerity, rejection of fairness, intense hypocrisy,  treating trust casually, money first and forever, façade of being a good person, weak curiosity, passion over nonsense, disregard for the future, etc.?
Education is useless because the change it should inspire and the advancement it should seed do not happen if money is all. Africa needs an attitude project for their people everywhere, but it is uncertain if anything will happen because conspiracy theories await efforts. Without a new attitude, there will be no development; without development, Africa will remain backward.
[Matthew 13:7, And some fell among thorns, and the thorns sprung up, and choked them: ]
Mobilizing Youth for Effective Civic Participation
By Mayowa Olajide Akinleye
Nigeria is a signatory to the United Nations Convention on the Rights of the Child. Article 12 of that document establishes that young people must be heard. They must be listened to and taken seriously. It is their right. This idea presupposes that there is a speaking, an expression that is present but ignorable. Articles 2 and 13 recognize this seeming powerlessness and, in seeking to protect the right to be heard, establish that young people have a right to not be discriminated against and can freely express themselves without fear.
Yet, 95% of its youth population does not feel heard; at least three out of four young people believe the country is headed in the wrong direction and that they are powerless to stop it. Nobody, they believe, is listening. This is a breach of a basic human right. Reacting to the Lekki  shooting, one protester  said "we spoke up thinking our voices would matter, only to cruelly find out that even our lives didn't."
Proving that rights, when not empowered by a commitment to duty, are useless. My right to life is worth something because I have a duty to not kill myself, and others have a duty to not kill me. Once the commitment to that duty becomes optional, my right to life is mere window dressing.
In the longest run of our democracy, the best we have had is a tokenistic commitment to listening and accounting for the dreams, needs, and concerns of our youth population—mere window dressing. As a result, there are unequal opportunities for political participation and civic engagement, our educational systems are struggling, high youth unemployment and migration, heightened helplessness, and a lack of voice in making decisions that positively affect their lives and create social change.
Nigeria and Nigerians have a duty to hear its young people and mobilise them to develop into active, responsive, and equal participants in the social, economic, and political fabric of her society. It is the onus of the state and its agents to enforce this duty and ensure an abiding commitment to its veracity.
Why must the state do this, and how can it do it successfully? These are the questions to which this article will offer answers.
The government's overarching responsibility is to protect. The foundation of a state's efficacy is steeped in how well it fares in its role as a protector. This burden of ensuring security is the primal justification for the social contract that is the cornerstone of state formation. Simply put, a government that fails to effectively secure its people is a blatant failure.
Listening to and responding to its youth population is critical for any state seeking to secure its citizens. This approach impacts security on three fronts: physical security, economic security, and political security.
Physical security is simply the protection of assets from physical disruption and events that could cause serious loss or damage for the owner. The rise of kidnapping, militancy, and oil bunkering in the south-south; insurgency in the northeast have deep-seated foundations in problems created by the feeling of powerlessness and neglect young people experience.
The fallout from the shooting at the Lekki Tollgate saw massive destruction of property in the city as well as all around the country. 205 critical national security assets, corporate facilities, and private property were attacked, burned, or vandalised. An estimated 71 public warehouses and 248 private stores were looted across 13 states. The multi-billion-naira Bus Rapid Transit (BRT) infrastructure was crippled. Police stations and offices of political parties in Ondo, Okitipupa, and Ibadan were looted and burned. Private homes and businesses of public officials were looted, and a traditional ruler's palace was desecrated. The Yoruba have a saying: "A child that you refuse to build will eventually sell off or destroy the other things you built instead."
When the youth population is heard, the result is increased trust in government institutions and systems, leading to better cooperation between them and the government. This increased cooperation can result in more effective law enforcement, crime prevention, and safety awareness; an increased sense of ownership and personal responsibility that enables community policing and reporting; and a lower predilection to violence because of strong mediation and negotiation frameworks.
The International Committee of the Red Cross defines economic security as the ability of individuals, households, or communities to cover their essential needs sustainably and with dignity. Food, shelter, transportation, clothing, healthcare, education, and means of production are examples of such needs. Economically secure countries globally—the UK, Australia, Singapore, Germany, Japan, etc.—typically have institutions and systems that ensure at least any two of political, educational, and economic empowerment for their youth populations.
This is evidenced by the quality of education and skill-building institutions, open government processes, open media, open markets, adherence to the rule of law, and inclusive political mechanisms.  Nurtured by the push and pull effects of this reality, more young people become active, productive, and skilled and gain more economic and anthropological power in that society. They become smarter, wealthier, gain influence, start new industries, and contribute excellently to existing ones, ultimately increasing the quantity and quality of production, which in turn expands economic prosperity for everyone.
Political security refers to how resilient, fair, and efficient the governance framework is in upholding the rule of law and representing the interests of its constituency. It usually sets the stage for physical and economic security. The 1994 Human Development Report defined it as the prevention of government repression, systematic violations of human rights, and threats from militarization. These values are enshrined through the sustained development of political systems oriented towards human rights, democracy, and good governance.
Cogent youth engagement will improve the skills of and opportunities for young people to interact with and navigate the political system, encourage informed civic participation that will hold officeholders accountable, and hence deepen our democracy. The ability of a political party to consistently identify, attract, and project credible and promising young talents within its ranks will, in time, strengthen the party's influence, ensure the identity, values, and ideologies of the party stay relevant within the mainstream of national conversations, and will have trained and empowered new generations to carry the baton. This type of inclusive handover is crucial for political sustainability.
Civic participation among young people is usually more of a response than a duty, as they have more pressing priorities and don't understand the burden enough to care. Therefore, they must be catalysed. When the government is committed to their growth, they respond with patriotism and pride; when a society is hostile to them, they respond with anger and distrust, as is the case with Nigerian youth.
There are three preconditions that are indicative of this. First, Inspiration: Do young people feel inspired? What are their sources of inspiration? Secondly, motivation: What are the barriers to their participation? How strong are they? Are they willing to cross them? Why? And lastly, empowerment: What are their competencies? Can they afford the financial, physical, and intellectual costs of crossing them? Honest responses to these questions provide a detailed synopsis of the level of civic engagement we can expect from our young people.
Government and stakeholders must begin to prioritise activities that positively contribute to the identified indicators. These activities are grouped into five categories:
Activities that promote legislation, policies, and budget allocations for youth empowerment and engagement: Despite some progress in this regard with the formulation of a national youth policy, the signing of the "Not Too Young to Run" law, the establishment of youth parliaments and councils, and the 75 billion naira Nigeria Youth Investment Fund. Implementation is still a sore spot.
The Ekiti State Youth Parliament, for example, has been unable to access its budget provision for over three years, summarily stunting the efficacy of its operations. More work needs to be done to sidestep bad faith actors and earth legislation, policies, and financing so that they reflect and respond to niggling peculiarities.
Secondly, activities that support, create and sustain structures for young people's participation and civic engagement. The private sector, civil society, trade unions, advisory councils, student councils and unions, youth parliaments, clubs, political parties, community development or peer group associations, trade unions, and advisory councils are major nests of engagement where young people can get involved and develop the skills and network they need for more extensive involvement in community development, politics, and governance.
The perverse stranglehold that cronyism, cultism, and thuggery have on these spaces limits young people's interest and participation and is also to blame for the adversarial stance of stakeholders. It is, therefore, necessary to mobilise a network of interventions that strengthen the operation and independence of these structures and weaken the politically empowered grip of the identified ills.
Thirdly, activities that institute and deepen citizenship education across all levels of the curriculum. Young people must learn about the country's values and history, all of it, in the most comprehensive way possible through history, civic education, and cultural and community exchanges.
The stronger sense of identity that young people develop when they have this knowledge is important for fueling patriotism and pride and, in some ways, incites a responsibility to uphold the values of their heroes or to do better by avoiding or correcting identified misdeeds.
Furthermore, activities that invest in young people's capacities, networks, and partnerships. Education, industry, political empowerment, fellowships, scholarship, and sports are key pillars that automatically enable this. It is critical to provide funding and governance that will strengthen and continuously expand the capacities of these sectors.
Finally, activities that maximise the value of volunteerism and community service. Setting quality examples of public service and rewarding these values help create heroes. Our leaders must be prime examples of community-driven service and work to instil that consciousness in every Nigerian. We must encourage a community-first approach to development.
This is how to mobilise. For this mobilisation to be effective, the 2013 resolution of the United Nations General Assembly provides a thorough guideline: "… in consultation with youth-led organisations, to explore avenues to promote full, precise, structured, and sustainable participation of young people and youth-led organisations in decision-making processes."
Four markers must be met. The design and execution of these activities must be full and not merely consultative, as is currently the case; they must be precise and specific to the challenges and context; they must be measurable, time-bound, process-led, and have identified actors and anchors; and finally, they must have the ability to generate support and momentum to continuously replicate.
When these are achieved, young people will gain more influence in society. This influence will give them more space to thrive. More space will strengthen their voice. A stronger voice will deepen their influence, and the cycle keeps reinforcing itself.
Echoing the words of the chairman of the Conference of State Youth Speakers in Nigeria,  Toba Fatunla, "If you have not built us, you have no right to blame us."
The burden of building falls first on the government; every other form of mobilisation can only be effective when built on this foundation. This is particularly important in light of the socio-political shifts happening nationally. If you are the head of a government at any level, a lawmaker, or a public servant, and desire to create a Nigeria we want—one that ensures security for every citizen—prioritising the above activities is a good place to start.
Mayowa Olajide Akinleye is the Impacts and Communications Assistant at PROMAD
This article is an excerpt from the fourth in a six-part series of public conversations on youth civic participation under  "Accelerating Youth Civic Participation in the FCT." A PROMAD Foundation project supported by LEAP Africa and funded by the Ford and MacArthur Foundations.
Latest News on Business Post