Hon Chinedum Orji and the 7th Abia House of Assembly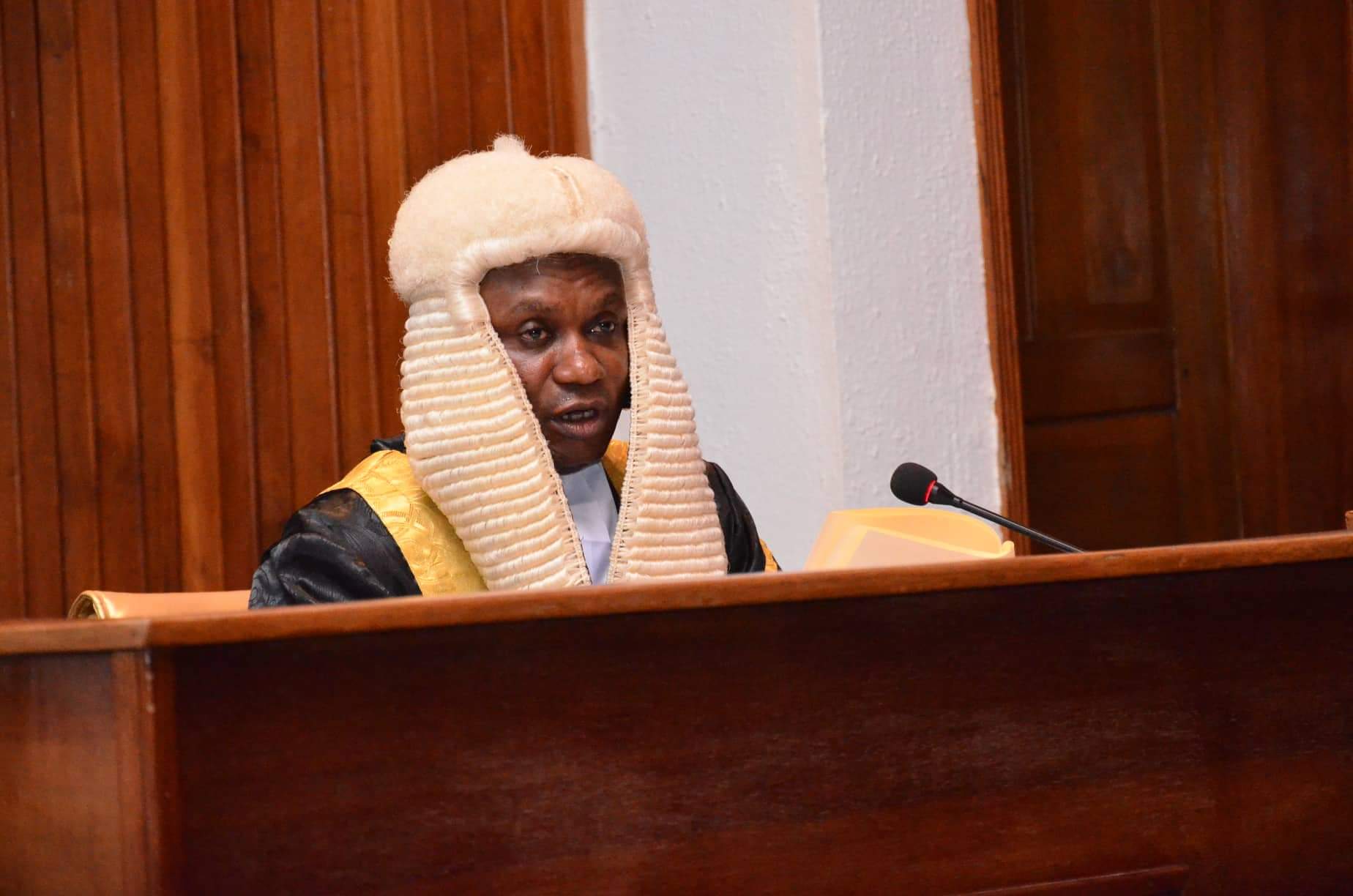 By Okechukwu Keshi Ukegbu
Out of the heart of a man does his actions flow. The Bible was specific about this when it posited that "a man speaketh from the abundance of his heart". Indisputably, our actions are conceived in our hearts. It will not also be wrong to assume that the Speaker of the 7th Abia House of Assembly, Chinedum Orji, spoke profoundly from the abundance of his hearth in his inaugural speech during the inauguration of the current house.
Nigerian politics has been characterized by do-or- die mentality that has generated some tensions and acrimonies even when the political contest is over. This has necessitated the spilling of political disagreements to decades ahead. But here is kudos to the honourable speaker who has demonstrated profound magnanimity in victory when he announced that even though people opposed his emergence as the speaker of the house, that he sees those oppositions from the perspective of people exercising their prerogative, nothing more.
He also enjoined those sympathetic with his ambition to see it in that light. What a wonderful way to rein in supporters?
"I note that a number of us members of this 7th House were eminently qualified to emerge Speaker of the House but you have chosen me to lead you as first among equals. I bear no grudge against anyone who indicated interest in contesting this seat with me as they were exercising their natural prerogatives. I therefore call on my friends and supporters not to cast aspersions on anyone in my name. We are one family and we will remain so".
Though the speaker indicated in the speech that a comprehensive work plan that will guide the activities of the 7th house will be rolled out later, what he considered the pointers of the house, have enormous capabilities of turning the state around if fully actualised.
More significant is the promise that the 7th house will be the people's house where all decisions will bear human face" This 7th Abia State House of Assembly shall be vibrant and result-oriented. We are the House of the people, by the people and for the people and we shall endeavour to make the people the centre-point of all our actions and decisions. We are therefore committed to the enactment of sound laws and legislation that will help in uplifting the lives and well-being of Ndi Abia".
Other things being equal, we are expecting a very active house that will not relent to wield its big hammer on those who are ever willing and ready to disobey the laws and resolutions passed by the house.
Equally, those who have cultivated it as habits to slow down the progress of the state by non- implementation of the directives of Governor Okezie Ikpeazu will be sanctioned appropriately. Indeed, there is no more room for drawing the clock of progress of the state back either in deeds or spoken words.
Beside the legislative and other related functions of the house, members of the 7th house will stretch these functions a bit to accommodate the provision of social amenities to their constituents. This will go a long way in shading the executive of some burden of discharging this enormous function alone. We strongly believe that the members if empowered, as strongly promised the honourable speaker, will not hesitate to ensure that these dividends filter down to the people.
More cheering is that Abians expect a house that will not be polarized along party lines. Thought the members emerge along different party platforms, it is expected that party interests would be consumed by collective interests for the common good of the state. On this note, rancour and infighting occasioned by party interests would be consumed by a collective aspiration to move the state forward.
It is interesting that the youths would be captured in the centre stage of the activities of the 7th house and the narrative is bound to change from giving the youths fish to teaching them how to fish. The 7th house is strongly poised in assisting measure that would help to provide employment opportunities to the youths.
Such measures will manifest in the form of helping the executive to actualise projects tailored along that line such as Enyimba Economic City Project which impact we ensure that thousands of Abia youths would bid goodbye to unemployment.
Finally, there is a caveat to the "fifth columnists" whose stock-in-trade are to sow seed of discord between the two arms that would introduce the spirit of suspicion and rancour and serve as a clog in the wheel of progress of the state. Such attempts are stillbirth as promised by the honourable speaker.
As we look forward to the fulfilment of these laudable proposals by the speaker, let us share in his supplications "I wish to assure you that at all times, I will endeavour to do my best to continue to deserve this confidence and trust that you have so resoundingly reposed in me today. God being my helper, I will not disappoint you".
Usman Alkali Baba and the Nigeria Police of Our Dreams
By Jerome-Mario Utomi
The first duty of a police officer is to secure his/herself-Anonymous
According to the sage, people frequently rewrite history to increase self-esteem and to clear their consciences of guilt for historical misdeeds. Historical revision can also go the other way, as historian's attempts to discredit figures from the past.
Yet, despite the validity of the claim, the latest history made by Usman Alkali Baba, who was on Tuesday, April 6, 2021, appointed as Nigeria's acting Inspector General of Police (IGP), cannot be likened to any of the above considerations.
Aside from demonstrating that ordinary calculation can be upturned by extra-ordinary personalities, Usman Alkali Baba's appointment more than anything else stands as an emblematic attestation that history in any field of endeavours is reserved for those that are interested in breaking new grounds to increase their wealth and well-being and that of their followers.
Without a doubt, the feat is currently acknowledged with torrents of applaud,
But oddly, this opinion piece, for all intents and purposes, is not congratulatory message-focused. Rather, it dispatches a message geared towards achieving the following objective; namely, reminds the new IGP of existing odds against the force that will demand new policies, reforms and strategies to correct; develop significant ground to tackling the job of building a police force of our dreams and assist Usman Alkali Baba to recognize that it takes a prolonged effort to administer a group like the Nigeria Police Force, well and change their backward habits.
In view of the above demands, the question may be asked; who is Usman Alkali Baba? How clear are his goals? Is he laced with sharp visions needed to achieve these prime objectives?
Available information in the public domain reveals that he was born on March 1, 1963, in Geidam Local Government Area of Yobe State. He enlisted into the Nigeria Police on March 15, 1988. He holds a Teachers' Grade II Certificate from Teachers College, Potiskum.
Mr Baba obtained a Bachelor of Arts degree in Political Science from the University of Maiduguri and a Masters in Public Administration (MPA) from Bayero University, Kano. Until his appointment as the acting IGP, he had held several positions in various commands of the force.
Except for peripheral reason(s), it will be hard not to describe someone with the above achievements as a hero. More particularly when one remembers that with sharp vision and clear goals, he rose but steadily from grass (a Teachers' Grade II Certificate from Teachers College) to grace (a Masters in Public Administration (MPA)).
That notwithstanding, it is important to draw the new IGP's attention to two realities. First, that the inherent challenge with the Nigeria Police Force is more of perspective. The grouse against Nigeria Police Force by Nigerians is predicated on not what the force intends to or capable of doing but what they are doing presently and whether it is in the best interest of Nigerians.
The second and very fundamental is to remind the new force helmsman that the credibility of leadership can only be established through action and not words.
As argued elsewhere, such action refers to deeds that distinguish a leader who considers his followers a foremost asset and not one who looks at them as a burden.
There is a world of difference between a leadership that is based on love and respect, and one that is based on fear. All that is needed in order to reach this goal is to show our people the right direction and nurture their potentials, for innovation, creativity, self-confidence, determination and leadership, hose who leads from the top of the pyramid ends up leading only those on top, which is not how an exclusive development exercise should be carried out.
There are more specific and worrying concerns.
Going by commentaries, Nigerians and of course the global community are particularly unhappy that Nigeria Police Force with so many outstanding personnel and hitherto, among the best across the world when it comes to providing security, combating terrorism, armed robbery, kidnapping, cybercrimes and several other insecurities, have suddenly for yet to identified reason(s), allowed the high standard the British left them to be lowered.
From the raging wave of kidnapping, banditry and terrorism resonating in the North-East to North-Central, South-West to South-South and finally to South-East geopolitical zone, where police stations/formations have been sacked or torched by hoodlums and arms and ammunition carted away and some killed, innocent Nigerians are apprehensive that if such aggression by hoodlums/bandits could be visited on different police formations, it simply means that the lives of the ordinary citizens are no longer secured.
There is another image challenge that urgently needs to be addressed in order to build a police force of our dreams.
Over the years, the Nigeria Police Force has sustained a public enlightenment campaign designed to assure Nigerians that the policeman or woman is his or her friend, but in reality, Nigerians are in disagreement with such a position.
As captured by a Nigerian-based news magazine, 'whoever have had one thing or the other to do with the police will readily tell you that a policeman or a policewoman is not a friend but also patently devilish and incorrigibly corrupts'.
Such fears cannot be described as unfounded as every threatening situation feed mistrust and lead people to withdraw into their own safety zones. Mistrust and fear weaken relationships and increases the risks of violence, creating a vicious circle that can never lead to a relationship of peace.
While this is being internalized, there is yet, another concern, this time around from a global platform that will help create the credibility of leadership.
It is a report dated Monday, October 19, 2020, published by the Chatham House, England. It among other worries noted that the federally controlled Nigeria Police Force with about 371,800 officers, is endemically corrupt, underfunded, understaffed, inadequately trained and being outpaced by the manifold internal security challenges of a country with an estimated population of more than 200 million.
The report particularly lamented that some personnel appear to operate free of accountability and has become notorious for operating in the same clandestine and violent manner as the criminal groups it was created to combat.
Restoring the confidence that the Nigerian Police Force has the capacity to protect its personnel and all Nigerians should be your utmost responsibility.
However, it is equally obvious that such will be difficult and more doubtful of success if you present yourself as all-knowing, more intelligent or good looking than other stakeholders. But any leader that applies the virtues of humility and prudence will come out powerful, secured, respected and happy.
Therefore, as a flood of congratulatory messages continue to flow into your home; two lessons need to be committed to mind. The moment portrays you as lucky.
But like every success which comes with new challenges, the appointment has thrust yet another responsibility on you- an extremely important destiny; to complete a process of rebuilding the Nigeria Police to its former/enviable position which we have spent far too long a time to do.
Secondly, you must study history, study the actions of your predecessors, to see how they conducted themselves and to discover the reasons for their victories or their defeats so that you can avoid the latter and imitate the former. If you are able to correct the above challenge; it will be your most powerful accomplishment for earning new respect and emulation and if you are not, it will equally go down the anal of history.
Jerome-Mario Utomi is the Programme Coordinator (Media and Policy), Social and Economic Justice Advocacy (SEJA), Lagos. He could be reached via jeromeutomi@yahoo.com/08032725374.
The blockchain brings new financing options to the business market. For example, Bitcoin Cash casino has adapted to only using cryptocurrency. This way, it makes it easier for their customers to deposit and withdraw in a BCH casino. Entrepreneurs have taken note of this and are looking to invest more in crypto than in fiat markets.
Latest News on Business Post